On-Site Provo: Spreeing Up at The Somerset Resort's Tuesday Night BBQ Party
Tonight, and every Tuesday night, the best party in Provo is going down at the sublime section of Grace Bay Beach that fronts the elegant Somerset Resort. I can say that with confidence even without having attended any other Tuesday night fetes on the island.
Yeah. The Somerset's weekly Tuesday Night BBQ Party is just that good.
I arrived here on a Tuesday about a month ago at 6:30pm just as my new bartender friend, Melvin, was getting set up. Other party-goers were already filing in too, no doubt drawn in by the sweet mix of R&B, hip-hop, and reggae being spun by DJ Snoopi…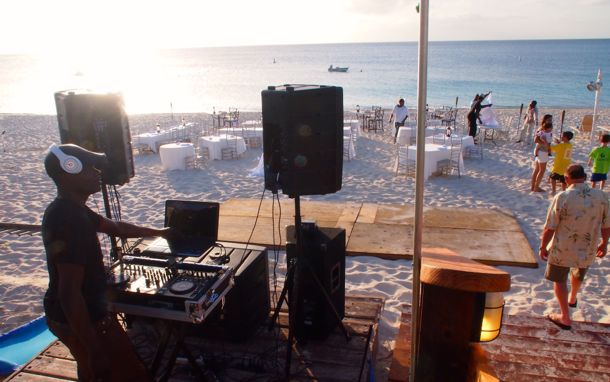 As you can see, the sun sets almost directly in front of the Somerset during the summer months, making for a very picturesque party scene, the fading light dancing playfully on the water while also brightening up The Somerset towers and pool area one last time for the day.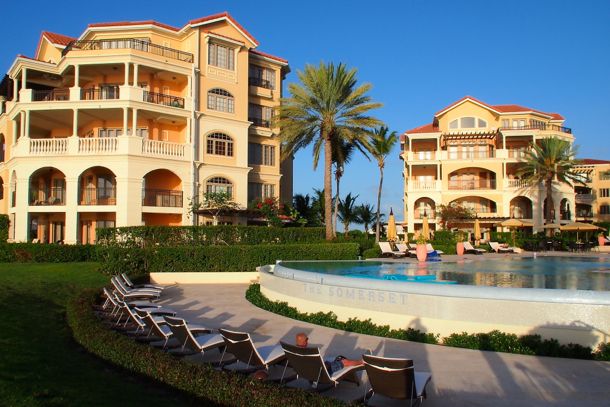 Back down on the beach, a mix of resort guests, locals, and folks staying at other nearby hotels begin cuing up for the BBQ. I was at the bar limin' with Melvin and experimenting with cocktails, but the aromas from the buffet line soon pulled me away. Jerk chicken, roast pork, mahi-mahi, macaroni pie – the surf and turf offerings were mostly island faves and all exceedingly yummy.
As it grew dark, a good portion of the crowd started to make their way to the dance floor. Grown-ups worked off their meals; kept their buzzes at bay. Kids exhausted excess energy. Snoopi kept spinning, and there came the stars, the moon, dessert, more rum…
More folks kept coming too. It was 10pm when I left to catch a few ZZZ's ahead of an early-am departure, but it seemed like the music, dancing, and fun would go on all night!
Not sure if it did, but I'll be sure to learn my lesson and book a later flight if I'm ever leaving Provo on a Wednesday again. Certainly an overnight on Tuesdays will be a must for me every time I'm back on-island as this party is one I'll never want to miss.
The weekly Beach BBQ at The Somerset is open to anyone looking for a good party on Grace Bay Beach every Tuesday night. The $50 cost covers all your food, though drinks are extra. For more details, visit The Somerset website, and be sure to tell Melvin I say hello when you get up to the bar.
Related Posts