Rejuvenating in Style at The Palms Turks and Caicos
Uncommon travel takes a toll, the rugged hiking, endless exploring, sailing, and wee-hours spreeing-up often leaving us in need of some serious rejuvenation.
On a recent trip to Providenciales, I was lucky enough to try out what's said to be the very best place in the Caribbean for just such R+R – The Spa at the Palms Turks and Caicos.
Formerly the Regent Palms (the name just changed this past September), the 72-suite luxury boutique property has earned raves for its elegance, pampering, gracious service, and cuisine for years.
I don't think there's any one element of the guest experience here that receives as much praise as the spa, though, the likes of Condé Nast and Travel + Leisure routinely bestowing awards heralding the facility as the very best our region has to offer.
It's not long after you enter here that you realize just how much all the praise is justified.
The pampering starts with a selection of herbal teas and lemon water so delicious you'll swear it's laced with something.
Then there's the surroundings…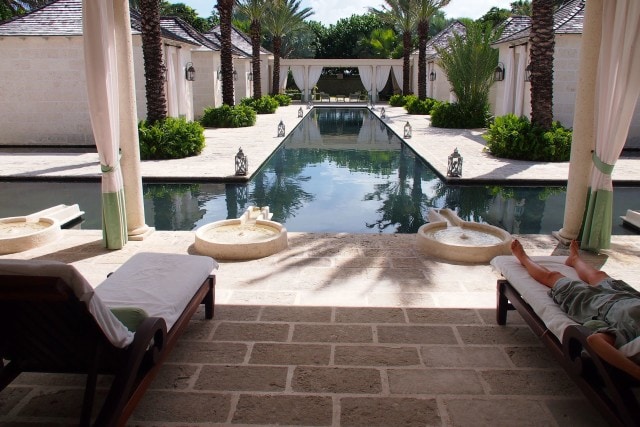 Just about every other high-end spa I'd visited across the Caribbean was all indoors, the better to keep guests air-conditioned. They're comfy, sure, but to me these indoor facilities always lacked a bit of personality and sense of place. In essence, they could've been anywhere.
At The Palms, though, they mix indoor a/c space with inviting open-air outdoor areas, keeping you squarely in the Caribbean. You hear the birds singing, the wind whispering through the palm trees, as you lounge about waiting for your masseuse to invite you to your treatment room.
Good morning, Mr. Bennett. Won't you please come with me?
So soothing was the atmosphere in the outdoor waiting lounge that I'd just about fallen asleep waiting for my masseuse to arrive. Opening my eyes, her name tag slowly came into focus… "Amor."
I smiled. Already I was in heaven.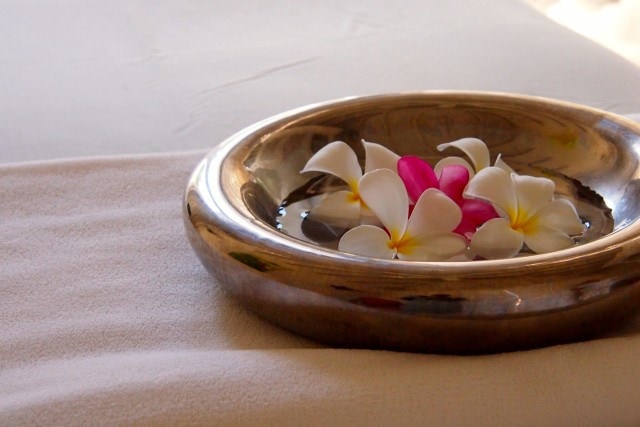 Her hands, I soon discovered, matched her name, her every touch made with the kind of care that might suggest I'd been a longtime client or friend. She was just that intuitive; just that adept at applying the perfect amount of pressure in all the right spots.
An hour later, I floated out off the massage table and back out to the lounge, my entire body seemingly renewed and ready for more adventuring… though not before a little more time enjoying the magical Palms atmosphere.
For more on The Palms Turks and Caicos, be sure to visit them online.
Related Posts