Taking In TCI History at Wade's Green Plantation, North Caicos
There's no culture, no history in the Turks and Caicos.
The dis has become all-too-familiar to me over my many years of adventuring around the TCI Islands. Usually it's other West Indians or similarly well-traveled friends who level the charge, blinded, as it's easy to be, by the beachy-sweet charms of Grace Bay and her attendant swanky resorts, restaurants, shops; fun in the sun.
We've proven the notion wrong a time or two before, of course. Osprey Rock, Pirate's Cove, and Mule Point prove that there's much more to see and discover in Provo than Grace Bay.
On my last visit a few months ago, the great folks at Ocean Club Resorts turned me on to even wilder adventures in North Caicos and Middle Caicos.
Editor's note: Like many of the larger, older hotels and resorts I love, Ocean Club does a great job of connecting guests with the local island community in which it's based. You never feel locked in or sequestered from the real TCI vibe here – a real plus in my book.
Following a 30-minute boat trip and an even shorter bus ride, we made our first stop in North Caicos: Wade's Green Plantation.
Having grown up among the remains of centuries-old Danish plantations in St. Croix, I was more than a little excited to see how the TCI ruins differed from the ones I knew so well back home. At the same time, I was also a bit surprised. Colonial plantation days in the Turks and Caicos didn't play prominently in any of the Caribbean history books of my youth.
Wade's Green, I thought, would offer an altogether familiar experience that was entirely new.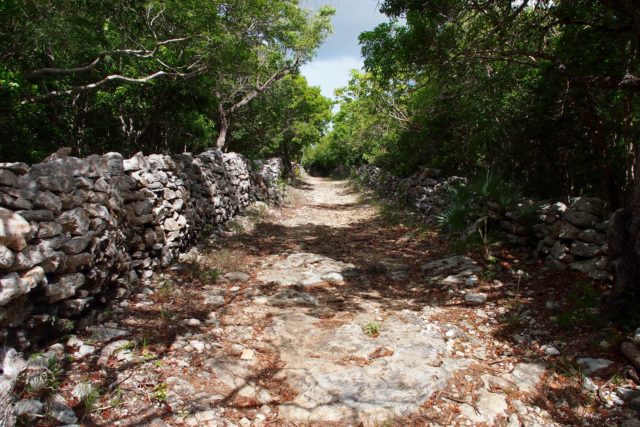 From the parking area, the plantation can be found at the end of a somewhat rugged quarter-mile path. Loose stones underfoot make the trek a little tricky (especially if you're trying to shoot pics along the way). Sneakers or hiking shoes are recommended.
If you can keep from tripping, you'll soon arrive at this gate. A woman sitting in her car at the turnoff from the main road to the plantation holds the key (and collects admission fees). Thankfully, our guide, a resident of North Caicos, knew the trick.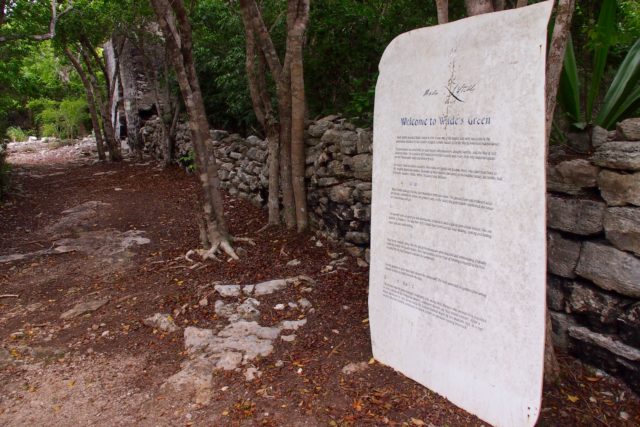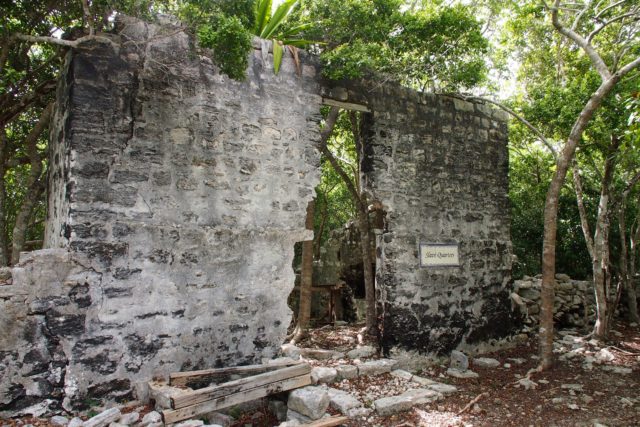 Once inside the gate, the value of our guide became even more pronounced. From him we learned about the various medicinal uses of local plants and trees like snakewood and gumbo lumbo (though I thought he meant gumbo limbo).
We also learned that some of the ruins throughout the plantation were mislabeled. The Slave Quarters, in particular, seemed very much out of place sitting, as they do, right next to the main entrance.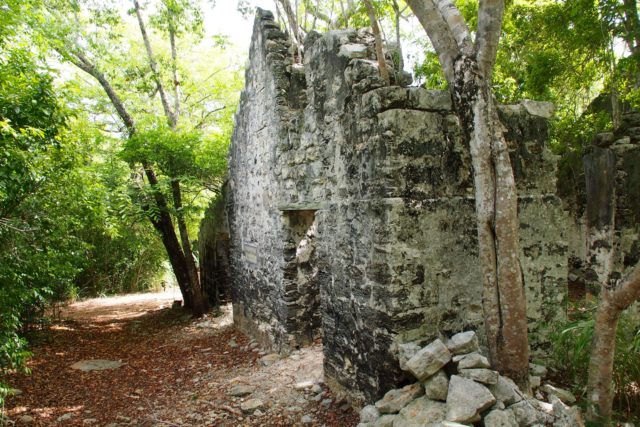 The story of Wade's Green stretches all the way back to 1789, when Loyalist Wade Stubbs was granted a bunch of land throughout the Turks and Caicos Islands from King George III as compensation for losses incurred by the Stubbs family during the Revolutionary War.
Stubbs established Wade's Green as a cotton plantation, growing and expanding his holdings on the backs of African slave laborers to the point he became the most successful planter in the Turks and Caicos Islands.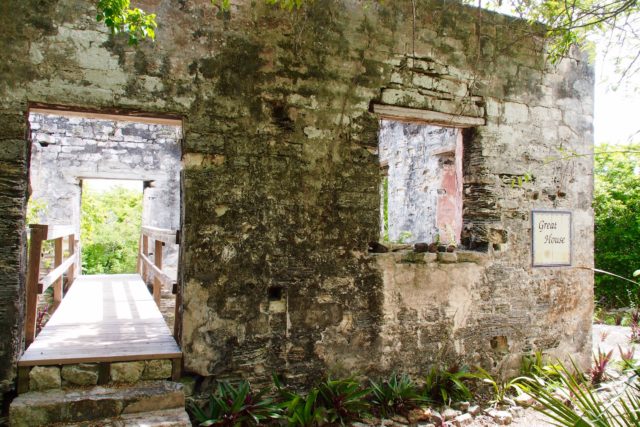 It's hard to picture the breadth of Stubbs' fortune these days. The plantation era in the TCI Islands ended in the 1820's (Stubbs died in 1822) due in large part to changes in world trade and soil degradation. Until recently, Wade's Green had stood abandoned, Mother Nature reclaiming a good bit of the Stubbs empire.
Though mostly cleared and nicely laid out with dirt paths connecting all of the remaining structures, the plantation still seems more the province of Mother Nature than man. Only the old Great House truly stands out as a reminder of the plantation's heyday.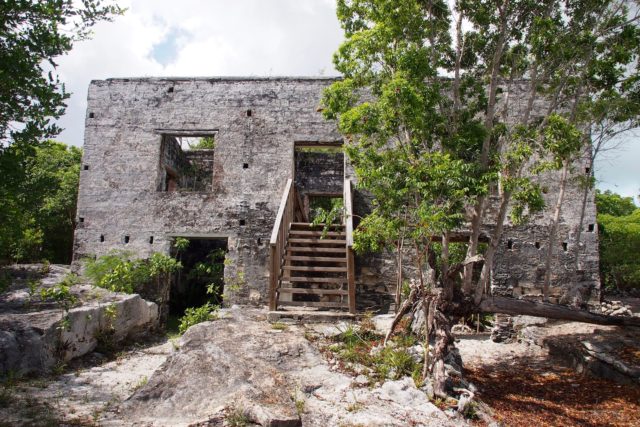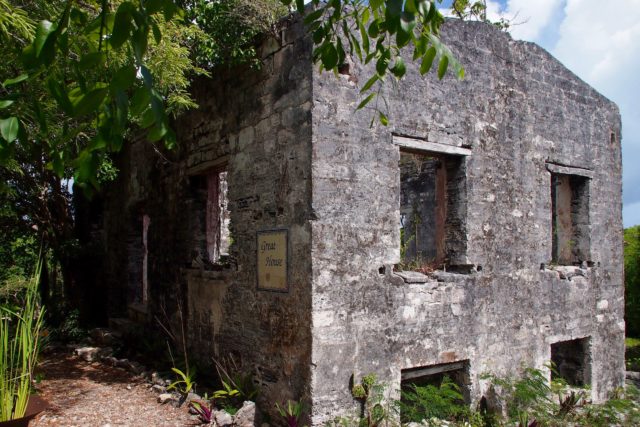 Recently constructed wooden steps and a somewhat dodgy walkway (watch your step!) allow you to step inside and channel a bit of Wade's Green history.
You won't find too many info signs at Wade's Green. There are no restroom facilities, water fountains, or concession stands of any kind either. You're really just out there, seemingly miles from civilization, way up in the bush. The only sounds are the ones you make, and those of the natural surroundings. Like these, for instance.
For me, Wade's Green was much more like stumbling upon some old ruins back home in St. Croix than visiting a structured tourist attraction, which of course made it perfect for me.
To make sure your visit to Wade's Green Plantation is perfect for you, be sure you get with the awesome folks at Big Blue Unlimited to take you there. Small groups and really knowledgeable local guides make Big Blue the top choice for day-trip adventures from Provo to her sister Turks and Caicos Islands.
For pricing information and more, visit Big Blue Unlimited online.
Save
Save
Save
Save
Save
Save
Related Posts