Magical Mornings Savoring The Meridian Club Breakfast Burrito: Taste of the Caribbean
If you woke up at The Meridian Club on Pine Cay this morning, you could've enjoyed your coffee here on one of the most amazingly perfect powder-soft expanses of beach anywhere. The soundtrack would likely have been something like this. After your coffee, perhaps an invigorating swim..?
That's exactly how I started my magical mornings during a quick visit to The Meridian Club last summer. My bungalow, like all the accommodations at the Club, was right on the sand, the lapping waves just a few short strides from my back patio. There's no a/c in the rooms to block the siren song of the sandy shoreline either, so it's easy to find your path to breakfast blessedly diverted.
Once at breakfast in the main house, you'll find that the sensory treats continue, though with a decidedly decadent turn toward satiating your tummy. Among the choices I encountered each morning of my stay were a rich assortment of tropical fruits, cereals, homemade muffins, croissants, and other assorted breads, as well as omelets made to order any way you want.
Even with all the variety, though, I kept going back to the same thing each day: The Meridian Club Breakfast Burrito.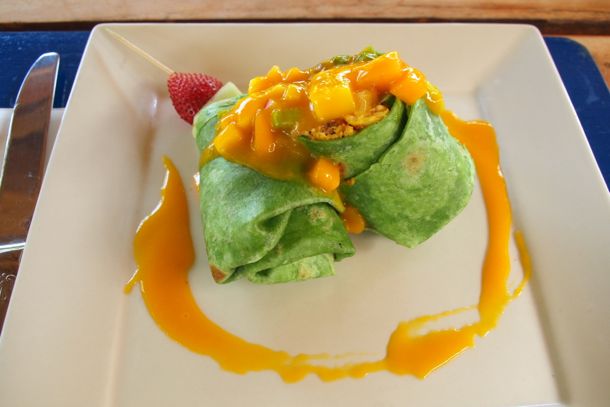 Now, breakfast burritos come in all manner of tastes and sizes, many of which I have enjoyed in various locales on my travels, but this one represented a bit of a milestone for me. The reason: mango.
Long time UC readers may remember that I'm not particularly keen on this widely beloved Caribbean fruit, a surprise bordering on sacrilege, I'm sure, for someone with deep West Indian roots like mine. When my first Meridian Club Breakfast Burrito was placed before me, those orange chunks and trailing sauce sent a shiver down my spine.
Ingredients:
1 Spinach Flour Tortilla (12″)
1 Cup Chorizo Meat (out of casing)
3 Whole Eggs
1 Tablespoon Diced Red Pepper
1 Tablespoon Diced Green Pepper
1 Tablespoon Chopped Scallion
1 Tablespoon Grilled Onion
2 Tablespoons Shredded Cheddar Cheese
In my Trini childhood home, though, we were always taught to eat what we were given without complaints. So, I dug in, mango and all. My verdict: FANTASTIC!
Truly, I can't imagine this dish without the mango! The fruit just adds the perfect level of sweetness, bringing a certain vibrancy and flair to the eggs, while also ably fueling you for a full day of fun exploring Pine Cay.
Sadly, most of us can't start all of our days as magically as I did along the beach at The Meridian Club. To make up for it, we're sharing the recipe for the property's fab breakfast burritos! Here's how you make 'em…
Method:
Sauté the chorizo in a hot pan with a little oil. When the chorizo starts to brown, begin adding the other ingredients. Add the peppers and onions and continue to sauté for another minute. Add cheese and stir until melted. Whisk in the eggs and scramble. Layout the spinach flour tortilla. Add a dollop of guacamole and sour cream. Place the filling in the middle of the tortilla and wrap.
Editor's note: I may have made allowances for the mango (and thankfully so), but my close friends all know I made sure there was no guac or sour cream in my daily burritos! There are some culinary lines I simply can not cross!
Optional: Lightly sauté the wrapped burrito. Top with a tropical salsa of pineapple, kiwi, mango, and scallion.
Now take a bite, close your eyes, and listen for those waves. Mmmm Meridian Club…
Related Posts