Caribbean Wallpaper Wednesday: Act Fast to Make Your Dreams Come True on St. John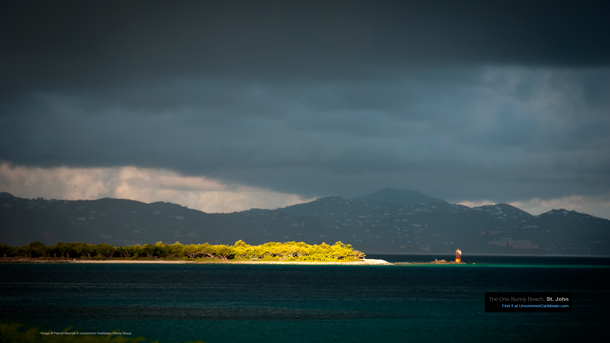 You never know when a great opportunity will materialize out of nowhere. An excursion you've done a dozen times could turn up something new or a bar you've frequented for decades could suddenly have a new rum to sample! It always pays to be on the lookout and there are few places I'd rather be keeping my eyes peeled than on St. John.
Such was my thinking a few years ago when I sat outside my ocean view room at Gallows Point Resort lamenting an uncharacteristically rainy day in paradise. It was just me, my wife, a half-empty bottle of Cruzan Single Barrel Estate, and a glass full of ice. We'd had a few days of excellent weather spent liming on Solomon Beach and Cinnamon Bay, but it looked like there would be no fun in the sun this day.
So, we sat. Drink in hand. Staring off over the water — watching what seemed like a never ending blanket of fat, dark clouds roll our way over the dreary hills on nearby St. Thomas.
Until, in an instant, sun rays broke through the cloud cover and cast an inviting glow on tiny little Steven Cay. (No, it's not named after Steve!) I remember us just staring at it for a moment before I said: "Well, at least there's one sunny beach around here!"
The light lingered…
So naturally, our minds started to fill up with schemes to commandeer a boat and make our way to the only sun-kissed sand for miles. Or swim!
But just as scheming turned to planning, our opportunity vanished. The clouds closed in and that tiny island in the sun was once again swallowed up by the miserable day.
I bring this up because I recently read about another sweet opportunity on St. John that appeared out of nowhere: a chance to own The St. John Sun Times!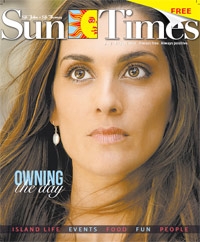 People always ask whether we're hiring. Covering kiteboarding, eco-retreats, island culture, West Indian music, hiking, rum, sailing, island parties, some of the most breathtaking beaches in the world, and more does sound like a good gig, right? Well, now's your opportunity to stop waiting on us and make your dream a reality yourself!
The asking price for this one-of-a-kind opportunity to run a Caribbean magazine is just $120,000. The current owner, Ella Anderson, is even willing to finance the balance of the price after a $50,000 downpayment.
Why is she moving on? Well, she's lived the dream. Five years ago, she removed herself from the stateside rat race after reading about the previous owner being interested in selling. (Just like you are now!) She moved to St. John, set up shop, and grew the publication by leaps and bounds. Now she's simply ready for something new.
But like the sun breaking through the clouds to shine down on the white sands of Steven Cay, this opportunity won't last long! If you're at all interested in more information, drop Ella a line via email. (Be sure to tell her, Uncommon Caribbean sent you! Who knows, she might cut you a deal.)
And if you need a little time to think about it, I recommend downloading this week's Caribbean wallpaper that captures one brief moment of opportunity on Steven Cay. With this photograph on your desktop, every time you see it, you'll be reminded that great opportunities don't last long!
What are you waiting for?
Related Posts