Friday Happy Hour: St. John Brewers' Refreshingly West Indian Island Hoppin' IPA
Lovers of Caribbean beer can be forgiven for not knowing that yesterday was National IPA Day. (Is every day National Something Day now?) We're so bent on our light lagers and pilsners throughout the region that for us the acronym might just as soon stand for Ital Propah Ackee, or something along those lines.
In the broader beer world, however, IPA stands for India Pale Ale; the word "pale" denoting the type of malt used to make these generally strong, bitter beers, with "India" harkening to the special batches of the stuff brewed in the UK and shipped to India, beginning as early as the late-18th century.
(For a concise history on the origins of IPA beer, click here.)
For the purposes of our discussion, I'm expanding the India to Indies, as in West Indies, and cracking open the Caribbean's only IPA – St. John Brewers Island Hoppin' IPA.
I got my first taste of this brew two summers ago at its source – The Tap Room on St. John, the veritable Ground Zero for all the fine St. John Brewers suds and soft drinks.
(Learn the history of St. John Brewers here.)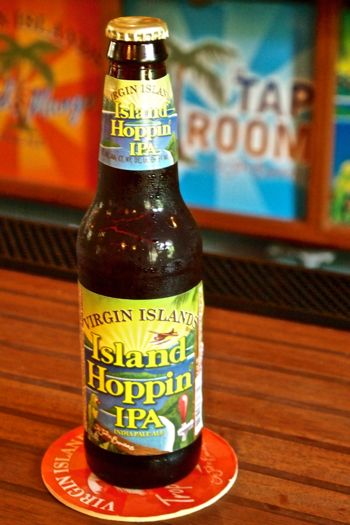 It was steamin' hot when I arrived here, so something refreshing was a must. I was a little hungry too, though not so much that I was anxious to order some food, at least not right away.
Island Hoppin' IPA proved an excellent first choice.
Unlike most traditional IPA's, Island Hoppin' isn't all that bitter at all. It's a good shade or two lighter on the tongue, which works well for our warm island climes. I'd still say it's a bit rich and full-bodied for the beach, though…
Served ice-cold, Island Hoppin' was plenty capable of cooling me off. All that body filled me up pretty fast too, but the flavorful hops tangy citrus notes kept me coming back for more. Or was it the 6.2% ABV..? Hmmm….
Originally born in St. John, Island Hoppin' IPA is actually produced and bottled in Portland, Maine. To me, though, it's still very much an island beer.
In its refreshingly light IPA style, Island Hoppin' IPA is a Virgin Islander through and through.
Island Hoppin' IPA is available across the U.S., though I strongly recommend a trip to The Tap Room to get the full flavor experience right where it all began.
Cheers!
Related Posts