On-Site St. John: Don't Miss the Mystery Tap at The Tap Room
Some of you may remember that I went to St. Thomas last week in search of the soul of this much traveled tourism hot spot. As often occurs when traveling the Uncommon Caribbean way, though, there was a significant change of plans. So significant, in fact, that I ended up spending the better part of the one full day of my latest Caribbean adventure in a whole other island altogether.
UC Facebook fans already know that whole other island was St. John, but it's really no surprise that anyone visiting St. Thomas should end up one island over to the east for at least some portion of their stay. After all, the islands are separated by just a short, 25-minute ferry ride, and in a lot of ways, they couldn't be more different.
St. Thomas is one of the most bustling, cosmopolitan islands in the Caribbean, especially around the capital, Charlotte Amalie, which has long been famous for its many shops, bars, restaurants, and touristy attractions. All of this brings with it crowds, especially when cruise ships are in port (when aren't they?) and some serious, serious traffic jams.
The St. John I remember during my youth growing up in the V.I., was at the opposite end of the spectrum.
Patrick and I have both made cases in separate posts  for St. John being the quintessential exotic island escape, even for people like us who grew up in a comparably marvelous paradisiacal destination like St. Croix. The old St. John just had a more pronounced irie vibe; an extreme version of laid-back living that made the everyday on other islands seem like rush hour in Times Square.
In this way, St. Thomas and St. John have complimented each other real well over the years. On my trip last week, though, I had fears that the two were becoming too much alike… in all the wrong ways…
Approaching St. John last week on the ferry from Red Hook, I noted with a bit of sadness that there are a few more condos and a bit less green along the waterfront in Cruz Bay. Could it be that the old St. John was no more…?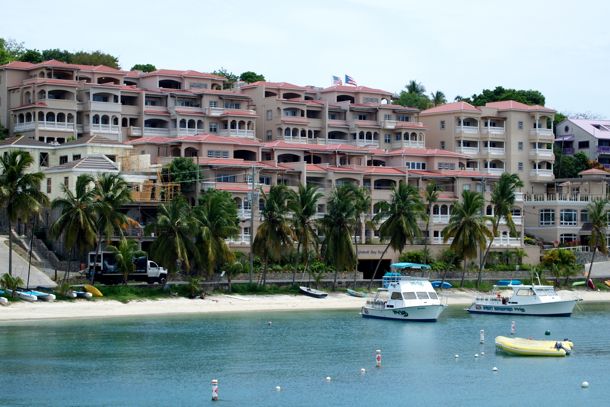 Nervously, I stepped ashore looking for signs of the St. John of my youth. Nothing looked familiar at first, which only fueled my anxiety, so I headed for the one spot where I knew I could get my bearings: Mongoose Junction.
A collection of shops, art galleries and eateries, Mongoose Junction was always the one meeting spot in Cruz Bay where your friends could surely find you if you somehow got lost in a tramp during the island's 4th of July Carnival. Seeing it still standing, still buzzing with fun, put me at ease. I wouldn't have time in my few short hours on the island to see if St. John really was all that it had been in the past, but at least the sight of Mongoose Junction left me feeling hopeful.
Soon, though, I would be feeling a whole lot better than that!
The reason: The Tap Room.
No, this wasn't some bar I remembered from my youth. The Tap Room is one of the newest watering holes in Cruz Bay, but for my money, it definitely retains the old flavor of St. John.
The Tap Room is the Microbrewery and Brew Pub for St. John Brewers, the guys behind some of the tastiest craft brews in the Caribbean. We told you about their Mango Pale Ale last year, but that's just the tip of iceberg. The full line-up of the company's special beers – Island Summer Ale, Island Hoppin' IPA, Liquid Sunshine Ale, etc. – are all available on-tap (of course) and in bottles. You can also get their own homemade and extremely awesome root beer, an energy drink they dreamed up called the Green Flash and an assortment of tasty bar food.
These beers and drinks are all worth trekking here to try, especially since most of the St. John Brewers beer we can buy in the States is actually brewed in Maine, while 90% of what's poured here was actually produced in St. John. The Tap Room's real draw for uncommon travelers is the chance you might get a preview of the newest St. John Brewers creation long before anyone else.
Tucked neatly among the various, ornately adorned beer taps behind the bar is one with just a small, plain black pull. When the guys at St. John Brewers come up with a new beer, they often test it among friends and regular Tap Room patrons by dishing out draughts from this unmarked tap. On your next visit to the Tap Room, ask for a mug of whatever they've got pouring out of that unmarked tap. If you're lucky, you just may be one of the first people to try one of their newest brews!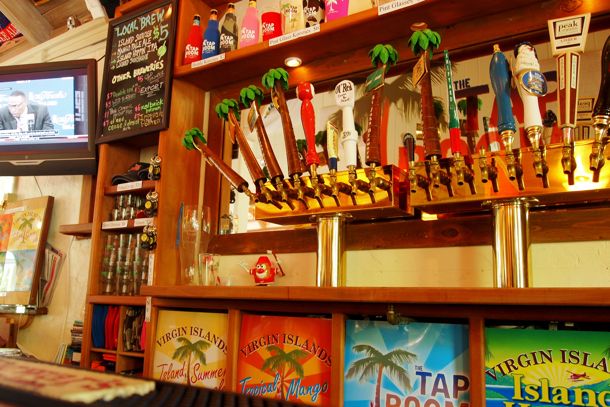 What tantalizing new tastes might you find when ordering a drink from this secret tap? How about Coffee Stout? Or Amber Jack Amber? Or, my personal favorite, Tamarind Porter!
These are just a few of the flavors these guys are playing with in their unending effort to bring great craft beer to the Caribbean. It's a noble pursuit, one best enjoyed at its source here in St. John.
The Tap Room is located upstairs at Mongoose Junction in Cruz Bay. When you go, ask for our buddy, Drew, one of the friendliest bartenders I've ever come across on my travels and a really good guy. His easy-going, welcoming ways, combined with an endless string of roots and dub reggae, cold and inventive beers, and good food will make you want to waste an entire afternoon here. I did last Wednesday, and I can't wait to do it again soon…
Related Posts