On-Site St. Thomas: What it's Like to Stay at Bolongo Bay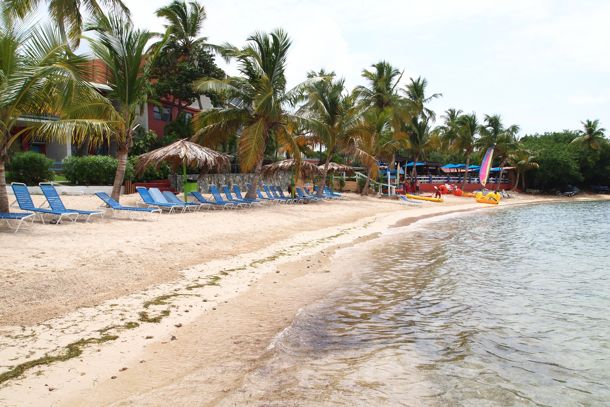 Remember a few weeks ago when I set out to discover the soul of St. Thomas, that decidedly well-traveled sister island to my beloved St. Croix? I had high hopes of discovering the types of unique experiences, unexplained attractions and unmitigated "locals-only" fun that would support my theory that the uncommon exists in all Caribbean destinations, no matter how touristy. Over the course of the past year and change I had already successfully proven my theory in such popular ports as Grand Cayman, Aruba, Montego Bay and Grand Bahama Island. Surely St. Thomas would yield similar success, right…?!
Yeah, umm… no.
Now, before all you Thomians and St. Thomas-lovers start defiling our fancy new contact form in the footer below with your hate mail, please note that I take full responsibility for the failure of my St. Thomas mission. It was a VERY last-second trip, HEAVY on day-job responsibilities. Plus, there was that unplanned side-trip to a whole other island, so really, the mission was doomed right from the start.
Still, I wouldn't term the trip a total loss since I got the chance to get re-acquainted with one of my favorite hotels – the Bolongo Bay Beach Resort.
Regular UC readers may remember Bolongo from this post. I remember the property going way back to my teenage years when our high school soccer team traveled to St. Thomas for a tournament. During an off-day, a few of us went over to Bolongo to enjoy the beach and facilities. For most other hotels I knew at the time, the thought of having a bunch of local teenagers hang around for the day was not a welcome one. All beaches are public property in the USVI, so it's not like the hoteliers could throw us out (at least not until we deserved it), but you can be sure we got our share of dirty looks, frowns and the occasional steups at most places.
Not at Bolongo, though. Everyone and everything there was just laid-back, cool and friendly.
To the hotel's credit, that same vibe persists today. Solid ownership and management under the direction of a wonderful family for the better part of 40 years will do that for a hotel.
Here the smiles are genuine, you're more liable to get a hug than a handshake, and people really do care that your vacation is the best time of your life. Views like this help too…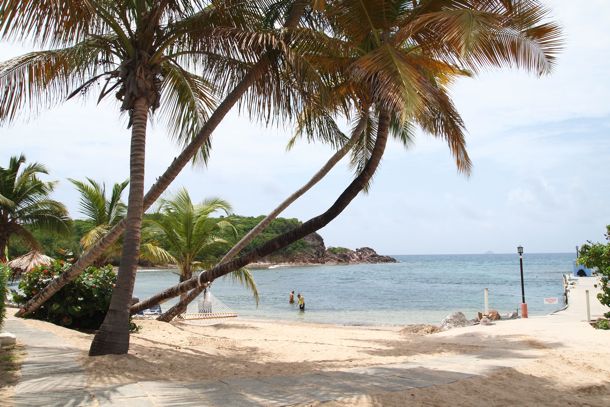 …but, just as nice as the views is the value. As we pointed out before, you get all the same great all-inclusive amenities here that you get from the big resort chains (including a 53-foot catamaran and the best beach bar on the island), but you get it in an intimate hotel (just 62 rooms) with the warmth and charm of staying with your favorite relatives, or just some really good friends.
No, it's not the fanciest hotel (divas need not apply), but for fun, genuine hospitality, and especially value (check out their current specials for proof), Bolongo Bay is hard to beat.
I guess you could say that a nice slice of the soul of St. Thomas can be found and enjoyed right here. As for what secrets the rest of the island has to offer, they'll have to wait til my next + hopefully longer visit…
For more on Bolongo Bay, click here to visit them online.
Related Posts