Spoil Yourself This Spring with Ranifly Swimwear from St. John: Uncommon Buy
You made it! Spring officially starts today, the promise of warm, sunny days soon to be fulfilled. It's time to smile, to head outside, to ditch the boots and bulky sweaters.
If any of you female readers are anything like my wife, then it's also time to splurge on something new to celebrate the season. Something sexy. Something eminently more reflective of the real you.
Of course you deserve it! Have you already forgotten the long string of Snowpocalypses you endured? The iced over roads? The frozen plumbing? The endless days snowed-in with absolutely nothing to do?
All of that made you grumpy and sour. That's not the real you. Remember…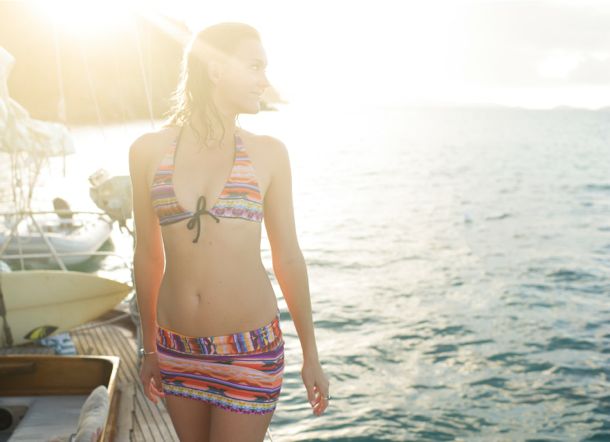 Or what about…
Ladies, isn't this more like the real you? The you unfrozen, unfettered, and frolicking around under the warm Caribbean sun without any care of snow, cold, or anything else?
Yeah, I thought so. That's why I also thought you might like to know about Ranifly.
Based in sleepy Coral Bay, St. John, Ranifly is a self-described "teeny handmade bikini company." The woman behind it, designer Rani Keohane, travels the world to hand-pick distinctive high-quality fabrics, which she crafts by hand into some of the hottest, most durable, and comfortable swimsuits found anywhere.
This may sound like too bold a claim for such a "teeny" enterprise tucked away in such a similarly teeny island like St. John, but Rani's suits have garnered some pretty huge attention in the 12 years she's been in business… Like how about the 2014 Sports Illustrated Swimsuit Issue huge…?
Ranifly suits have actually spiced things up in the pages of SI two years in a row! You may have also seen them listed recently in GrindTV's Five Bikini Brands for Women Who Rip.
Like most great products, the secret to the Ranifly's success is rooted in solving a practical problem.
I was working on boats and could never find anything that fit or was comfortable for the whole day… So I started designing suits I could work in.
Even if you're not lucky enough to have your professional work attire rate quite so highly on the sizzle scale, you'll love these suits. All Ranifly bikinis are reversible, so any purchase nets BOGO benefits. They're also each unique, as Rani is careful to use only small batches of distinctively patterned fabrics. For added uniqueness, you can get Rani to custom-tailor a Ranifly bikini just for you, ensuring a great fit to flatter whatever body type you might be rocking this spring.
For more pics of Ranifly bikinis, follow them on Instagram where they post new images daily. For more details on the brand, including pricing and ordering info, visit the Ranifly website.
Related Posts