Win 2 VIP Passes to the 2012 Miami Rum Renaissance Festival + $500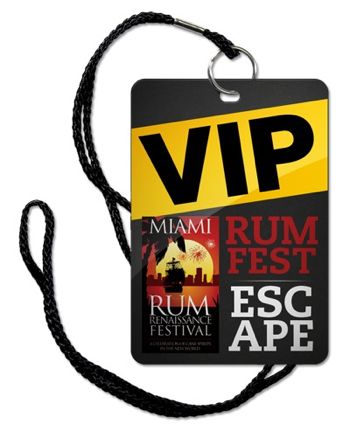 That's right, we're kicking our Month of Rum celebration into high-gear with the launch of a new VIP RumFest Escape sweepstakes, offering you the chance to hang with us at the 2012 Miami Rum Renaissance Festival!
The World's Sexiest Rum Party, as designated by yours truly, the Miami Rum Renaissance Festival is also a serious celebration of the world's finest rums, and everything that makes them so. Everybody who's anybody in the world of rum is there – legendary master blenders lead seminars, celebrity mixologists create inventive new libations for the cocktail competition, top rum manufacturers host VIP parties, and rum experts judge more than 100 different rums as part of the prestigious RumXP Competition.
It's like a week-long World Series of Rum, culminating in the Grand Tasting events on Saturday and Sunday (April 21 and 22). This is the sexy party; a veritable heaven on earth for all rum-lovers with hundreds of rums on-hand for your sampling, each served by angelic (okay, devilish) beauties as shown below.
(Incidentally, the handsome guy in the photo is my older brother, Pete, who hung out with me at last year's Miami RumFest. To get a preview of all the fun you'll have if you win our VIP RumFest Escape, click here to see pics of his adventure.)
Not only can you enjoy just about everything that this amazing event has to offer on us, you get to experience it VIP-style! That means you get free access to all the exclusive VIP events and parties that normal festival attendees miss out on.
Two VIP passes would normally run you $500, making this a pretty nice prize… but we're not stopping there!
To help cover your travel costs, we're also throwing in $500 in cash!
If you win and you already live in South Florida, then I guess you can use the money to expand your rum collection. Either way, the full value of the prize is a cool $1,000… and just about all the rum you can drink!
Our VIP RumFest Escape sweepstakes ends February 29, 2012. One winner will be drawn at random and announced on March 1, 2012. No purchase is necessary, of course, and you can check out the full rundown of official rules here.
Dates for the 2012 Miami Rum Renaissance Festival are April 16-22. The host hotel is the Deauville Beach Resort on Miami Beach. Special discounted room rates are available for festival-goers.
For more info on the 2012 Miami Rum Renaissance Festival, click here.
For more info on special rates at the Deauville Beach Resort, click here.
To enter our VIP RumFest Escape sweepstakes, click here.
Good luck!
Save
Related Posts