So, You Wanna' Be a Rum Judge, eh? Here's One Way…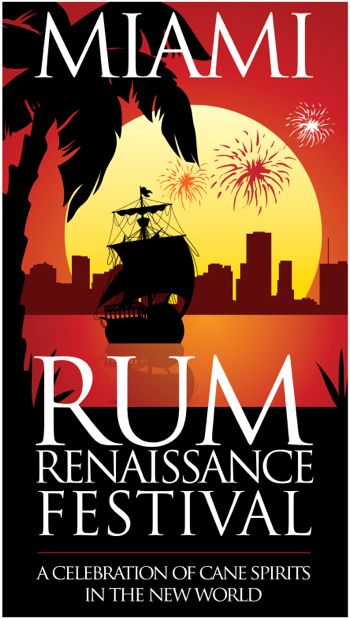 Beautiful rhums in Martinique, a secret rum stash in Tobago, a super spy rum from Cuba (by way of Scotland), a DomRep bush rum fit for an adventurer – we've had a great time sharing tales of these rums, and other rum-related subjects, during our first-ever Month of Rum celebration.
As our concentrated focus on the quintessential Caribbean spirit comes to a close tonight, we're coming full-circle with a bit of news about a cool new component to the event that inspired our Month of Rum in the first place.
The event: the Miami Rum Renaissance Festival.
(Remember, we're giving away two VIP passes to this year's Festival + $500. We'll name the winner tomorrow, so click here get your entry in now!)
The cool new component: The Great Rum Challenge!
If my recent account of what it takes to be a professional rum judge got you interested in trying your hand (and mouth) at standing in judgment of the world's finest rums, then this new edition to the week-long series of Rum Renaissance events has your name all over it!
Breaks down like this: around 200 people will be presented with unmarked glasses containing eight different upper and mid-range blends (think Appleton 12 or Mount Gay XO). The bottles will be announced ahead of time and on display in the room, so you'll know what the options are. This is the first of three trials. All you need to do to move on in the competition is match what's in each of your glasses to the appropriate bottle. If you're successful in matching all eight correctly, your reward will be a quiz on the unique characteristics of a few of the world's greatest rums.
Does the year 1796 mean anything to you? How about 1703? Answer correctly again and you advance to the finals.
Trial #3 is simple. All you have to do is identify one premium rum sample placed randomly in front of you. Only problem is, if there are any other finalists and they guess their rums correctly along with you, then the guessing game will continue until there's only one man (or woman) left standing…if possible. I assume sitting will be okay too, so long as you've guessed all your rums correctly.
If so, congratulations! You'll be the winner of the first-ever Great Rum Challenge! Your prizes will include new bottles of the original eight rums, two VIP passes to the Rum Renaissance Festival, and (assuming your liver can take it) the opportunity to serve as a guest judge for the event!
That's right, you'll get to experience the same "rummathoner's" joy I endured enjoyed while judging last year's Caribbean Rum & Beer Festival in Barbados. Only this time, there will be a lot more rums to judge – about 100 vs the 40 I tangled with in Barbados.
Don't worry, I'm already penciled in as a guest judge for the Rum Renaissance Festival as well, and you know I'll be well-equipped with plenty of Eclipse Crackers to get us through the ordeal fun.
The 2012 Miami Rum Renaissance Festival will be held April 16-22, with The Great Rum Challenge scheduled for April 17th. The location is the Deauville Resort on Miami Beach. Advance tickets are $30. If there still room in the initial group of 200, you can pay $35 at the door.
Click here for more details, and I'll see you in Miami in a few weeks!
Related Posts