Friday Happy Hour: Saintly (and Sinful) Santa Teresa 1796
A lady in the streets and a freak between the sheets!
Admit it, guys, we all want that. I mean, what good is having pretty eye candy to show off to your friends if she turns to ice the minute you get her home and alone?
We want the biting and the clawing; the sweaty screaming and scratching that gets our hearts racing! We just don't want the whole world to know that's what we're getting with one quick look at our ladies… Or in the case of Santa Teresa 1796, our rum.
Just look at her. Could there be a more elegant lady in the world of rum?
Teresa's ensemble is so stately, so refined that it often engenders shock among friends when we show up at parties arm and arm. At first glance many think she's a fine wine and wonder how I could turn on my beloved rum sweetheart.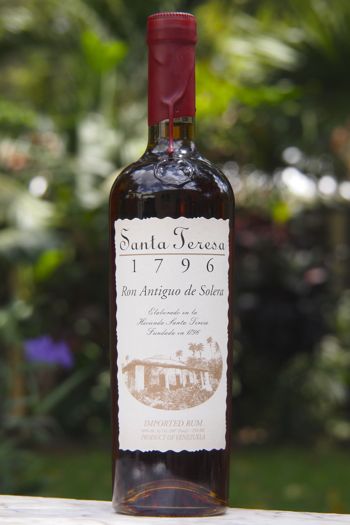 To be sure, 1796 is comfortably at home in the fanciest of settings, but make no mistake: she's 100% rum through and through. A sensuous, irresistible rum at that!
1796 hails from Venezuela. It originally burst on the scene in 1996, commemorating the 200-year anniversary of the Santa Teresa Estate, one of the country's most storied sugar plantations. Instantly she took her place among the exalted cadre of rums for whom a name is unnecessary when calling for her. Simply the number doth suffice.
Why? Well, appearances go a long way for some, but for me it's her inner beauty (as in, what's inside the bottle) that makes 1796 truly special.
The alluring, amber-colored liquid is made from a 25 year-old distillation that's artfully blended with a collection of exquisite añejo rums.
The aging process employed is that of the Solera method originally developed for making Sherry and Brandy. From the Santa Teresa website:
In the Solera, oak barrels are set in four rows, one above the other. There, through the Solera process, the rum makes a long journey: the crianza decants by cascade through the layers of barrels, ending as the final crianza in large French oak vats. Thus, as it slowly moves from barrel to barrel, it achieves its mature, balanced body, and the perfect ageing [sic] roundness that makes Santa Teresa 1796 distinctive and inimitable.
No doubt, 1796 is all of these fancy, somewhat ladylike things (and more), but once it hits my lips all I can think about is her fabulously freaky ways.
She's sweet, like I like, with notes of dark chocolate, leather and molasses combining beautifully, smoothly with a uniquely roasted finish. Each sip is like a passionate kiss; the kind that begs for more, eventually leaving you breathless, but with no regrets.
All that, and you won't be ashamed to bring her home to meet your folks…
¡Salud!
Related Posts