Playa El Gallito, Vieques – The Gringo Beach That Really Isn't
On its surface, Gringo Beach reeks of a place we'd want to avoid at all costs. I mean, is any "gringo" anything ever actually good? Playa El Gallito, on the other hand, sounds perfect. A beach with a quirky name that's likely steeped in some aspect of local island culture. On a recent visit to Vieques, though, I discovered that both places – Gringo Beach and Playa El Gallito –are actually one in the same. A great surprise that yielded the best beach experience of my trip.
I happened upon El Gallito by accident, yet at the perfect time. A light afternoon drizzle and grey skies mirrored my mood. It was the last full day of an all-too-brief three-day trip. A trip that had been marked by mixed emotions up to that point.
Bummer Beach Vibes
Vieques, you see, carries sad memories for very close friends of mine. Close friends who trace their family histories here. Family histories that were torn asunder by the protracted era of U.S. Military control in Vieques.
Large swaths of the choicest parts of Vieques remain off-limits to local development or habitation thanks to decades of military abuse and carelessness. Many of the island's most stunning beaches – Blue Beach, La Chiva, Caracas Beach, etc. – are based in these areas. Areas that by all rights should still be available for purchase/development and fully accessible to the people of Vieques. People like my close friends.
Visiting those famous beaches really gave me pause. Sure they're beautiful. Incredibly so, actually. The vibe I got hanging out there, though, just didn't sit well with me.
I felt a certain sense of sadness along those shores.
Not so, however, at Playa El Gallito.
Perfectly Imperfect Playa El Gallito
Centrally located along Vieques' north coast, Gallito Beach isn't very wide or long. The sand here isn't the much-desired pristine sugar-white variety that lines the more famous Vieques beaches.
Nevertheless, though, it's still pretty…
Gallito's location right along the island's busy north shore road isn't ideal either. At least not from a relaxation standpoint. Cars and trucks buzzed by frequently during my visit. An argument emanating from a house just up a side street from the beach could also be heard plainly.
Indeed, peace and quiet are at a premium here.
Bona Fide Local Beach
At the same time, though, Playa El Gallito is tranquil and soothing. Not in the airbrushed, too-perfect-to-be-true beach aesthetic promoted in typical Caribbean tourism marketing, mind you.
This beach just feels real; authentic… Local.
I discovered later that Playa El Gallito actually is a favorite of local Vieques residents. As elsewhere across the Caribbean, the prime day to lime with the locals here is Sunday. As I visited on a Saturday under drizzly skies, I had this playa all to myself.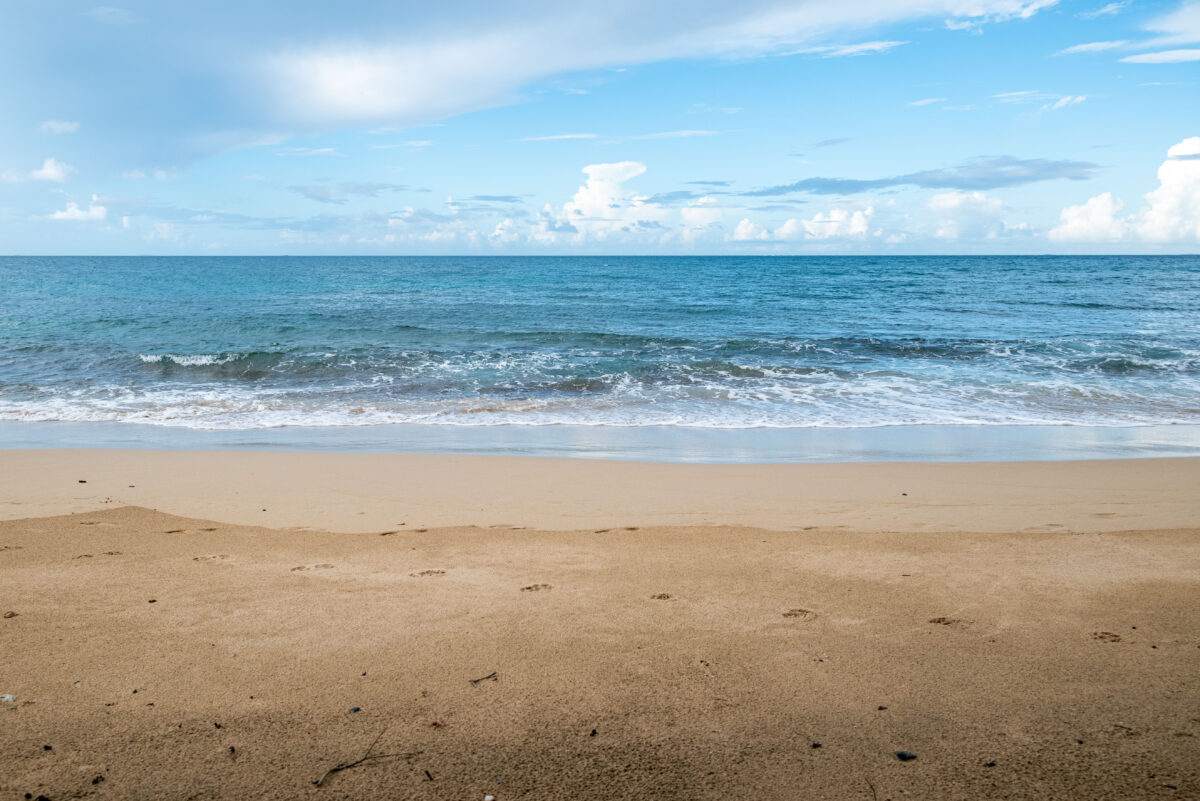 What's With The Gringo?
Something that I never discovered about Playa El Gallito, though, is why it's also called Gringo Beach.
Could it be because the formerly amazing W Retreat and Spa Vieques, now closed, was once located next door?
Or, maybe it has something to do with U.S. servicemen. Was this the preferred playa for the military during their years in Vieques? It would make sense, of course, since they bombed and/or polluted many of the island's other beaches.
Those who pollute and destroy know better than to hang around in the areas they've ruined, I imagine.
Either way, settling in at Playa El Gallito and enjoying a swim almost made me forget my mixed emotions…almost. That alone, though, was enough to make me love it here and want to return for Sunday lime to get more in tune with the real Vieques.
How to Visit Playa El Gallito (Gringo Beach), Vieques
As noted above, this beach could not be easier to find. If you're in Isabel Seguna, the main town in Vieques, just head west along Route 200 toward the airport. Eventually, you'll see this sign…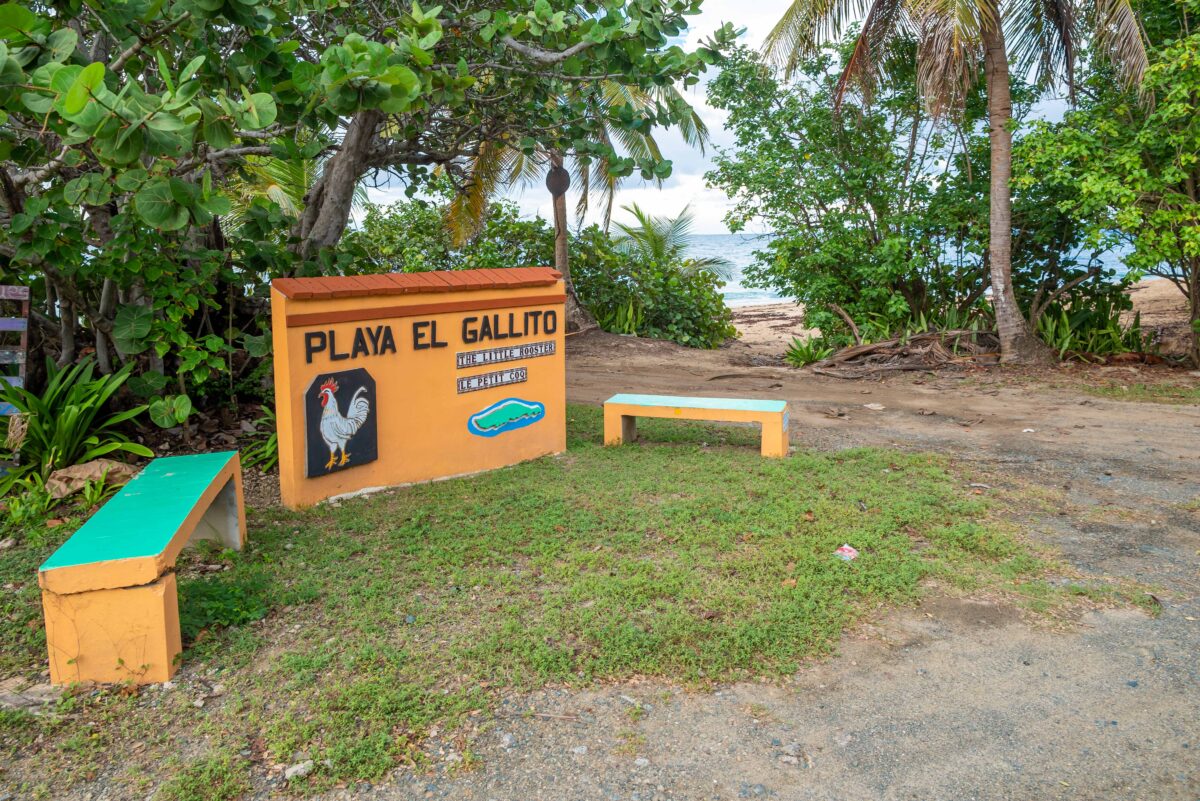 If you somehow miss this sign, though, hopefully you'll see this mural right across the street…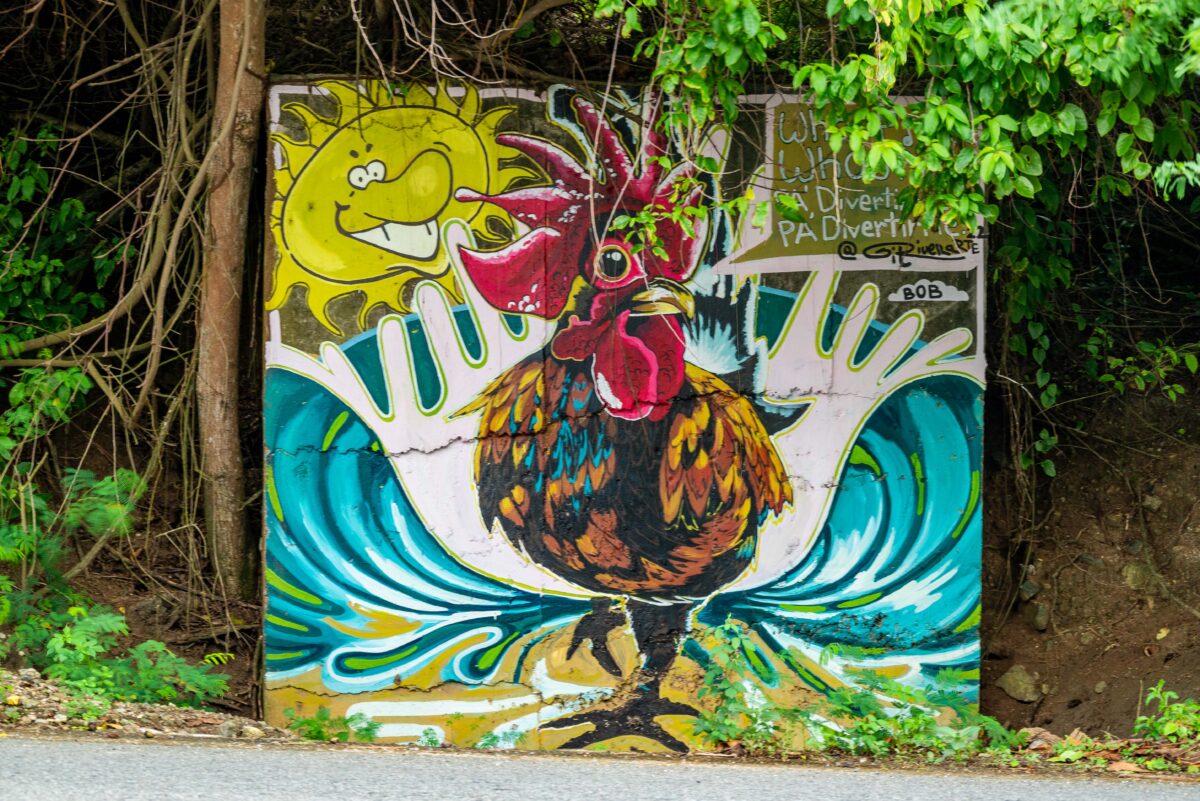 If, by chance you miss these very obvious markers and end up at the airport, well…you've gone too far. Turn around and be sure not to miss this special slice of underrated beach heaven.
Related Posts