Punta Mulas Lighthouse, Vieques – Uncommon Attraction
It's the first point of interest you'll see when arriving via ferry to Vieques. Punta Mulas Lighthouse, or Faro Punta Mulas, crowns a modest promontory at the eastern edge of Isabel Segunda, the island's principal town. In its style and size, the lighthouse mirrors the modesty of its perch. Punta Mulas, though, is as prominent a historic structure as still exists in Vieques today.
Spanish-Built
Faro Punta Mulas was built by the Spanish between 1895 and 1896. European colonial interests had dominated much of the rest of the Caribbean for centuries by then. In Vieques, though, the Spanish were just getting around to seriously settling in. Punta Mulas would prove instrumental in those efforts.
(Fun fact: Punta Mulas Lighthouse was built at a cost of 14,500 pesos. That equates on the top end to nearly US$2 million these days.)
The lighthouse was purpose-built to facilitate safe passage to and through the port of Isabel Segunda from mainland Puerto Rico. It also helped seafarers navigate the passage between Vieques and its sister island, Culebra, to the north.
Red Light For Safety
In its earliest days, Faro Punta Mulas emitted a fixed red light. From its lantern room, which sat 68 feet above sea-level, the Punta Mulas light was visible eight miles away.
At its closest distance apart, mainland Puerto Rico is eight miles from Vieques. Culebra sits nine miles to Vieques' north. As such, Punta Mulas Lighthouse was absolutely essential to trade and transportation in the area. Only it wasn't the Spanish who benefitted from the lighthouse's usefulness.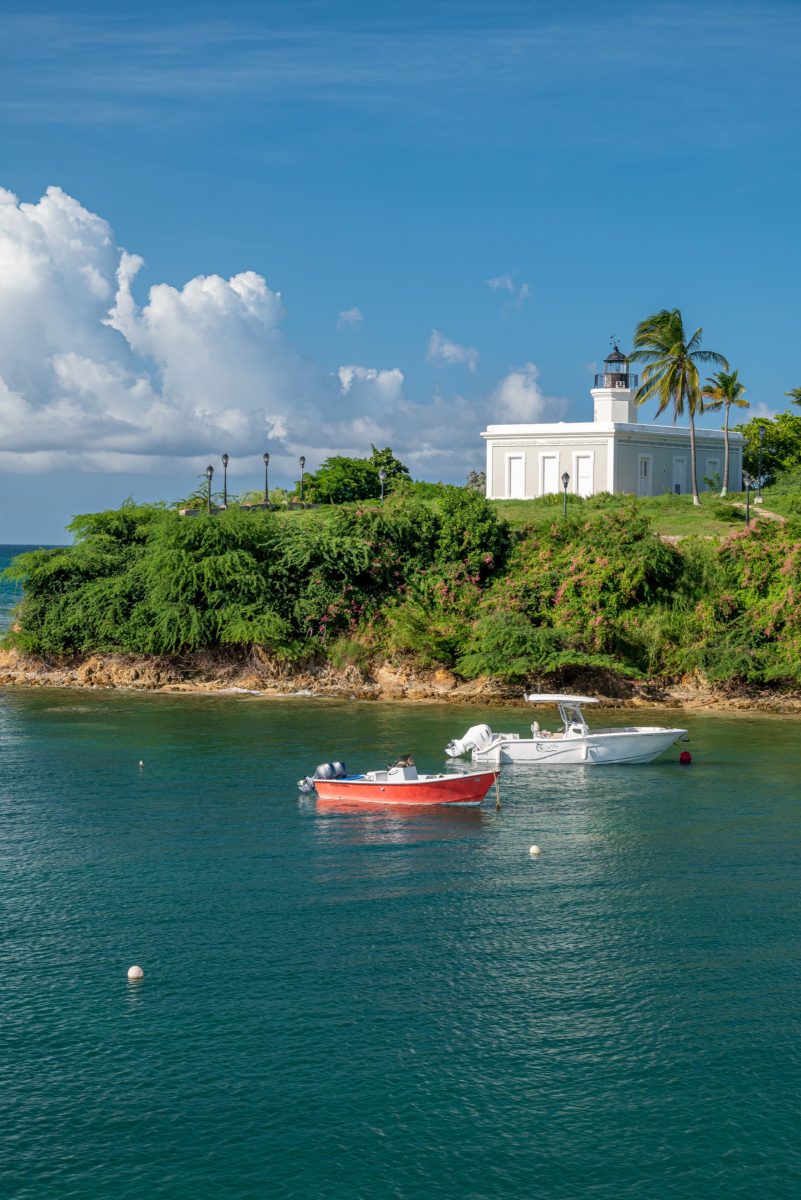 Enter the United States
When the Spanish-American War wrapped up in 1898, the United States took control of Puerto Rico. By extension, of course, it also started running things in Vieques. As most of the island was exploited by U.S. interests well into the 20th century, first for industrial agriculture and later for military purposes, Faro Punta Mulas continued to shine on.
From its earlier inception until the 1940s, a lighthouse keeper was stationed on-site. In 1949, though, the Punta Mulas Lighthouse was automated and left unattended. A caretaker moved in during the 1960s to keep the lighthouse from falling apart. The demise of the structure, though, continued apace as the development of new radar and sonar technologies further rendered its light obsolete.
Punta Mulas Lighthouse Today
The early 1990s, though, brought new life to Punta Mulas. At least for awhile. Sort of.
The Lighthouse was restored in 1992 to commemorate an infamous historical figure who sailed the ocean blue in 1492. A small museum was installed inside tracing the history of Vieques and the lighthouse itself.
By 2005, though, Punta Mulas was once again closed due to excessive storm damage.
In 2014, the lighthouse received the iconic grey and white paint job it exhibits today. There's no telling, though, when the graffiti just below its light appeared.
At last check, Punta Mulas Lighthouse is rarely ever open. It wasn't when I visited in October 2022, so I have no idea what ever became of the museum.
Still, a visit to its peaceful perch rewards visitors with a great view of the harbor and mainland Puerto Rico to the west.
Related Posts