The Anguilla Tennis Academy -Inspiring Kids to Greatness
This is arguably the most incredible building in all of Anguilla, and not just because of its refined, modern architecture. You're looking at the Anguilla Tennis Academy (ATA), a state-of-the-art athletic facility with a backstory far more impressive than its facade.
The front doors opened here for the first time just five years ago. The Academy itself was founded 12 years prior to that, 1996, when its founder, president and native Anguillan, Mitchelle Lake, was inspired, in part, by Andre Agassi.
Tennis fans might remember that the formerly more flash than substance Agassi found his game and dominated the sport throughout much of the '90s. Lake, a teenager at the time, was a big fan. Impressed by Agassi's drive, Lake set out to emulate his favorite player, while also helping his home island in a BIG way.
I started out in tennis by walking from town to Cap Juluca and back.
If you've ever been to Anguilla, you know that this is a pretty decent-sized walk. Not for Lake. He was working in the tennis center at the resort, learning the game and the discipline required to be great. Eventually, he earned a tennis scholarship to Gardner-Webb University in North Carolina – a pretty big win for a kid from humble beginnings on a small island in the middle of the Caribbean.
Tennis had given Lake a chance at a better life, but he wasn't about to keep the benefits all to himself. While in college, at the age of 19, he decided to start a summer tennis camp for kids back in Anguilla. During the first few years, the camps were held on public courts. Eventually, as the crowds of interested kids grew, the program moved to a few of Anguilla's resorts. Soon, even that was not enough!
While still in his early-20's, Lake set out to create a permanent, stand-alone home for tennis on Anguilla; one that would serve locals and visitors from overseas alike, while also always benefiting the island's youth. His philosophy in pursuing the funding to realize his dream:
No means maybe. Maybe means yes. And yes means yes!
Working alone and displaying the type of drive that would no doubt have made Agassi proud, Lake talked the Anguilla Government into providing land (six acres) and funding. He talked several Anguillan resorts, banks, and prominent villa owners to step up with funding and equipment as well.
The resulting masterpiece, designed by celebrated New York architect Myron Goldfinger and Jeff Taylor & Associates of White Plains, New York, opened on May 23, 2008, with six lighted courts and the large main building. I got a chance to visit here last summer, and it truly is impressive, but as Lake told me at the time:
You see so much more than tennis here.
Yes, you can play and receive expert instruction here, but at its core, the Anguilla Tennis Academy is all about the island's kids. It was obvious to me during my visit, especially while watching a few kids receiving some instruction.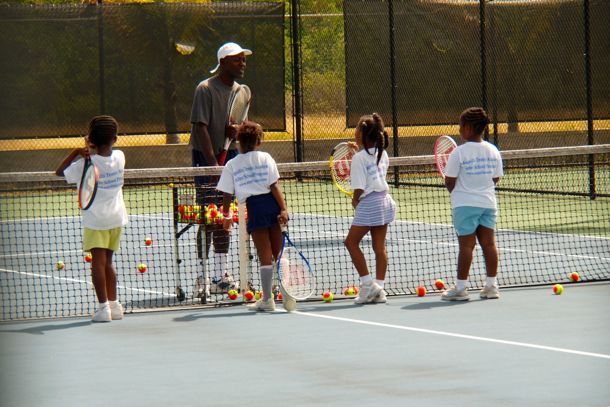 It was a pretty warm mid-morning session, but the kids were in heaven, their elation shining through in the cheers and encouragement they gave each other with each successful forehand volley.
You also see it in artwork like these poignant portraits that adorn virtually every wall inside ATA's main building.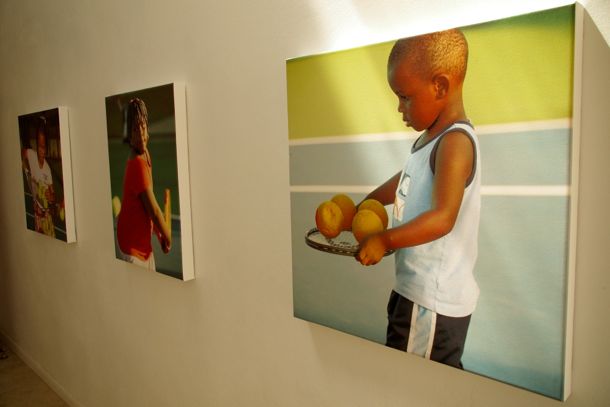 We use tennis as a vehicle to teach and empower children.
ATA proceeds go primarily toward an Afterschool Program at the facility and the same wonderful Summer Camp that got it all started years ago. ATA also helps their student-athletes to secure the same type of athletic scholarship that Lake earned in his youth and even assists with job placement as their athletes get older. Several of the tennis pros you'll meet at Anguilla's resorts are ATA graduates.
In a broader sense, though, ATA builds self-confidence, discipline, and proper nutrition and training habits within their kids, all great lessons to have throughout their lives no matter what career they choose.
As you might imagine, though, Lake is not resting on his accomplishments. He's got bigger plans for a stadium court and further expansion to complete his original vision. When we spoke last year, about US$1.5 million was needed to get the job done. I certainly wouldn't bet against him, of course, especially since you can help as well!
To learn more about the Anguilla Tennis Academy and all the ways that you can help Mitchelle Lake to further inspire and provide opportunities for the kids of Anguilla, visit the ATA website, or "Like" The Academy on Facebook.
Related Posts