St. Martin/St. Maarten is a brilliant blend of unique qualities not found anywhere else in the Caribbean.
Here, French and Dutch blends with Afro-Caribbean. Large Resorts share the island with cozy escapes. And the blue sky gradates perfectly into turquoise waters and white sand beaches.
It's a place where driving 10 minutes can take you from one country to the next or what feels like a world away.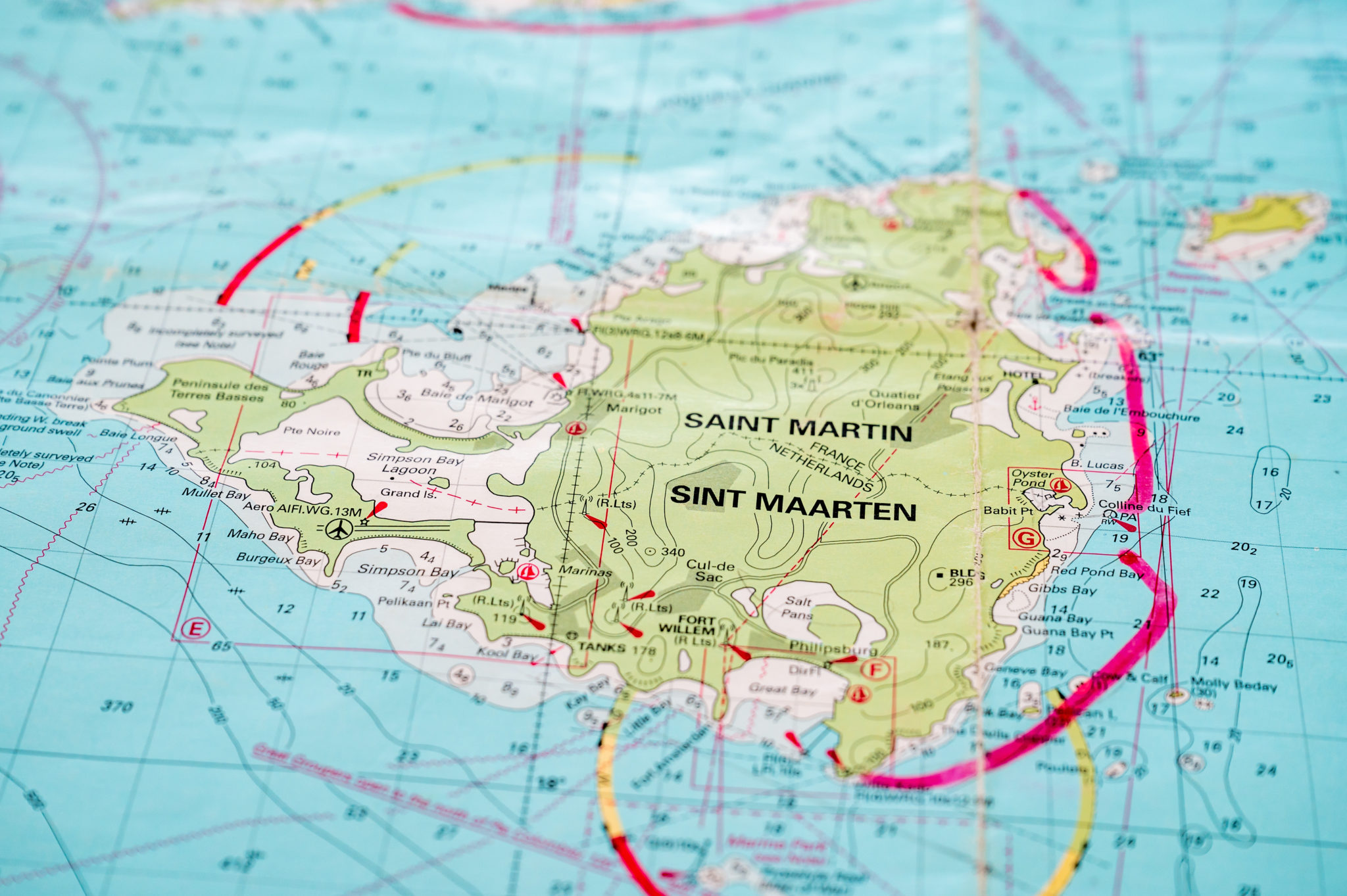 St. Martin vs St. Maarten
At 37-square-mile, St. Martin/St. Maarten holds the honor of being the smallest inhabited island divided between two nations with the Saint Marten island side belonging to the French and Sint Maarten being a part of the Kingdom of the Netherlands. So, of course, when talking about this destination's unique qualities we have to start with its dual-nation status.
French Saint-Martin
The north of the island, is an overseas collectivity (collectivité d'outre-mer or COM) of France. And it really feels like it.
In the Collectivity of Saint Martin, expect most people to speak French (and some English). Menus will likely be in French. Most people will prefer you pay in Euros and the cuisine leans heavily in the French West Indies creole style.
Another sight you can expect to see on the French side are topless women and on some beaches nude sunbathers. For more on that, jump to our section on topless and nude sunbathing.
Dutch Sint Maarten
The Dutch side of the island is in some ways even more geopolitically unique. Sint Maarten is one of just four countries that together form the Kingdom of the Netherlands.
For the geography buffs out there, the Kingdom includes Sint Maarten and the Netherlands itself, of course, plus two other Caribbean destinations: Aruba and Curaçao!
There are two big differences between Sint Maarten on the south side of the island and its neighbor of Saint-Martin to the north.
One of those differences is the use of the Netherlands Antillean Guilder (or Florin) as its primary currency. Usually, hovering around half the value of the USD, the currency change can sometimes cause some confusion when you see your bill looking twice as much as you expected!
The other big difference is casinos. There are roughly a dozen free-standing casinos though guests at larger properties are offered on-property gaming.
To be honest, I'm no gambler. So, I have no interest in Sint Maarten's casinos, I've never been to any, and have no recommendation for folks who are into it. If that's your thing, I can only wish you the best of luck!
What's in a name?
So, while these two sides are quite different, they do share the same, though differently spelled name. What's up with that?
Well, like that one horrible ancestor in everyone's family tree, that's thanks to Christopher Columbus—the Caribbean's genocidal not-so-great grandfather. It's been said, he spotted the island on the holy day of St. Martin of Tours and named it after this Christian saint from France.
It should be mentioned that like everything he "discovered" people were already living on the island and already had a name for it: Soualiga. A name that translated to Land of Salt.
Topless and Nude Sunbathing
Before getting to the list of our favorite beaches, let's first touch on what can be a touchy subject. That subject, of course, is how much should you take off when you visit St. Martin/St. Maarten's beaches.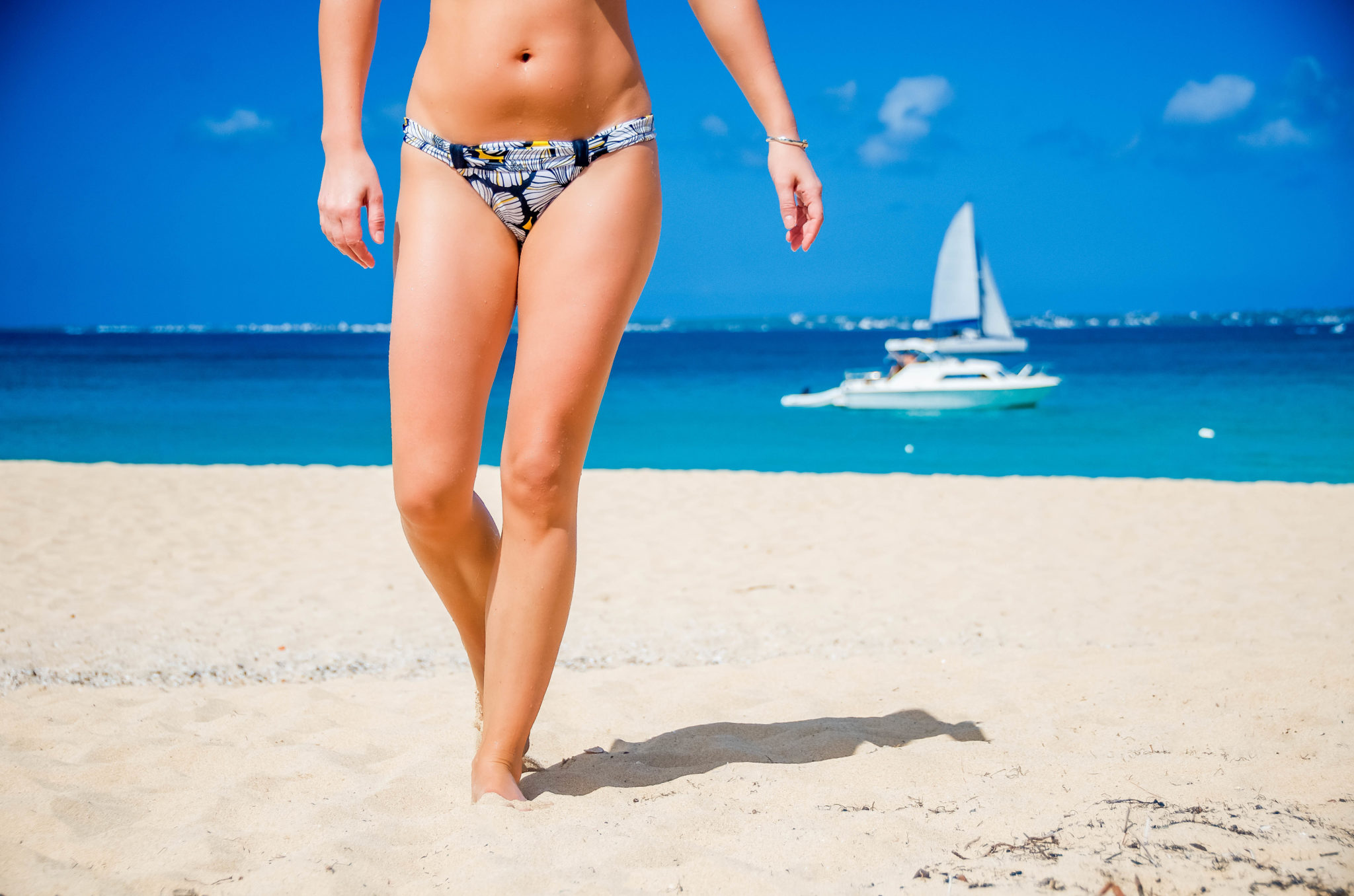 Topless women
The French plus beaches have equaled toplessness since around when Brigitte Bardot renounced tops on the French Riviera in the 1960s. Back then, topless sunbathing and women's liberation went hand in hand.
It wasn't about overt sexualization, it was about women claiming their bodies as their own and exercising their freedoms. It was about equality.
Today, unfortunately, things have taken a bit more of a prudish turn.
So, can you expect to share the sand with topless women on these beaches? Yes. Can you expect that to be the choice of the majority? Not so much.
Thanks to toplessness feeling overly sexualized (something often blamed on visitors from the United States), American visitors bringing more reserved standards with them, and the rise of social media where unwanted images plastered on Facebook can cause a person problematic job interviews—the women who choose to go topless are now in the minority.
All that said…
Should you go topless on St. Martin?
Sure. No one will bat an eye and flash a frown should you feel comfortable going topless on the beaches of St. Martin.
Nude sunbathing
The most important thing to know about nudity on St. Martin is that the far end of Orient Beach is the one and only officially clothing-optional beach. Read our review of a day in the nude on Orient Beach.
Does this mean you can't lay under the sun au-naturel on any other beach? Not really.
There are a number of other beaches that have become known as being nude-friendly, but you just need to always know that they are not officially designated as clothing-optional.
Some of your best bets for enjoying a nude beach experience away from Orient Beach would be Happy Bay, the far side of Pinel Island, and Petites Cayes.
All that said…
Should you go nude on St. Martin?
On the designated area of Orient Beach? Yes! And if you're discreet, respectful, safe, and comfortably secluded—you should be OK on other select sands. Try for weekdays on out-of-the-way beaches.
St. Martin/St. Maarten Beaches
It is no exaggeration to designate the island of St. Maarten/St. Martin as home to some of the most perfect beaches in the Caribbean. The island's crystal clear water, blending into blazing white sand, and European/Caribbean beach culture make the island one of my favorite beach travel spots.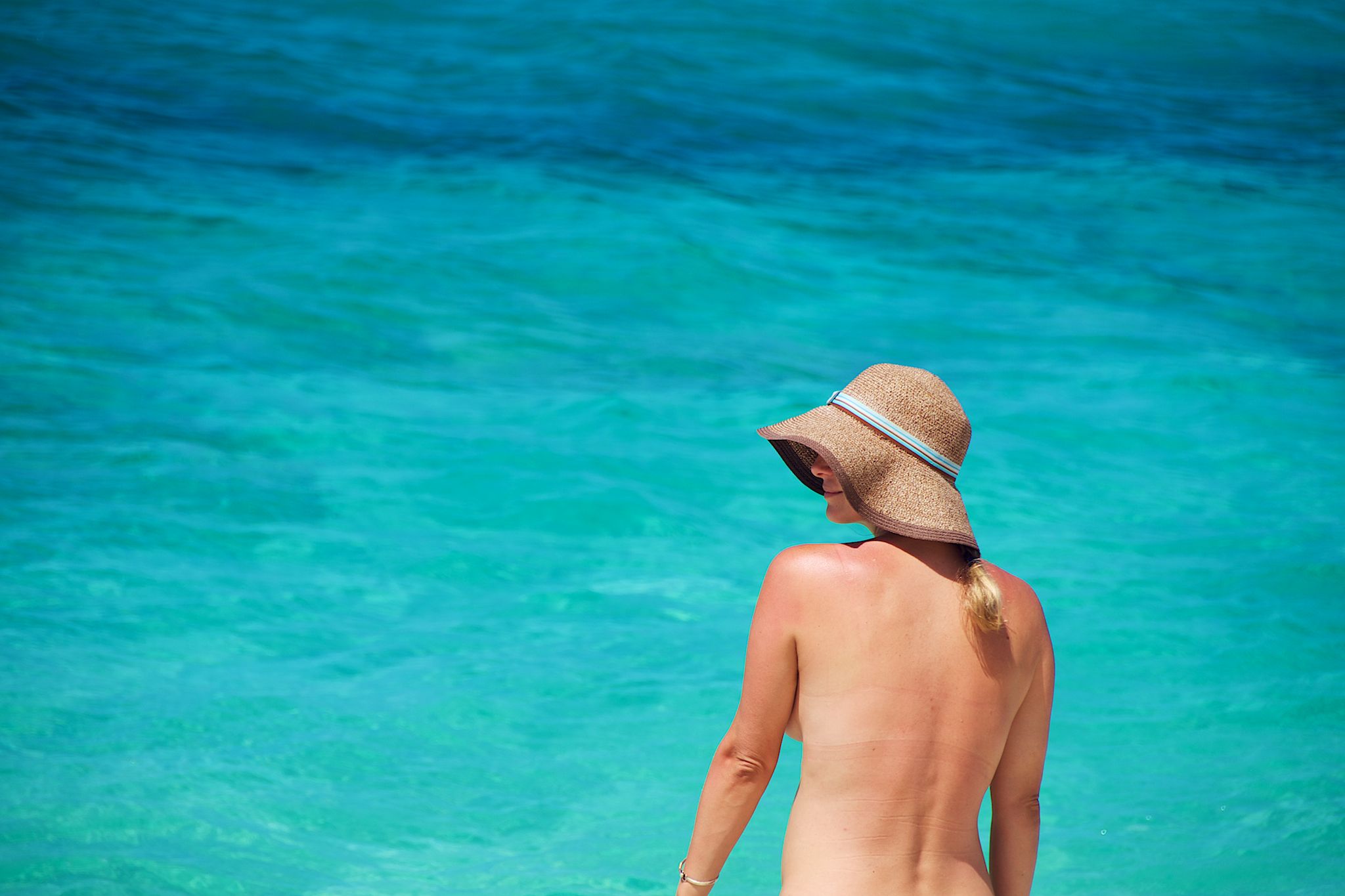 Orient Bay
As we touched on above, Orient Bay is home to the only officially clothing-optional beach on the island, but it has much more than just that!
Orient Bay is a little over a mile of beach fun. You can find rentals for all sorts of water sports including windsurfing, Hobie cat sailing, and even jet skis. There are water trampolines, snorkel rentals, and more.
On the sand, you can rent beach chairs for varying prices depending on who you rent from. Behind the beach chairs are restaurants, bars, and shops.
All this commerce is a testament to how busy Orient Bay can get. If there's a cruise ship (or two) in port, you can expect it to get very busy.
Still, going at the right time (early on weekdays) and renting chairs at the right place is key to having a great time on this world-famous beach.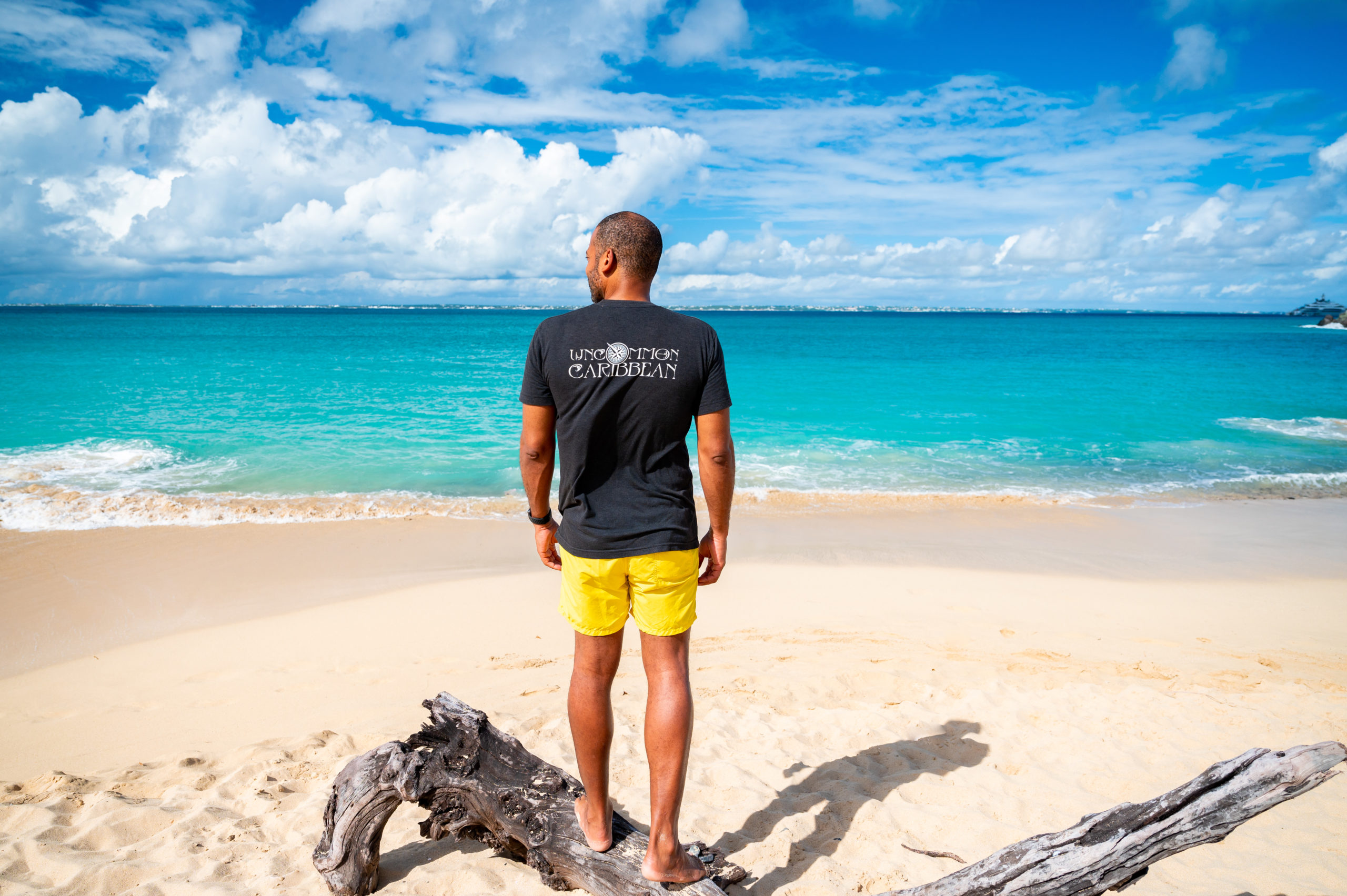 Happy Bay
Happy Bay is what it says it is. So if it's semi-secluded sands and chill vibes can't make you happy, there's a problem… With you!
There are two primary ways to get to Happy Bay. One is a short hike from Friars Bay just to the south. The other way is strolling from a parking lot through long swaying grasses and an abandoned development.
The reward is a small, quiet bay. The first time I visited years ago, I was the only one there for the whole day. More recently, it was much more populated, but not nearly enough to make it feel particularly populated.
And thanks to its quiet nature, Happy Bay is considered one of the favorites for nude sunbathers looking for a serene clothing-optional beach experience.
Friars Bay
Friars Bay is a great beach for those looking for some chill facilities on the beach thanks to Kali's Beach Bar and Grill.
You can expect a lot of the typical beach bar fare here, but for something a little more special, try one of Kali's rum infusions.
Passion fruit, pineapple, and other tropical tastes are mixed with rum before baking in the sun for days or weeks. The result is a sweet (by not cloying) treat!
Pinel Island
Found off the coast of French Saint-Martin in the northeast part of the island, Pinel Island is home to a nature preserve, several magnificent beaches, plus Karibuni Restaurant.
So, you can easily alternate between snorkeling the serene waters, soaking up the sun on white sand, and sampling their signature lobster lunch.
The Ferry Shuttle leaves every hour from the Cul de Sac pier.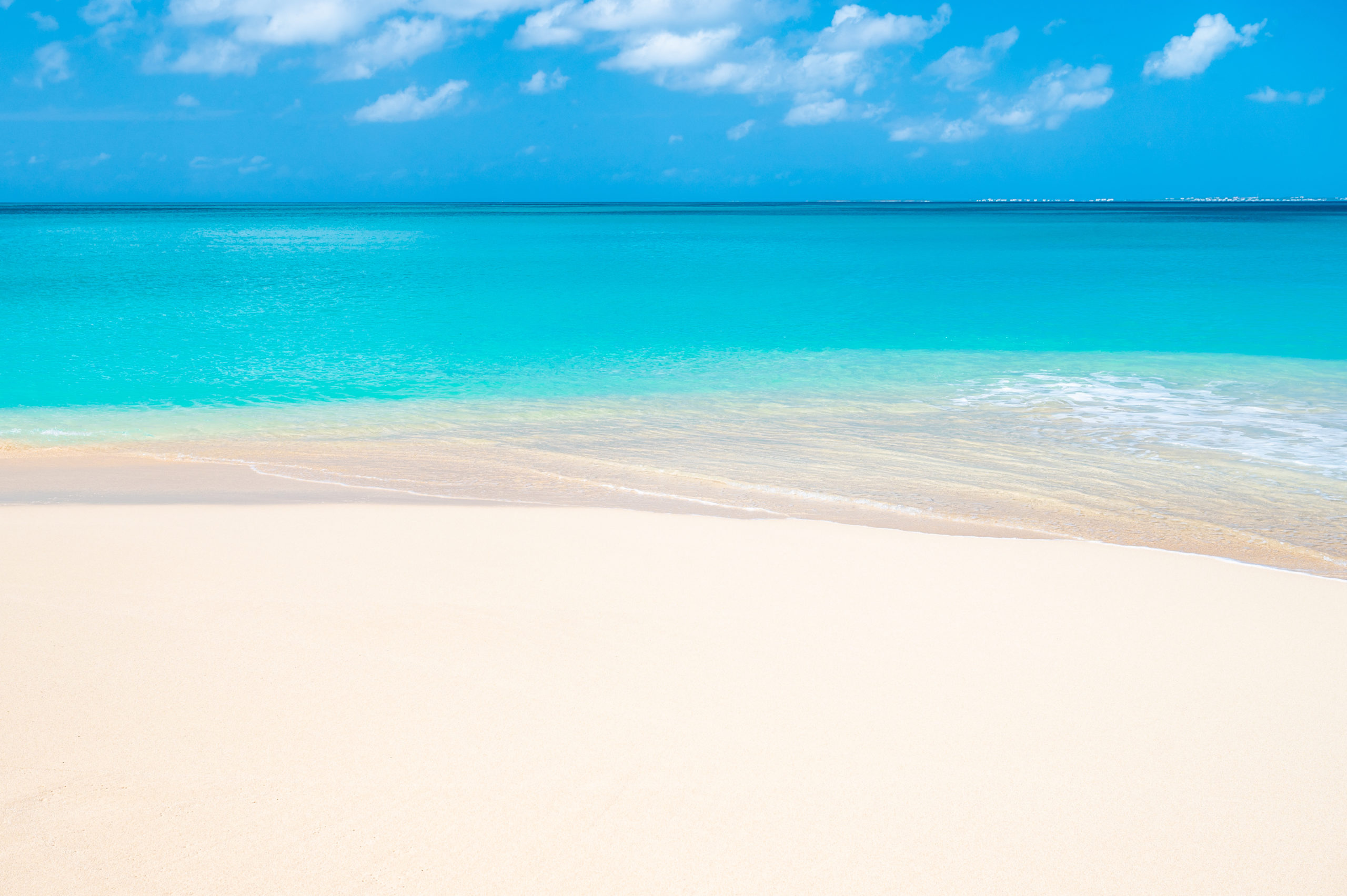 Baie Rouge
Baie Rouge is a favorite around here. I love it for the perfectly arcing blaze of white sand, little shady nooks, and lack of much else.
It's easily accessible and sometimes you'll find a small makeshift bar, but plan to bring your own provisions when visiting.
Cupecoy
Cupecoy beach is special for a number of reasons. The first is Dany. He's been manning the beach for over a decade dishing out beach chairs, beers, a little rum, and vibes.
Seriously, if you go to Cupecoy and don't chat with Dany for a second you're missing out!
Besides that, depending on the time of year, there are accessible caves carved into the bright yellow limestone cliffs backing the white sand.
Now, what you choose to do in those caves is up to you… But if you can't imagine how to make the most of secluded, gorgeous, picturesque caves on a quiet beach—again, you may want to talk to Dany as we did.
Besides, Dany and the caves, Cupecoy offers another splendid example of why Saint-Martin/Sint Maarten has some of the best beaches in the Caribbean.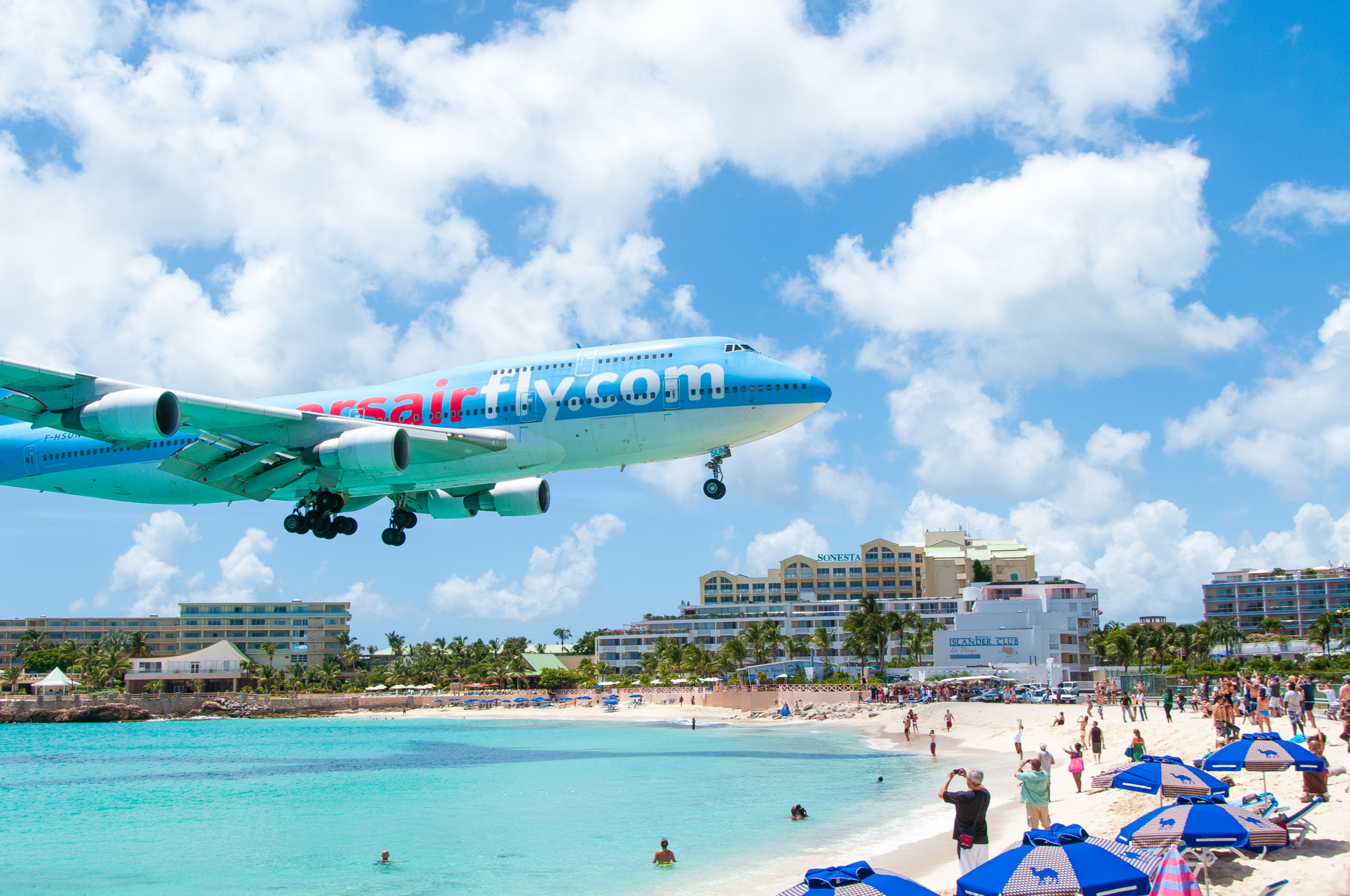 Maho Beach
We can't do a guide without talking about Maho Beach. You know Maho beach. It's the one world-famous for its incredibly close proximity to Princess Juliana International Airport.
You've seen the photos and videos of people being blown away by the powerful jet blast of planes about to take off. You've probably also seen the photos and videos of people standing on the sand looking like they're about to be crushed by massive jumbo jets about the land.
The question is, should you visit?
I mean, if you're just doing it for the 'gram, I guess. But to be honest, it's not really our scene. It's overcrowded. Noisy. And smells like jet fuel.
If you have a passion for airplanes or airports, knock yourself out. As for us, we'll be quietly sipping some rhum agricole on one of the island's many other much quieter, more picturesque beaches.
Where to eat
Being that St. Martin/St. Maarten is such a blend of cultures from the French, Dutch, and Afro Caribbean; it should be no surprise that the flavors of the island are equally diverse and delightful.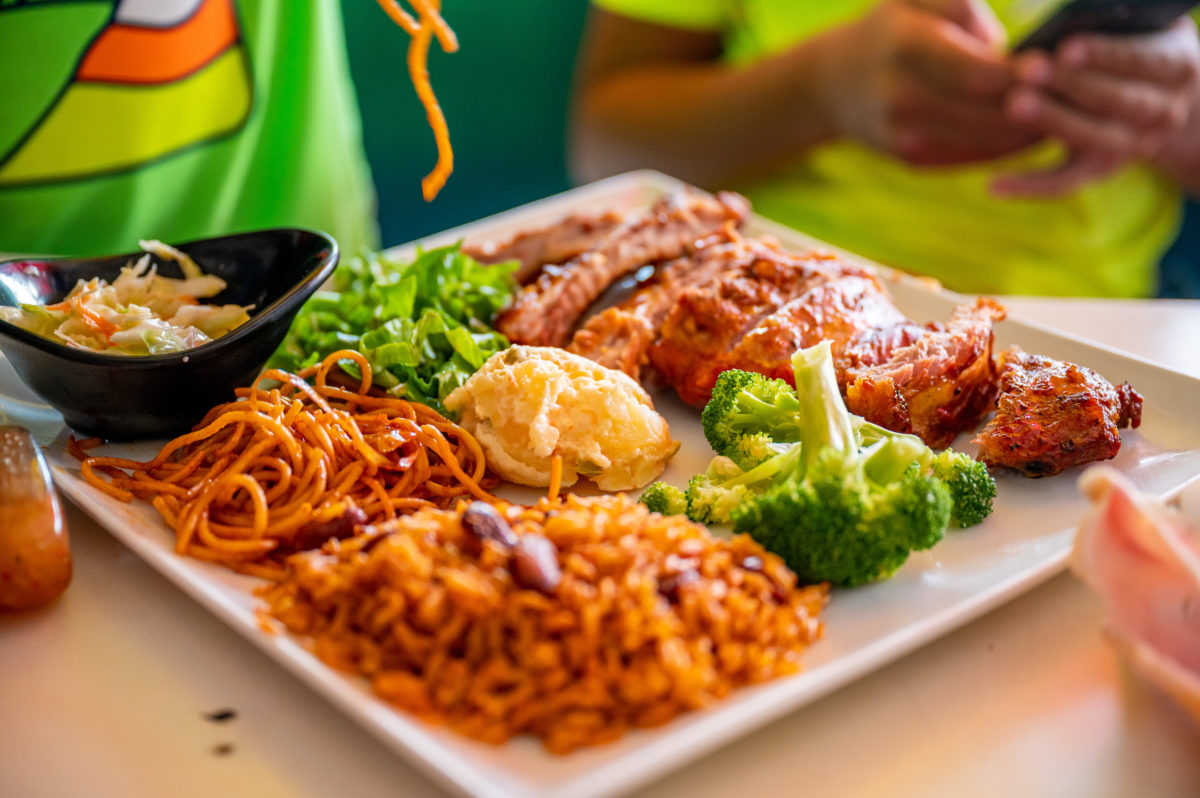 Lolos
One must-stop on any trip to the island has to be the lolos. Found at the northern end of the venerable Grand Case restaurant row, these are open barbecues serving up local fare at decent prices.
Expect to get a plate of rice, salad, veggie, macaroni pie, maybe some spaghetti and a protein. The choices range from shrimp to ribs to lobster and plenty in between.
Read the complete review of our favorite pick from the bunch: Sky's the Limit.
Roti Hut
On the other side of the island, another excellent spot for Afro Caribbean fare is the Roti Hut. Wedged into an unassuming corner on the edge of Phillipsburg, this little spot was the best roti I found on the island.
Of course, no one would ever say Sint Martin is known for this particularly Trinidadian dish, but that just made finding a good one that much more surprising!
Ocean 82
Back up on Restaurant Row in Grand Case, Ocean 82 is an excellent spot to get a taste of high-end French cuisine blending with Caribbean flavors.
Overlooking the beach and blessed with sunsets almost as delicious as the food, Ocean 82 has spectacular lobster dishes. Also, don't pass up on some of their pasta. They're stellar.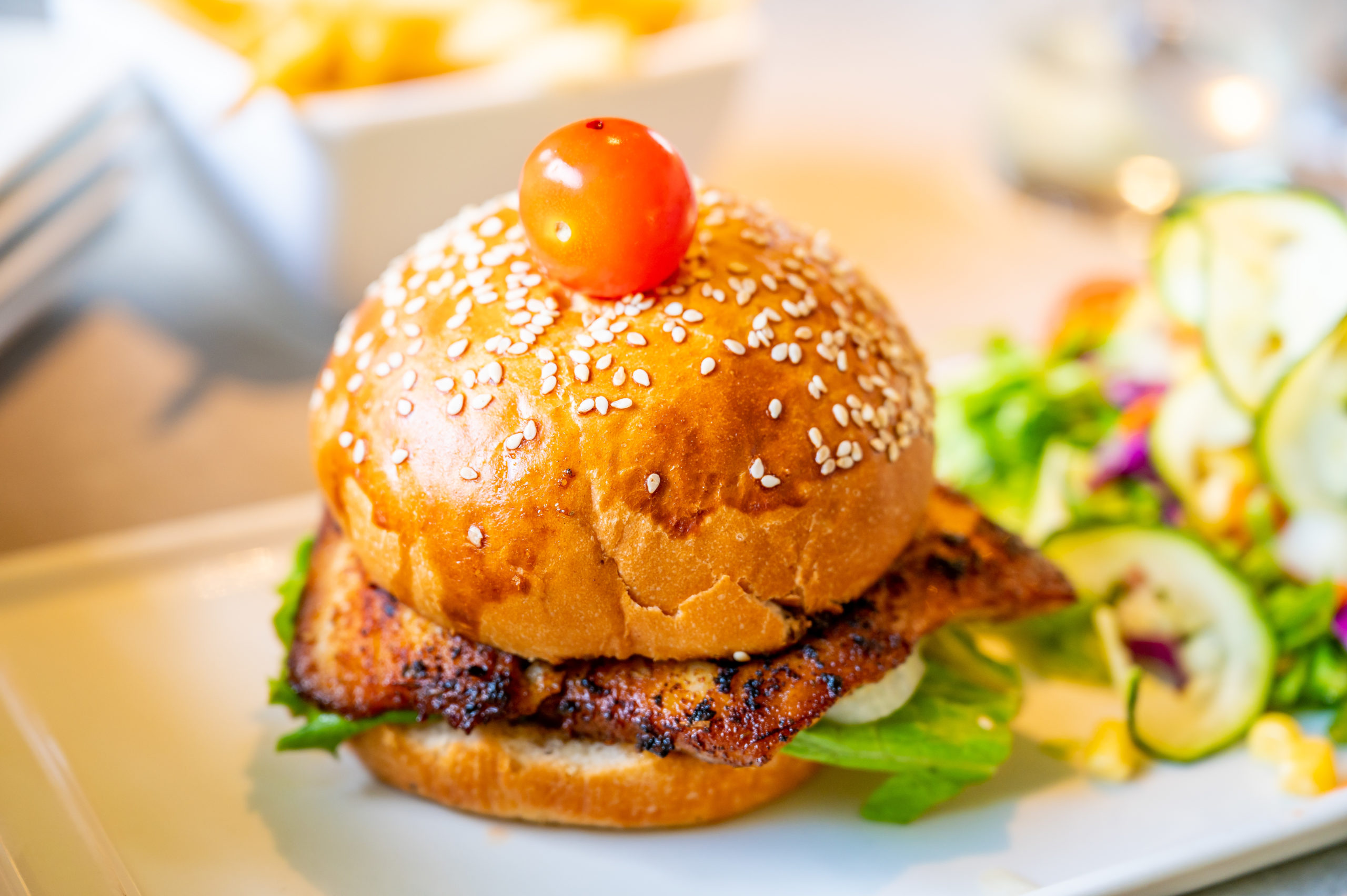 Loterie Farm
Loterie Farm is a lot of things. It's a hotel, a nature preserve, and at times party central. A farm is the one thing I'm not sure it is.
Still, the food and atmosphere at the restaurant are quite pleasant. So pleasant that with a few ti' punches to accompany your lunch, you may find yourself here in time for dinner.
Great Supermarkets
This cannot be overstated: St. Martin has excellent supermarkets. And I'm not talking about typical Caribbean supermarkets, either. I'm talking about plucked straight out of France and dropped in the West Indies level of supermarket.
My favorite is the Super U up north in Hope Estate. It's massive. It has a rum (and rhum) selection that would put some of the best rum bars to shame. And it also has plenty of locally sourced fish and fruits to choose from.
Sailing Saint Martin Island
There are few things we love more than sailing this sparkling island in the Caribbean. Your best bet to make that a reality is with Sunsail out of their base in Marina Fort Louis.
Once you've secured your boat, the island and its surrounding waters are your oyster. On our last sailing adventure, we explored anchorages from Ile Tintamarre to St. Barts to Anguilla to Simpson Bay to even Great Bay—and many more spots in between! (And you can bet some of those stops were clothing optional.)
Circumnavigating the square miles of stunning shore in the region is a truly special way to explore the region.
The Bottom Line on Saint-Martin/Sint Maarten
Like other nearby leeward islands, both sides of this unique destination (St. Martin the French and Sint Maarten the Dutch) deliver jaw-dropping beaches galore. But there's so much more than just beaches. Also be sure to soak in the eclectic cuisine, hikes, parties, and colorful characters that make "The Friendly Island" unlike any other destination in the Caribbean.
St. Martin / St. Maarten Map