DOMINICA carries, perhaps, the aptest nickname of all the sandy shores that comprise the West Indies — The Nature Island. With amazing waterfalls, diving, hiking, mountain biking, exotic flora and fauna, and even whale watching, the island probably has more to offer per each of its 290 square miles than any other island in the Caribbean.
The island's interior is rife with towering peaks reaching as high as 4,747 feet (1,447 meters). The result is intrepid hikers are rewarded with views that are nothing short of jaw-dropping.
One of the region's newest and most fantastic hiking adventures, the Waitukubuli National Trail, winds its way through this region. A trans-island route running the entire south-north length of the island through the island's national parks. The trail covers 115 miles (184 km) in 14 segments. It takes between 10 and 14 days to complete the whole thing.
Dominica vs Dominican Republic
Let's get something clear from the beginning: Dominica is not the Dominican Republic! In fact, Santo Domingo, the Dominican Republic's capital, is about 600 miles from Roseau, the capital and head of government of Dominica.
These are two very different destinations that provide wildly different experiences to visitors—from language (one where Spanish vs. English is the official language) to food to topography to music, arts, people, history, and everything in between. These names don't even refer to the same types of thing. Dominica is an island nation in the windward islands. The Dominican Republic is a country on the island of Hispañola.
But don't worry if you were confused about this fact. You're not alone. We've had to explain this many times to people throughout the years. But now that we've gotten that out of the way let's explore one-of-a-kind Dominica!
How to Get to Dominica
Flying here from the United States can take a little more effort than some other islands in the Lesser Antilles. But choosing to fly instead of hopping on a cruise ship is well worth the connections! (Honestly, we never recommend cruise ship travel. Our Caribbean destinations are worth more time and attention and care than that means of transportation provides.)
When planning your flights, expect to take multiple airlines to make the trip. It could be with Frontier, Silver Airways, Caribbean Airlines, Spirit Airlines, and more. And as I said, it can take a little more effort. But luckily Dominica more than makes up for the planning with the uncommon experience of your dreams.
A truly novel way to get here is via the ferry from the islands of Guadeloupe. But be warned, it's not always for the faint of heart. I've taken it once during the day over a calm eastern Caribbean sea. It was pleasant with ferry goers jockeying for sunny positions on the top deck.
But I've also taken it at night over rough seas. On this trip, my fellow passengers were definitely taking advantage of the sickness bags onboard. So, in a nutshell, the ferry can be an adventure!
Volcanic Past
Thanks to the island's nine (yes, nine!) volcanoes, unique geological elements pop up almost everywhere you look. So, be sure to check out the Valley of Desolation, Boiling Lake, and Red Rocks up north in Calibishie. Even the capital city of Roseau sits atop the remains of an ancient pyroclastic flow.
For those seeking a little refreshment, The Nature Island obliges with spectacular waterfalls. One of the most popular, Trafalgar Falls, towers just outside the capital city of Roseau. At these twin falls, those who dare to venture beyond the viewing platform can enjoy not only a cold dip but also a muscle-melting soak in a hot springs-fed bath.
That's refreshing, to say the least. But with 365 rivers, there are many waterfalls not to be missed. Emerald Pool, Middleham Falls, Sari-Sari Waterfall, and Victoria Falls, to name a few.
Trafalgar Falls, Dominica - Climbing all the way to the top
Dominica Beaches
No, beaches may not be the primary draw since it's hard to compete with the towering waterfalls and incredible hikes. But if you thought the island was a slouch in the sand department, you'd be wrong. Some of the most stunning black sand beaches in the entire Caribbean can be found on the island, thanks again to all that volcanic activity. And there are even some surprise white sand beaches to be enjoyed, too!
Bubble Beach
While Champagne Reef may get a lot of the travel writer ink, we absolutely love Bubble Beach for a spa-like experience. Here, like at Champagne Reef, seawater is naturally heated to hot tub temperatures and blessed with bubbles.
Even better, there's a bar. Dale the bartender serves up solid rum punches and more adventurous cocktails for his guests. Or just delicious fruit juices. It's a rustic, unique stop that shouldn't be missed.
Batibou Bay
Found in the north of the island, Batibou Bay offers up scenic and serene surroundings. The bay is absolutely gorgeous. A great spot to linger and enjoy the fruits of the Macoucherie Rum Distillery.
Purple Turtle Beach
My favorite thing about most beaches in Dominica is that you can find locals enjoying the sands just as much as visitors. My last visit to Purple Turtle Beach was no exception. Wrapped in a sprawling bay that acts as one of the island's best anchorages for sailors, you can expect swimming, pier jumping, and a solid beach bar with good food with the Purple Turtle Beach Bar.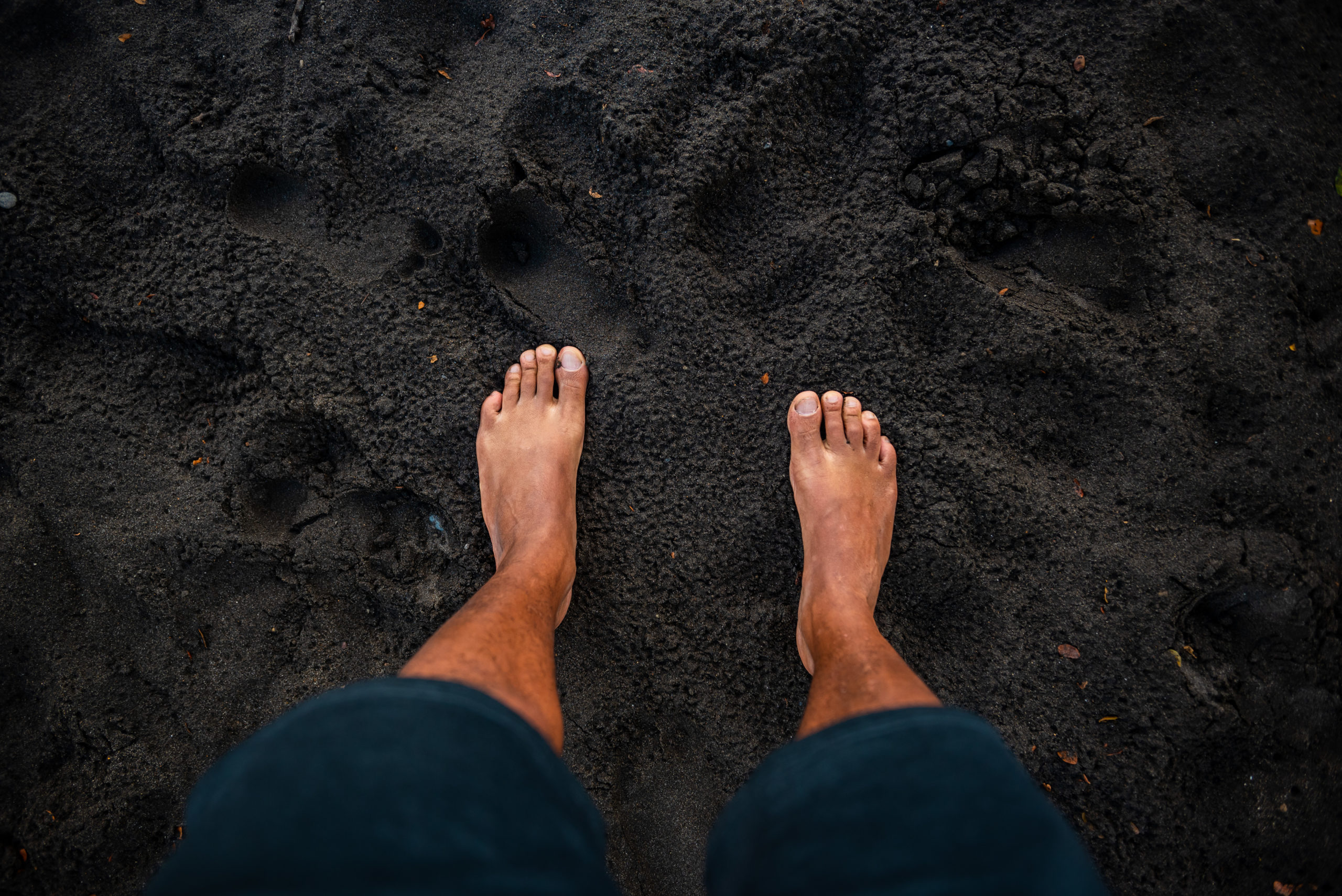 Coconut Beach
This was my beach on my last visit to Dominica. Thanks to spending a week at Picard Beach Cottages, this stretch of ebony sand was one step off my veranda. Starting your day with a swim, followed by a stop at Le Flambeau Restaurant & Bar for some breakfast johnny cakes was a daily slice of West Indian heaven.
Mero Beach
We can't talk about beaches in Dominica and not talk about Mero Beach. One of the island's most popular beaches, you can always find a crowd and something going on along its black sands.
Looking for a Dominica white sand beach?
If you're looking for something a little more uncommon, consider hunting for a white sand beach! Yes, they're found all over the Caribbean, but here, they're extremely rare. Still, we've got you covered.
Just head follow our guide to Pointe Baptiste Estate Chocolate Factory. Right at the entrance is a little sign that says White Beach with an arrow. Just follow the sign and enjoy!
Excellent diving
The island's mountainous terrain continues beyond the coast as divers can visit an underwater volcanic crater. The area around Soufriere, at the southern tip of the island, is considered the best for diving and is now protected, so the many reefs and walls are kept in excellent condition.
Just to the north of Soufriere is the aptly named Champagne Reef snorkeling and dive site. Here underwater explorers can enjoy one of the region's most unique undersea adventures. Volcanic activity here causes thousands of bubbles to emerge from beneath rocks just a few yards offshore. This gives the impression of swimming in a glass of champagne.
After Hurricane Maria
Since taking a devastating blow from Hurricane Maria in September 2017, the island has rebounded. Roads have been cleared. Luxury stays like Secret Bay reopened better than ever.
Local restaurants once again began dishing out incredible West Indian delights. And the natural wonders of the island returned to their former magnificence. It's a true testament to the strength of this Caribbean community.
Currency
The Commonwealth of Dominica is a member of the Organisation of Eastern Caribbean States (OECS). Therefore, it uses the Eastern Caribbean Dollar, which hovers around 3 EC (properly written as XCD) to 1 USD.
Dominica Map