Trafalgar Falls – How Best to Soak in their Majesty
Did you know that Dominica is home to 365 rivers? When you combine those hundreds of rivers with some of the most rugged terrain of all the islands in the Caribbean, you've got a recipe for spectacular waterfalls. With so many on The Nature Island, it takes a lot to stand out as the cream of the cascade crop. But, with twin falls set against a monolithic wall towering out of the rain forest, Trafalgar Falls does just that.
To get the full experience of the twin waterfalls at Trafalgar Falls requires uncommon travelers to do what they do best. Get familiar. Be adventurous. And look at the world from a different perspective.
The Mama at Trafalgar Falls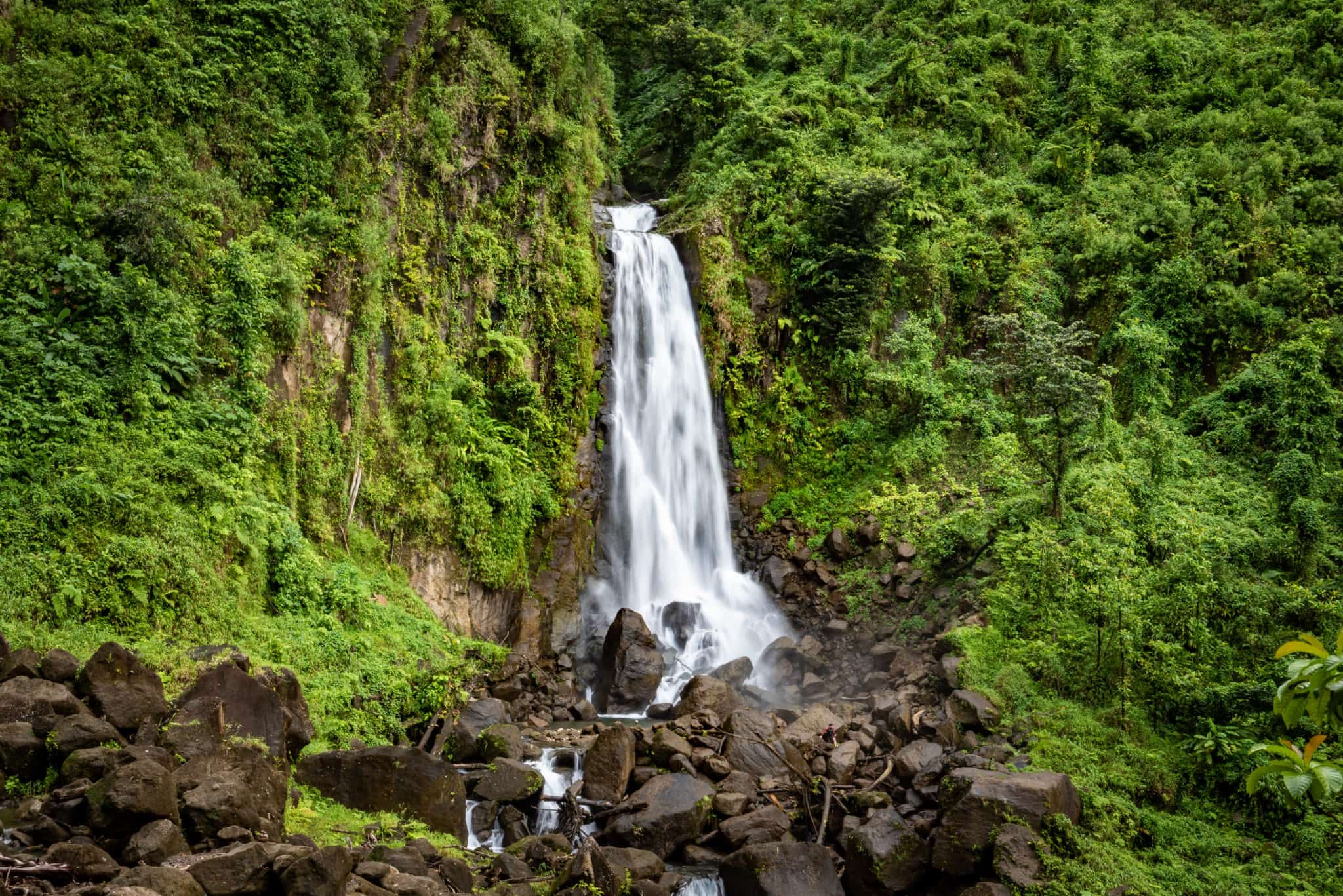 Getting familiar starts with "the Mama." From the Trafalgar Falls viewing platform a short walk from the entrance, she's the one to the right.
Even at first glance, it's easy to appreciate Mama's full-figure. Dressed in green, she towers over 75 feet tall. At her hips, she stretches to around 25 feet. Standing powerfully astride immense boulders at her feet, this is one strong mama that doesn't mess around!
The source of Mama's robust girth is the Breakfast River. This is the same river that acts as the first, best stop for an early snack on the hike to Dominica's Boiling Lake. This lake holds the title of second largest fumarole (hot) lake in the world thanks in part to the island's legendary volcanic activity. With that in mind, it's no wonder that the Mama is well fed.
The Papa at Trafalgar Falls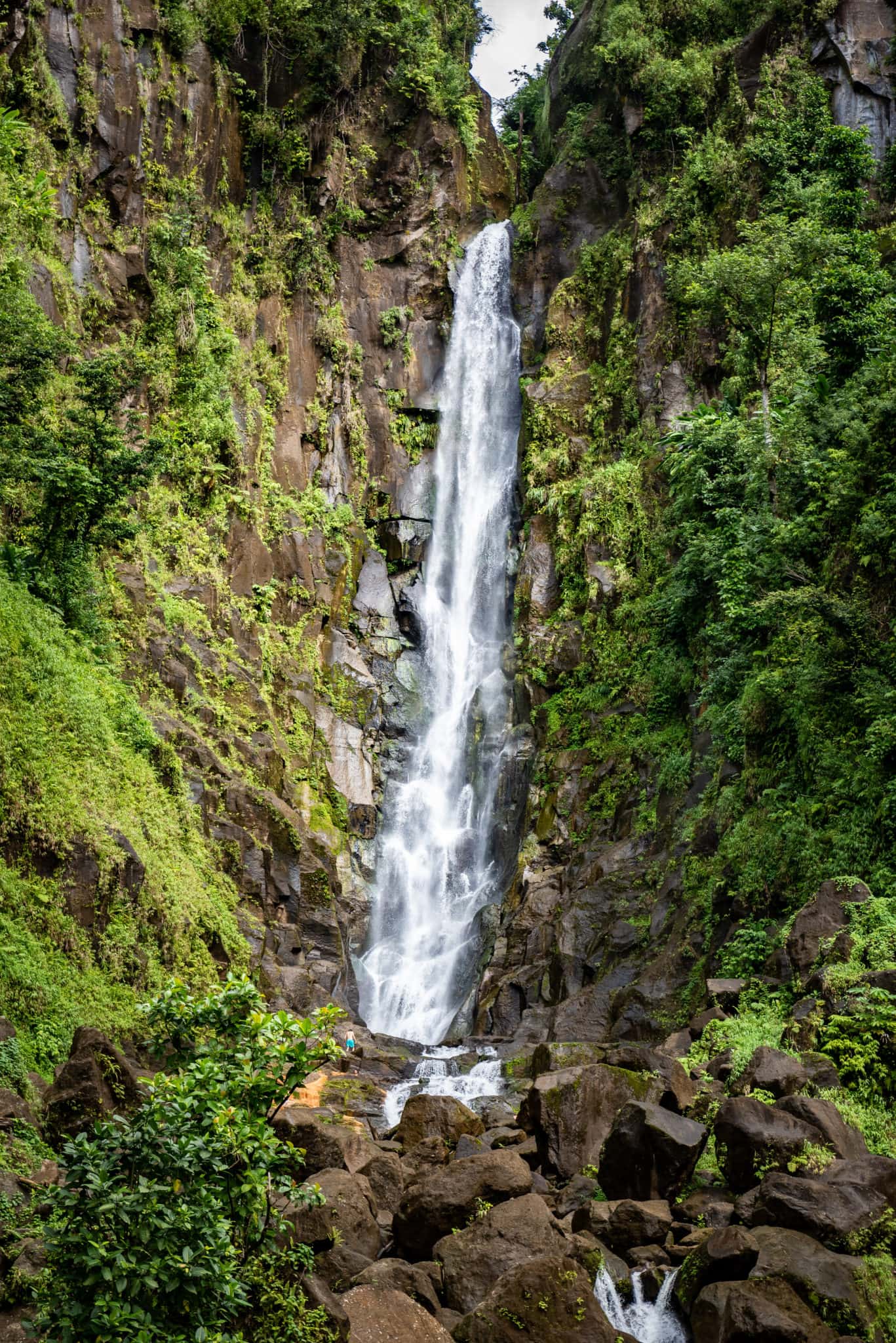 The Papa also cuts an impressive, though slightly more svelte silhouette against the towering green backdrop.
Fed by Freshwater Lake by way of Ti Tou Gorge, he stands over 125 feet tall. At his widest, he tightens his belt to 20 feet. But there's more to the Papa than his size. Papa is a provider.
Back in 1951, the first hydroelectric plant was built on Dominica to tap the Papa's strength and provide power to his children across the island. At that time, two 320 kW units were installed at the Trafalgar powerhouse.
This output was extended in 1959 with a third unit of the same capacity. The whole powerhouse was then replaced in 1991 with a new Trafalgar hydropower station sporting two 1,761 kW turbines. For an island so rich in hydroelectric and geothermal energy, it just makes sense to go renewable.
The Papa has another secret. While the Mama is decidedly cold, he's hot! I mean, not top to bottom, but certain parts of him are hot in ways that can leave your muscles pleasantly mushy. But to experience the Papa's warmth, you'll need to know where to look, be a little adventurous, and trek beyond the viewing platform.
Getting up close and personal
As longtime UC readers may know, every once in a while I overestimate my physical capabilities. (Sometimes to hilarious result.) So, it should come as no surprise that even as I drove through the village of Trafalgar with the falls in the distance, grand visions of climbing their powerful cascades danced in my head.
Once I made it to the visitor center parking lot, I immediately began stuffing gear into my waterproof bag and slipping on my canyoning shoes. Right about then, a man with an umbrella sauntered over.
He introduced himself as a guide to the base of the falls. Now, as longtime readers may also know, I often combine overconfidence in my physical abilities with a stubborn desire to blunder my way to a destination rather than taking on the services of a guide.
I can't tell you why, but for some reason, I said "OK." And I'm happy I did. While the short path to the viewing platform from the visitor's center is a light 5-10 minute walk, once you advance beyond, things start to get interesting.
Our destination, however, was never in question: the foot of the Papa. The sound of hot springs at its base were just too much of a tease to pass up.
I hadn't been to Trafalgar Falls before Hurricane Maria, so I can't say what it was like before. When I visited, though, there were no real paths to either of the falls. I noticed different guides picking their way using all different routes. Each seemingly with their preferred path across the bed of haphazardly strewn boulders.
As for me, sometimes it was easy to scramble between the rocks. And other times I caught myself is precarious poses as I tried to crest a slab or two. Little scrapes and bruises are inescapable. From the viewing platform, the falls had seemed so close, but you should be prepared for 30 minutes of clambering to reach the big Papa.
It's so worth it, though.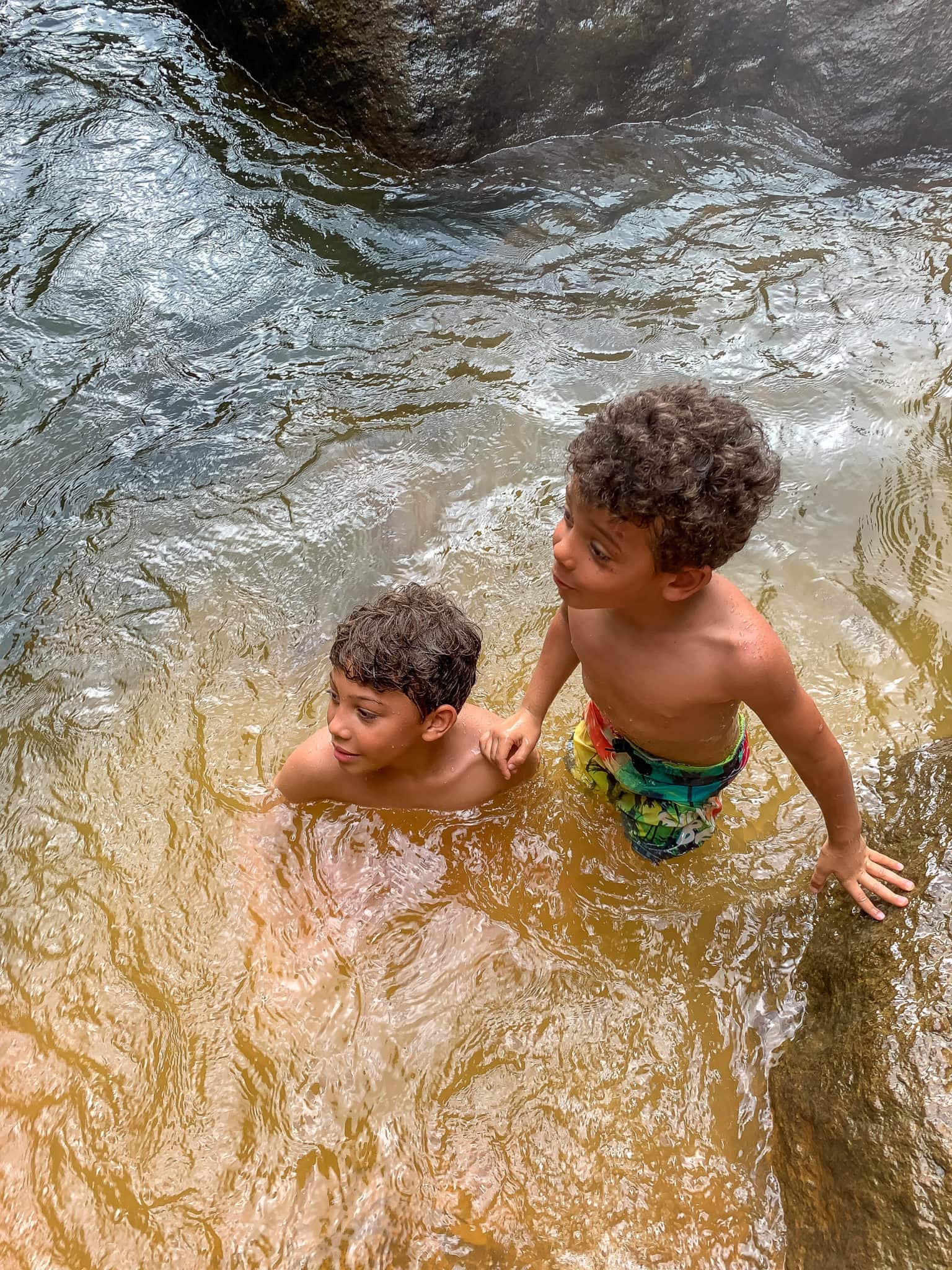 Bearing telltale orange sulfur deposits, the hot water springs are easy to find. And when I say 'hot,' I mean it's scorching should you stand directly under the water as it tumbles out of rifts in the rock.
Your better bet is to sink into the pools where water from the hot springs and the falls blend into that "just right" Goldilocks zone.
Since I grew up in St. Croix, sitting in a hot spring-fed bath directly beneath a thundering 125-foot waterfall was nothing I was used to. But, as though to escalate the surreal nature of the moment even further, occasionally the light cloud cover would break open and paint an arching rainbow overhead.
The words "awesome" and "stunning" should be reserved exclusively for moments like these.
Climbing Trafalgar Falls
Laying there, I soaked up the warmth and majesty of Papa at Trafalgar Falls. Still, I couldn't help but dream of what it must be like to climb those head-spinning heights… I closed my eyes and let my mind wander.
It looked something like this:
Trafalgar Falls, Dominica - Climbing all the way to the top
Like Emerald Pool, the distinction of Trafalgar Falls being a top attraction also comes with cruise ship tourists by the busload. And as with Emerald Pool, go early or late while keeping an eye on the cruise ship schedule to maximize the experience.
For the uncommon traveler, Trafalgar Falls and the further journey to the base of either fall (or both!) is still worth chasing.
Cost of entry is around $5 (USD) per person, or pick up a weeklong multisite pass for about $12 per person to hit other magical stops in the Morne Trois Pitons National Park like Emerald Pool, Boiling Lake, and more.
Get more inspiration in our Dominica travel guide.
Related Posts