Antigua often gets the most love for its fabled 365 beaches. And trust us, those strips of white sand are tremendous. We've even tried to visit all 365. Including Antigua's one nude beach!
But, if beaching it is the only reason you intend to visit, you'll miss out on a lot.
The beaches are just the beginning
By far the best time of year to visit is during Sailing Week. This wild annual event features well over 100 yachts from all over the world. Even some of the world's most awe-inspiring superyachts come to race.
There's also plenty of local sailing talent on display. And besides the action on the water, you can expect parties day and night. Top musical talent from around the world comes to the island during this week to put on a show.
Antigua also makes access to its rich British colonial history easy. Forts dot the landscape in some of the most picturesque locations. Nelson's Dockyard (named for Admiral Horatio Nelson who made his base here), Fort Barrington overlooking the brilliant crescent of Deep Bay, Shirley Heights, Fort James, Fort Berkeley—they all welcome visitors to take a stroll through history.
Plus there are plenty of hikes dotting the island. Everything from like hikes to scaling Mount Obama (formerly known as Boggy Peak), the highest point on Antigua.
Also harkening back to the island's sugar plantation past, are the over 100 windmills peppered throughout. And for those who want their history more concentrated, the capital city of St. John additionally has numerous historic elements sprinkled within and is worth exploring.
How to get to Antigua
Antigua's all-new and state-of-the-art VC Bird International Airport (ANU) offers plenty of direct flight options on a number of airlines. Many at great prices.
Which airlines fly direct to Antigua?
American Airlines and JetBlue are you're best chance for a direct flight from the United States, although Delta and United might also offer direct service depending on your departing airport.
Antigua Beaches
Yes, your space in the sun is world-renowned for its magnificent strips of sand bordering brilliant Eastern Caribbean seas, so we can't completely discount spending some time enjoying the embarrassment of riches on offer. Think blazing white sand without a spec of black sand in the bunch. We've spent time on many of these beaches ourselves for… Umm… Research. Here are some of our favorites!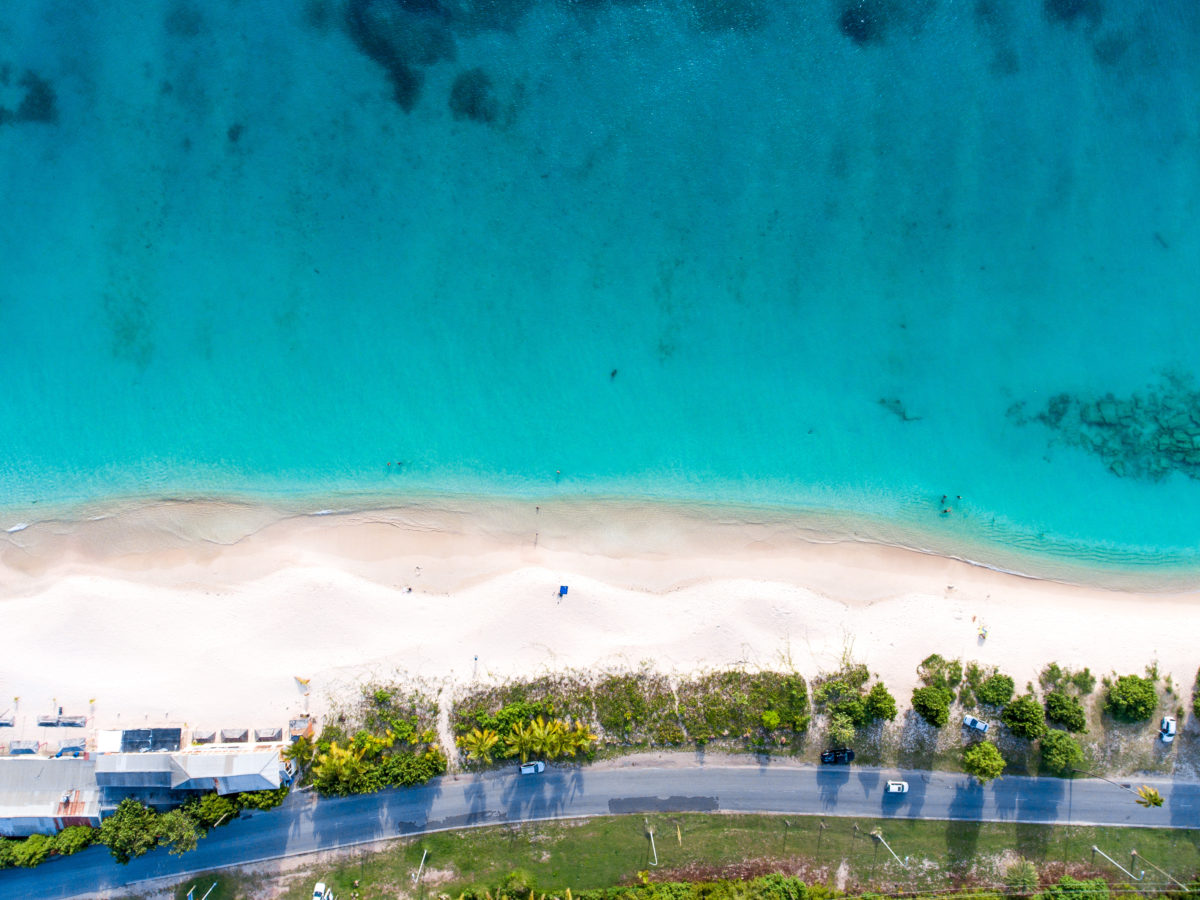 Darkwood Beach
Normally, my favorite beaches are the ones that are the hardest to get to. The elusive strips of sand that require a boat or a kayak or repelling down a rope ladder or at least tramping through the bush.
Darkwood Beach is one exception. It's literally by the side of the road. And it's still stunning.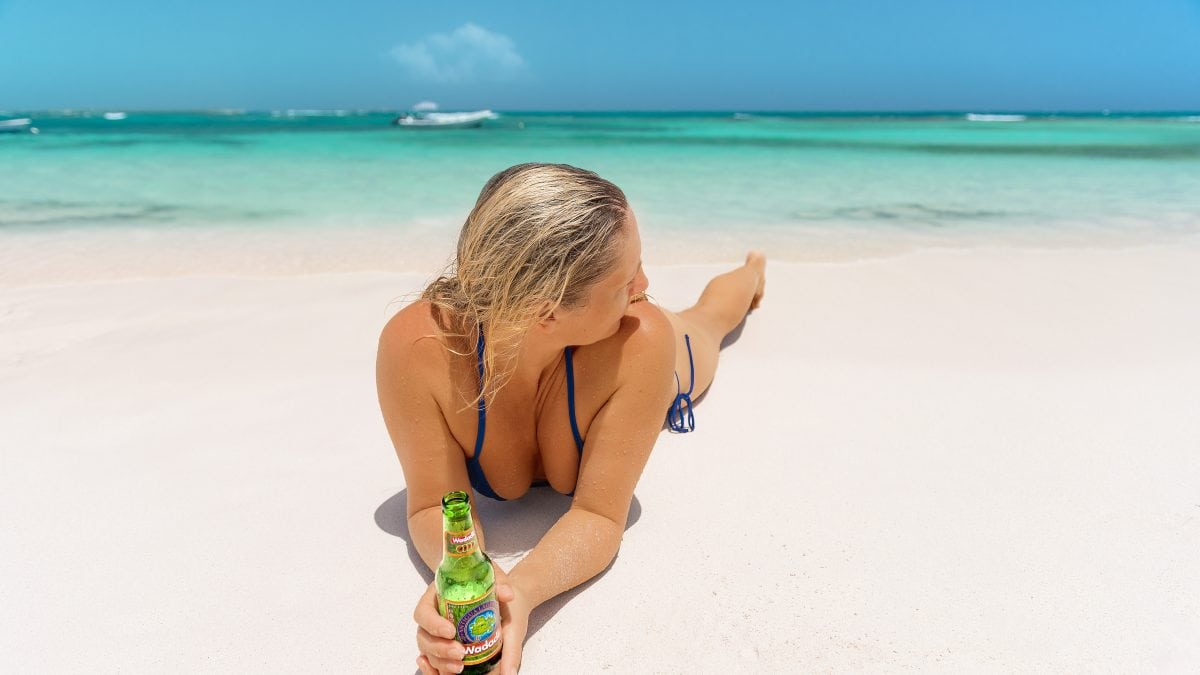 Long Bay Beach
Found in the extreme northeast of the island Long Bay Beach delivers the quintessential Antigua beach experience. Expect to find a small open-air restaurant where you can buy beers and rum, friendly local families bathing in the sea, almost impossibly white sand, and electric blue waters. There are also some small stands selling some fairly touristy wares, but they're easily ignored if that's not your thing.
Galley Bay Beach
While this beach is connected to a resort, it's worth mentioning because, well, it's connected to a resort! Guests who stay at the Galley Bay Antigua Resort can expect to wake up every morning to one of the best beaches the island has to offer. Calm cool seas, sand at the precisely perfect temperature and consistency, plus tropical sunrises that can't be beat.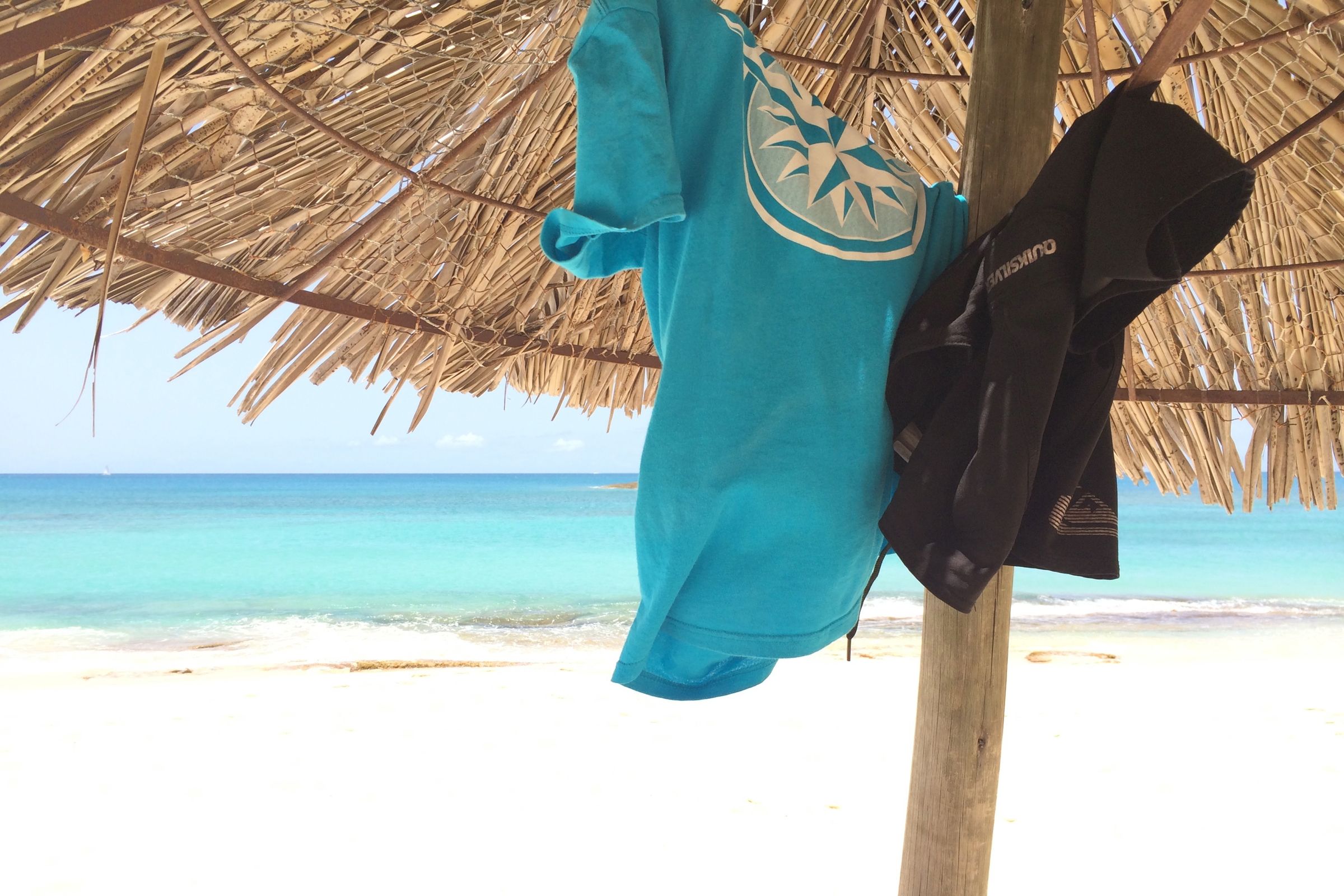 Eden Beach, Hawksbill Bay
For those looking for the most unusual beach on the island, Eden Beach is certainly a contender. Why? Because it holds the distinction of being Antigua's only clothing-optional beach. Yes, there's a nude beach and you'll be happy to hear that it's very secluded.
Don't expect crowds, concessions, or anything but the natural splendor of your surroundings, yourself, and very few other visitors. Go at the right time and it can feel like your own private beach.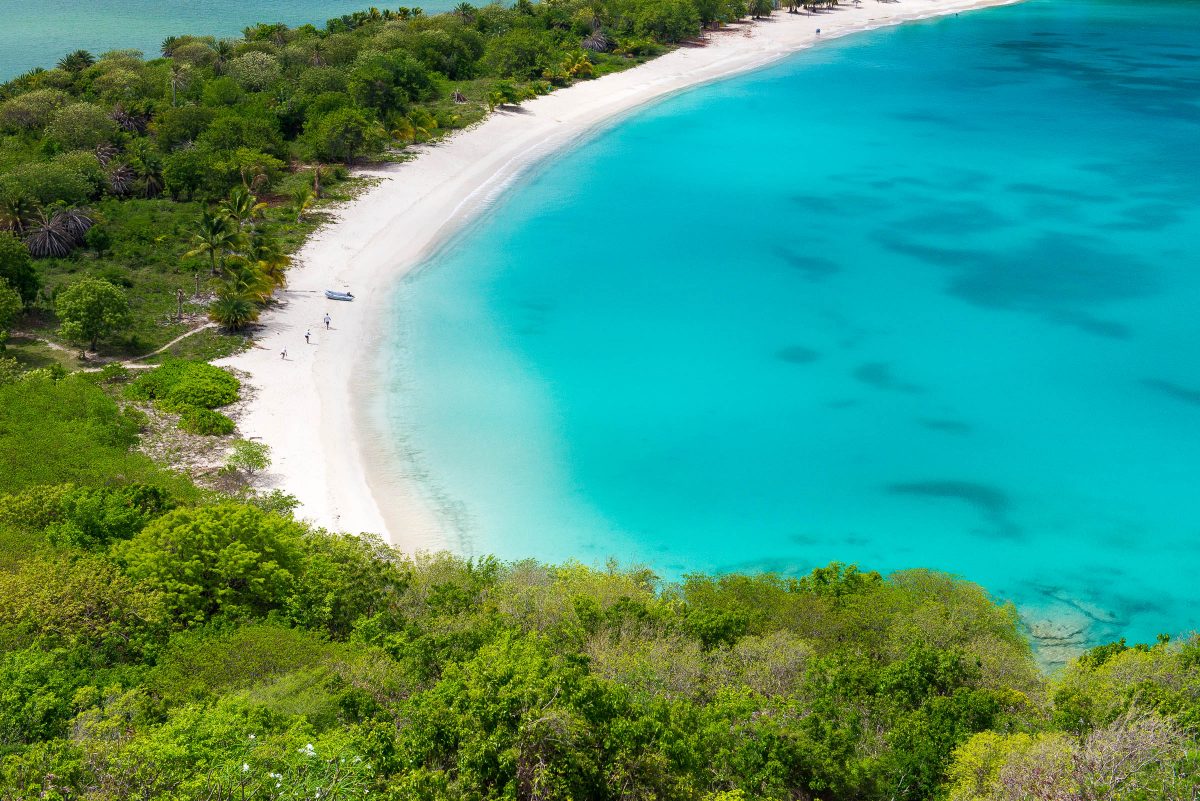 Deep Bay Beach
Of course, I had to save the best for last. And I could go on and on about Deep Bay Beach because it's one of my favorite beaches in the entire Caribbean. Yes, you read that correctly.
I've been to possibly thousands of beaches in the region and this one beach ranks as one of my favorites! It's a one-of-a-kind arc of beauty that houses a shipwreck in its depths, has a fort overlooking it perfect for exploring, and hosts some of the best sunsets on the island.
For more Antigua beaches, read about the time we tried to enjoy as many as possible.
Where to Eat in Antigua
Located as it is near the middle of the West Indies, Antigua is blessed with a blend of flavors from throughout the Caribbean islands. But it's a blend that is uniquely Antiguan.
You can get everything from local delights for just a couple EC (East Caribbean Dollar), family-focused restaurants, and world-class international fare, too. Here are just a couple to whet your appetites!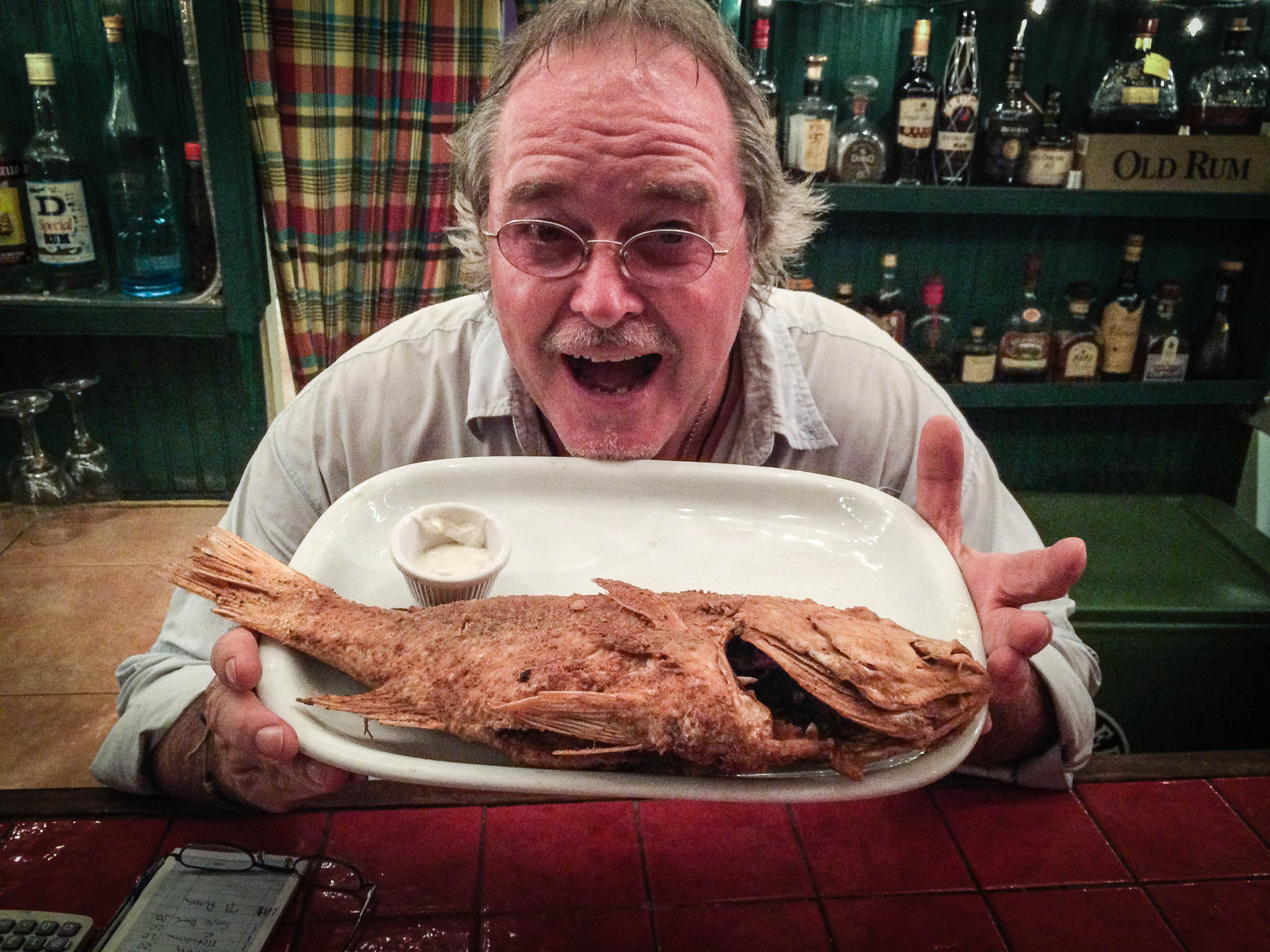 Papa Zouk's is a rum bar with a food problem. And by "problem", I mean some of the best seafood you can find on-island. It's just not presented in a stuffy way. Think rustic, warm, inviting, and with an undercurrent of fun fueled by the hundreds of rums on offer.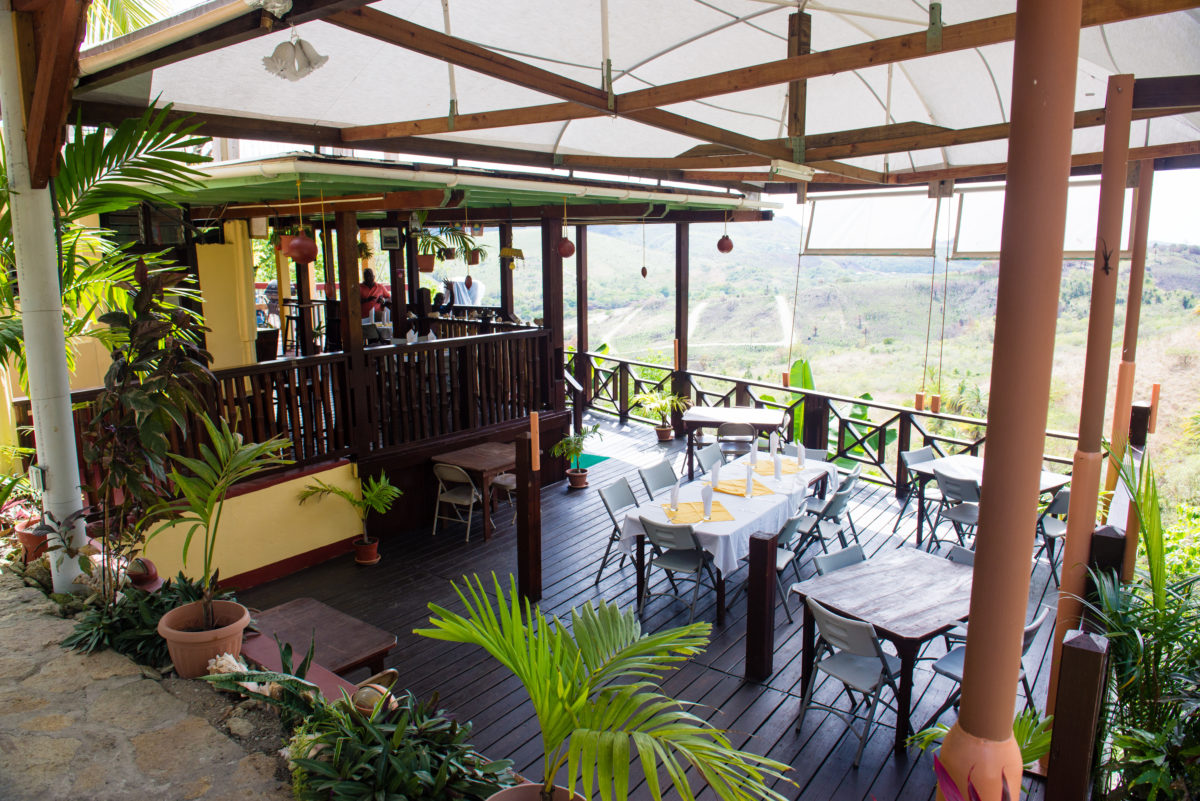 Bubba's Hideout
Bubba's Hideout is our off-the-beaten-path go-to destination for authentic local food. You'll feel like you just discovered new long-lost relatives the moment you walk through the door thanks to the welcoming family vibe. And on your next visit, if you want to be brave, Bubba has a few high-grade, extra-potent rum concoctions on order!
Sheer Rocks
Perched on a cliff at the end of a peninsula jutting into sparkling azure waters, Sheer Rocks is gorgeous. It's the perfect place for a romantic bite especially since the food refuses to be outdone by the spectacular sea views. Expect continental cuisine, but with a twist provided by local flavors and ingredients.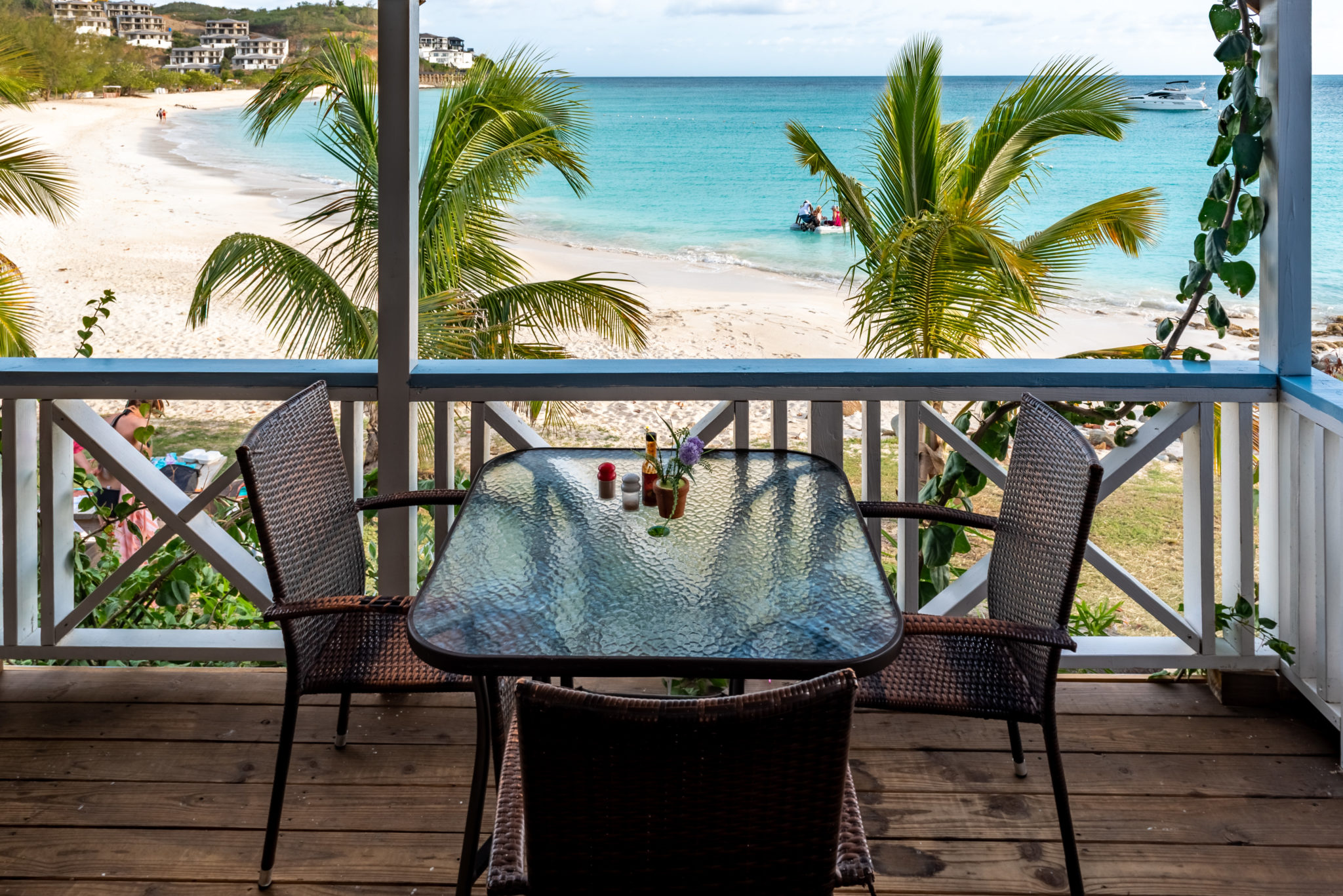 Dennis' Restaurant
Why do I love Dennis' Restaurant? Is it the location at the end of another magnificent beach? In this case FFryes Bay.
Or is it because of the local offerings on the menu? Think rice and beans, fried fish, stew chicken, and other delights.
Actually, I can safely say, it's the people. On my last visit, the beach was blissfully quiet (it can get very busy) and I spent the whole afternoon chatting with some ladies I'd just met who happened to be related to Dennis' and occasionally shooting the breeze with the man himself.
Ana's on the Beach
Cozying right up to the sands of Dickenson Bay, Ana's on the Beach is an excellent stop for a rum punch. Add in the regular events, solid staples in the food department, and a beach view that's hard to beat and you can see why it's one of our favs.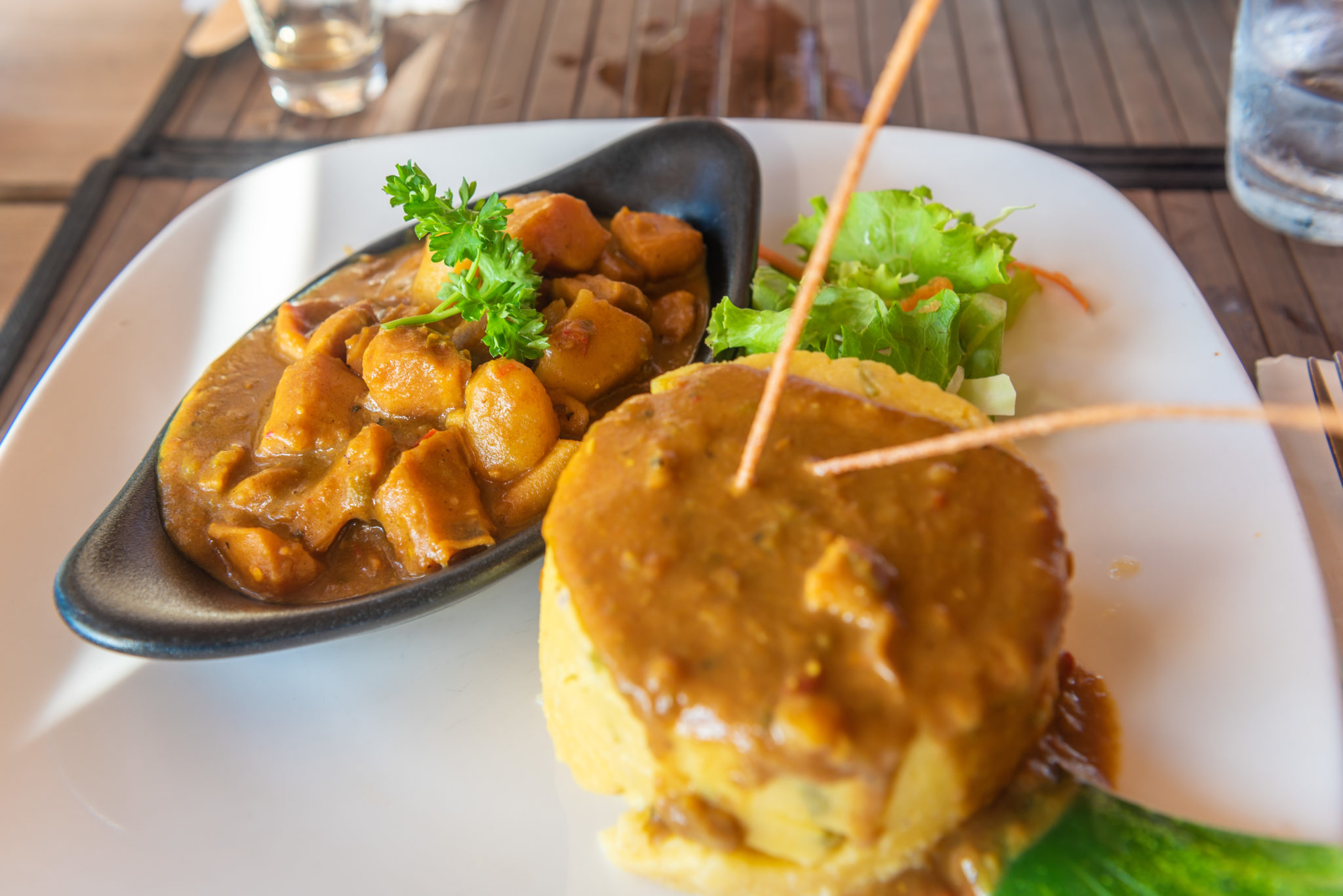 Beachlimerz
Beachlimerz has a special place in our heart because not only is it also situated on a long, white sand, beautiful beach; but the owner spent some time in our home island of St. Croix and even remembered who our dad was!
Really, that was just icing on the cake after we saw the rum selection and received our order of curry conch and with fungi. And just when things couldn't get any better, we found out he was a calypsonian and the music got cranked up. Basically, we love this place and you likely will, too!
And while you're in Antigua, you must enjoy some English Harbour Rum. By far the best rum made on the island, it's great neat, on the rocks, or providing the kick in a refreshing rum punch.
Where to stay
As for where to stay, well, here again, Antigua hotels deliver practically anything your heart desires—from all-inclusives with local flare to chic villas. There are Budget-conscious offerings considerably better than they deserve to be. Plus, world-renowned resorts. Here are some of our favorites across a spectrum of prices!
Curtain Bluff
Perfectly placed on a sandy peninsula ringed by serene turquoise water, Curtain Bluff is the quintessential, classic Caribbean luxury hotel. But don't think it's old and stuffy. The team here is constantly improving upon their impressive grounds, world-class tennis courts, spa, amenities, kids club, and service to always provide guests with unforgettable experiences.
Read our complete review of Curtain Bluff and learn about how they've been empowering their community for years.
Blue Waters Resort and Spa
It's been a while since we last stayed at Blue Waters. However, the last time we did, we shared the property with Mr "It Wasn't Me" Shaggy. But besides that celebrity endorsement, trust us when we say that Blue Waters delivers on everything you might imagine in the perfect Caribbean luxury resort stay. Stellar food with local flare, multiple beaches, multiple swimming pools, and lush tropical grounds swaying in the cooling tradewinds.
The regular rooms and beautiful, but when you upgrade to the villa, things get magnificent. Here, you can expect private pools, butler service, and more—making it a perfect choice for honeymooners.
Galley Bay
Galley Bay is what we like to call an uncommon all-inclusive resort. Yes, there's the one price gets you practically everything structure. But, unlike so many all-inclusives, Galley Bay is deeply rooted in Antigua. From the moment you drive up to the reception area next to the historic sugar mill, to when you cross the picturesque lagoon entering the main property, to when you're settling down in your room with stunning sea views—you feel it.
Read our complete review of Galley Bay.
Ocean Point Resort and Spa
Of course, our favorite way to travel mostly keeps us away from our hotels as we hike through bush, sail to remote beaches, or spend way too much time in local rum shops. So, we love staying in places that feel like home. Ocean Point Resort had that feel for me on my last visit. Everyone from the front desk to the pool to the restaurant quickly got to know me and were always happily greeting me as I came to and fro from adventures.
"Where you off to today?" "Survive that hike?" "Did you try that shop I told you about?" I loved it. Besides Ocean Point's well-appointed rooms, wonderful views, nice dining, pools, and beaches—it was the people who left me a little sad when it was time to leave.
Hawksbill Resort
Hawksbill Resort, for me, is all about the beaches. It has five.
But don't think this is some sprawling resort. It's not. It's quaint, classic, and quiet. And that's why I love it.
You come here to wake up by the beach, go on some adventure (if you can tear yourself away from the beach), have a nice meal at their open-air restaurant, then retire early to listen to the sounds of the Caribbean night slowly embrace you.
And the biggest plus of them all is that one of those five beaches is Antigua's one and only nude beach.
Not interested in the clothing-optional option? No problem. It's off to the side, down a path, and around a bend. You could stay at the resort and never know it's there.
But if you are up for soaking in the sun in your birthday suit, Eden Beach is a very quiet, secluded option.
Antigua Hurricane Season
Antigua Hurricane Season runs from June 1st to November 30th with the peak of the season is from mid-August to late October. This coincides with the rainy season in the Caribbean—a result of high water temperatures across the mid-Atlantic and the seeding of clouds with an abundance of seasonal dust blown across the oceans from the Sahara desert.
During this time, tropical waves often blow through the West Indies dumping rain, but that doesn't mean there aren't many clear, beautiful days to be enjoyed. In fact, thanks to the persistent tradewinds keeping the Leeward Islands from getting unbearably hot, plus seasonal hotel deals; travel to the island during the Summer can be the best time to visit!
Don't forget Barbuda
All that is before you consider that the country's name is Antigua and Barbuda! With the rewards for those who take the ferry from the main island over to Barbuda being many.
The most impressive, by far, though is Princess Diana Beach. This massive strip of pristine blindingly white sand has to be seen to be believed. And best of all, if you go soon, you may have it all to yourself.
Beyond the beach, there are also wonders like bird sanctuaries including the largest Frigate Bird Colony in the western hemisphere, homey bars, and more.
And while we're on the topic of overshadowed islands within the group, there's the island of Redonda. The third main island of the group, Redonda is actually closer to Montserrat or even Nevis than Antigua!
The Bottom Line
Yes, Antigua hosts hundreds of beaches, but the reasons to visit are so much more. Think adventure travel, some of the best sailing in the world, a vibrant music scene, delectable dining, and stunning accommodations.
Oh, and did I mention the sweetest pineapple in the world? To see it all, we highly recommend you rent a car. The island is larger than you think!
No wonder they say "the beaches are just the beginning."
Antigua Map