Montserrat island is not what you think it is. Forget the popularized concept of a Caribbean destination destroyed. Forget pining for glory days long past. And forget writing off this resilient island.
Montserrat is a volcano paradise that should be on your immediate Caribbean travel horizons.
Volcano Paradise
Two things set Montserrat apart from all other Caribbean islands: welcoming people the likes of which you've probably never met and a one-of-a-kind volcano.
The people
You're highly unlikely to find any other destination in the West Indies with more welcoming people than Montserrat. Visitors should expect to walk into restaurants, shops, and bars and get a greeting as though they've lived on the island their whole life!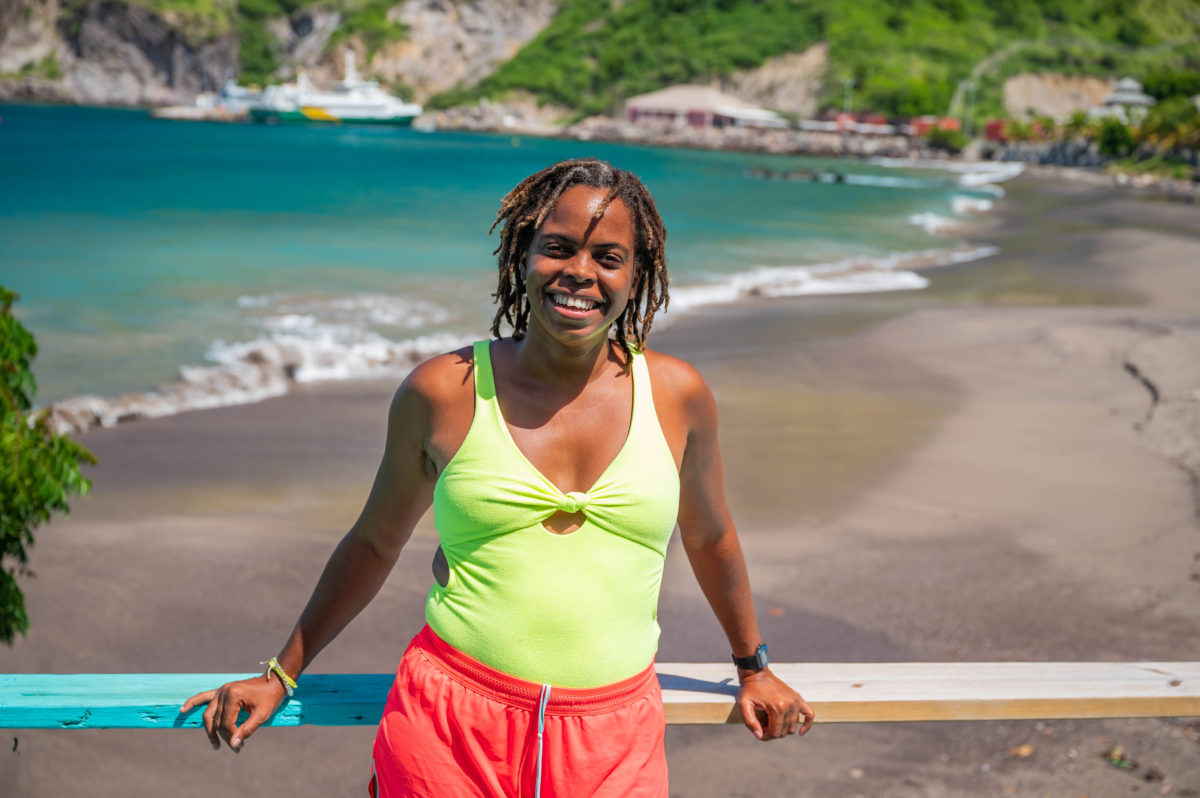 On our last visit, we didn't just meet new people; we made new friends. That's not something that happens often, but here it happened every day at almost every turn.
The volcano
Now, about that volcano. There may not be a more misunderstood entity in the entire Caribbean.
For years, the Soufriere Hills Volcano has been nothing but a symbol of destruction.
When people claimed to be going to look at the active volcano, what they meant was to gawk at the ruins of the former capital Plymouth. Montserrat's formerly vibrant capital city was buried under 60 feet of rock and ash during volcanic eruptions starting in 1997. People died in the pyroclastic flows. It was a heartbreaking disaster, but that's not where the story ends.
Since then, Soufriere Hills has increased the size of the island by over five square miles! By creating a large off-limits area for humans with the exclusion zone, the volcano has allowed nature to flourish in ways unheard of in the Caribbean. It has even become one of the most closely monitored volcanoes in the world thanks to the nearby Montserrat Volcano Observatory, creating invaluable opportunities for us to better understand our world.
It even created all-new beaches!
And did I mention it's magical to spend your days in the shadow of this smoking Caribbean wonder? Every morning on my last visit, I would wake early to watch the first rays of morning ignite the volcano's fluffy halo in iridescent violets, reds, oranges, and blues.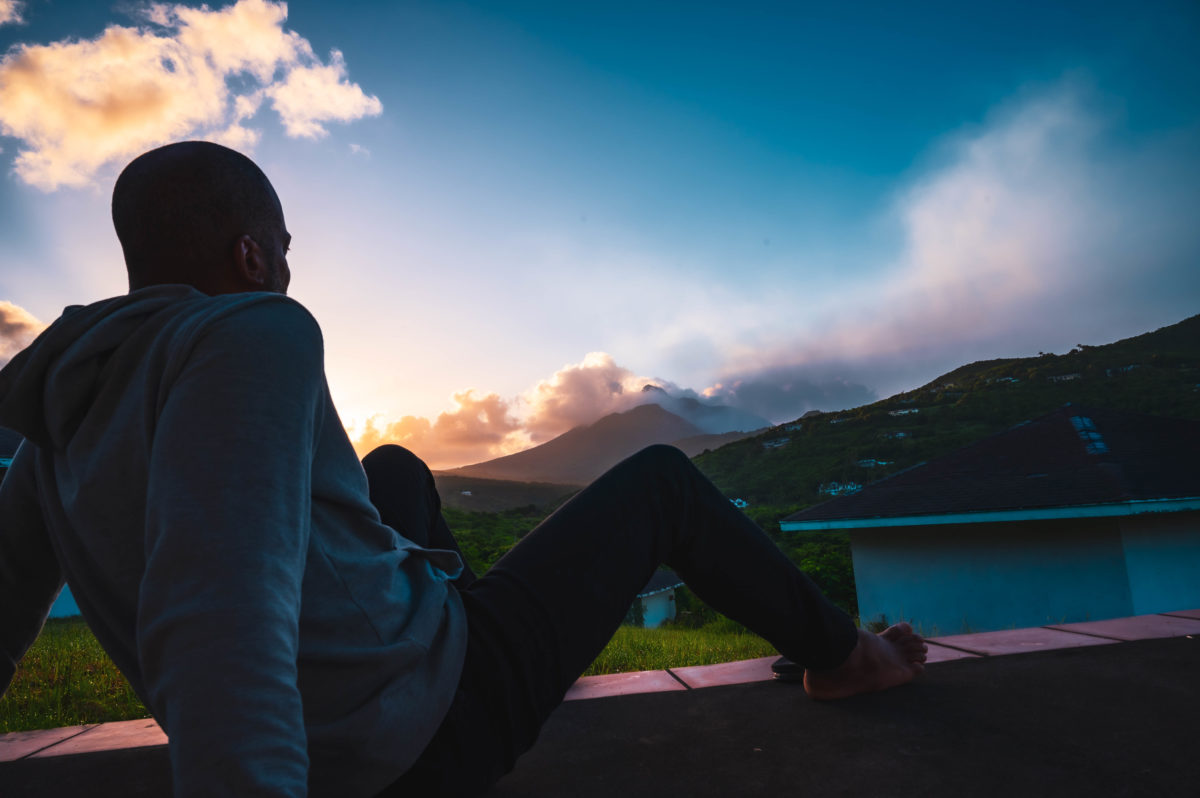 There is nowhere else in the entire Caribbean where you can start your days like this in view of the volcano. And it's mesmerizing.
But is Montserrat's volcano tourism safe? As I mentioned, the Soufrière Hills Volcano is very closely monitored. Plus, no one can even enter the exclusion zone surrounding the city of Plymouth without a permit, a prior request to The Montserrat Volcano Observatory (MVO), and remaining in constant contact with MVO scientists once inside. And even with those precautions, no one is allowed within three miles of the summit!
Thanks to the MVO and public safety officials in Montserrat, volcano travel adventures here are also among the safest you can enjoy anywhere.
How to get to Montserrat Island
Like any exotic destination worth its salt, Montserrat doesn't open its arms to lazy travelers. You have to want to get here to enjoy all the island has to offer. And the first step is knowing where you're going.
Where is Montserrat?
The island of Montserrat is located around the middle of the Caribbean island chain. In an area we call the sweet spot. It's about 40 miles southwest of Antigua and about 50 miles southeast of Nevis. And while we're measuring distances, it's also about 50 miles northwest of the Guadeloupe Islands.
By air
The quickest way is hopping a flight in a small 9-seater plane with Fly Montserrat. Usually, they make the short hop from Antigua's V. C. Bird International Airport (ANU) multiple times a day. (If you can't travel with our preferred Fly Montserrat, you can also try SVG Air.)
If you've never taken a small plane before, then your one-of-a-kind Montserrat travel adventure begins before you even arrive on island! Expect to get cozy with your travel partner for 20 minutes while enjoying awe-inspiring vistas both while leaving Antigua and approaching Montserrat.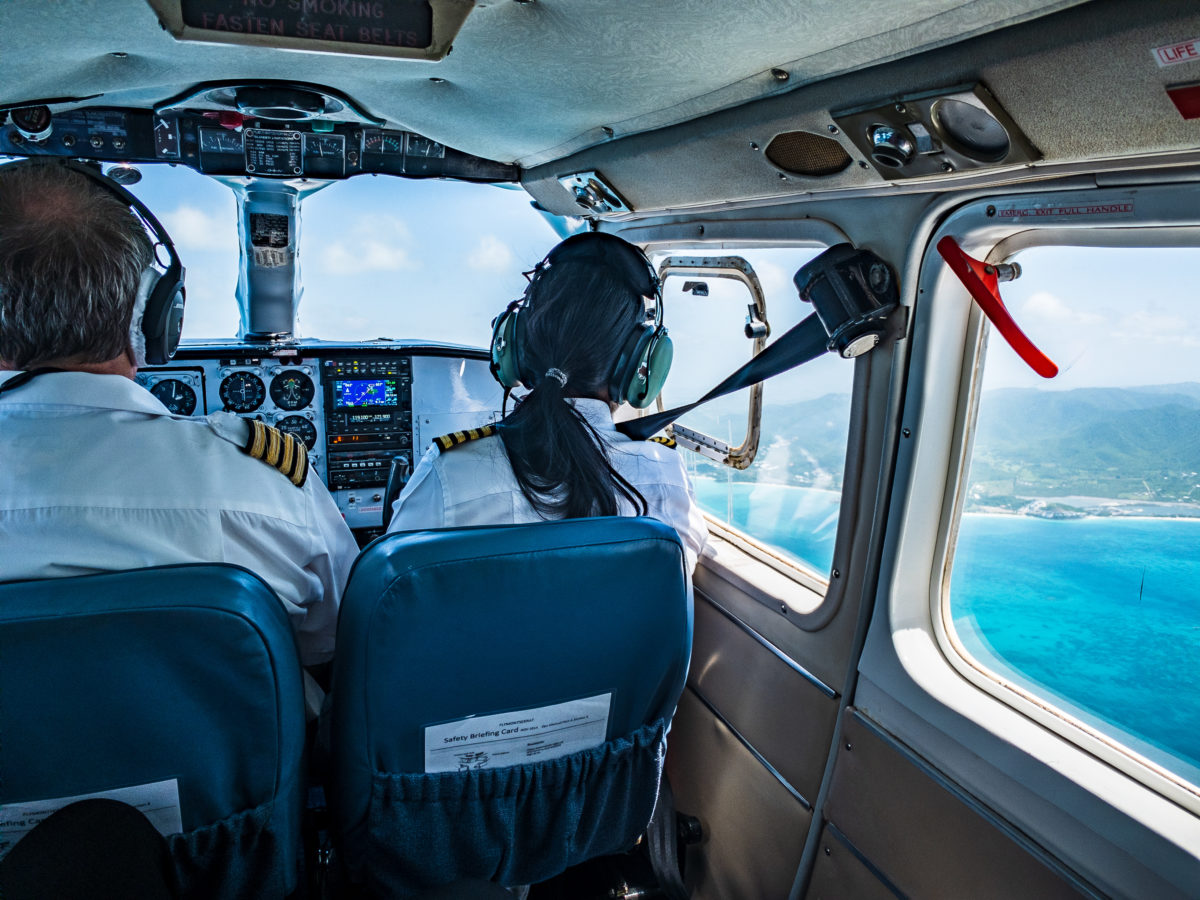 By sea
Unfortunately, the Jaden Sun Ferry Service no longer runs between Antigua and Montserrat. This means there are currently no regularly scheduled ferry services to Montserrat, making getting here even more exclusive.
It's too bad because when you used to travel aboard the ferry, you could expect air conditioning, comfy seats, an hour-and-a-half duration, and the possibility of screening a terrible movie. (We endured Weekend at Bernies 2 on our last crossing!)
I'm hoping some intrepid entrepreneur will restart service sometime soon.
Weather permitting
The only issue with both of these methods for reaching Montserrat is that they operate weather permitting. The port at Little Bay, Montserrat, isn't particularly sheltered, so it's impossible for a ferry to dock safely when seas are rough.
Meanwhile, John A. Osborne Airport (MNI) on Montserrat is less than 2,000 feet long. By comparison, the runway at Antigua is nearly 2 miles long! So, again, with such a diminutive landing strip, the weather certainly can have an impact on travel.
What's in a Name?
Although the island had been home to Native American inhabitants since around 3000 BCE, it's said that when Christopher Columbus laid eyes on it in 1493 that it was uninhabited. That is if you believe a genocidal explorer with no regard for the region's inhabitants beyond their exploitation.
At that time, he named the island in honor of the Montserrat Abbey in Spain. Something that causes issues for travelers doing a little googling to this day!
Before his arrival, the island was already well known by the Kalinago as Alliouagana. Or "Land of Prickly Bush."
Montserrat Beaches
Montserrat isn't likely to top any "Best Beaches in the World" lists any time soon, but that's more a failing of those stereotypical lists than any fault in the sandy shores of this volcano paradise.
Blessed with fresh, black sand beaches (and one beach that zigs when the others zag), Montserrat may not be a big island, but it has something for every beachgoer in search of the exotic.
Woodlands Beach
My favorite ebony beach has to be Woodlands Beach. Found about halfway down the west side of the island, expect a nearly quarter-mile-long oceanfront bookended with two soaring onyx cliffs facing directly west. Perfect for being painted in color as the last rays of sunset fall over the Leeward Islands. To say it's picturesque is an understatement.
Black Sand Beach Moment of Zen
Isle's Bay Beach
For something you won't find anywhere else in the Caribbean, try Isle's Bay Beach further south. It's a nearly 2,000-foot expanse of sparkling dark sand, but what makes it unique is that the beach as it is now didn't even exist 20 years ago! Yes, this whole beach is new!
Of course, there was a beach here before the eruptions, but thanks to the Soufrière Hills' volcanic activity, this new beach now extends around 100 yards beyond its previous shoreline. You can still walk the pier that used to jut out into the pre-volcano bay — only now that pier is surrounded by new land.
Other beaches that deserve a visit include Fox's Bay Beach, little Lime Kiln Bay Beach, and even more cozy Bunkum Bay Beach.
Barton Bay Beach
Barton Bay Beach is truly uncommon for a number of reasons. The first is that it may be the closest accessible beach to an active volcano in the Caribbean! Yes, it lays just outside the exclusion zone. This means beachgoers here have the surreal backdrop of a smoking volcano while they take a dip.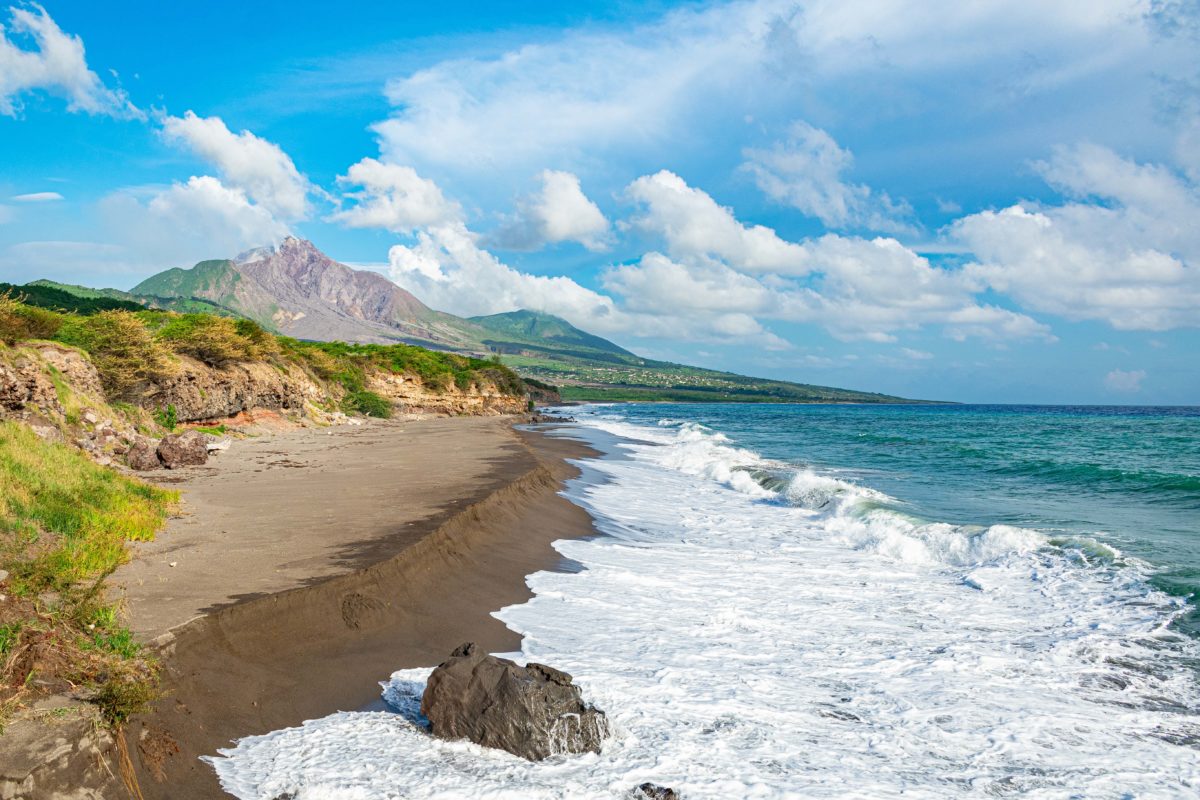 Also found here are a stunning black rock arch, a geothermal hot spring, and even the ruins of an old fort overlooking it all. You won't find a beach like it anywhere else in the Caribbean.
Rendezvous Beach
But the story of Montserrat is never dull, so of course, there's a twist to the island's beaches. The embodiment of that twist is by Rendezvous Bay Beach, the island's one and only white sand beach!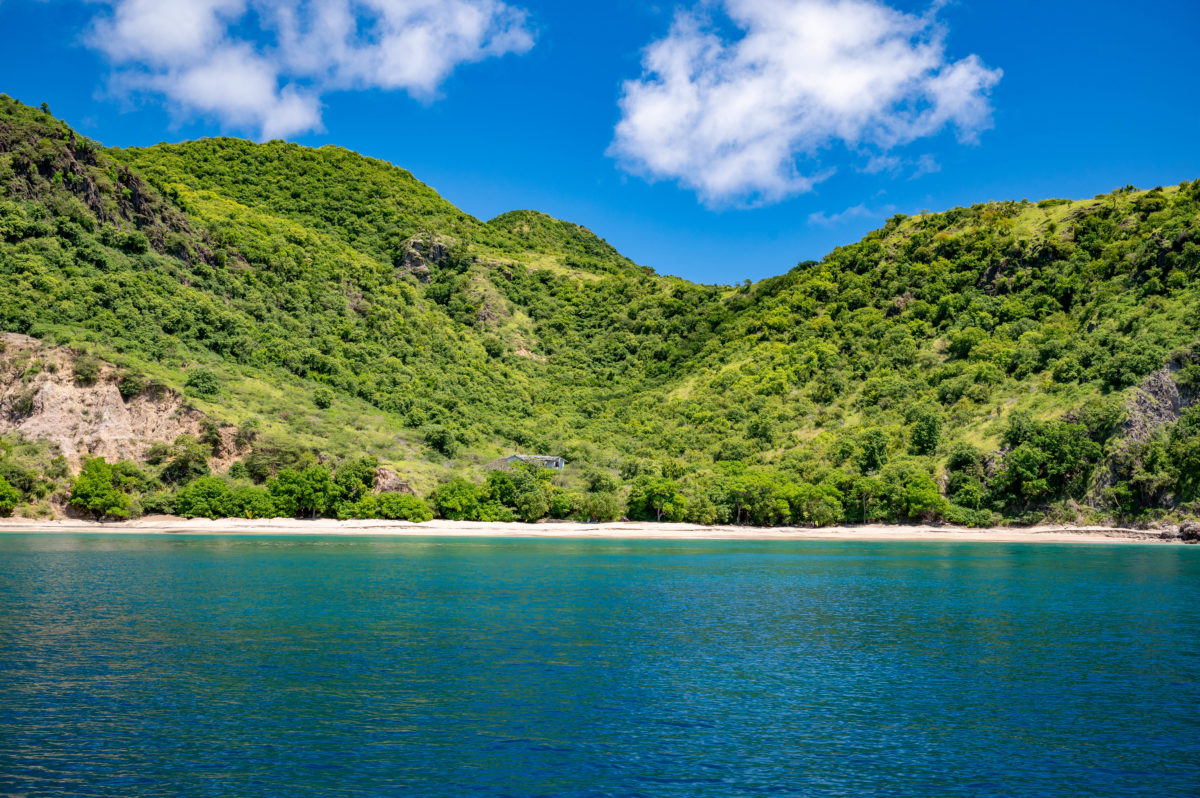 The how and why of this beach's unique coloration is still a mystery to me, but on my last visit to Rendezvous, it was even whiter than my first visit ten years ago.
You can hike to Rendezvous Beach fairly easily or rent a kayak in Little Bay (another fun beach) from our friends at Scuba Montserrat.
Trust me, backed by towering lush green hills and fronted by crystal clear waters with a rainbow of coral in its depths, Rendezvous Beach is a must-visit!
Where to Stay
Of all the things tiny Montserrat island has going for it, don't expect a destination with fancy resorts or large hotels.
That said, there are quaint guesthouses with a bed and breakfast vibe like Olveston House. It was once home to Sir George Martin, a prolific producer for the Beatles (among others) and the founder of AIR Studios Montserrat.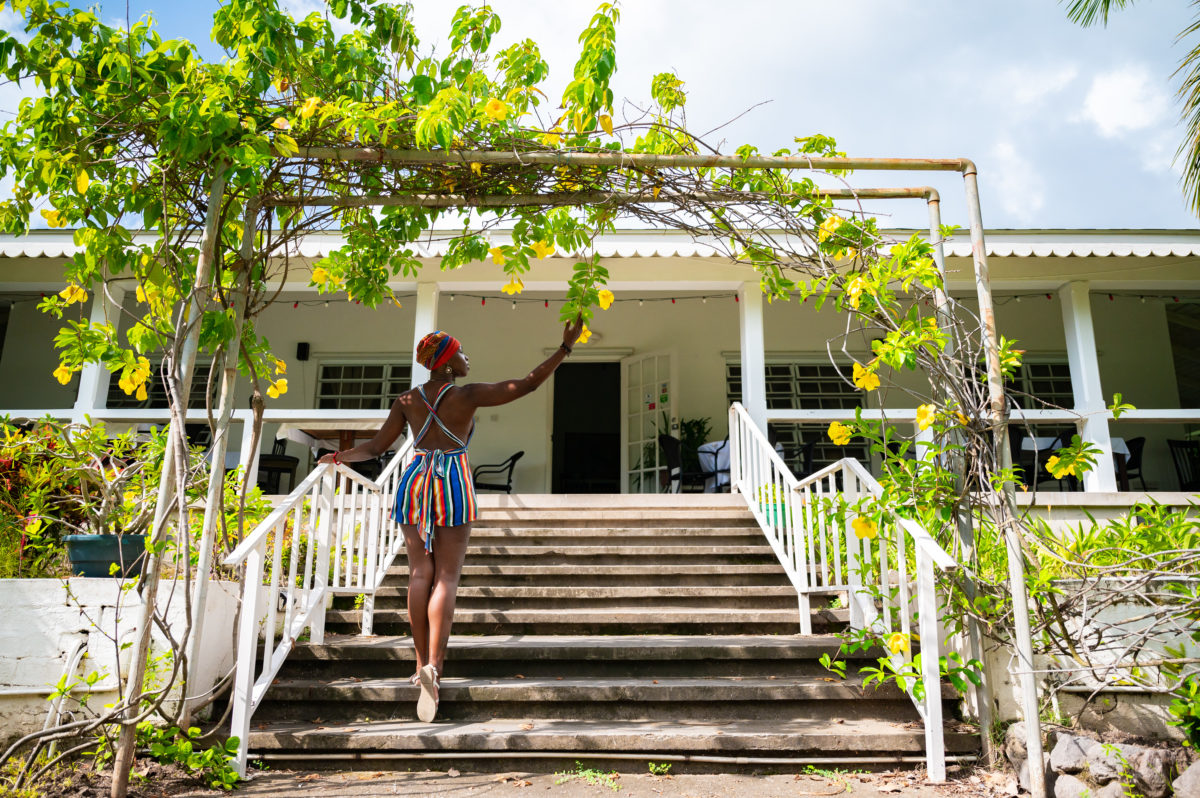 Tropical Mansion Suites is a somewhat centrally located hotel with an engaging events calendar and a well-regarded restaurant. The once legendary Vue Pointe Hotel has also been partially reopened, making it another option further off the beaten path.
But your best bet for accommodations on the island is villas. Our friend Susan MacLeod Edgecombe at Tradewinds Real Estate has a wide selection of rental homes. And should you fall in love with your lodgings, there's a good chance it's for sale! You might be surprised how active that pipeline is for visitors choosing to make their home in Montserrat.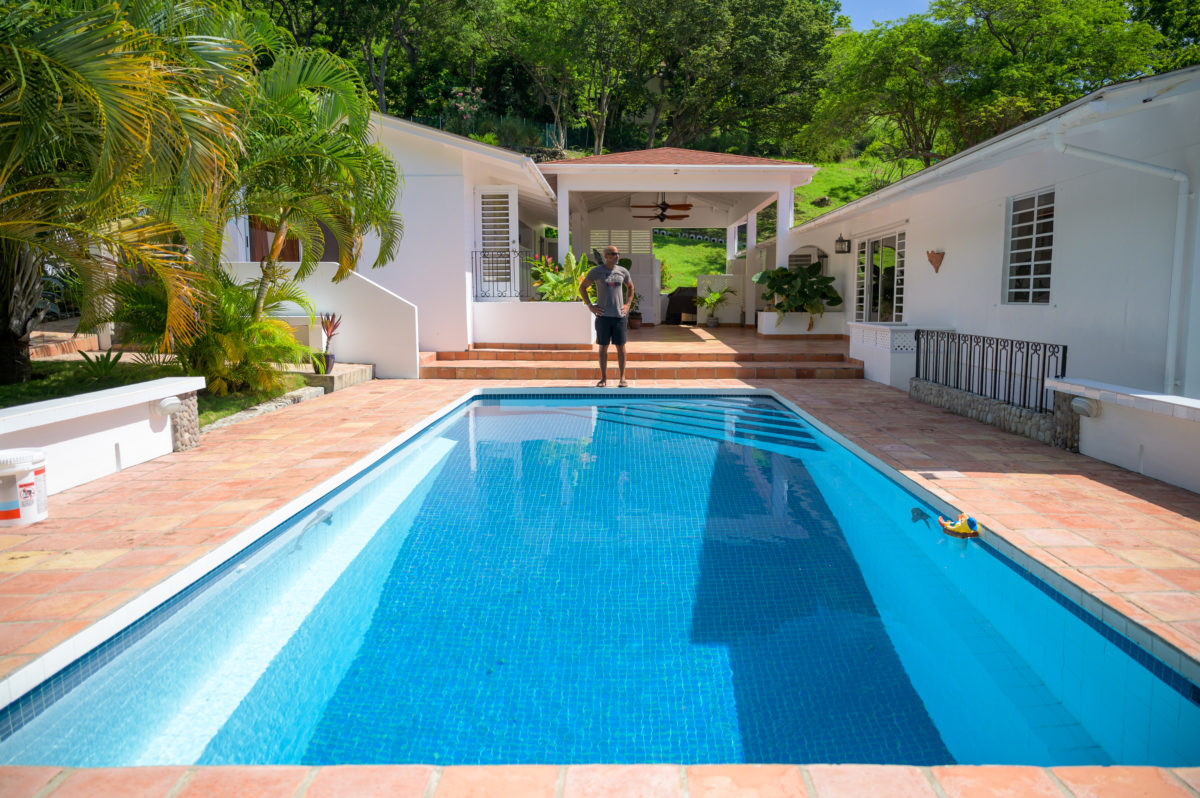 One of our favorite homes we saw on our last visit was Mango Falls, a four-bedroom, four-bath multi-level home set into the northern cliff over Woodlands Beach. If the monarchy interests you, this is the place Princess Anne stayed on her visit to Montserrat. And the whole thing can be yours for less than the price of a posh hotel room on Antigua.
What to do on Montserrat
Let's get one thing out of the way first: yes, you can book tours to visit the ruins of Plymouth.
First pummelled by Hurricane Hugo in 1989, its shops, hotels, and government buildings were rebuilt only to be buried a few years later during the eruptions of the Soufrière Hills Volcano. Yes, you can wallow in what once was on Montserrat. But, should you?
Our answer is, sure, it's a fascinating piece of recent Caribbean history. And something you won't find anywhere else in the region.
The mistake people make is in thinking that's all there is!
Hiking
One of the first people I seek out even before I travel to Montserrat is Scriber. For decades, he's shared his love for the small island and knowledge of its interior with visitors and residents alike.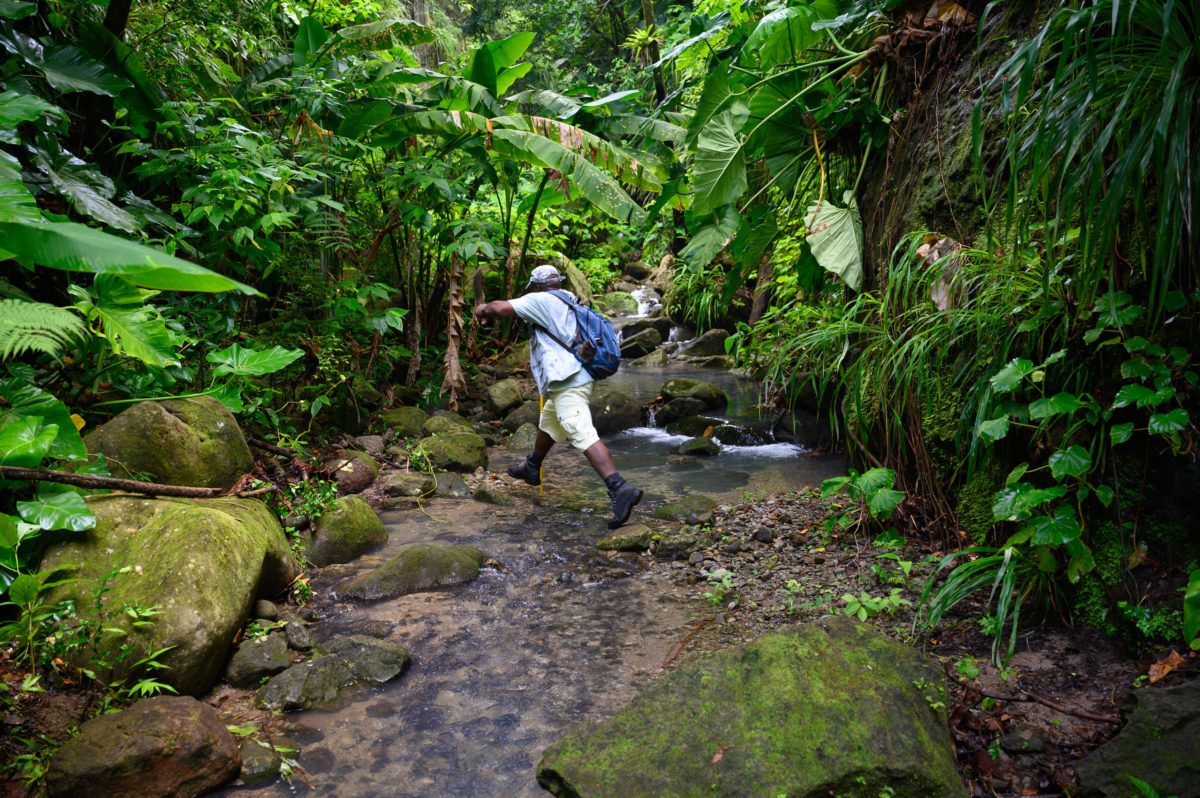 With Scriber Adventure Tours, he'll take you deep into the forests of Montserrat (especially throughout the Centre Hills) and introduce you to his animal friends particularly the unique Montserrat Oriole. No, seriously. When he calls, birds flock within arms reach to greet him. It's enchanting to see.
He'll also expertly guide you through the island's emerald depths. Across rivers, through gullies, over ridges, and even to an ancient petroglyphs site — he knows Montserrat in a stunning amount of detail
Scuba
Thanks to a relatively low human impact on the environment (another reason to appreciate the volcano), Montserrat is surrounded by water teeming with new coral growth. Healthy coral means homes for fish. And the best way to see it all is with Scuba Montserrat.
Situated right off the dock in Little Bay, Emmy and Andy are fun-loving, but passionate dive instructors. For a quick dive, they can get you outfitted and diving right along the north wall of Little Bay. Nothing could be easier!
Snorkeling
If SCUBA isn't your thing, you can still take in all the waterborne wonders Montserrat has to offer by visiting Aqua Montserrat on the south end of Little Bay.
Here, Veta Wade can sweep you away with her infectious laugh and energized passion for conservation.
Your best bet is a guided kayak and snorkel experience for $60. With this package, she'll take you out of Little Bay and past some bat caves to Rendezvous Beach; Montserrat's only white sand beach.
If you can tear yourself away from the secluded sands, the reward is one of the best snorkel trails I've ever explored. Schools of fish numbering near the hundreds, large elkhorn coral, clear waters, and even the occasional turtle or two await just beyond the shore.
The National Trust
Back on land, one must-visit is the National Trust's Botanic Garden.
Having surrendered the former botanical gardens to the exclusion zone, the National Trust has become a new haven for conserving the wealth of natural diversity found on the island. And equally important, it serves as a repository of knowledge governing how to utilize these plants for everything from cancer remedies to lip gloss.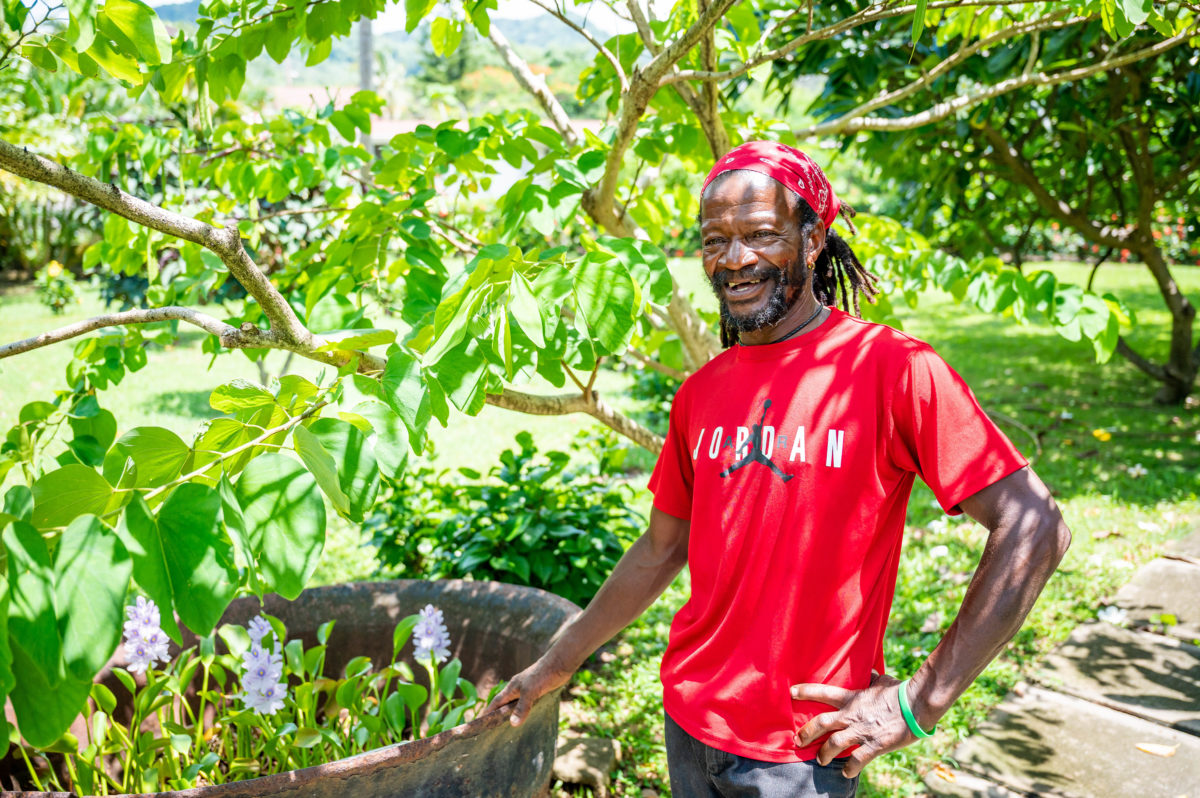 Ask for Philemon "Mappie" Murrain to get a guided tour of all the gardens have to offer.
Boat Tours
Not content exploring all the magical activities available on land? Try a Montserrat boat tour! Experiencing the island by boat offers access you simply can't get by land. See the pinnacle rocks, wonder at tiny Little Redonda, see Hells Gate, set foot on beaches only accessible by sea, and even boat around the exclusion zone on the south end of the island!
Where to eat
The island of Montserrat has more delightful choices for enjoying authentic West Indian food than it probably deserves considering its size and population.
Breakfast
There are few things I love more than a good saltfish buljol and johnny cake to start the day. It's one of those meals that immediately immerse me in all that is good in the West Indies as quickly as possible.
To start your day immersed in the flavor of the Caribbean, I suggest stopping at Mary's Takeout under the silk cotton tree in Cudjoehead. As a bonus to the authentic eats, you also get warm smiles and Monseratian charm from Ms. Mary herself.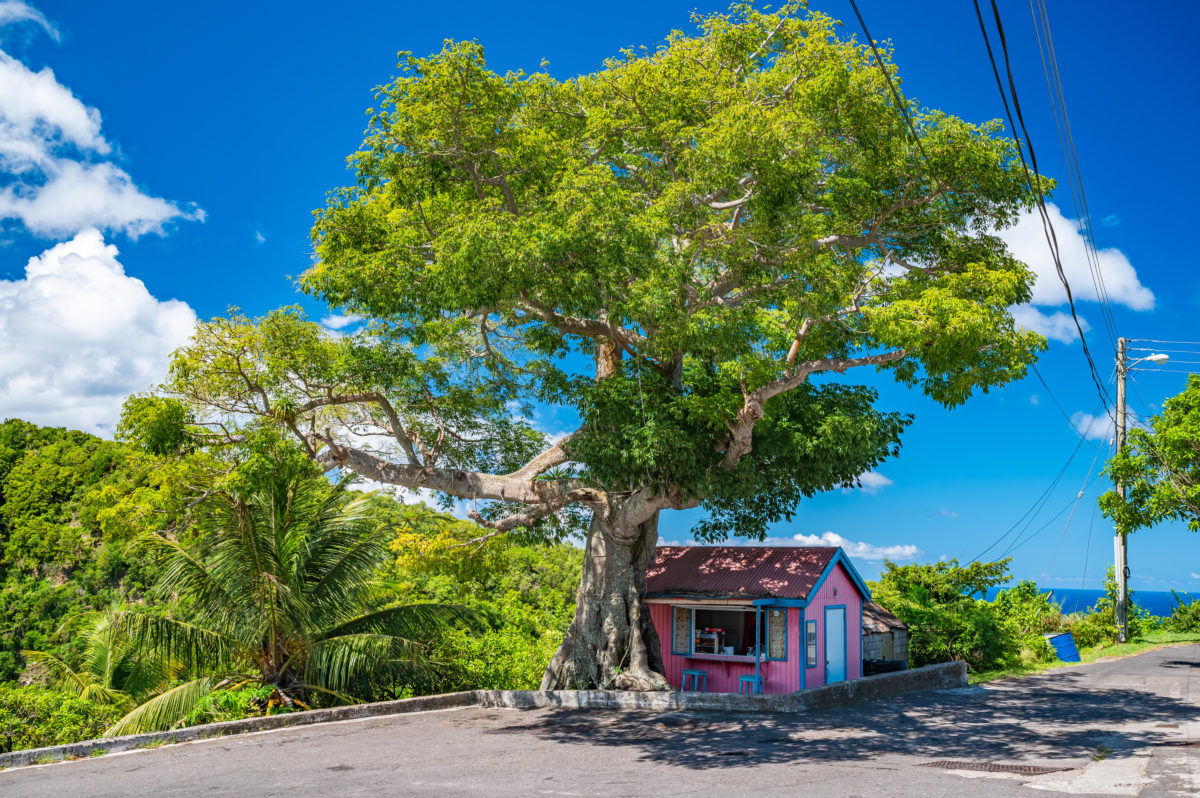 For breakfast on Sunday, you'll need to swing by JD's Bakery. It's the only game in town, but not to worry. You'll still walk away with a saltfish and provisions plate. One that can fuel any amount of adventures you may have in mind!
Another excellent option for breakfast is the Hilltop Coffee House, where David Lea and his wife Clover serve waffles and superb coffee Saturday mornings among his extensive memorabilia of Montserrat's past.
Lunch
Lunch in the Caribbean is always the most dangerous meal of the day. It's the one where, if you're not careful, you may still be "eating" lunch when the sun goes down thanks to great company, flowing rum, and chatting for hours.
There's no place more like to "ruin" your day than The People's Place atop Forgathy's Hill. The breeze is perfect. The view of the valley on one side is serene. While the main road on the other side means everyone who passes will likely stop to say "hi."
The food here is no slouch, either. Expect an ever-changing menu of West Indian staples like stew beef, Montseratian specialties like goat water, the second-best roti on the island, and even pizza!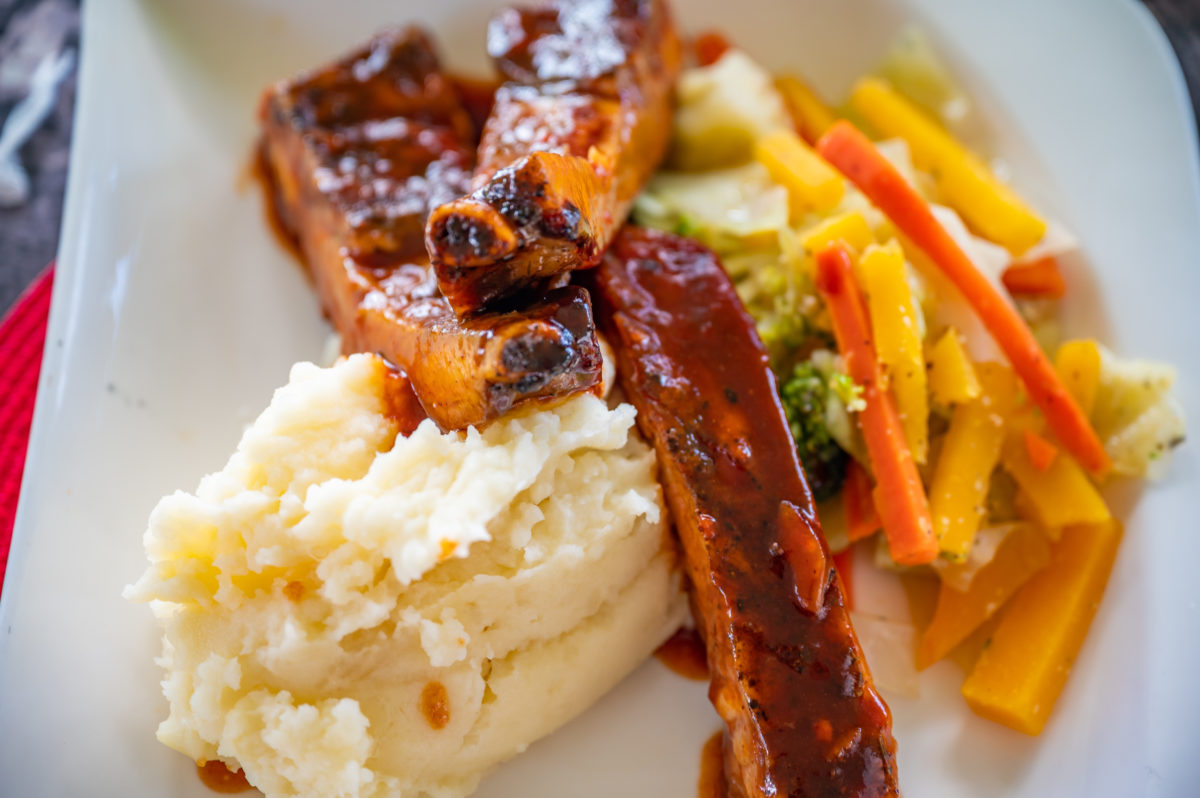 Another solid spot for lunch would be The Attic. A transplant from Plymouth (like so many of the businesses on Montserrat), this quaint eatery still serves quality local flare at its new location. We can also vouch for the stew beef and BBQ ribs plates at Time Out Restaurant, Bar & Grill in Little Bay.
Dinner
Once again, the island of Montserrat delivers more quality options than you'd imagine possible for dinner.
For Guyanese Roti (which is damn near as good as Trinidadian), run, don't walk, to Summer Breeze Restaurant in Little Bay. Trust us. It's the perfect way to start the night. They even have another favorite of mine: corn soup.
For a truly unique dinner option, make a reservation at Watermelon Cottage. Trevor, your host, is one of a kind. He'll not only serve some of the best food to be found on-island. He'll also happily regale you in splendid fashion with tales of his life and travels that strain credulity.
Watermelon Cottage is more than an eclectically designed and decorated dining destination; it's dinner and a show!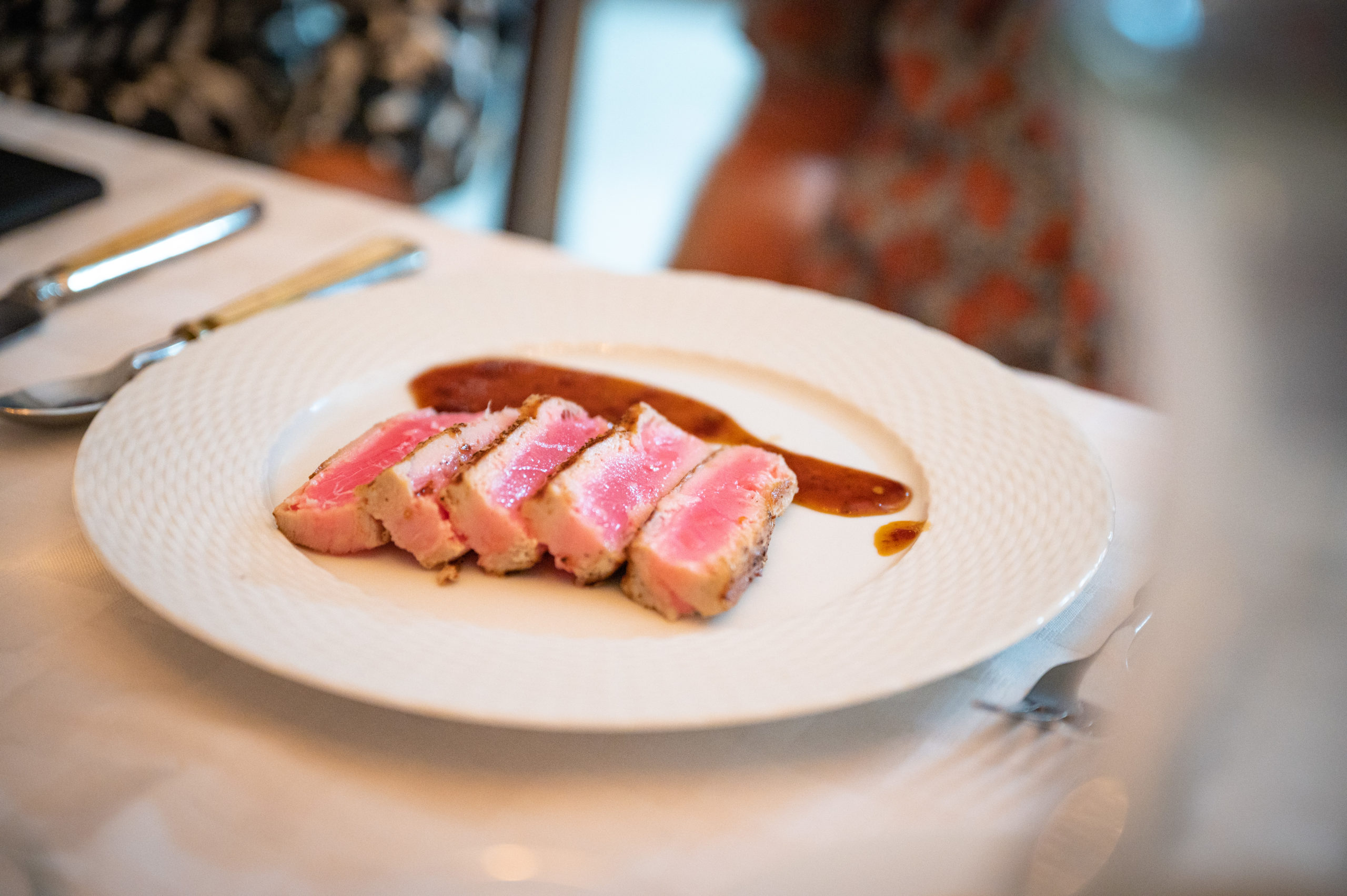 Then there's Ziggy's Restaurant. Helmed by husband and wife team John and Marcia, this restaurant has been consistently crafting some of the best dining experiences for hundreds of miles around.
And finally, you might be surprised to hear that we loved getting pizza at Rosemie's Salem Pizza Parlor. But seriously, what's better than a solid pizza after a night of bush rum in Salem?
Every Meal
For the complete local experience, don't miss out on the local pepper sauces. Our pick is Rooster's but we liked every one we sampled, so you can't go wrong!
When to Visit Montserrat Island
Montserrat, like other Caribbean islands, has a wetter season in the Summer and a dryer season in the Winter. So, naturally, the weather in the Lesser Antilles is most appealing during the months when it's coldest for our friends in the northern hemisphere.
That said, thanks to the island's vibrant and unique heritage, some yearly events and festivals are worth shaping your travel around.
St. Patrick's Festival: March 10 – 17
The most uncommon event has to be the St. Patrick's Festival.
Montserrat is the only country in the world, other than Ireland, where St. Patrick's Day is considered a public holiday. The difference is that here the revelry lasts a whole week!
But don't think this weeklong celebration is only thanks to the many Irish Catholics who settled on the island in the 1600s. It also commemorates an unsuccessful slave revolt in 1768 that lead to the rebellion leaders' public execution.
It's a tricky tightrope to walk between these two reasons for the season. And that's why visiting during this time is so special. It profoundly lays bare the often complicated history of the Caribbean and still finds time for feteing!
Montserrat Carnival: December 15 – January 1
From mid-December to New Year's Day, visitors can enjoy an intimate carnival experience. It's as colorful, loud, and exhausting as you'd want it to be. All without any of the unfortunate criminality that has marred more massive carnivals in other parts of the Caribbean.
Other Events
July brings Calabash Festival, where stunning creations are made from the massive fruit of the calabash tree. At the beginning of August, there are festivities connected to the island's African heritage surrounding Cudjoe Head Fest. And in November is the Alliouagana Festival of the Word. Experience a literary festival that brings acclaimed writers to Montserrat from all over the Caribbean islands and the world.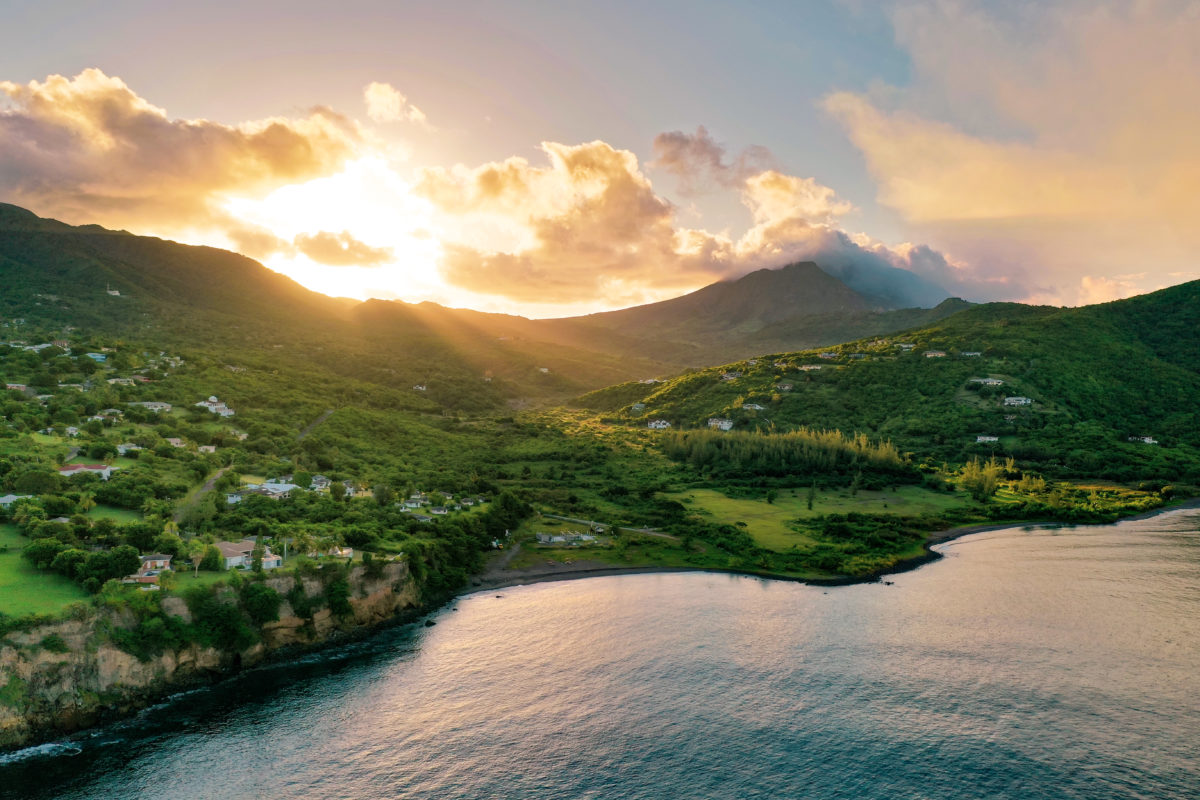 One more thing!
Something that can really trip up visitors to the island of Montserrat (including us on our last visit!) is the fact that you have to pay in order to leave the island. Yes, there's a departure tax.
It costs US$21 or EC$55 (CARICOM nationals are US$13 or EC$35) per person. There's also another Antigua Airport Administration Charge in the sum of US$37.50 per person for travelers not connecting through Antigua airport within 24 hours.
They won't let you on the plane or ferry without paying these fees. And there's no ATM at the airport or ferry terminal for you to get money. So plan ahead!
The Bottom Line on Montserrat Tourism
As I mentioned at the beginning: Montserrat is likely not what you've heard it is. For too long, the story has only been about the destruction of the Emerald Isle. Only looking back on glory days. But the truth is, between the incredibly welcoming people, the lush green hills, the vibrant seas, and the absolutely stunning volcano, Montserrat truly is a volcano island paradise.
Montserrat Map