Saltfish Buljol Recipe Trinidad Style
Today's busy modern lifestyles often relegate breakfast to an afterthought. What'd you grab this morning while rushing out the door to catch the train, or beat traffic? Cereal bar? Banana? Bagel? Whatever it was, it's unlikely to have had the spice and flavor of saltfish buljol.
Growing up with Trini parents, I often awoke to buljol, especially on weekends when we had more time to ease into the day. You won't need much coffee with this special treat either, as it packs enough hot pepper to wake even the groggiest souls.
You might also like: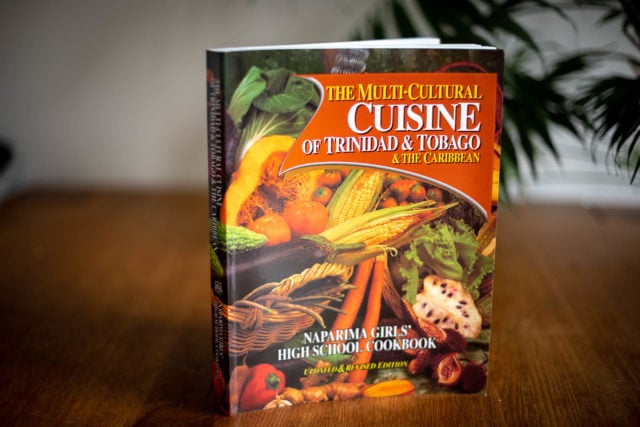 Naparima Girls' High School Cookbook *BEST PRICE*
The Naparima Girls' Cookbook is the ultimate tome of Caribbean cooking that deserves a place of honor in Caribbean kitchens everywhere.
What is saltfish buljol?
Saltfish also called bacalao, bacalhau, baccalà or dried fish, begins with a dense, flaky, white fish—usually cod. Before refrigerators, to preserve this fish, it would be salt-cured. Being covered in salt would prevent the growth of microorganisms that could cause sickness by drawing water out of the fish by osmosis. One all the moisture was extracted, this fish could remain preserved for long periods.
Byt when we're talking about buljol, we're talking about what we make with this salted cod which is a kind of salad from Trinidad and Tobago. In a nutshell, the fish is rehydrated and with excess salt removed by an overnight soak. Add some fresh peppers, onions, tomato, oil, and you've got saltfish buljol!
Wait, cod is from the Caribbean?
Nope. Cod cannot be found in the warm waters of the Caribbean. Instead, this fish prefers the frigid waters found deep below the North Atlantic. The furthest south it can be found is off North Carolina. From there, its range reaches up to Greenland and all the way across the Atlantic to the Barents Sea off Russia.
Yeah, I know what some of you are thinking: How did cod become a staple of the West Indian diet?
Here's the history lesson: without cod, it's likely that the early empires of the colonial new world could not have existed! Seriously, that's how vital cod was to fueling sailors, slaves, and the working poor of the time.
The fisheries off Newfoundland and New England were so immensely productive at the dawn of the 1500s; the catch became a hugely valuable commodity to be traded far and wide. And if you lived in the frigid north, what would you want to exchange for? How about some rum? Throw in some molasses, sugar, and salt, and it's a deal? Great! Come on down to the Caribbean!
And so that became a standard run out of Canada and New England—cod for cane products. To this day, the Caribbean continues to import its salted cod just as it has for over 400 years.
How to enjoy saltfish
Usually a side dish, you can find it everywhere from purveyors of West Indian influenced haute cuisine to the most authentic holes in the wall throughout the Caribbean.
I've enjoyed it at luxury stays like Barbados' The House where they include it in their continental champagne breakfast. At the world-famous Jade Mountain in St. Lucia, they prepare an upscale version that's the perfect pairing with their other lux breakfast delights. And for as long as we can remember, it's been on the menu at the classically luxurious Buccaneer Hotel in St. Croix.
With this dish's roots as a rough, well-traveling food, don't think it's only at high-end establishments! We've sampled saltfish stuffed bake from St. Lucia's Marigot Bay, after hours in a pate from the Roach Coach, St. Croix, in a bokit on the sands of Guadeloupe, plus our favorite food truck in St. Thomas. And let's not forget the ultra-easy, but equally delicious pleasure of saltfish on Trinidad's Crix crackers.
My favorite way to enjoy it? As I grew up eating: for breakfast stuffed in a St. Croix johnny cake!
How to make saltfish buljol
The saltfish recipe ingredients are straightforward. It's just salted fish usually salted cod, hot peppers, bell peppers, onions, tomatoes, and oil. Making it is just as simple. First, you soak the fish overnight. Then, using a large skillet with boiling water; remove the excess salt. Taste fish at this point to check the saltiness. If it's still salty repeat step two until it isn't. In a bowl, break up the fish with your fingers into small pieces. Finally, add freshly chopped peppers, onions, and a drizzle of olive oil. Mix it up, and you're done.
This saltfish buljol recipe Trinidad style from The Naparima Girls Highschool Cookbook (the ultimate Caribbean cookbook perfect for anyone who enjoys a taste of the Caribbean) should take no more than 10-15 minutes from soaked fish to savory meal.
Buljol is great with johnny cakes, roast or fry bake, bread, crackers, or even that bagel I mentioned earlier.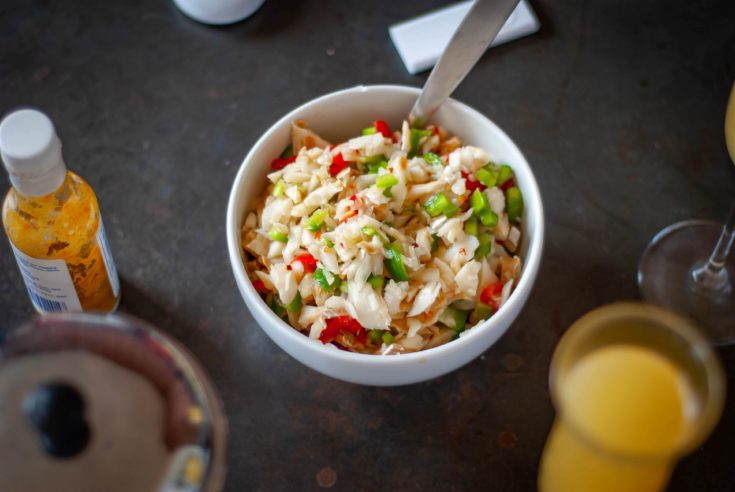 Saltfish Buljol Trinidad Style
Saltfish buljol Trinidad style is a simple to make, fresh and spicy way to start the day.
Ingredients
1/2 pound salted cod
1 large tomato
1/2 teaspoon fresh hot pepper
1 onion, finely chopped
2 tablespoons olive oil
Instructions
The night before, put your salted cod to soak in water.
Break the fish into pieces with your hands and place it in a saucepan with cold water.
Gradually hear to boiling and throw away wter.
Repeat until the salty taste is removed (fish should taste fresh).
Remove skin and bones and break pieces of fish into even smaller pieces.
Finally, blend the fish with the remaining ingredients.
Enjoy!
Nutrition Information:
Yield:
4
Serving Size:
1
Amount Per Serving:
Calories:

243
Total Fat:

8g
Saturated Fat:

1g
Trans Fat:

0g
Unsaturated Fat:

6g
Cholesterol:

86mg
Sodium:

3987mg
Carbohydrates:

4g
Fiber:

1g
Sugar:

2g
Protein:

36g
Related Posts