Jade Mountain, St. Lucia's Most Passionate Luxury Resort
Are you a passionate person? Seriously, ask yourself that question. Is your laugh usually the loudest in the room? Does the majesty of nature still leave you speechless? When you look into the eyes of your travel partner, can they tell you want to devour them? Do you sometimes find that you just need to stand still and take it all in? If you're not sure, or if you answer anything other than an emphatic "YES!" move on. I don't want to waste Jade Mountain St. Lucia on anyone who won't appreciate this singular experience.
Passion doesn't fit in a box
I've dreamt of visiting Jade Mountain Resort for years. Of course, a big part of that draw was to experience the 29 three-walled, individually designed rooms actually they're called sanctuaries that have made the property famous. So, let's start this review there…
I thought having seen photos reproduced in travel magazines for years (not to mention the images we've shared previously here, here, here, and here) would have prepared me for stepping into those photos myself.
I was wrong.
The sanctuaries with no fourth wall just defy belief.
As soon as you cross your personal bridge and pass through heavy, solid wooden doors you see it. Nothing. Or everything. Depending on how you look at it.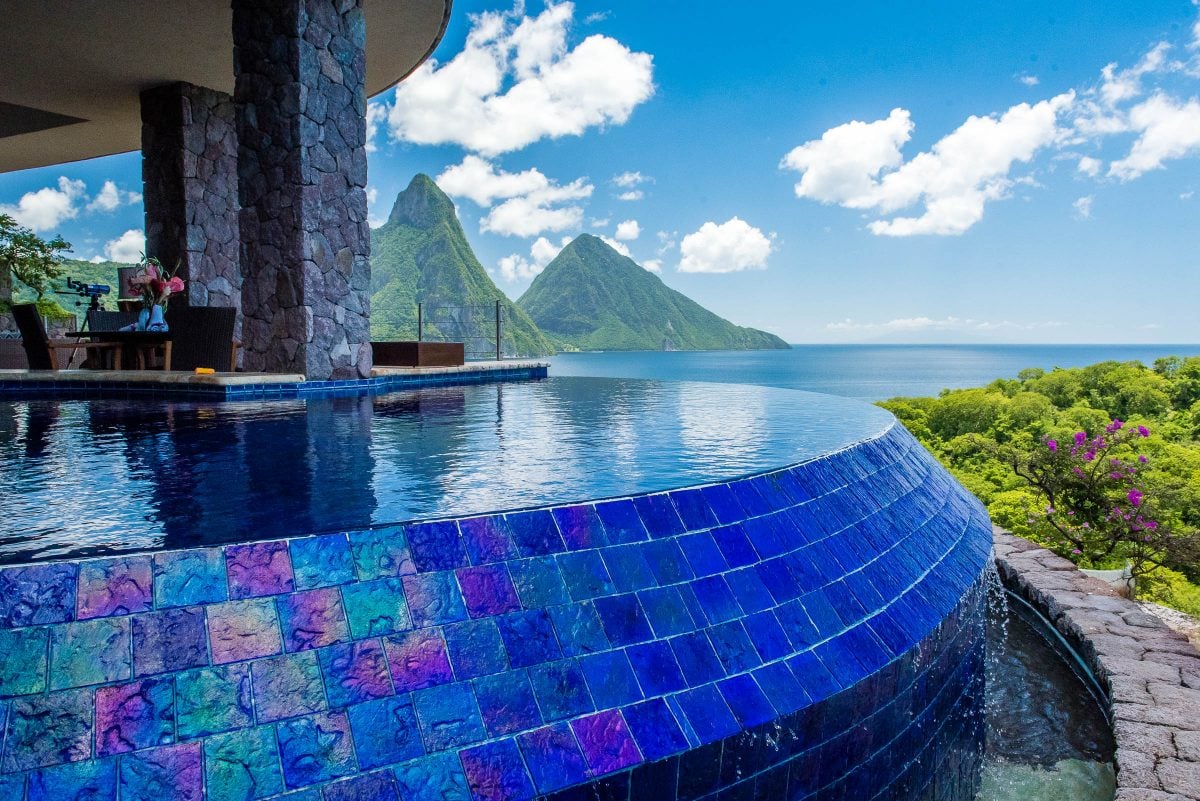 The indoor pool (which should be enough of an enticement) seemingly exists only to draw your eye and then your person straight out into the vast natural beauty of St. Lucia.
Where a wall should be, instead lies a plush carpet of verdant treetops. Just beyond, the Caribbean sea is a sparkling blue brushstroke. And majestically towering above it all with green clinging to their sides are St. Lucia's most awe-inspiring features and Unesco World Heritage Sites: Petit and Gros Piton.
Let me be clear: there is no better vista than this to be found on the island of St. Lucia. (Hell, there may not be any better view than this in the entire West Indies.) And it exists as a stunning, panoramic, floor-to-ceiling feature of every sanctuary at Jade Mountain.
You don't just look out at that view, you soak it in. Intuitively, I found the best way to soak it in was while soaking in the indoor private infinity pool.
At Jade Mountain taking a dip in the pool
In the morning the sun rises just behind the Pitons casting long shadows over the endless Caribbean sea. At noon, the sun cuts right through the impossibly clear water painting the feet of the Pitons a brilliant turquoise. At sunset, clouds wisp off the tops of the mountains while buckets of orange and red are poured all over the scene. And at night, oh man at night… Let's just say I just hope you have someone to share the pool with.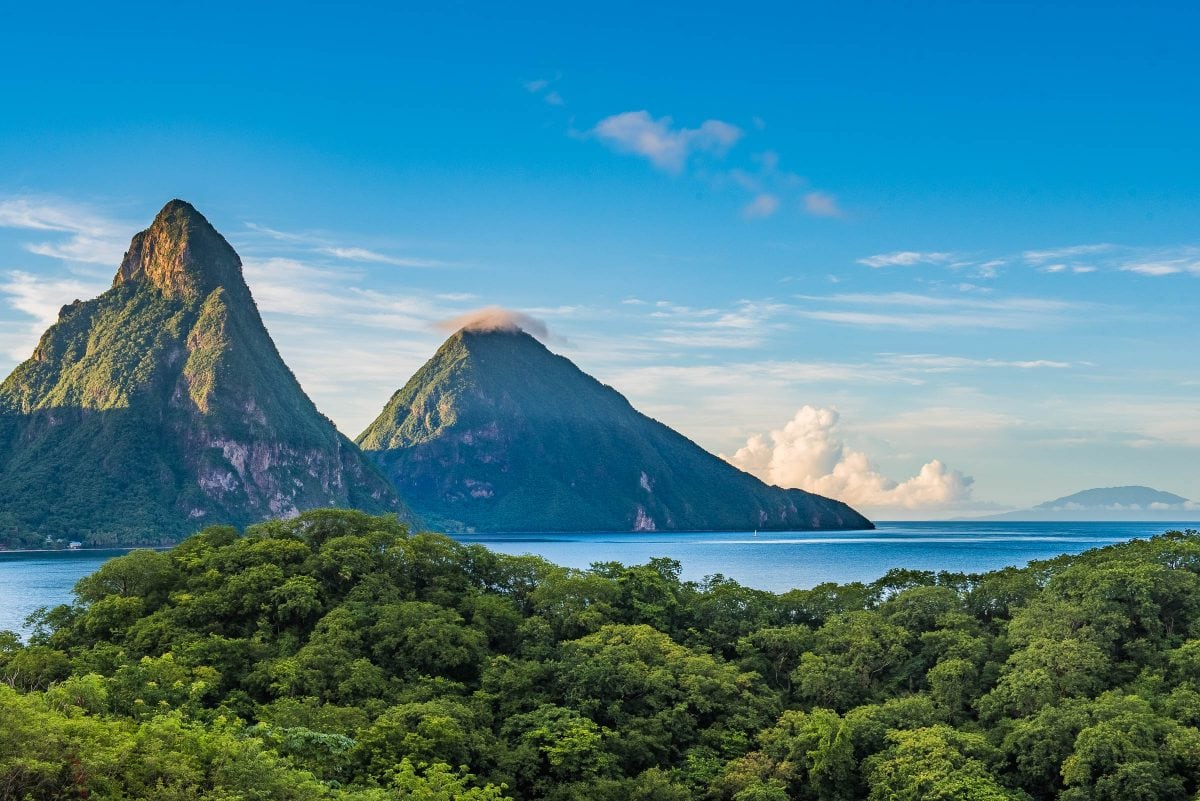 I could have stayed in that pool forever, occasionally swimming back and forth between being in awe of St. Lucia's stunning scenic wonders, sipping some Chairman's Reserve rum, and letting the natural sounds of St. Lucia provide my background music.
Passion for St. Lucia
If you can possibly tear yourself away from the views of the Pitons in your personal sanctuary (and that's a big "if"), Jade Mountain will reward you with more of the best of St. Lucia on the 600-acre lush grounds surrounding the property.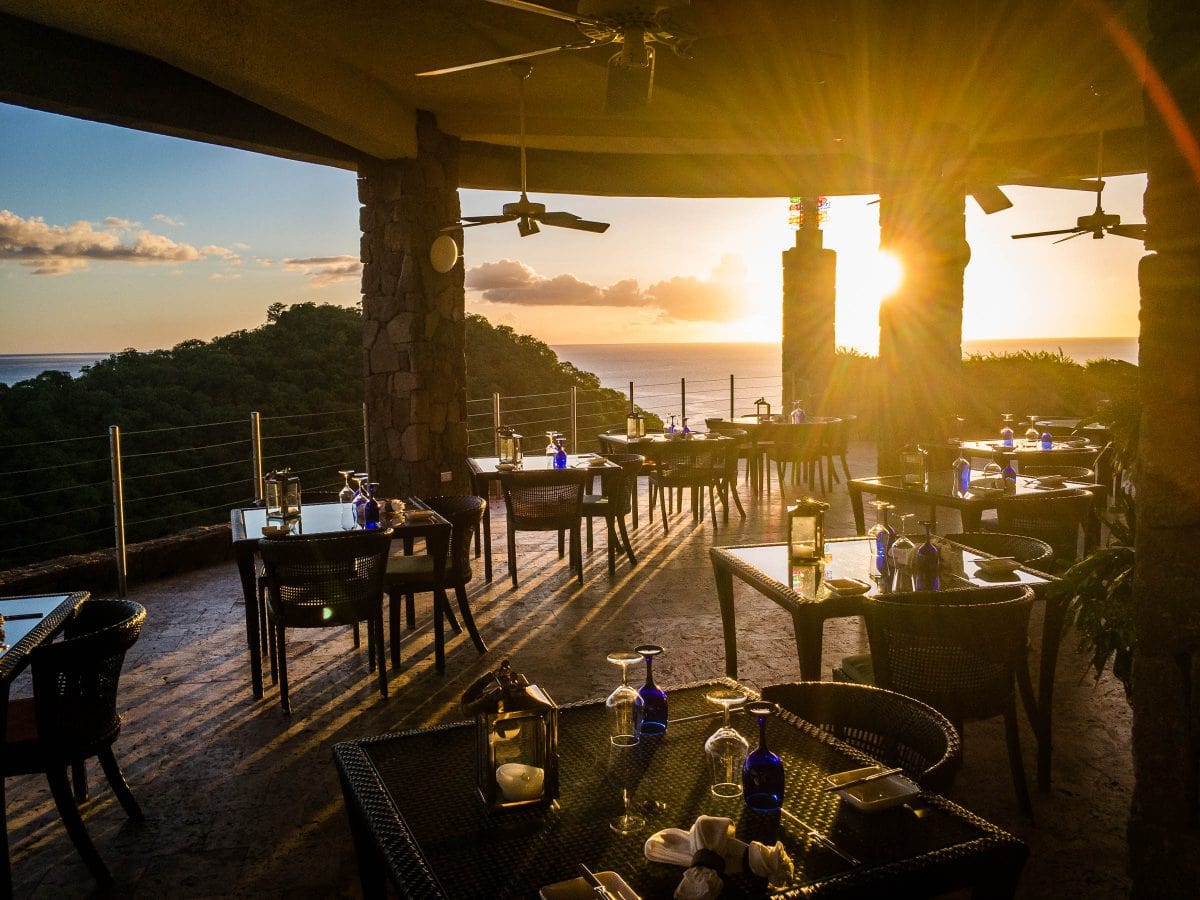 The closest is the Jade Mountain Club on the second-highest floor. Here, celebrated James Beard Award winner Chef Allen Susser's "Jade Cuisine" plays the co-starring role with the view.
Dinner is a tour de force of West Indian flavors like sweet spiny lobster, tamarind, mango, avocado, guava, papaya, coconut, breadfruit, yams, and sweet potatoes swept up in a world-class culinary experience. Deserts are handcrafted from estate chocolates organically grown, lovingly processed, and expertly prepared from bean to plate right there on the slopes surrounding the property. Vanilla, nutmeg, cinnamon and so much more trace a similar path to your plate.
Breakfast is no run-of-the-mill experience either with this vision gracing my plate when I ordered a traditional West Indian staple like saltfish and green figs to start my day.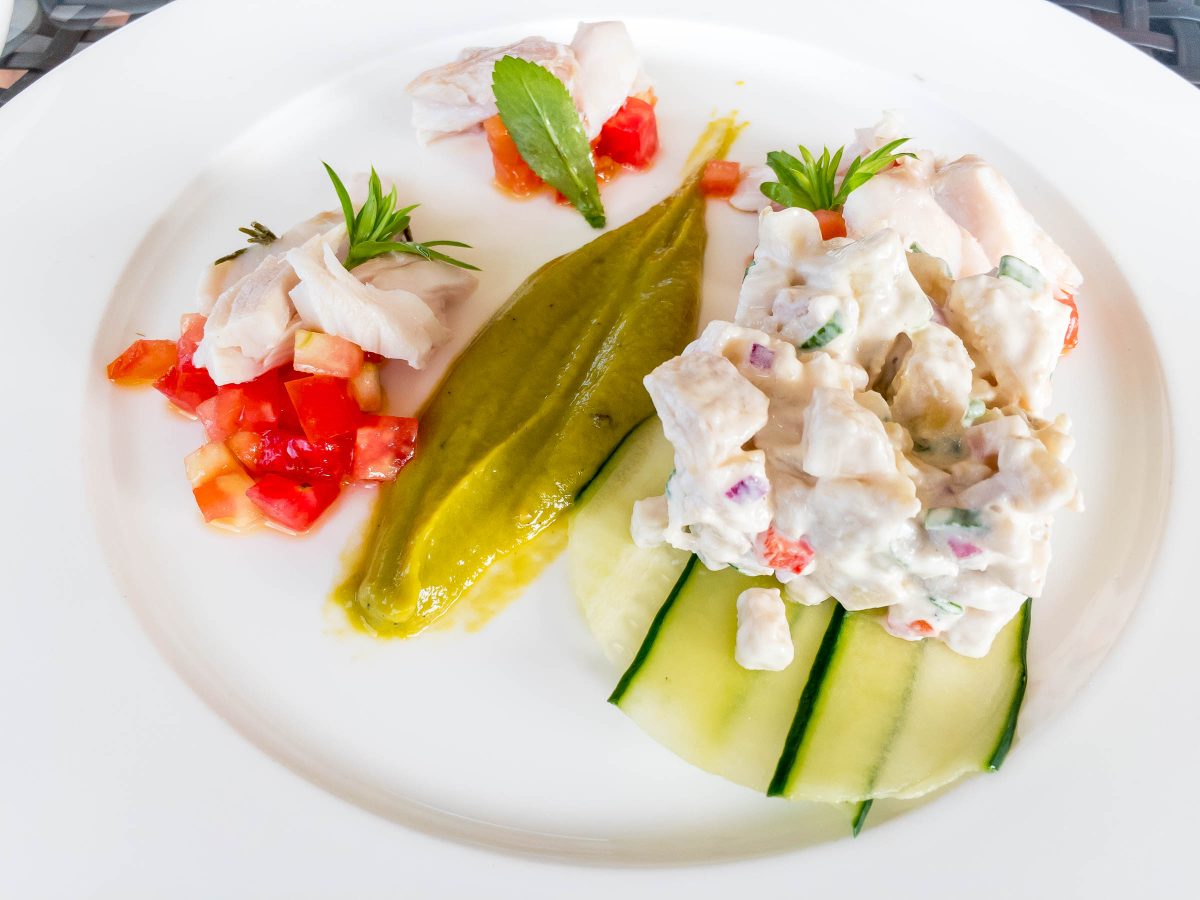 Above the Jade Mountain Club is the open-air Celestial Terrace. The only time in recent memory that I've had such a front-row seat to the trillions of stars arcing across the sky was on a sailboat in the Grenadines. With the elevation, though, you're that much closer to the spectacle. While I can think of a few reasons why guests might desire room service (see above), venturing beyond your three walls is incredibly rewarding.
Naturally, there offer world-class spa services, which I can only imagine being the stuff of dreams. (If only I could have pulled myself away from that pool…)
There are also mountain biking trails, hiking, birdwatching, water sports, a fitness studio, plus all the amenities of Jade Mountain's sister resort Anse Chastanet. At the foot of the mountain, two beautiful beaches: Anse Chastanet Beach and Anse Mamin.
As soon as you quickly pad across the hot sand and take refuge under the thatched umbrellas, attentive staff are there with minted cool sprays, towel service, fruit kebabs, and sorbets — like magic.
As you might expect, the beaches were wonderful… But my pool and all it promised kept tugging on my mind. And this is from a guy who 99.9% of the time would rather be on a beach instead of a pool!
Born of passion
The ultimate manifestation of owner and architect Nick Troubetzkoy's love for large open spaces built in harmony with nature, the property has been on practically every list of best hotels in the world.
American Express Travel's list of the world's top 25 hotels offering a "Best in Class" customer experience.
Number one on the 2016 BRIDES Best Honeymoons Award for Top Resort in the Caribbean
Top Caribbean Resort in the US Condé Nast Traveler 26th Annual Readers' Choice Awards…third year in a row!
Top Caribbean Resort by Travel + Leisure readers.
And on and on…
In Nick's own words:
What I've tried to do with Jade Mountain is to change the entire concept of a hotel room. I wanted to create environments that enable guests to forget about the furniture or the fact that they're in a hotel – in essence, to forget about everything other than experiencing the psychology of this unique space on an intuitive level.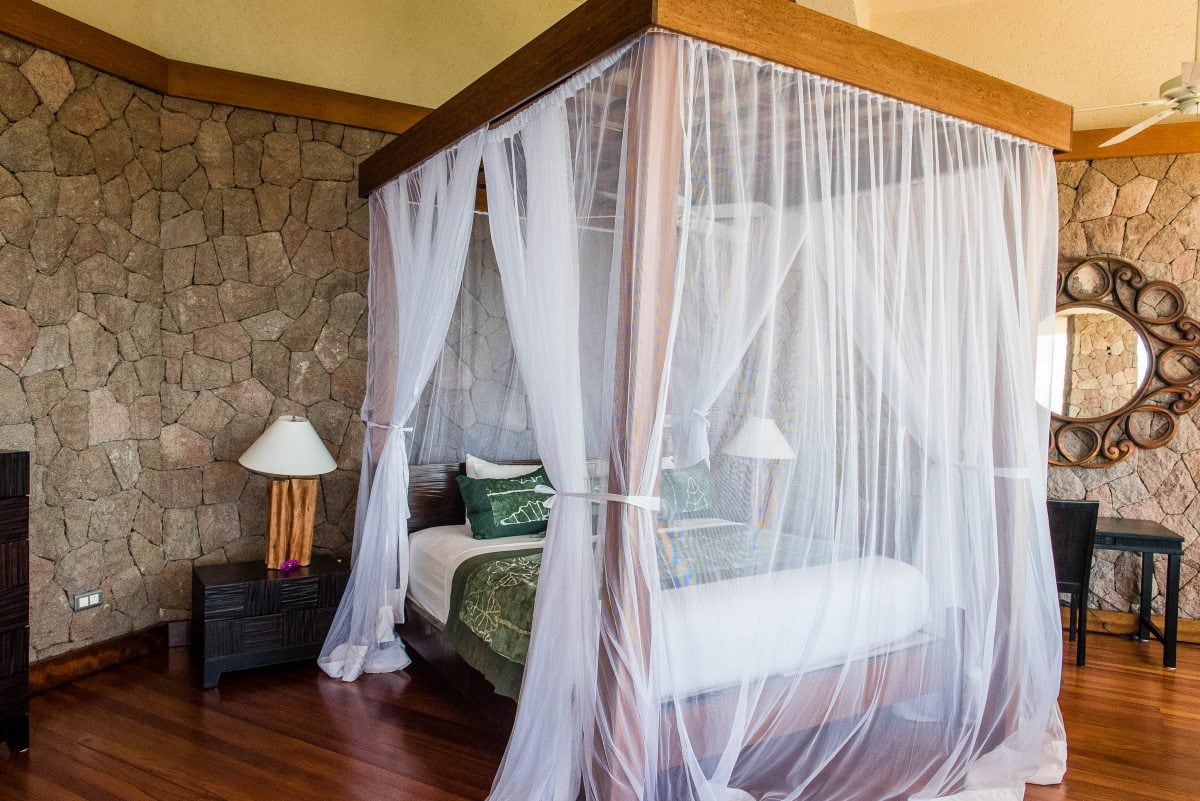 Experience Jade Mountain
I know, I know… nearly every word I've written has been gushing over this place, but, again, ask yourself: Are you a passionate person?
If the answer is yes, you're liable to fall in love with Jade Mountain, too.
Save
Related Posts