Jade Mountain Chocolate Festival Promises Decadent Dessert Fun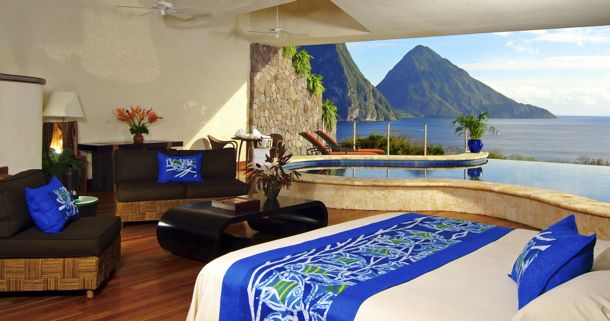 Cacao is not commonly seen as a prominent cash crop in the Caribbean. After all, sugar was king here for hundreds of years. Tobacco, cotton and coffee were even grown in various places at varying times.
Chocolate? Doesn't that all come from Africa?
Indeed, a good 90% of all the world's cacao is cultivated in West Africa, but the earliest evidence of cacao seeds being turned into the types of chocolate treats we enjoy today can be traced to Central and South America, so it wasn't much of a stretch for the tradition to extend into the Caribbean. You can find (and taste) evidence of the Caribbean's chocolate culinary tradition in a number of destinations, including Belize, Grenada, Martinique, and Trinidad & Tobago.
Chocoholics lucky enough to be in St. Lucia this December, though, are in for an extra special treat…
From December 9 to 12, Jade Mountain will host the latest installment of its annual Chocolate Festival. Now, just as Jade Mountain is no ordinary hotel (Did you see that photo above?), so too is this no ordinary Chocolate Festival. Over the course of the extended weekend, you'll have the opportunity to fully indulge your sweet tooth, while also gleaning a good bit of knowledge about the history and alchemy of the world's favorite dessert.
Could there be a better place to enjoy a unique culinary experience like this? I doubt it. The Jade Mountain website tells why…
Cacao has a history in St Lucia that dates back to the 1700's. Our Cacao trees, over 1000 strong, are established in both Anse Mamin Plantation and in Emerald Estate. We have been harvesting and producing cacao beans for generations. Now you can be one of the first to taste our premier vintage of our Jade Mountain Estate Grown chocolate.
That's right, the property grows its own cacao, and boasts a multigenerational pedigree of cultivating it that speaks volumes to discerning dessert devotees. There's a walking + tasting tour of the Cocoa Plantation and Organic Garden at Emerald Estate planned for the first full day of the weekend that looks fascinating to me. Participants will literally get to see the full journey of the cacao seed from pod to truffle amid lush, tropical surroundings. Amazing!
Oh, and I haven't even mentioned that the renowned chef, Allen Susser, will be on-hand to lead discussions and share his talents.
Chocolat-tini cocktails, luxuriant chocolate spa treatments, chocolate-inspired finger foods, a five-course all chocolate-inspired dinner, and exotic desserts headlined by a Double Dark Chocolate Fondue that, according to the event program, "must be shared to enjoy its true aphrodisiac pleasures," make this a must for all serious chocolate lovers.
Of course, this being Jade Mountain, you'll also need to plunk down some serious cash. When I called to check a few days ago, the lowest priced SKY Suites were going for a cool $1,050 per-night EP.
Still, if you have the means, and a sweet tooth to match, this is one special weekend you won't want to miss.
Related Posts