The best Caribbean beaches rival anything in the world. Everyone knows that. (Sorry, not sorry Bora Bora.)
But for us, the trick isn't just about enjoying beautiful strips of sand in busy or prominent locations like Punta Cana. No, it's about finding the most unique, off-the-beaten-path, or just plain over-the-top gorgeous strips of sand that truly are uncommon.
What makes a fantastic Caribbean beach
When considering the types of sandy shores that genuinely stun us, there are a few things to consider. Water, size, sand, proximity, accessibility to other elements like resorts, location, and more all come into play.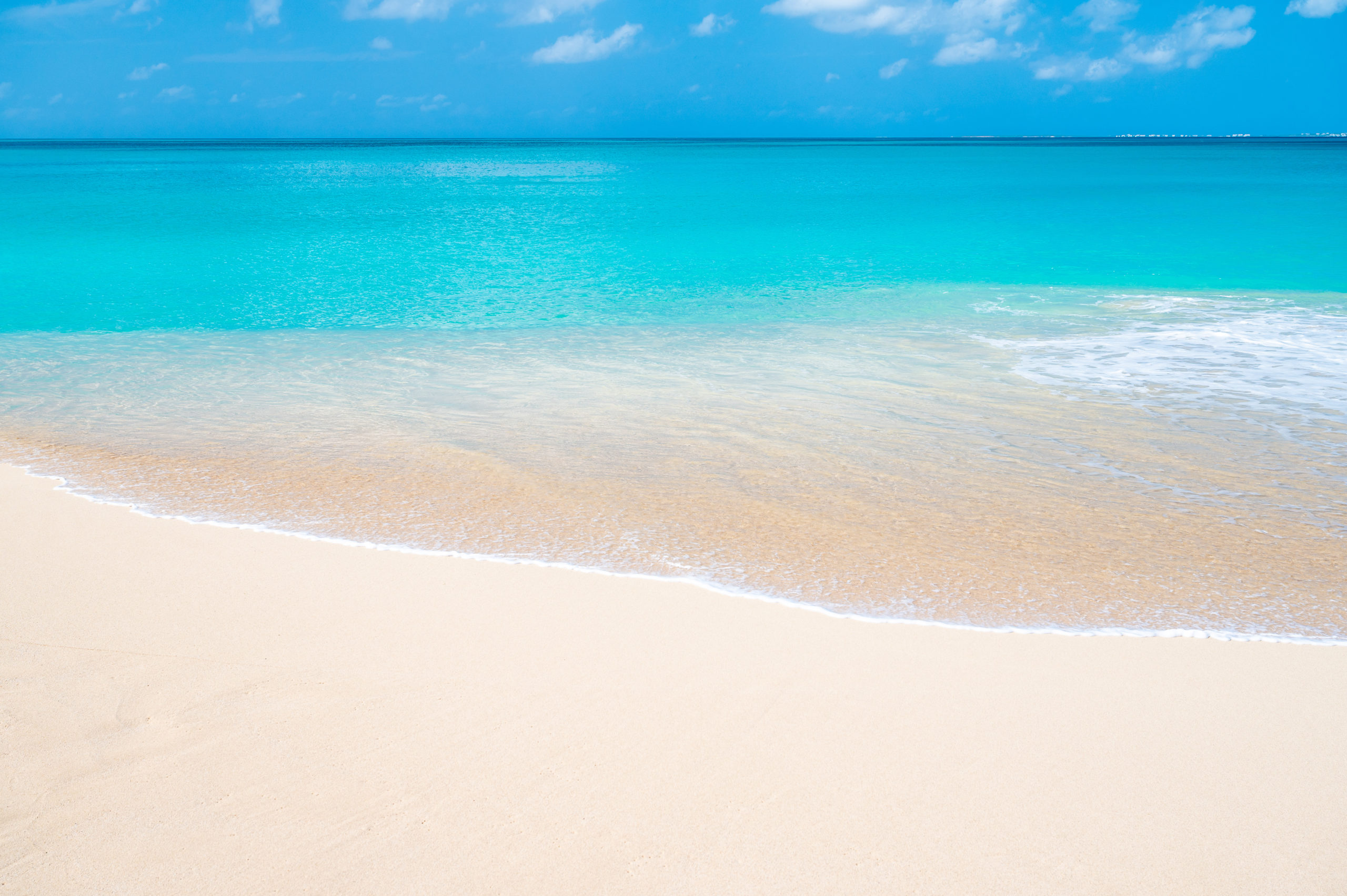 Water
One of the few non-negotiables for being one of our favorite beaches is the water. Without question, we need crystal clear waters. Growing up on St. Croix, we were spoiled by weekends splashing in the turquoise waters of Sandy Point Beach out west. And as we grew up, nothing else would do.
As far as calm waters or crashing waves, we'll take either, depending on the day. Sometimes spending hours diving through shore breaks is the best way to joyfully spend the day!
Size
The simple truth about beaches is that bigger isn't always better. And a general rule of thumb for me is that any beach named for how many miles long it is won't likely be a beach I'll like. So sorry Seven Mile Beach on Grand Cayman, you're pretty but a bit overdeveloped for my tastes.
Sand
Here's another stance that might be a bit controversial: soft white sandy beaches aren't everything. Now, don't get me wrong, brilliant white sand shores gleaming under the sun like Tropic of Cancer Beach in The Bahamas are stunning. But not all of the best Caribbean beaches have white sand.
For instance, have you ever spent the day on any pink sand beaches Caribbean-style? Even a sprinkling of pink sand mixed in with white can help secure a spot on our top Caribbean beaches list.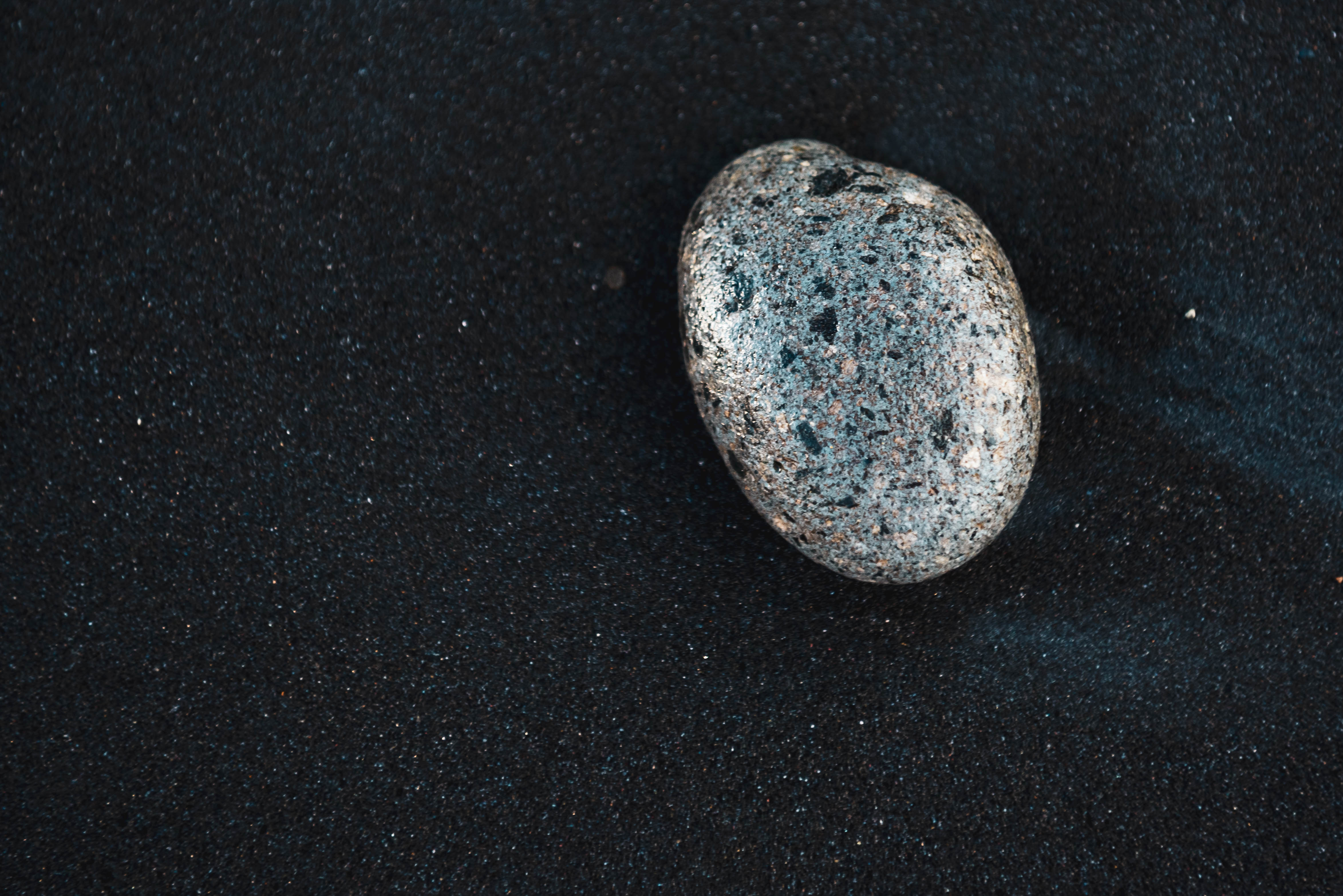 And then there are black sand beaches. There's just something so regal about these ebony sands that I've fallen in love with over the years. Looking closely, the sand starts to look like a night sky full of sparkling stars. And fronted by that essential turquoise waters, these are truly magnificent!
To go one step further, we even love beaches made of shells!
Proximity
A beautiful beach that fronts a resort may be nice, but that's not a beach we'll be seeking out for us. Sure, some beaches can overcome a row of resorts and remain amazing. Grace Bay Beach comes to mind as an example. But on the whole, we prefer our sandy shores a less populated.
Accessibility
Accessibility is similar to proximity. For me, the best beaches require a little work to reach. So, just getting there is a reward.
Hiking through the bush, kayaking around a peninsula, requiring a boat rental in the Exumas, or only accessible by sailing away from the major islands—these are the stuff of legend. And when you arrive there, with the beach all to yourself, there's simply nothing better!
Facilities
As you can guess from my stance on proximity and accessibility, I'm not interested in facilities. Our favorite beaches generally don't have beach chair rentals, bathrooms, water sports, or changing rooms. We do, however, make a notable exception for beach bars! But that's about as far as we need to go.
Our Picks for the Best Beaches in the Caribbean
With over 7000 islands and islets in the Caribbean, making a list of our favorite beaches is a genuinely tall order. So, in no particular order, here are the best of the best beaches found throughout the West Indies:
Will our list change in the future? Maybe. Check back now and then to see what we're in love with at any given time.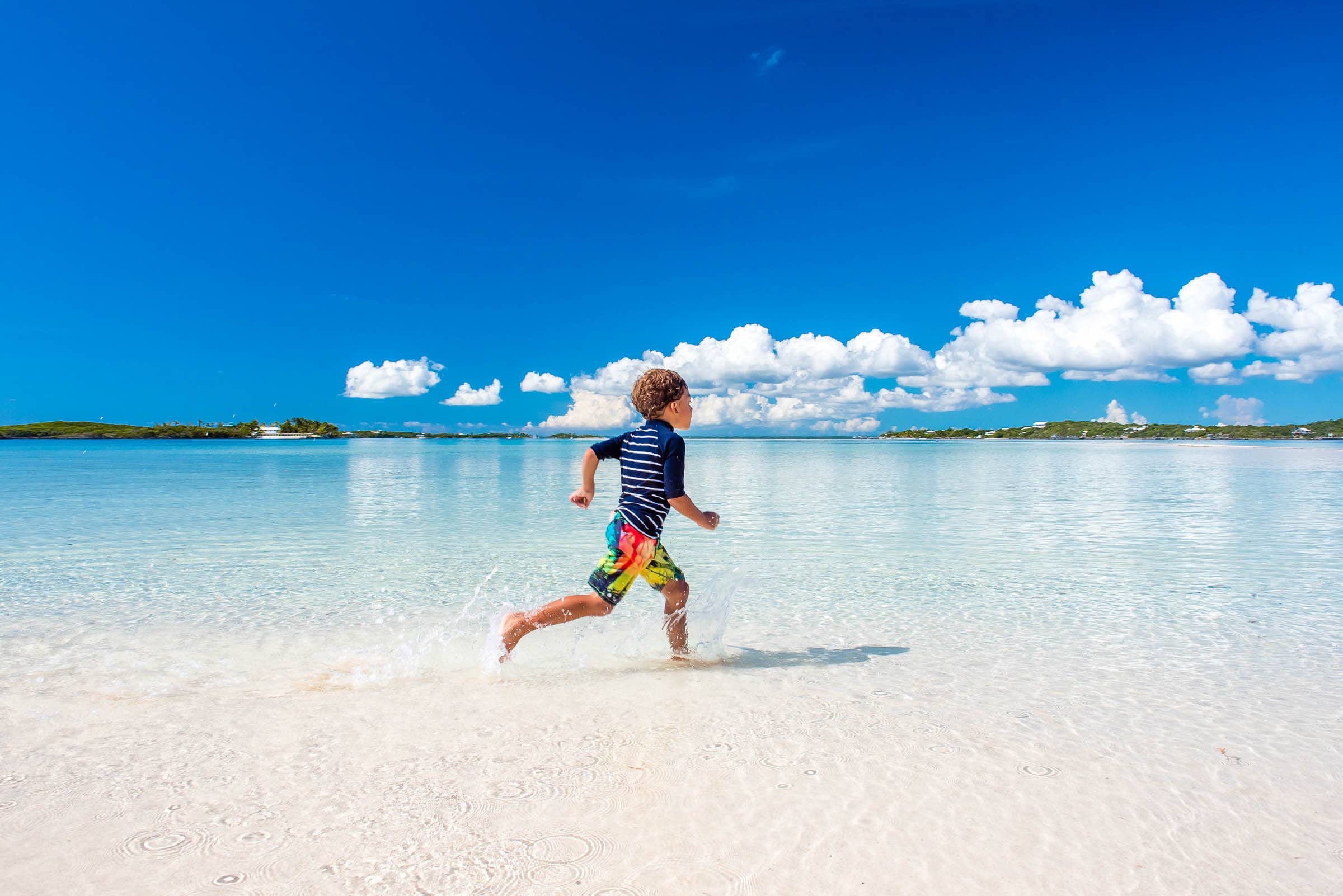 Tahiti Beach, Elbow Cay
One thing you don't realize until you've visited a large number of beaches is that the perfect shape for a beach is a peninsula. But don't just take our word for it; visit any peninsula-shaped beach, and it'll turn you into a convert. And one of the best in the Caribbean is Tahiti Beach, Elbow Cay in the Abaco Islands of The Bahamas.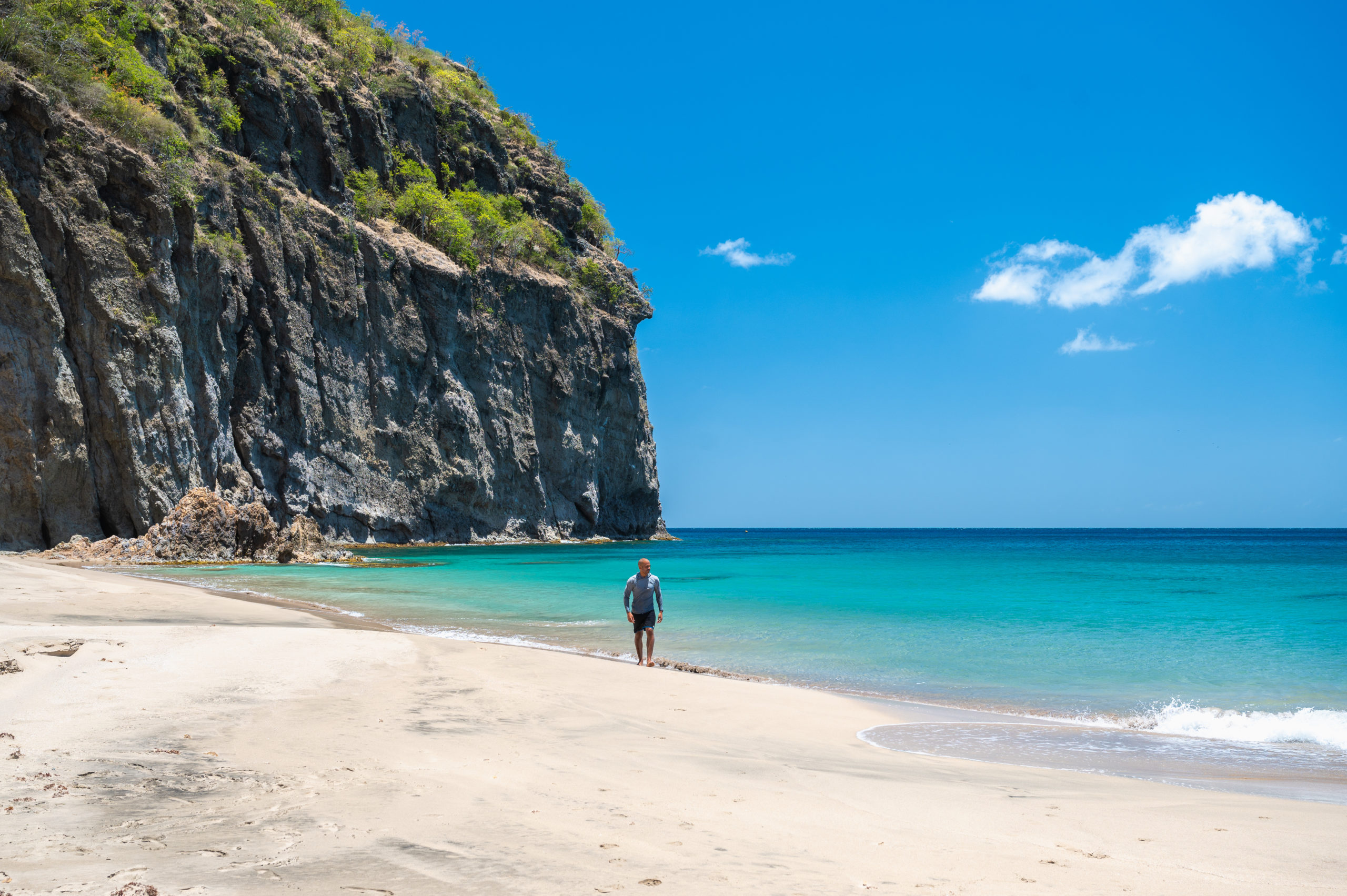 Rendezvous Beach, Montserrat
Rendezvous Beach is the only white sand beach on the volcanically active island of Montserrat. Only accessible via a short boat ride from nearby Little Bay or via a short hike, this stunner transforms throughout the year.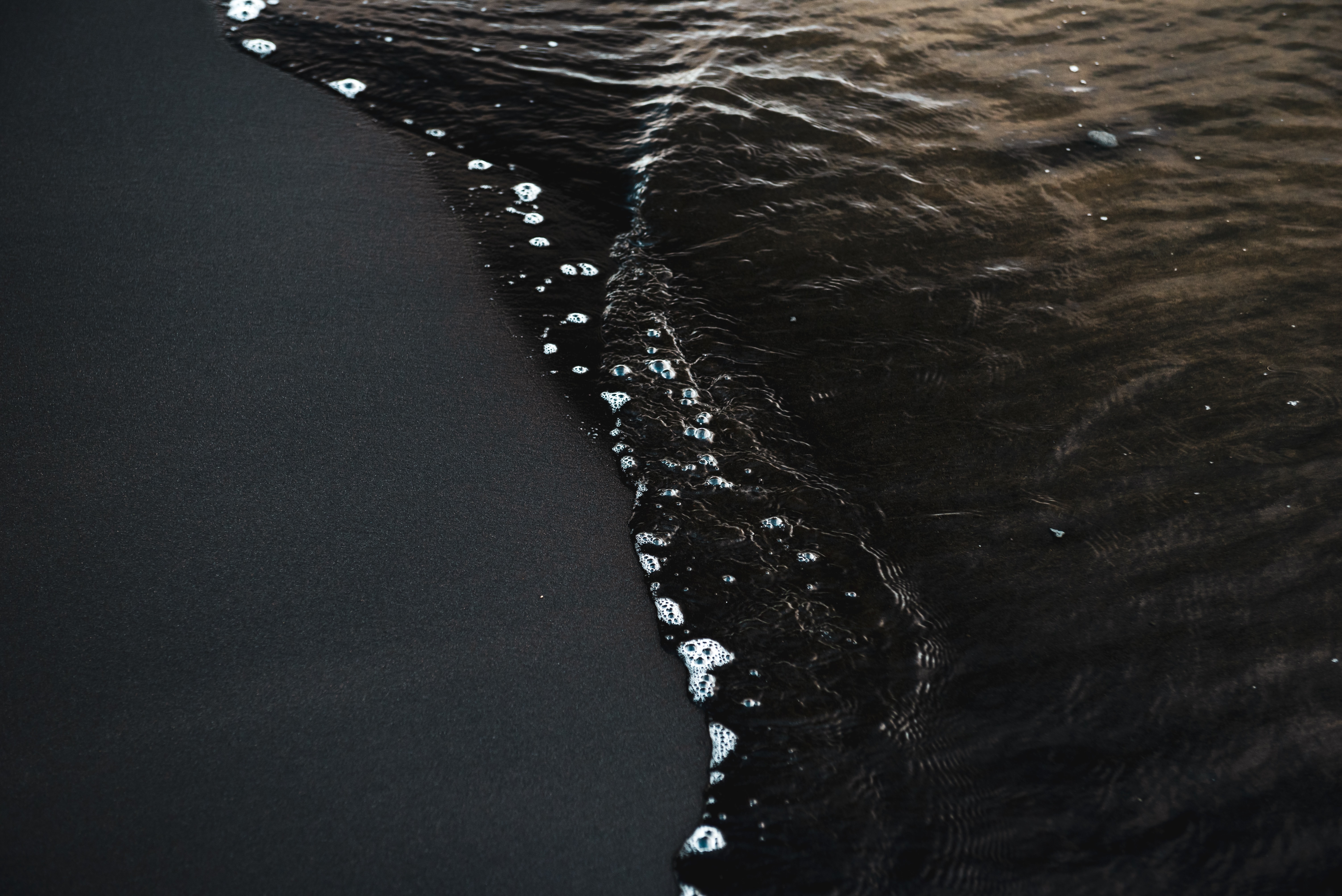 Coconut Beach, Dominica
Black is beautiful on Coconut Beach, Dominica. Jet black sands regally represent the island's rich volcanic history. Even better, thanks to small cabanas, intrepid travelers can book stays right on these ebony sands.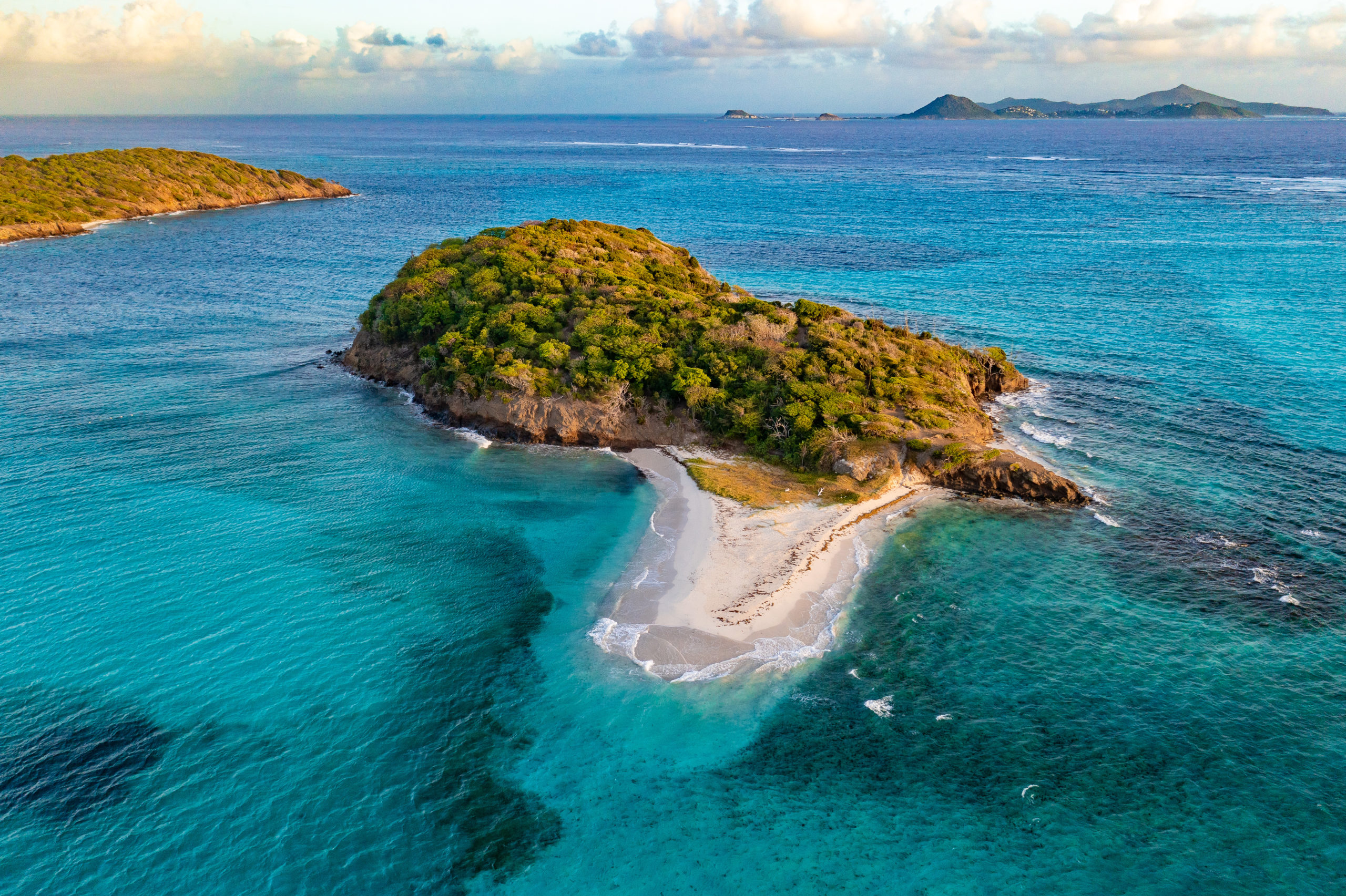 Baradal Beach, St. Vincent and the Grenadines
As we said, some of our favorite sandy spots are the ones that play hard to get. Baradal Beach in the Tobago Cays Marine National Park is just one of those beaches. Its blue water made calm and quiet thanks to a coral reef breakwater surrounding the park on almost all sides.
Union Island is one of the closest points to set out from, or you can sail six hours out of Grenada. However you get here, pristine water, sea turtles, and natural splendor awaits.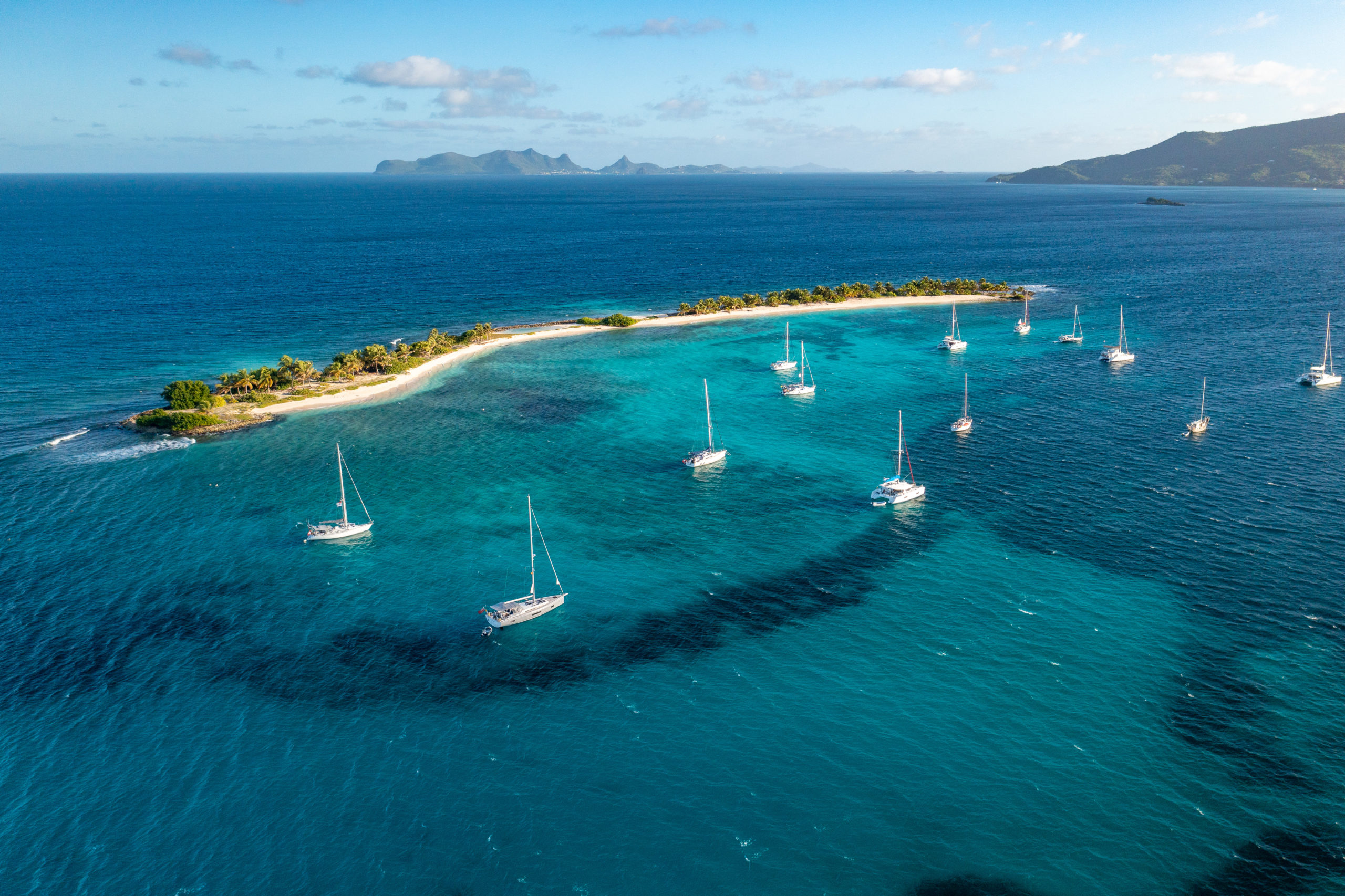 Sandy Island Beach, Carriacou
Just off the coast of quaint Carriacou is a sandbar turned must-stop for sailors. This tiny strip of sand boasts protection from north swells for those interested in anchoring here. Plus, pristine azure waters teeming with life, cooling tide pools for lounging, palm trees sprinkled along its length, and pink sands at the far end.
Sandy Point, St. Croix
No list of the best white sand beaches in the Caribbean from us would be complete without our hometown favorite: Sandy Point Beach. This beach is such a natural wonder that it spends half the year off-limits thanks to nesting leatherback turtles. But, the rest of the time, these magnificent white sands make the ultimate St. Croix beach day.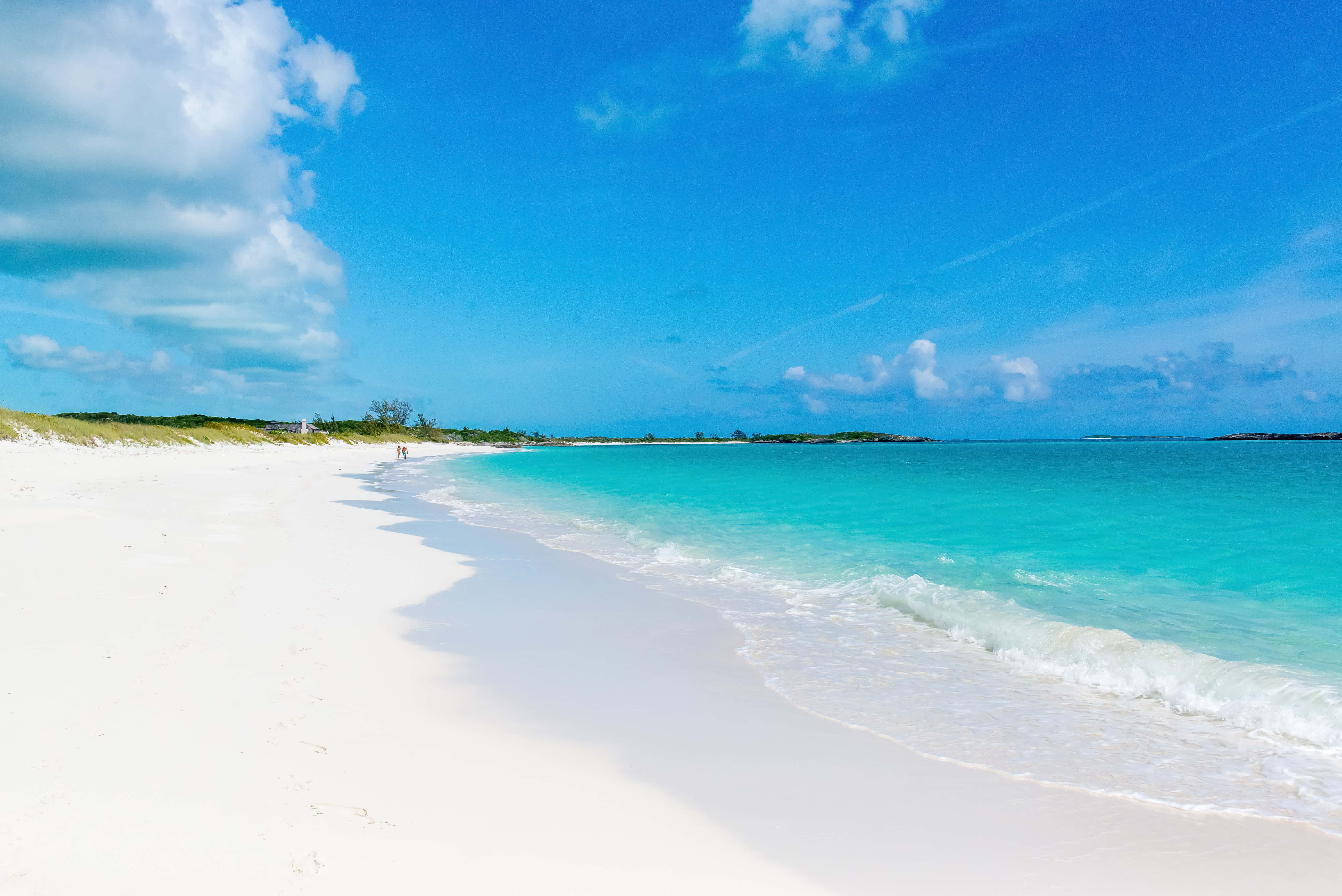 Tropic of Cancer Beach, Exuma
Some Caribbean destinations are so incredible; they become the stuff of legend. Such is the case with Tropic of Cancer Beach on Exuma in The Bahamas. Blessed with the dictionary definition of white powder sand and a long graceful crescent shape, Tropic of Cancer, aka Pelican Beach, is undoubtedly one of the best beaches in the world.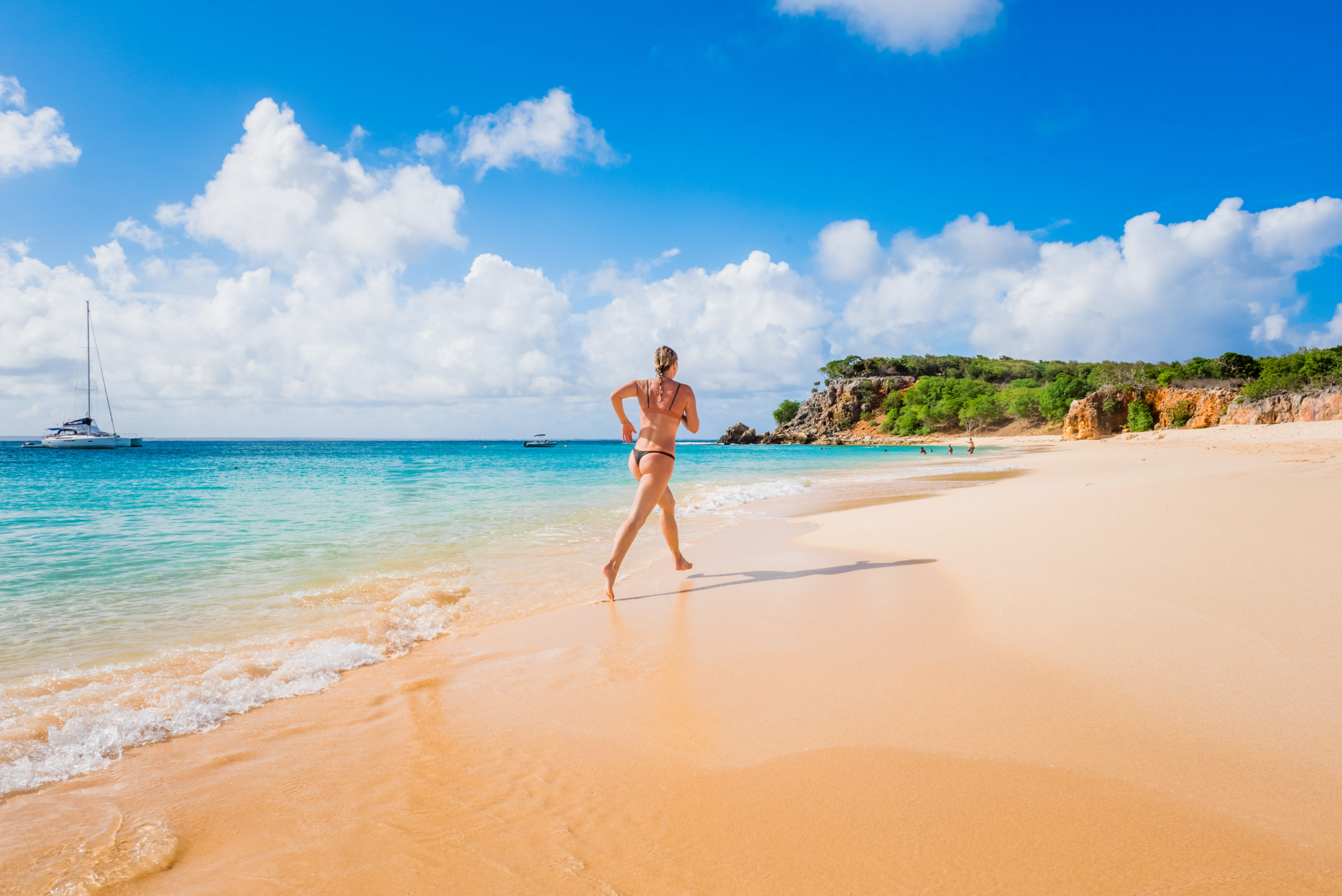 Tintamarre Beach, St. Martin/St Maarten
Found off the northeast coast of St. Martin, Île Tintamarre is another protected corner of the Caribbean that boasts a sensational stretch of sand and serene sea turtles sliding beneath its waves. Come here to get away from the bustle of nearby Orient Bay Beach or Pinel Island. Then stay for a guaranteed stunning sunset.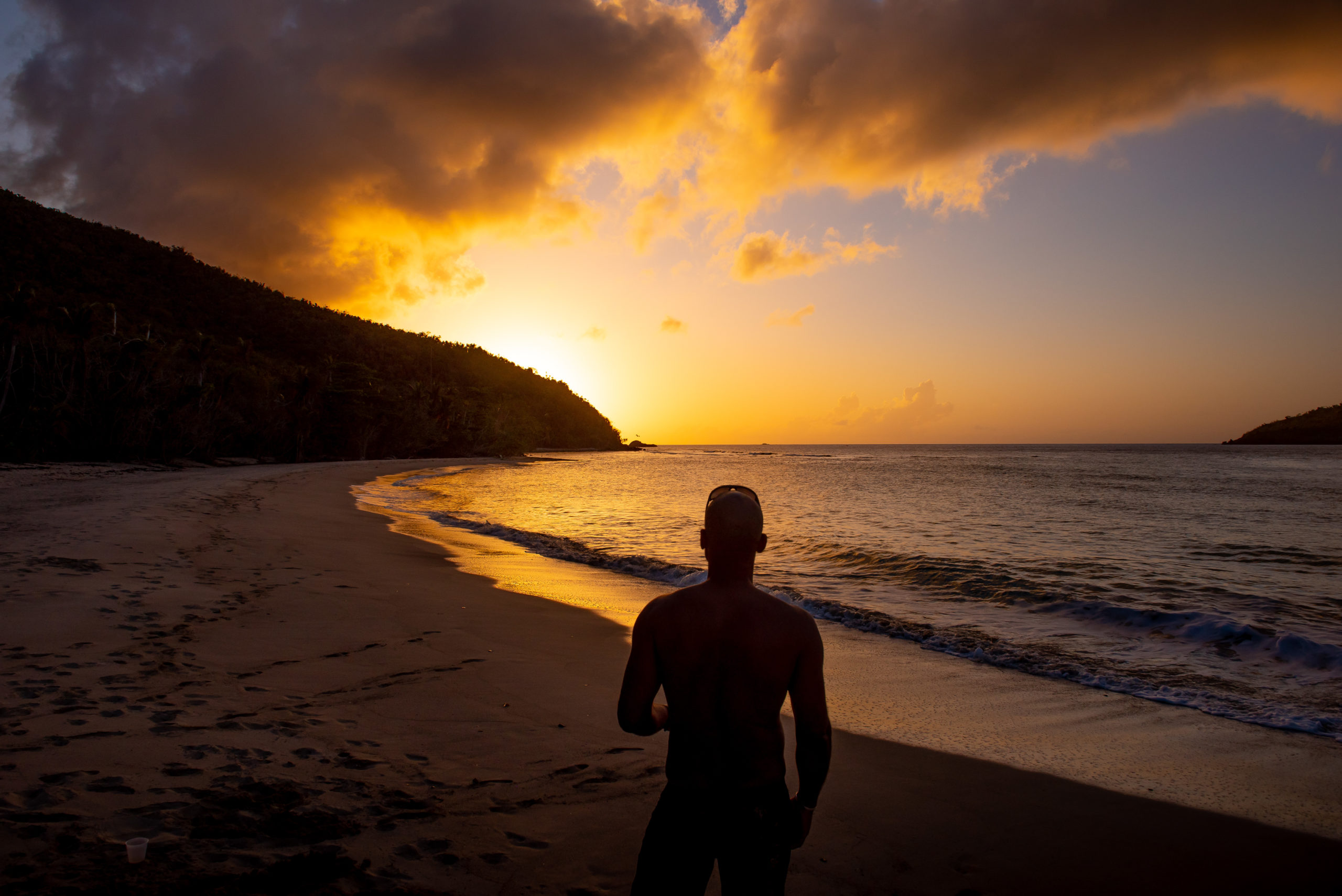 Neltjeberg Beach, St. Thomas
Feeling like a world away from the busy sands of Megans Bay Beach and the shops of downtown Charlotte Amalie, Neltjeberg Beach is a quiet corner of what many dismiss as an overly touristy island.
Come here to truly escape. There are no facilities and barely a road to get here. (We hiked on our last visit.) But what is here is postcard-perfect sand, gin-clear water, and solitude.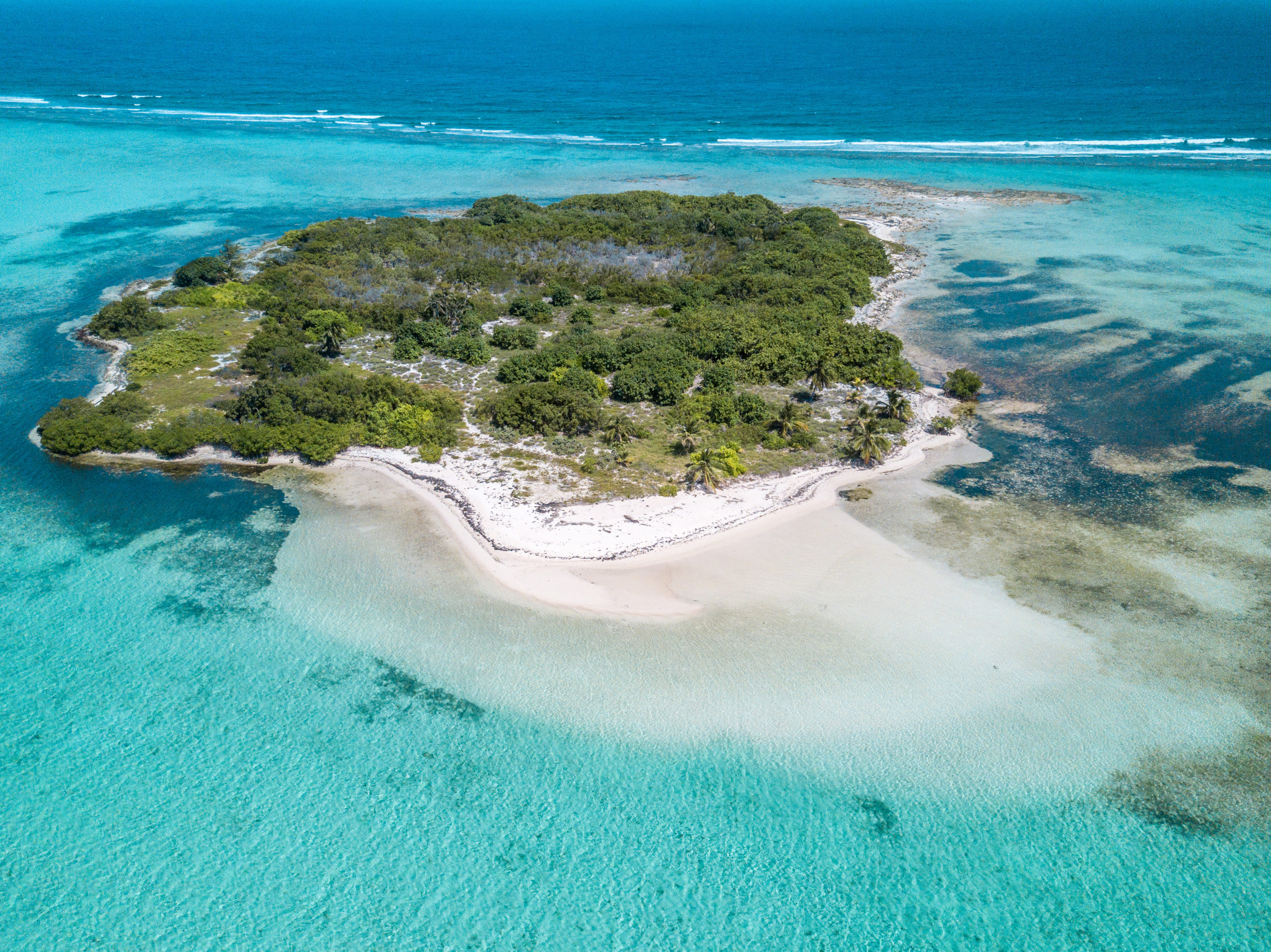 Owen Island, Little Cayman
Little Cayman is pretty far off the beaten path for almost all visitors to the Cayman Islands. But for us, you've got to make the extra effort to find the best beaches in the area.
Little Cayman is home to several gorgeous shores. Point of Sand is one of the best. And it very nearly made the list. But thanks to the extra dose of solitude, we gave the distinction to the little beach on Owen Island found just offshore.
Accessible only by kayak or paddleboard, Owen Island Beach is the perfect place to make your "shipwrecked in paradise" fantasies come true.
Pine Cay, Turks and Caicos Islands
Just a short boat ride from Provo, Pine Cay boasts some of the best sand in the world. Picture powder-soft white sand, and brilliantly bright. Combine that magical sand with crystal-clear waters wrapped in sumptuous seclusion, and you have a recipe for one of our favorite beaches anywhere on the planet.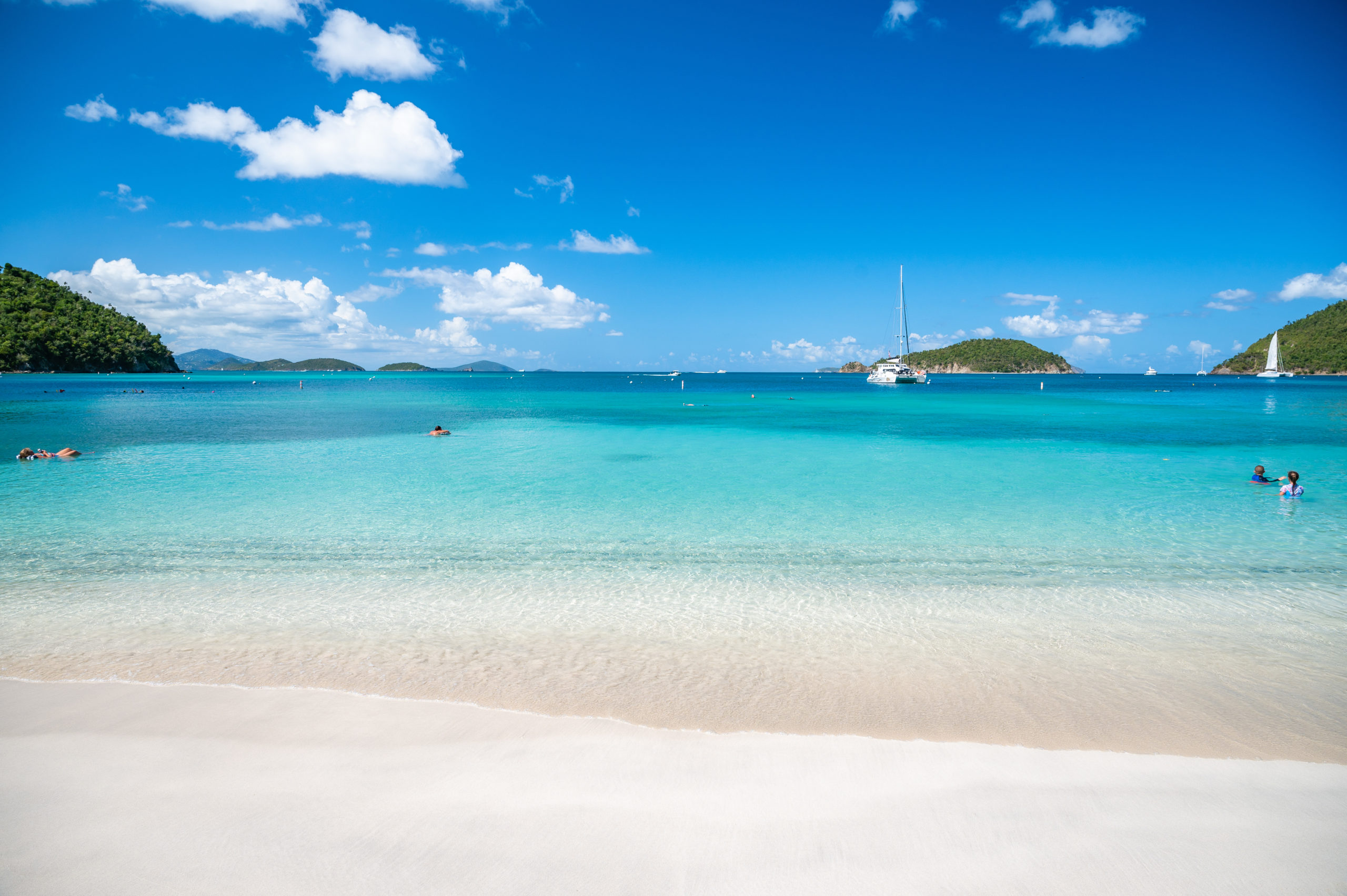 Cinnamon Bay, St. John
Yes, St. John has become much more touristy over the past decade. But for us, it remains the island people from St. Croix like us went to when we wanted a beach vacation. And few beaches compelled us to trade the sandy shores of St. Croix for St. John quite like Cinnamon Bay. With the picturesque islets offshore, some of the clearest water you've ever seen in your life, and perpetually calm seas—this beach is damn near perfect.
And standing out on an island with many world-class shores like Maho Beach, Trunk Bay, and little Solomon Beach makes Cinnamon that much more impressive.
Waderick Wells Cay, Exumas, The Bahamas
For another entry, we need to take it back to the magnificent Exumas. After all, this chain of islands in The Bahamas is overflowing with some of the clearest, most magnificent water in the Caribbean. Add sandy shores that appear and disappear throughout the day thanks to powerful tides and it's a recipe for uncommonly gorgeous destinations.
One of my favorites has to be the sandbar beaches that materialize within the shallow lagoon at Waderick Wells Cay. Picture immaculate, brilliant white sand surrounded by radiant turquoise seas teeming with rays, sea turtles, and large nurse sharks.
For those looking to explore, Whale Beach is actually on the island—named for the huge sperm whale skeleton that was ashore and was preserved back in 1995.
Waderick Wells is easily one of the most magical places you could ever possibly find yourself. Try chartering a boat out of Nassau with Sunsail or Moorings to reach this off-the-beaten-path beauty.
Honorable mentions
Yes, there are just too many world-class beaches to list. And we would be dropping the ball if we didn't at least name drop a few.
Rounding out the list, we need to acknowledge Eagle Beach, Aruba; Las Playas Del Esta, Cuba; Turtle Beach, Buck Island, St. Croix; Flamenco Beach, Culebra, Puerto Rico; and Happy Bay Beach, St. Martin.
Even as honorable mentions, these beaches are still some of the best in the world.
Beaches are just the beginning
No, as you can see, we're not exaggerating when we say the Caribbean has some of the best beaches in the world. But one of the most important things to consider when planning your travel to sample some of the sandy shores is that there's so much more to the West Indies than just magnificent sands.
Every destination featured above is also home to a rich culture.
Foods influenced by our eclectic ethnic backgrounds are a must-try for anyone visiting, from roti to gungo peas and rice to crayfish and so much more. There's no shortage of spicy, flavorful, creative dishes found on every island.
Every island also makes its rich history easy to explore with forts, Amerindian village sites, and ancient petroglyphs. The story of the earliest inhabitants of the islands is fascinating.
There are a staggering array of musical styles, artistic heritage, traditions, festivals, carnival, and, of course, all the people.
So, if you're thinking of planning your trip around spending time on a beach paradise, do it! Just don't forget to venture beyond the sands to immerse yourself in everything else the West Indies have to offer!