Roti in Brooklyn – Travel Back in Time (or at least to Trinidad)
I know Stephen wouldn't debate this statement: our mom made the best roti ever.
What's roti? The simple answer is the ultimate comfort meal of curry wrapped in a thin dough—borrowed from India and perfected in Trinidad and Tobago. The more complicated answer has to do with the emotions that well up within many West Indians whenever we find ourselves on the topic of roti and the role this seemingly simple meal has played in our lives.
Roti memories
Despite my poor memory, I can very clearly remember the feelings (if not the actual experiences) of when our family was blessed with my mom going through the trouble of making our roti. You have to understand — making the world's best is not an easy task. Like many other traditional Caribbean foods, it takes a lot of time and effort to make something this comfortingly delicious… And perhaps those hours of anticipation actually added a little something to the flavors when you finally got the finished, hot roti in between your hands.
How long a process is involved in making the world's best roti? Well, it starts with the "skin" or roti (officially, only the skin is called roti, but in the Caribbean, we apply the name to the whole package). This is where a roti becomes a success or literally falls apart. Any time you buy a roti, this is always the thing most people comment on. "It's too thin." "It's too thick." "It's too dry." Etc. The roti skin has to be just right, or the whole thing will fail. My mother made what's called Dhalpuri roti. TriniGourmet has a good description:
A roti with a stuffing of ground yellow split peas, cumin (geera), garlic, and pepper. The split peas are boiled until they are al dente and then ground in a mill. The cumin is toasted until black and also ground. The stuffing is pushed into the roti dough, and sealed. When rolled flat, the filling is distributed within the roti. It is cooked on the tava and rubbed with oil for ease of cooking. This is the most popular roti.
It's the most popular because it's delicious! It's also time-consuming to make. It took my mom the better part of the morning and into the afternoon to make roti skins in this fashion from scratch — cooking each rolled out skin on her tawa one at a time.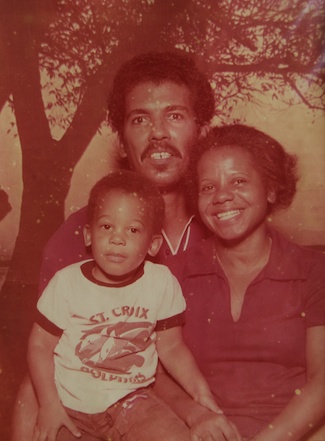 Once she was almost done with the skins, she'd start making the curry for the filling, employing a smaller version of me to cut potatoes or carrots or generally stay out of her way. Here, she would mix it up. Sometimes it was chicken, sometimes beef, sometimes goat, and very occasionally shrimp… But every time, it was special as she would let her curry simmer for what seemed like hours and hours to create a fairly thick, rich filling that wouldn't dribble out of our rotis on the first bite.
Around mid to late afternoon, we would finally get our chance to pick up in our little hands a fat, burrito-like package of spicy curry with potatoes, chicken, a little cabbage, and more wrapped in the perfect skin. One bite and, while some released split peas would fall to our plate (or more often our clothes), there would be nothing but bliss on our faces. Bliss.
Our mom passed away when I was only 12… It's been a long time without those special rotis…
Brooklyn roti
I can never replace my mom's roti or the time spent with her in the kitchen, but a few years ago my dad turned me on to what may possibly be the best in all of New York City. The place is named Nio's Trinidad Roti Shop, but most people just call it The Roti Shop on Church and Rogers.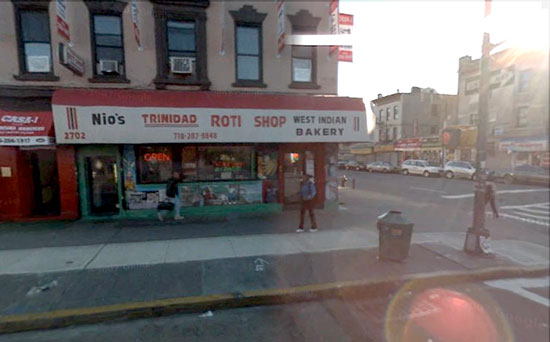 It's been open for business on the corner of Church and Rogers Avenues for over 26 years! This is the real deal. Roti as you like it: chicken, beef, goat, shrimp, veggie, with pepper or tamarind, etc. Make sure to also pick up some Caribbean soft drinks like Solo, Mauby Fizzz, Ting soda, or Peardrax to wash it down.
You may not be transported back to the soft, simple, and soothing feelings of your childhood. But you will definitely be transported to the sunny climes of Trinidad and Tobago.
And that might just be enough.
Related Posts