Solo Soda, An Even Better Red for Roti: Taste the Caribbean
As many of my Trini friends and family were quick to remind me soon after that Sorrel Shandy post, ah roti and ah red is, indeed, the time-honored roti pairing traditionally favored in the birthplace of my favorite food, Trinidad & Tobago. The only thing is the right red for most isn't a Shandy. It's a Solo Soda.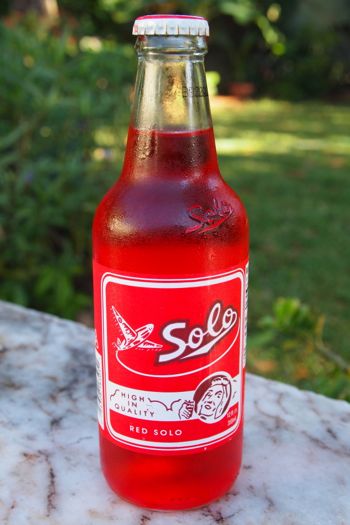 Every bit as ridiculously red and sorrel-sweet as my beloved Sorrel Shandy, Red Solo has been Trinidad & Tobago's favorite soft drink treat to pair with roti since the 1950s. Though the company's roots go back a bit further than that.
The history of Serjad Makmadeen
The story of Solo Cola and the Solo Beverage Company is one of those legendary tales that confirms that with hard work and dedication anything is possible.
The company was built by Serjad Makmadeen. He was a modest man born into even more modest means in 1910 Trinidad. His father hailed from the Punjab region of India. His mother, from Martinique.
Though that's not the last of the French connections that brought Solo soft drinks to life. More on that in a minute.
For now, let's skip ahead in Serjad's life. Past the time he was forced to drop out of school at the age of 10 due to his family's impoverished state. Past his early career as a gardener. Past his years working at a local bakery in Port-of-Spain beginning when he was still only 13.
Let's skip ahead all the way to the 1930s. This was when, after scrimping and saving his wages, Serjad purchased a small soft drinks plant. Now married, he and his wife, Khairoon, set about creating by hand and selling door-to-door sodas that would someday become the country's favorite.
The Genesis of Solo Cola
The two flavors then were Cola Champagne and Banana. The bottles had previously contained beer, so it took a lot of work to get them cleaned and ready. The couple would stay up nights after Serjad came home from the bakery producing one or two cases of sodas for sale the next day.
Demand grew steadily over those initial years, though I doubt there was much to hint at the growth to come. Here's where the other French (actually French Canadian) connection comes in.
WWII brought with it a decline in the availability of bottles. This threatened to derail Serjad and Khairoon's expanding soda enterprise.
They found the solution in Montreal, of all places. Another soda company there was going out of business. This gave Serjad the opportunity to purchase their unused bottles at a bargain price.
The only problem was, the bottles were already branded as "Solo." There were also some seemingly random images of a pilot enjoying the drink and an airplane soaring next to the brand name on the label.
Instead of incurring the added cost of re-branding the bottles, Serjad, who by then had changed his name to Joseph Charles in order to better solicit funding and assistance from British business concerns, decided to stick with it. And the Solo soft drink was officially born. Things really took off for Solo with the introduction of its Red Sorrel flavor a few years later. A milestone soon immortalized in the popular A Roti and a Red Solo catchphrase known throughout Trinidad & Tobago to this day.
Solo Soda vs Sorrel Shandy
Certainly, I'm not going to be one to quibble with a true Trini tradition like Red Solo. I still love my Sorrel Shandy and roti, of course, but Red Solo is equally special in my book, and obviously the better universal choice as it's a soft drink through and through – no drink responsibly constraints here as you have with beer-based Shandy.
Super sweet (about the same amount of calories and sugar as a Coca-Cola) and refreshing when ice-cold, Red Solo provides the same kind of heat-reducing relief as Sorrel Shandy; the perfect balance to all that spicy hot curry. Look for it anywhere great roti is sold.
Cheers!
Related Posts