Red Royal Soda Makes Medicine Easier to Swallow: Taste of the Caribbean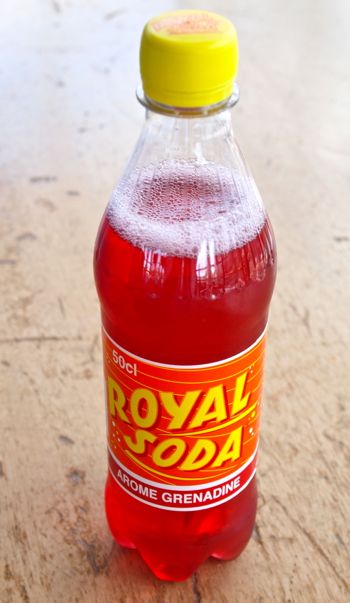 We take great pride in helping you discover the best that our home region has to offer – phenomenal hotels, hidden beaches, unique attractions, pulse-pounding activities, and more. On rare occasions, though, we are compelled to issue a warning; a bit of helpful advice born of a not-so-great experience to ensure you don't repeat a misstep we may have made along our travels.
This, dear reader, is one of those rare occasions. The red Royal Soda pictured here is why.
How bad is it? Well, for my taste, if there was a catch-all medicine flavor called "soda," this would be it. I couldn't even finish the bottle pictured here, which must come as a surprise to those who have noted my affinity for ridiculously red and sweet drinks over the years. After the first couple sips, there was just no going on… even though I kinda' had to.
I came to be at the mercy of Royal Soda while waiting to board a flight from Martinique a few weeks ago. The island's Aimé Césaire International Airport is a marvelously modern facility complete with many of the comforts found lacking in other airports throughout the Eastern Caribbean. If you've touched-down recently in St. Kitts, for instance, and endured the a/c-challenged steambath that is Robert L. Bradshaw International, then you'd certainly appreciate the arrival/departure experience in Martinique.
On this particular departure, though, I had to be at the airport very, very early. So early, in fact, that none of the concessions were open in the departure lounge. The only respite for my early-morning thirst was a soda machine touting red Royal among the top drink selections.
Maybe it was the really red coloring (always a magnet for me). Or perhaps it was the name. After all, I'd never heard of Royal Soda before, and you know I'm a sucker for trying all things homegrown in the Caribbean.
So, I went for Royal, plunking my last couple euros into the machine in the process. Now penniless (at least as it related to the local currency) and with no shops open where I might use a debit card to purchase an alternative beverage, I was resigned to endure as much of this Royal mess as possible.
I seriously think the makers of red Royal Soda developed it to help parents in the French Caribbean islands where it is primarily found. Just think: if you could get your kids used to medicine flavor by allowing them to drink Royal Soda, then there couldn't possibly be any complaints when it came time for the real cough syrup, right?
Anyway, consider yourself warned: unless you love medicine, or you want your kids to love medicine, you'll probably want to pass on red Royal Soda when traveling in the French Caribbean. Royal makes a total of 10 different flavored sodas, though, so you can bet that I'll be tempted by something new when next I'm in Martinique.
Here's hoping my next taste lives up to the brand's regal name…
Related Posts