Los Haitises National Park – On Motorboating These Magical Mounds
Zipping south from Samana along the dull, green surface of "Bahia de las Flechas" (or Bay of Arrows as named by old Chris Columbus due to the prescient greeting he originally received from locals) I was just getting my first introduction to the incredible (and maybe a little busty) Los Haitises National Park.
As you can see, they are unique geological formations… To me, they always looked like boobs.
The man doing the talking was Waldo Tejada, general manager at ILoveDR and Tequia Experiences, an experiential tour operator specializing in the Dominican Republic. Sporting a salted beard, rectangular black framed glasses, ample eyebrows and a shock of thick hair made wild by our chartered speedboat zooming towards the emerald "boobs" ahead, Waldo was my trusted local authority and local drinking buddy rolled into one.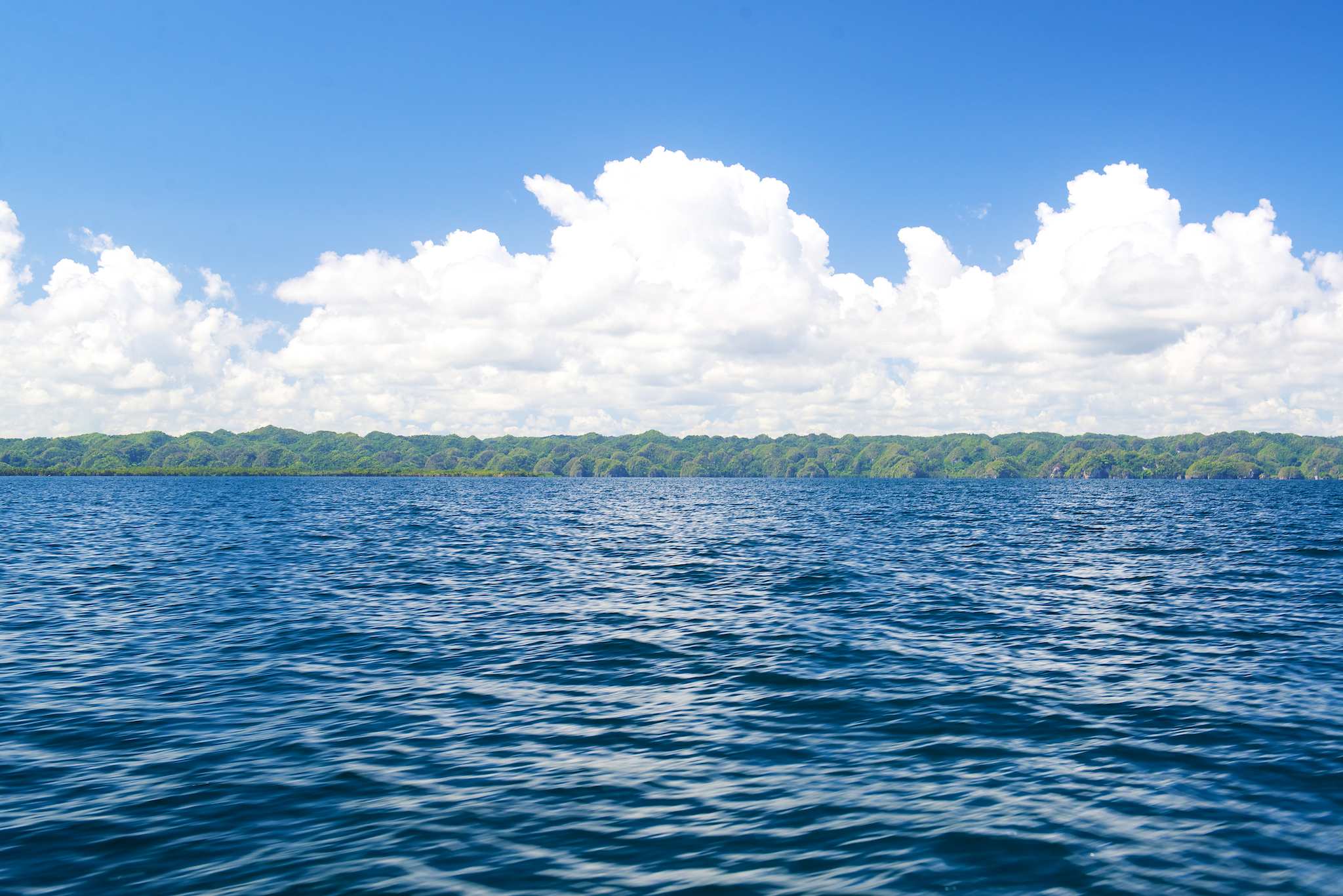 As we got closer, the details of this bizarre location began to reveal themselves. The main feature is a densely clustered expanse of conical hills. Peculiarly, they're almost all the same size and height — roughly between 660-1000ft tall.
These epic mounds stretch for 51 miles east to west! And push inland for 16 miles. (That's larger than many Caribbean islands, like our own home island of St. Croix!)
Between many of these peaks, the murky bay intrudes — beckoning sailors (or motorboaters) deeper into the fairytale landscape.
So, in we go past islets with names like Cayo de los Pájaros (Key of the Birds), El Naranjo Arriba ("The Orange Top") and Boca del Infierno ("The Mouth of Hell").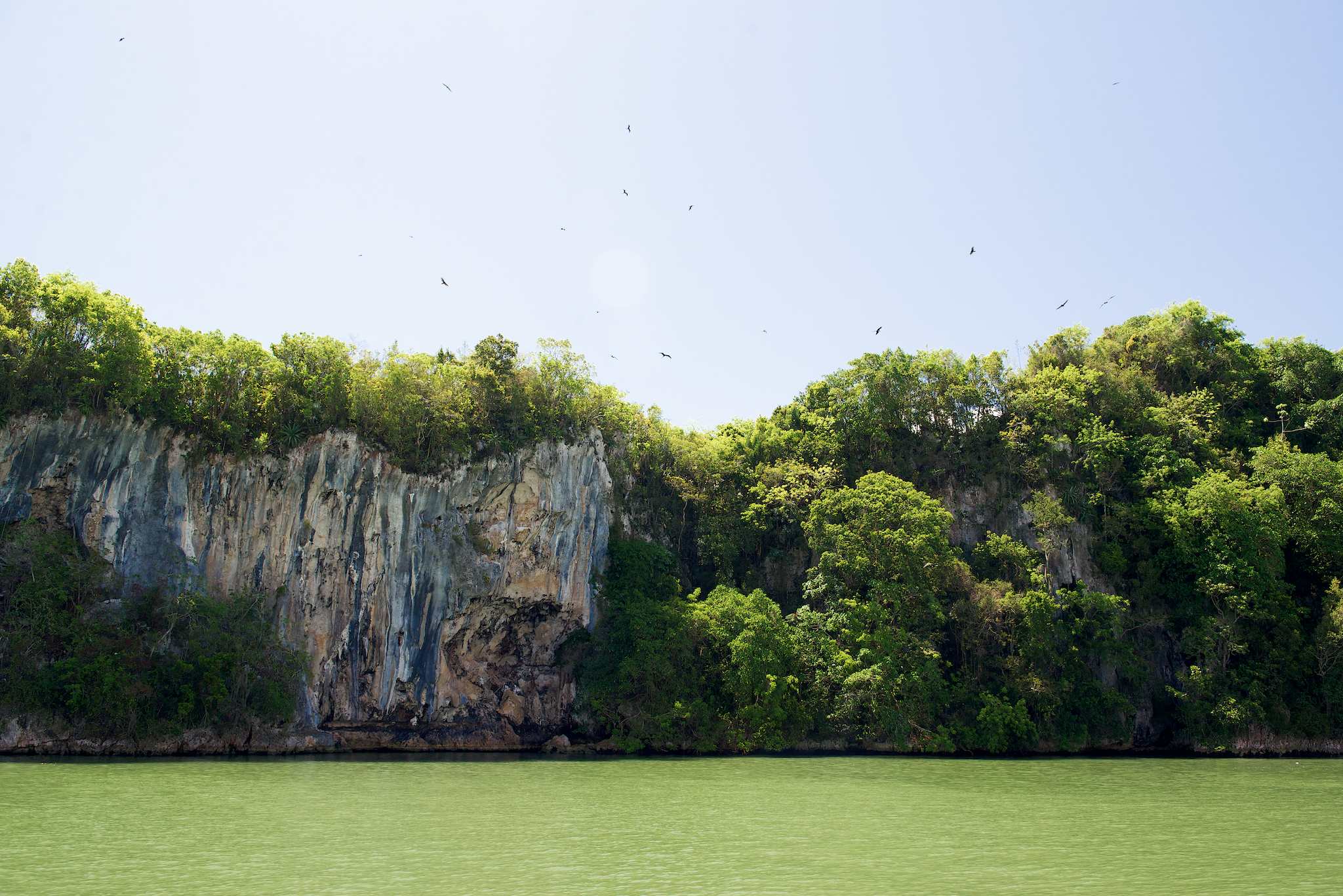 Closer still, the naked limestone foundation of these stone icebergs tower overhead. They sport black stipes over their golden stones and their tops are crowned with thick, impossibly green overgrowth that seems to positively spill off their cliff faces.
Cruising amongst these giants, I can't help but feel like I'm on the set of the latest Lord of the Rings film, but Waldo brings me back to reality:
"…This area gets nearly 80 inches of rainfall annually!"
No wonder green seems to cling to every possible horizontal surface and many not-so-horizontal ones.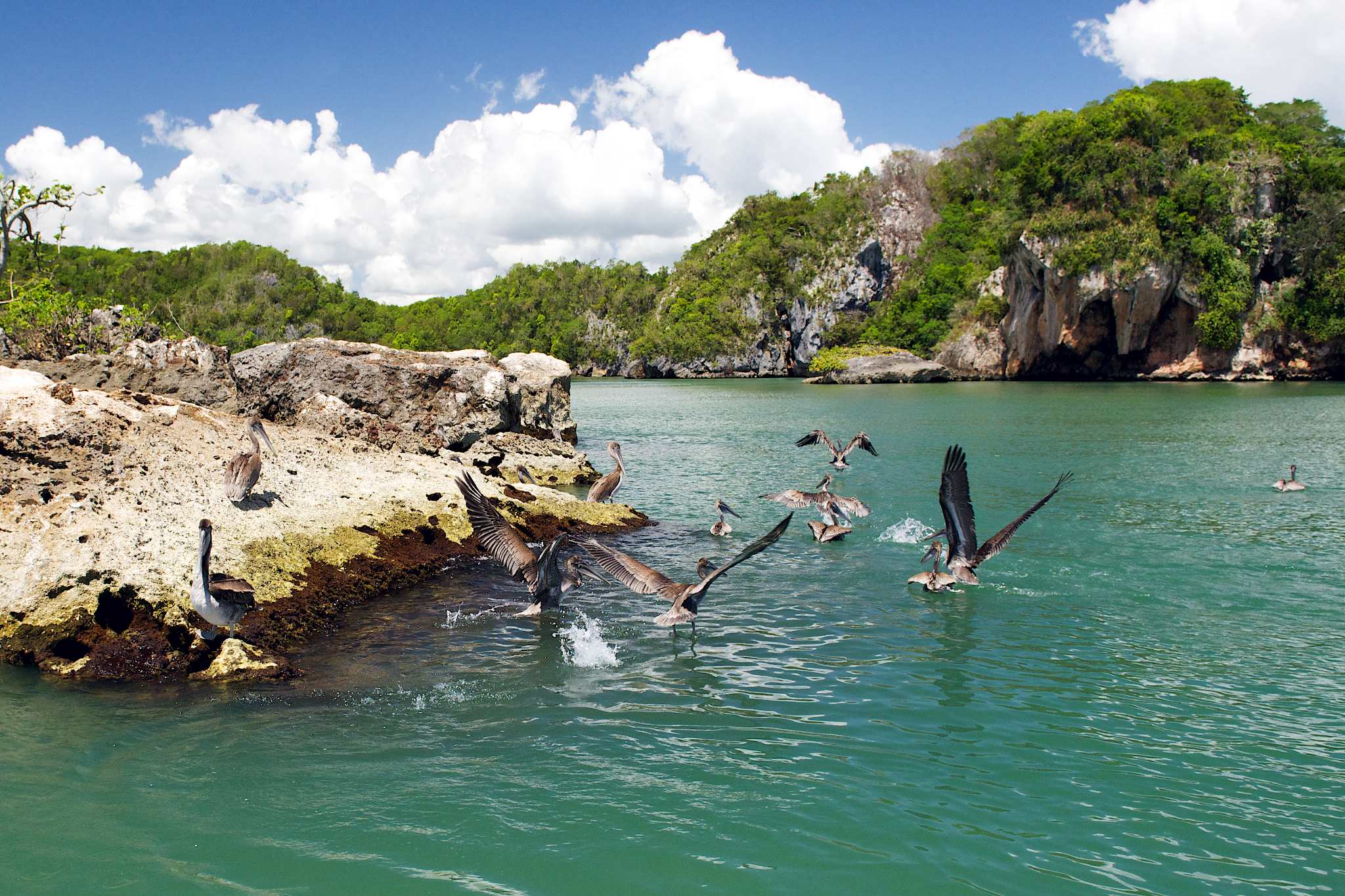 A diverse selection of birds also call the hill tops their home. Here you can see literally hundreds, maybe thousands of magnificent frigatbirds (males emblazoned with scarlet throat pouches they inflate like balloons in the breeding season) milling about or circling overhead. Between them, brown pelicans bask in the sun. I've even heard that at night, owls also silently prowl the area… Though I'm not sure this is the type of place you'd want to be caught on a moonless night. It's bizarre enough in the daytime!
Waldo continues to colorfully point out the flora and fauna as we round a bend and find ourselves squeezed into the most impressive cleavage I've ever seen.
Here, a tight strip of water leads into a tangle of mangrove trees. Our captain slows our speedboat to a crawl and we press on. Beneath the mangrove canopy, my eyes that had been focused on the spectacular expansese of Los Haitises now focus on the mini-ecosystems living within the mangrove roots. Small fish, mollusks, and shadows of half-seen living things call this area home.
Beyond, we come to a shaded dock and disembark.
A short walk into the interior brings us to yet another unique feature of Los Haitises: caves. I've obviously had some experience with limestone caves in the past exploring the Caribbean (like the ill-named Iguana Cave in Anguilla, or bat cave in St. Maarten), but what makes these unique are not only their size (they're BIG), but also their historical uses.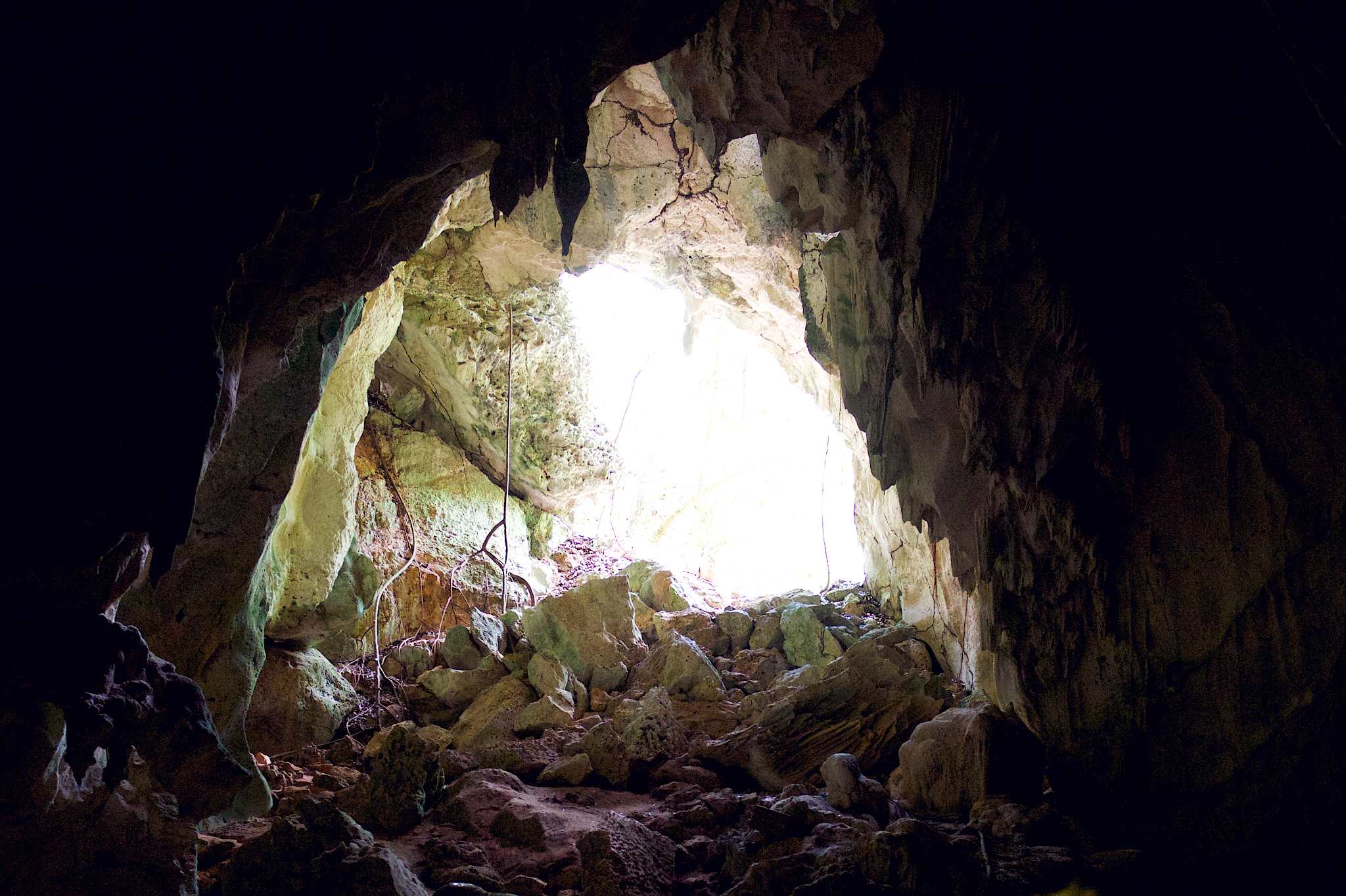 Before I stepped foot into their depths, these caves had been home to slaves, pirates, and before them all, the Taíno people. Now, visitors can explore restored and even some original petroglyphs left by these seafaring indigenous people. Manatee, snakes, gods, shaman, and sea creatures adorn nooks and crannies throughout the caverns providing a glimpse into the usual concerns of a people ultimately doomed by the incredibly unusual arrival of the Spanish.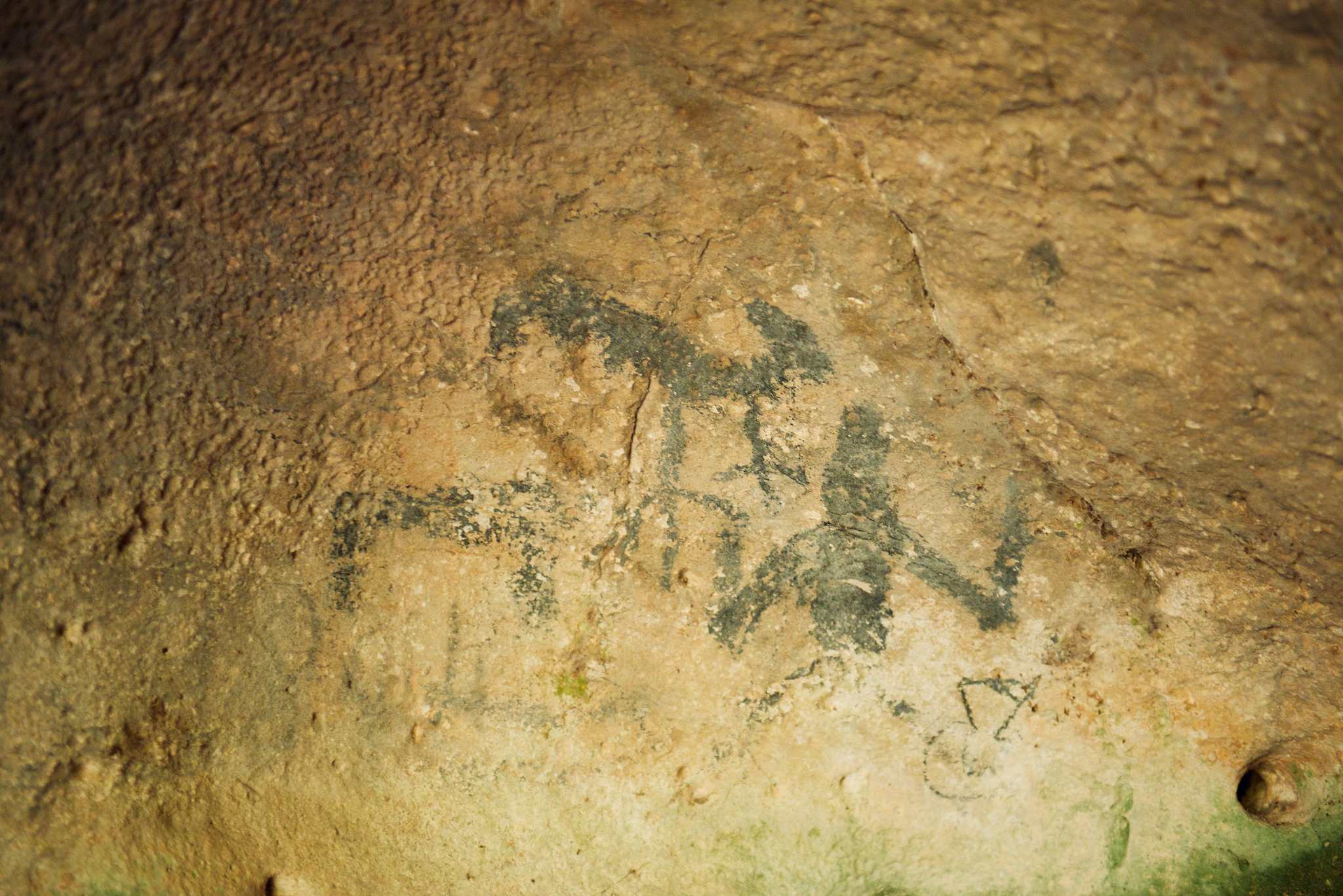 Los Haitises National Park is a truly uncommon Caribbean locale the likes of which you won't find anywhere else in the Antilles.
Your best bet to experience it for yourselves is to get in touch with Waldo himself. Drop him a line here and tell him we said 'hi."
Who knows what adventure you'll find between those peaks.
Related Posts