Caribbean Wallpaper Wednesday: Breadfruit, Breadfruit, Everywhere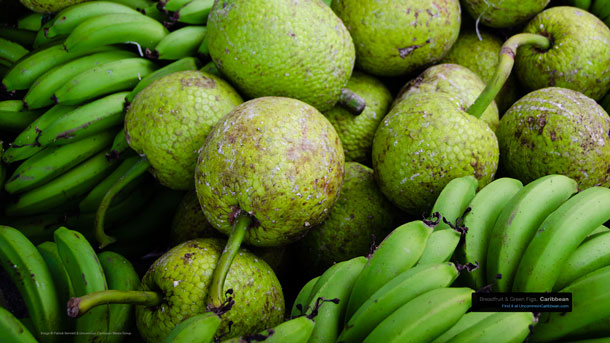 Recently in our weekly Caribbean wallpaper posts, we've been turning our attention more and more toward the grand beachscapes the Caribbean is famous for. Our most recent images have highlighted the forest lined shores of Seven Seas Beach in Fajardo, the magnificent sunsets off Tulum, the turquoise waters in the Tobago Cays, and the world class beauty of Flamenco Beach in Culebra. This week, let's train our lens on something completely different: the rough and ready breadfruit.
As Steve mentioned back when he shared his love of breadfruit tostones, the breadfruit may not be a native of the West Indies and it may not have been loved upon its initial introduction to the region by Captain Bligh (of mutiny on the Bounty fame), but over the years it's become a staple of the local diet. This is evidenced by how easily you can find it in markets and roadside fruit stands throughout the islands.
Now this ubiquitous fruit is used for everything from Steve's tostones in the Greater Antilles, to the national dish in St. Vincent, breadfruit and fried jackfish, to the national dish in Grenada, Oil Down. (In fact, it was in Grenada where this photo was taken of some yummy breadfruits tucked away among some green figs. More on figs that aren't really figs another time.)
In St. Lucia, it's common to find breadfruits roasting in traditional, three stone fire pits during beach parties. Also in St. Lucia, I fondly remember a breadfruit being used to represent the layers of the Earth in the exhibit at the Sulfur Springs National Park in Soufriere. But, that's more of an uncommon use, I would imagine.
As Steve brought up before, breadfruits are an excellent source of nutrition. They're high in Vitamin C, healthy Omega fats, Potassium and B-Complex Vitamins. They're also low in saturated fat, cholesterol and sodium. So, if you see breadfruits on the menu or in an old lady's fruit stand on the side of the road, you should definitely give them a try.
For a quick way to enjoy 'em, check with our good friends at CaribbeanPot for their "almost an oil down" recipe featuring Breadfruit simmered with stew pork and coconut cream. Of course, if you'd like even more ways to add this superfruit to your diet, pick up a copy of the Naparima Girls' Highschool Cookbook from our very own Uncommon Caribbean shop.
And if you can't readily get your hands on some breadfruit, just download this week's Caribbean Wallpaper featuring the much loved breadfruit and add "sprucing up your computer" to its long list of good uses!
Related Posts