Caribbean Wallpaper Wednesday: Seven Seas Shelters Secluded Surf You Should See, Fajardo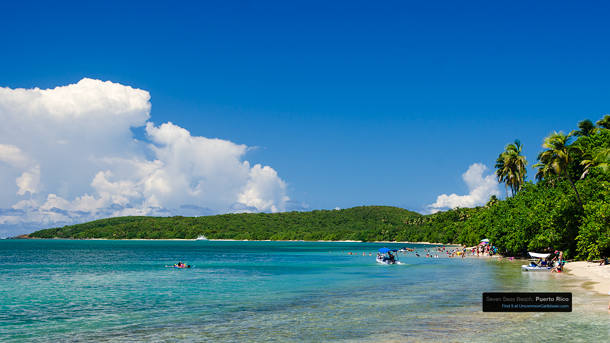 When traveling throughout the Caribbean, it's easy to be blinded by the beauty of what's directly in front of you and neglect further exploration. The problem with this, of course, is that some of the best experiences to be found in the islands are not the first ones you come across… They take a little digging. Pictured in this week's Caribbean Wallpaper is Siete Mares Playa (or Seven Seas Beach) in Fajardo, Puerto Rico — a sneaky strip of sand and local favorite that hides not one, but two semi-private playas off the beaten path.
It's a long, thin beach that stretches in an extended arc to hold Bahia las Cabezas (or Headlands Bay) far in the northeastern tip of the island. As you can see, the forest that presses against the shore creates some shady areas that are most welcome on hotter days. There's even a nice, local restaurant across the street at the entrance. There, you can sample many typicaly Puerto Rican dishes like mofongo or, my favorite, arepas de pulpo.
Locals flock here on the weekends. Sometimes by car, sometimes by boat, sometimes even by jetski. It's generally a family affair and as such, it can get a bit busy… And unfortunately, a bit dirty. On the day this photo was taken, though, that was definitely not the case. There was ample room for everyone, the sun was shining in a bright blue sky, the sea was the perfect temperature, and everything was great…
Might as well, sit right down, pour yourself a little Barrilito over ice and settle in for a long day on Seven Seas, right?
Wrong.
While Seven Seas is nice, if you could pull yourself away from the image in this week's wallpaper, turn right around, and march in the opposite direction, you'd find an enticing, little path into the mangroves. Follow this path for a bit and you'll get to a fork. Take the path on your right. You'll then come to another fork. Again, take the path on the right. After about ten minutes, you'll come to a sign for Playa Colora — your first secluded beach!
Playa Colora is an orangey sand beach backed by some imposing black rocks that wrap you and your small patch of sand in utter seclusion. Your best bet once you get here is to again, break out that Barrilito and relax… Just be smart about following the posted signs not to go swimming. There are some very strong currents in the area, so even if you don't see large surf, it can still be dangerous.
Once you've soaked up some sun (and rum) on your first private beach, just head back to the path. Take your first right and walk for about five minutes. The path will break through the mangroves onto another orangey colored beach named Playa Escondida (or Hidden Beach). If it's got "hidden" in the name it's got to be secluded, right? True to its moniker, few beach goers make the short walk from Seven Seas to bask in the wonderful isolation of Escondida. Should you be one of the few intrepid travelers to find yourself there, expect to have the whole beach to yourself for hours and hours.
So, after you've downloaded this week's wallpaper and find yourself lingering on its azure skies, emerald forests, and pearly sands don't forget: some of the best experiences in the Caribbean come to those who make the extra effort to look for them.
Related Posts