Caribbean Wallpaper Wednesday: The Mesmerizing Mystical Mystery Horse, Puerto Rico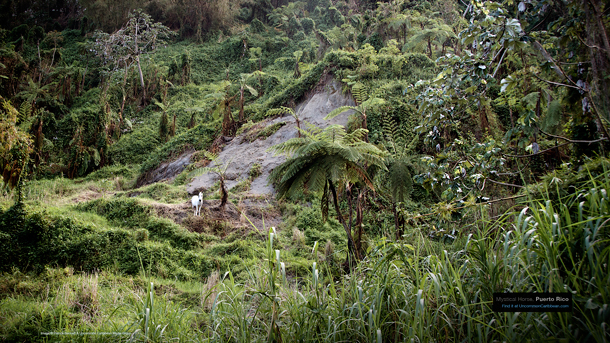 It's November. While that may mean freezing our asses off up here in New York City, it means one thing to those living or visiting the Leeward Islands of the Caribbean:
Hurricane season is coming to a close! 
Of course, anything could still happen over the course of the next few days, but it's pretty unlikely that anything serious will develop in the Caribbean until next year.
Knock on wood.
Hopefully all our friends, family and favorite destinations are comfortably counting down the days until the official end of the season on the 30th—when they can breathe a collective sigh of relief having made it through this year's terrible twosome of Irene and Lee. Of course, there was also Arlene, Bret, Cindy, Don, Franklin, Gert, Harvey, Jose, Katia, Maria, Nate, Ophelia, Philippe, and Rina. We're just happy they're all gone.
While thinking back on this year's season, I was reminded of this photo I took while in Puerto Rico back in early September. Our visit was shortly after Irene had been harassing the locals and signs of her impact were everywhere. Certainly not the worst our borinquen friends had ever seen, but still trails in El Yunque National Forest were impassable due to hundreds of bamboo trees having been snapped like twigs in the gale-force winds, many lowland areas still had flood waters receding, and some beaches had suffered serious erosion.
It was, in fact, while driving back from an excursion into the battered rainforest of El Yunque that I was greeted by the bizarre sight you see above. Surrounded by lush growth, you can see a mini-landslide in the center of the image. This alone probably wouldn't have caught my eye, but then I noticed the white horse—just standing there like an apparition. I remember stopping the car and staring at it for a while, scared that if I tore my eyes away to search for my camera that it'd disappear. It, in turn, stood there and stared back. Finally, my wife handed me my camera and I was able to capture this mesmerizing moment for this week's desktop wallpaper.
A better writer than me might be able to turn this visual into some kind of metaphor for surviving the yearly trials of hurricane season in the Caribbean… But to me, it's just a mystical mystery. One you should download today.
Maybe staring at it long enough will reveal its secrets…
Or maybe the next time you look away, the horse will be gone!
Related Posts