Caribbean Wallpaper Wednesday: 6 Caribbean Beaches to See Before You Die?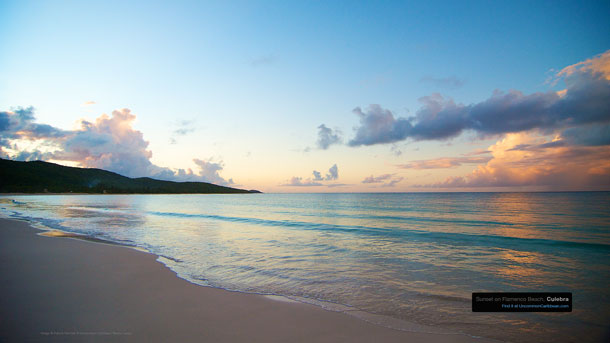 The other day I ran across this old article on the New York Times entitled 6 Caribbean Beaches to See Before You Die by Jeremy W. Peters. In this "brief guide," Jeremy opens with a statement near and dear to our hearts here at Uncommon Caribbean: "the Caribbean Sea — with islands that are flat, mountainous, tiny and vast — is specked with beaches that defy tropical conventions."
He then goes on to make a case for his top six: Anegada in the British Virgin Islands, Pink Beach in Barbuda, Flamenco Beach in Culebra, Grace Bay in Providenciales, Cinnamon Bay in St. John, and Anse Chastanet in St. Lucia. Of his six, I've been to four, missing only Pink Beach and Grace Bay. I've heard Pink Beach is definitely my cup of tea and Barbuda has been perpetually on our list of places to go… As for Grace Bay? Not as much…
So, naturally, (once I got over the random choice of six, as opposed to five or ten) this got me thinking as to what my top six would be. How would I pick them?
Would it be for sheer majesty, like Long Bay in St. Martin? Or maybe it's about exclusivity, like the tiny patches of sand that line the turquoise lagoons of the Tobago Cays. Or maybe for the adventure that surround them like those that ring Rendezvous Beach in Montserrat?  Or maybe the memories these beaches have played a part in creating, like those of my youth spent on Sandy Point, St. Croix should drive the selection process…
The more I thought about it, the more shallow Jeremy's selection seemed.
Had these beaches played a role in his life? Should they play one in yours? What should that role be? There's just more to a beach than sand, sea and amenities.
Just take a look at Flamenco Beach, pictured in this week's Caribbean Wallpaper. (Seriously, download it. Set it as your desktop wallpaper and look at it.) When you look at it, what do you see?
Just another amazing beach sunset?
"A wide, nearly perfectly symmetrical crescent of white sand that frames a bay with water that's calm and blue enough to be a swimming pool?"
Or the perfect canvas to create some memories? As we found out recently, that's your favorite Caribbean souvenir, right? Well, then I could argue for hundreds of sandy Caribbean shores worth experiencing "before you die."
Besides, why limit yourself to six?
And why stop at just seeing them!
Related Posts