On-Site St. Croix: My Forced Family March to Sandy Point, Pt. I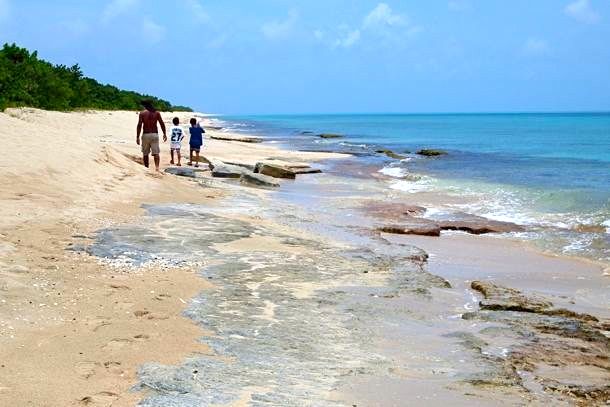 Traveling with young children is never entirely easy, even when you're lucky enough to have kindhearted and culturally curious kids like mine. Eventually, even the best kids can snap, rebelling against any parental predisposition toward uncommon travel by unleashing an endless stream of bickering, teasing, tattling and the like. Such was the case on the last full day of my family trip to St. Croix this past summer. That morning it was clear that my kids had grown tired of Crucian history, culture, etc. Saving this day would take drastic measures. No better time to take a hike!
Now my wife and I aren't clairvoyant super-geniuses, or anything. We didn't come to this wonderful solution right away. Instead, we got in the car and started wandering, as I often do on uncommon adventures. Our original plan was to try to head to Sandy Point, which longtime UC readers may remember is the greatest beach in the world. I hadn't been there in years, so I couldn't see us leaving my home island  after my big 40th birthday celebration without making a try for Sandy Point's idyllic paradise.
I say "make a try" for Sandy Point as the beach is generally closed for turtle nesting season during the summer months, so getting there can be a problem. Generally, you're encouraged to call the Park Service ahead of any planned summer visits, which we did, though that effort disintegrated rapidly in a hail of misinformation, misunderstanding, and assorted other Crucian confusions.
So, to recap: my kids were seriously annoying each other, and by extension the wife + me, and we had no clear indication as to whether or not we could set foot on the greatest beach in the world. Happy birthday? Err, not so much.
Driving west into Frederiksted, I pondered the collateral damage I might sustain from dropping my kids with some unsuspecting childhood friend. Then we happened along the Vincent F. Mason, Sr. Coral Resort, which isn't actually a resort at all. It's basically a nice public beach with nice picnic tables, restrooms, and a playground located south of the Frederiksted Pier along Veteran's Parkway.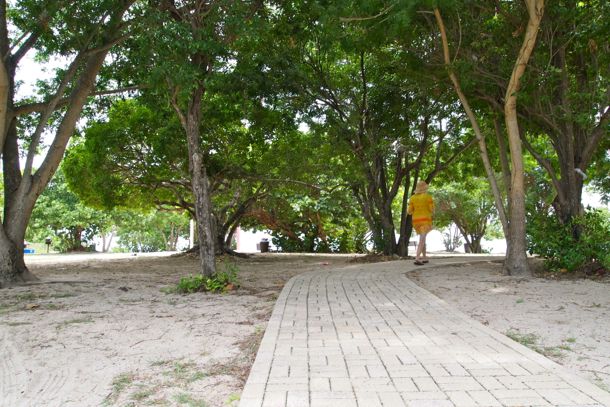 Even if you're from St. Croix you may not know the name Vincent F. Mason, Sr. Coral Resort, but if I tell you it's also the location of the Frederiksted Pool, then you'll more than likely know exactly where I mean. And if you know where I mean, then you'll also know that this "resort" lies at the far eastern border of… wait for it… Sandy Point!
The Vincent F. Mason, Sr. Coral Resort is a very local beach that can be crowded on the weekends, though things were pretty light when we arrived on our late-Sunday morning visit. This was surprising as it was African hot that day with barely a breeze to speak of. We made a bee-line straight to the water's edge where we met a local fisherman named Blackhead. I stopped and chatted with him for awhile, pretending to ignore my kids' continued bickering.
Blackhead told me he fished there every weekend, catching just as much as he and his family needed for the week. He said his kids loved to come down to the beach and play in the surf as he fished. Then he said the magic words…
I been here all morning casting lines all up an' down de Point.
Of course! We could walk along the shore to Sandy Point! Why hadn't I thought of that?
Why? Well, mainly because I'd never done it before. From Vincent F. Mason, Sr. Coral Resort to the end of Sandy Point it's about a mile and change. No big deal with a breeze, but on this hot-hot day, it looked to be an arduous journey – the perfect little antidote to all that bickering.
Waving good-bye to Blackhead and his kids, we set off on foot, due west under a scorching hot sun.
It wasn't long before the bickering stopped, though I think the heat didn't have as much to do with it as all the interesting little sights along our path. The sea was so flat and calm that it was easy to pick out schools of fish, either swimming just offshore or jumping above the surface. Turtle tracks could also be seen to nests all the way up the embankment where the grass meets the pure sand. Crabs danced across tidal pools and played peek-a-boo in the sand, while pelicans dive-bombed their way to their lunch. All around us nature practiced her magic in silence… it was impossible not to take her cue and enjoy it all quietly.
About 30 minutes after we started our hike, we arrived at the far western point; the choice spot of Sandy Point Beach where I had spent so many countless teenage days doing teenage things with my teenage friends, things that we'll never fully disclose here.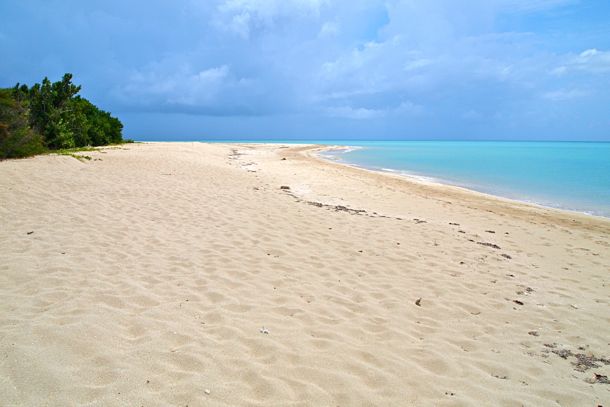 I was ecstatic to have arrived, and even happier that my kids had finally calmed down. We were the only ones on the entire beach, with Blackhead's footprints from earlier in the day the only other sign of civilization… or so I thought.
After a little exploring, I soon found that a few surprising things had changed about Sandy Point over the years, most notably it's accessibility.
Back in the day, just driving to Sandy Point proved half the fun/adventure of going there. The road was beyond terrible, filled with gargantuan pot holes capable of destroying a normal car. Avoiding these cavernous hazards meant scraping up your ride in some of the most unforgiving kasha bush known to man. If you managed to get to the parking area for the choice spot of the beach, the fun wasn't over. That's because all the parking was in the sand. Getting stuck, your tires spinning and sand flying everywhere, was always a danger.
These days, I found, things have changed… dramatically!
This is the PAVED parking area at Sandy Point Beach. No, old Crucian friends, your eyes are not deceiving you. There are even handicapped spots! I can't begin to tell you what level of shock this was to me.
Little did I know, though, that I was in for another shock just a few minutes after I snapped this photo. I'll tell you about it in part II of this little saga next week…
Related Posts