On-Site St. Croix: My Forced Family March to Sandy Point, Pt. 2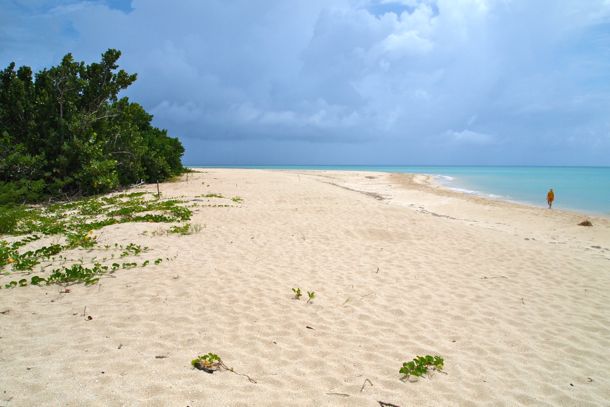 Picking up where we left off a week ago, this was the happy scene my family and I were enjoying at the end of our summer hike in St. Croix to the best beach in the world. The sand, as pure and white as I remembered from my youth. The water, an ultra-alluring amalgam of blues. The skies – brilliant, crisp and clear. Best of all, we had the whole place to ourselves! It was P-E-R-F-E-C-T!
Then, it wasn't.
Almost immediately after I snapped that last photo in Part I, the skies opened up and it started P-O-U-R-I-N-G. No mere passing drizzle to cool us off in the midday heat, this was a deluge complete with huge, heavy raindrops. You know, the kind that forces you instinctively to raise your hands above your head and face more an attempt to shelter the blows than to stay dry. You don't look up when it's coming down like that, and no matter how dark it gets, it's best to keep your sunglasses on.
Of course, if we were still back at the Vincent F. Mason, Sr. Coral Resort this would not be a problem. We could've sought shelter near the restrooms, under the little palapas, or even back at our car. Seeing as how we were a good mile or so away, though, and there is no shelter of any kind at Sandy Point, we had to take cover the old-fashioned way…
Yup, in the water.
Now, of course, we wouldn't advocate this if there was any lightning, which there wasn't, but when the rain drops are this large, the warm water provides a nice refuge. You're gonna' get wet anyway, so why not hunker down within the waves, shielding your body from the pelting rain with…umm, water?
This was another scene reminiscent of so many summer Sundays of my younger days on Sandy Point. Back then, while partying here with my friends, no rain, no matter how strong, ever forced us off the beach. It was pretty cool to have the same scenario play out with my wife and kids, albeit under dramatically more sober conditions for me this time around.
Eventually the rain subsided and the sun burst forth again, allowing us a few more moments to enjoy Sandy Point before making the trek back toward Frederiksted. The walk back seemed faster (doesn't it always?) and more comfortable, cooled as we were by the sudden drenching and subsequent swim.
When we arrived back at Vincent F. Mason, Sr. Coral Resort, Blackhead and his family were gone, no doubt satisfied that they had met their goal for the week's catch. The sleepy scene that had met us earlier had changed too, with the beach crowd now beginning to swell to its usual Sunday levels.
I smiled, then, realizing just how special the day had been. We had arrived at just the right time, avoiding the crowds, and enjoyed just the right kind of special experience that my wife and I thought would be impossible earlier in the day.
Bickering kids, some seriously pouring rain and hiking in the searing heat – a perfect day, indeed.
Related Posts