Caribbean Wallpaper Wednesday: Flamenco Beach, Culebra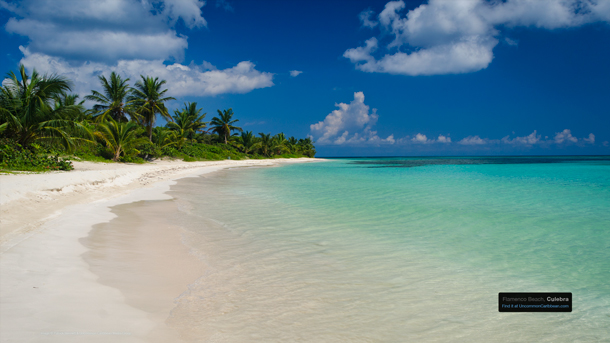 You may not have realized it, but in this weekly feature with my photography from around the Caribbean, I actively try not to post wallpapers featuring nothing but pristine white-sand beaches.
Madness? Maybe. But with so many beautiful vistas found throughout the region, I hope to highlight some of the more uncommon whenever I can…
That is, except this week. As long as I'm still trapped visiting the in-laws here in cold, damp, dark, small town East Germany, all bets are off!
So for your (and especially my) viewing pleasure, I'd like to rekindle memories of the last, best beach I've had the pleasure of spending a few days on: Flamenco Beach, Culebra.
No, it's not the uncommon sights of the Sendall Tunnel on Grenada, Mayan ruins in Mexico, volcanoes on Montserrat, or tiny fishing villages off-the-beaten-path on Tobago. This week I'm literally jonesing for some sun, sand and warm, refreshing sea. Even if you're not suffering through your fourth rainy day in a row with the mercury resting in the frigid 40's, I'm sure the exquisite beauty on display will still warm a place in your heart.
Some may call Flamenco Beach their favorite "secret" beach, but be warned, Puerto Ricans have known about this natural wonder for years and definitely flock to it when the weekend rolls around… provided the spotty ferry service is operating, that is.
Should you want to make the trip yourself (like I so desperately do right about now), try taking the 35 minute flight from San Juan and skipping the iffy ferry entirely. There are several daily flights arriving in Culebra from San Juan Isla Grande Airport (SIG) on Vieques Air Link and Air Flamenco. Once there, we recommend staying right on the beach at the Flamenco Beach Villas. Not only is it the only property on the beach (unless you count the camp grounds), but it's basically the only man made object you can see from much of the beach! They may not be the most responsive property you've ever tried to book a stay at, but don't worry… their cozy, little rooms steps from this idyllic strip of perfection are worth it.
In the meantime, for all of us so desperately missing the feeling of perfect Caribbean sand between our toes and the sun on our skin, this week's desktop wallpaper will have to do.
Soak in the glow of your screen. No sunscreen necessary.
Related Posts