Sailing The Grenadines Part 2: Passing the Pitons and on to Bequia
It was somewhere between St. Vincent and Bequia, as our boat skimmed along powered only by the trade winds swelling her sails, that I remember whispering inaudibly to myself: "I love sailing."
Our sailing adventure kicked off in earnest just the day before when the wife and I awoke bright and early to the sounds of our 6-month old burbling in the crib provided by Oasis Marigot. The property sits on a steep hillside above Marigot Bay, St. Lucia. This precipitous positioning provides for stunningly picturesque views of the small bay, mountains and sea!
To make negotiating the abrupt incline up to your room easier, they employ an old motorized pulley attached to a tiny trolley on rails. It's such a relaxing means to make your way up the steep path to your villa, you'll find stress simply sloughing off you as the contraption slowly progresses to the tune of birds signing under the Caribbean sun.
But unfortunately, we were already checking out after just one night in the lush environs of the appropriately named Oasis Marigot. With a mixture of sadness and excitement, we packed up our things and made our way down to meet our crew and board our home-away-from-home for the next 8 days.
A flat-bottomed boat from the resort shuttled us across the bay to where three boats bobbed at a landing. We offloaded our bags onto the dock in front of a small catamaran and it was then that I noticed the name of our boat:
The other two boats operated through Sail Oasis docked alongside ours had normal women's names like Jeanneau… But not mine! Oh nooo… It had to be named "Trust Me." As one of our Facebook fans mentioned:
Trust less the one that says that you should trust.
But hey, I was going to remain optimistic! Besides, it was time to meet the crew and as it turned out we had two captains!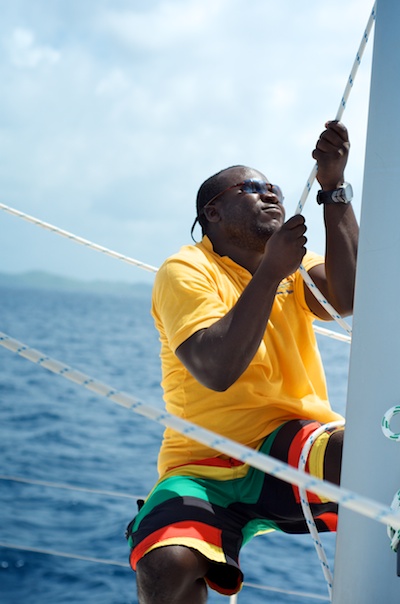 Kevin was our official captain for this voyage aboard Trust Me although his first mate Nixon was the usual captain for this ironically named vessel. They were both born-and-bred St. Lucians. Normally, they'd spend their time captaining shorter 3-4 day charters up to Martinique, so this longer excursion all the way to Grenada was a bit special for them, too. In fact, Kevin hadn't done this trip in several years and Nixon had never made this run before!
For some reason, I kept hearing those two words in my head over and over: Trust Me.
To get my mind off the whole name issue, we grabbed a quick breakfast of saltfish and smoked herring in "bake" from a nameless local food stand at the entrance to the bay. It literally has no name, but you can't miss the little yellow shack if you're standing at the main pier. (Trust me, this is the place to go if you find yourself in Marigot Bay in the morning if you want something quick and authentic.)
Finally, there were some last minute additions to our provisions in the form of a bottle of El Dorado 5 and a couple bottles of Chairmans Rum and then we boarded Trust Me and began motoring slowly out to sea.
This was the shakedown crossing for us landlubbers and the three of us couldn't have reacted more differently.
Before we even passed the iconic Pitons of St. Lucia, our little 6-month old sailor was already fast asleep in his car boat seat. He would snooze this way for almost all of our crossings! So, if you have a new little one in your life, I can speak from experience when I say that sailing excursions and specifically the motion of the ocean are a baby's best friend!
As the boy slept softly, excitement at seeing the island from a new perspective had me shooting away as we passed Anse La Raye, Jade Mountain, my old haunt of Stonefield Estate and, of course, the towering Pitons.
As for the wife, once we left St. Lucia behind and entered open water where the seas became a bit rougher with large waves rocking Trust Me back and forth, she began to feel quite seasick. She popped a motion sickness pill, but was basically down for the count until we began nearing smoother waters off the north coast of St. Vincent.
Still, we pulled into Wallilabou Bay, on the leeward (that's sailor talk for west) coast of St. Vincent around 7pm that night with all of us awake and feeling better after our long day.
You may have heard that name, Wallilabou Bay, before as this location became famous several years ago when it was transformed into a set for the second Pirates of the Caribbean movie. People flocked from far and wide to see the fantasy anchorage of "Port Royal"—the filmmakers left it fully constructed when they'd completed shooting.
Well, that was then and this is now. The structures seen in the movie that reached out into the water have mostly been destroyed by wind and rain, I presume. We did explore the structures on land and it was pretty interesting to see completely fake structures that look real from the outside, but reveal their flimsy artifice upon entry. All in all, though, Wallilabou Bay felt like the middle of nowhere with not too much to offer other than a safe harbor to spend the night.
So, it was on day 2, when we were finally cruising along under only wind power somewhere between St. Vincent and Bequia that I first felt my own personal love for sailing blossom within my heart. Even though I hadn't seen anything truly magical yet, and my wife had suffered some discomfort the day before, I knew then that this trip was going to be great.
I can't tell you what did it. Maybe it was the sea breeze blowing in my face. Maybe it was the open water beautifully stretching out in all directions. Or maybe I really was beginning to trust Trust me. I don't know.
But I knew.
I knew, I loved sailing.
Related Posts