Crix Crackers: A Vital Trinidadian Staple For the Ages
There's only one Trini food favorite regarded as VITAL. As in no self-respecting Trini household would ever be caught without it. I'm talking about Crix Crackers. Round, white crackers that have been a staple of Caribbean pantries, office desks, purses and glove boxes for almost 90 years.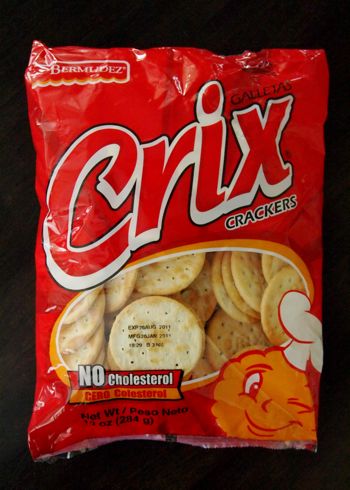 Crix is one of those quintessentially Caribbean products that upon sight, or mere mention of its name, takes West Indians back home. How is it that the emotions and warm memories of our unique island upbringings are captured in a simple cracker. The Crix fan page on Facebook says it best:
Crix is the Caribbean cracker we have all grown up with. Top it with any of our diverse Caribbean toppings for a unique eating experience. An experience that doesn't just satisfy our hunger pangs but fills us with the warmth and comfort of home wherever we may be. Crix is a vital part of our history, our culture and our life experiences, truly our vital supplies.
The history of Crix dates back to 1923. That was when the Bermudez family, who had arrived in Trinidad from Venezuela in the early 1900's, started making water crackers and cookies. These they distributed directly to shops throughout the island.
The crackers were so popular that by the 1940's, Crix could also be found on store shelves in Grenada and St. Vincent. Later expansion to Guyana, St. Lucia, Barbados, Dominica, St. Kitts and Jamaica confirmed Crix as the Caribbean's cracker. And Bermudez Biscuit Company, Ltd. quickly become one of the foremost food corporations in the region.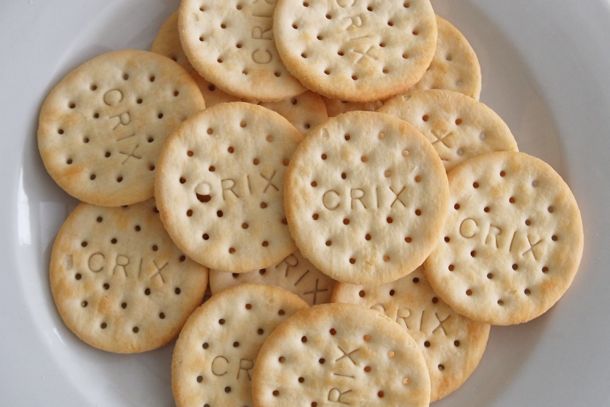 So, what's so special about Crix?
To me, it's that they're hearty and flavorful beyond what you'd expect from a typical cracker. The saltines we have in the States are nice with cheese, but they're bland and don't fill you up like Crix. I tend to like mine just as they are straight out of the bag. Add cheese, some guava jam, saltfish, or peanut butter, and Crix eats more like a meal.
Aside from the plain white crackers, Crix also comes in multi-grain and whole wheat varieties. There are even Crix Minis in pepper cheese and cheese & spinach flavors.
The notion of Crix being "vital" stems from a successful marketing campaign, but truly, just about any Trinidadian you ask will tell you that these simple crackers really are a must-have for their home. Crix just goes with anything, and they stay fresh forever. It's that second point that makes them particularly well sought after when a storm threatens. Some hurricane may blow away your grocery store, or knock out your power so you can't bake bread, but if you have Crix in your cupboard, you won't go hungry.
Indeed, Crix is much more than a simple cracker. Pick up a bag next time you're in the Caribbean and see for yourself, or click here to order a bag and have this vital taste of the Caribbean delivered to your door today!
Related Posts