Make Your Own Home Made Guava Cheese: Taste of the Caribbean
There's one treat all children growing up in the Caribbean begin salivating for around this time of year: Guava Cheese. This is literally the sweetest part of the big meals soon to be shared around the holiday season throughout the West Indies.
If you haven't had the pleasure of enjoying this holiday treat, you may be thinking to yourself: "Guava cheese!?" Well, rest assured, there is no actual cheese in guava cheese. (Funny how we in the West Indies seem to name things whatever we want with reckless abandon!) Instead, the most basic ingredients of guava cheese are simply guava and sugar… Lot's and lots of sugar.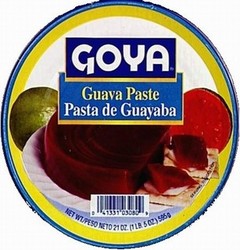 In my family, we used to enjoy Goya's version: Guava Paste (or Pasta de Guayaba for the multilingual in the audience). Popping the tin, mom would push out the solid paste from it's circular packaging, slice it into smaller cubes, sprinkle even more sugar over it, then poke each cube with a toothpick. Although I can't say it was her intention, this method then made it all too easy to count how many of these sugary cubes each family member had eaten. At the end of a meal, this evidence could be damning!
The other day, I got a major sugar high from Nevis' Dypresco Home Made Guava Cheese you can see above. As uniform a gelatinous mass as the Goya version is, the Dypresco version seems to use the guava solely as a means of sticking huge, course grains of sugar into a tacky mass potent enough to have even the sweetest tooth begging for mercy. One of my favorite aspects of Dypresco's offering is the ingredients list which labels "lime juice" as "optional" and dubiously places "cane sugar" second to "guava."
Whether you're interested in hopping up on sugar to terrorize your friends and family or simply want to create a simple, sweet Caribbean treat, making home made guava cheese is actually pretty easy.
Ingredients:
2lbs of ripe guavas
around 1lb of sugar
1/2 a lemon
Directions:
Simply take your ripe guavas, peel them and remove the "eyes." Boil them in water for about 5 minutes to make them soft. Remove them carefully from the pot while saving the water. Plop your soft guavas into a food processor or blender and run it until your guavas are reduced to a pulp resembling baby food. Weigh what you've got. Add your pulp, an equal weight of sugar and the juice of half a lemon into a pot. (Although I suppose the lemon juice could be optional.) Stir over a medium heat until it thickens… Probably around 15 minutes. Spoon your thick paste into some molds of your choice or just a small brownie pan and allow it to cool. Done!
You should now be halfway to a guava flavored sugar rush beyond your wildest dreams. Enjoy!
Related Posts