Bubble Beach Spa, Dominica: Uncommon Attraction
The brightly shining sun overhead isn't the only thing that keeps Dominica nice and hot. There are nine volcanoes here, nearly as many as you'll find in all other Caribbean islands combined! This makes for a lot of warm ground deep underfoot, the happy by-product of which is the region's largest collection of natural sulfur spas.
Most people know about Screw's just outside Roseau, a popular stop for cruise passengers, or Tia's located right next door. For a more uncommon, smaller, and decidedly less sophisticated natural spa experience, though, you'll need to go to church.
In particular, I mean the Roman Catholic Church of St. Mark in the quiet fishing village of Soufriere in southern Dominica. The church sits right along the waterfront and is truly unmistakable in its beauty…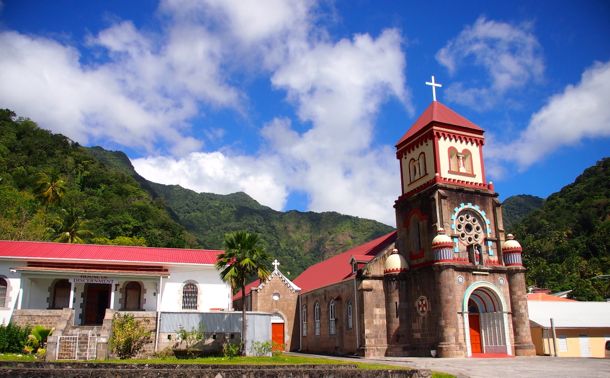 Fronting the church is a short, narrow walkway that leads to the water… and the Bubble Beach Spa.
Highlighted by a low makeshift wall of rocks forming a small, shallow pool along the shoreline, Bubble Beach was created by a local man named Dale Mitchell so that people could better take advantage of the incredibly warm sulfur spring bubbling up from the ground here.
How incredibly warm is it?
Well, when I visited a few weeks ago, I could barely stand in the most shallow portion closest to the shore for more than a few seconds! As you wade out toward the sea, though, it's much easier to take, the warm and soothing waters working miracles on whatever aches and pains you might have.
All around inside the pool tiny bubbles stream up through the red sand and pebbles just as they do among the corals at Champagne Reef, just a few miles to the north.
Sitting in the warm pool is therapeutic in and of itself, especially after all the hiking and adventuring you're apt to do in Dominica. The fantastic view of Scotts Head, the southernmost point of Dominica, off in the distance only adds to the healing powers of this special place.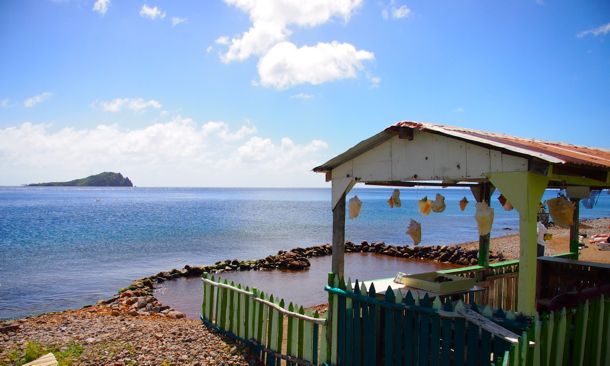 Dale set up and manages the entire operation at Bubble Beach, which includes a small concession area, changing rooms, a massage bungalow, and a small piece of beach for sunbathing.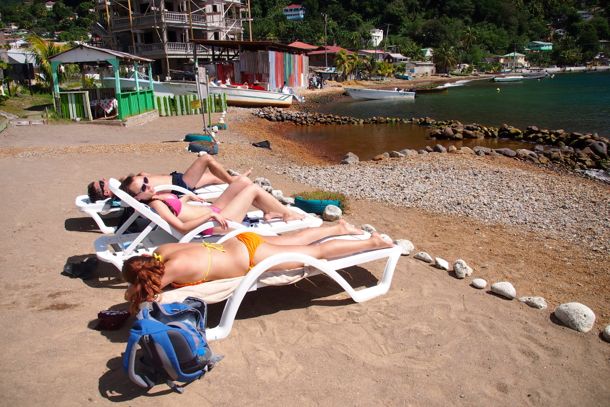 There's no entry fee either, though you are encouraged to leave a small donation to help Dale keep the beach nice, clean, and looking so pretty…
Related Posts