Red Rocks Dominica – Natural Beauty and Otherworldly Wonder
Amazingly, The Nature Island's 290 square miles are home to nine active volcanoes. To put that number in perspective, over half of the 16 active volcanoes in the islands of the Caribbean are found here, in the Commonwealth of Dominica. This abundance of volcanic activity presents itself in various ways across the island, but perhaps no manifestation is more unique than the landscape found at Red Rocks Dominica.
Violent volcanic origins
Morne au Diable, Morne Trois Pitons, Morne Diablotins, Morne Watts, Morne Anglais, Wotten Waven Caldera, Valley of Desolation, Grande Soufriere Hills and Morne Plat Pays—long before they had names, these volcanoes were shaping and reshaping the young island of Dominica. Through pyroclastic flows and massive explosions they violently ejected primordial pumice and ash from Rosalie to St. Joseph and Roseau to Portsmouth.
But, just east of what is now Calibishie in the far north of the island, something different happened. Here, a fast-moving lava flow ran down from the Northern Forest Reserve instantly igniting everything in its path. Nothing could stop its sprint. Nothing, that is, until it ran straight into the sea—cutting off Grand Baptiste Bay from Calibishie Bay, while boiling the ocean and kicking up a massive cloud of steam. Rich in basalt, the lava quickly cooled. Left behind was a slate grey peninsula.
But here's the thing about basalt: it's rich in iron.
So, over time, this new, slate grey peninsula began to oxidize. It just rusted, thanks to the West Indian sun and ever-present seawater. It's this rust that eventually gave Red Rocks Dominica its distinctive golden-red color.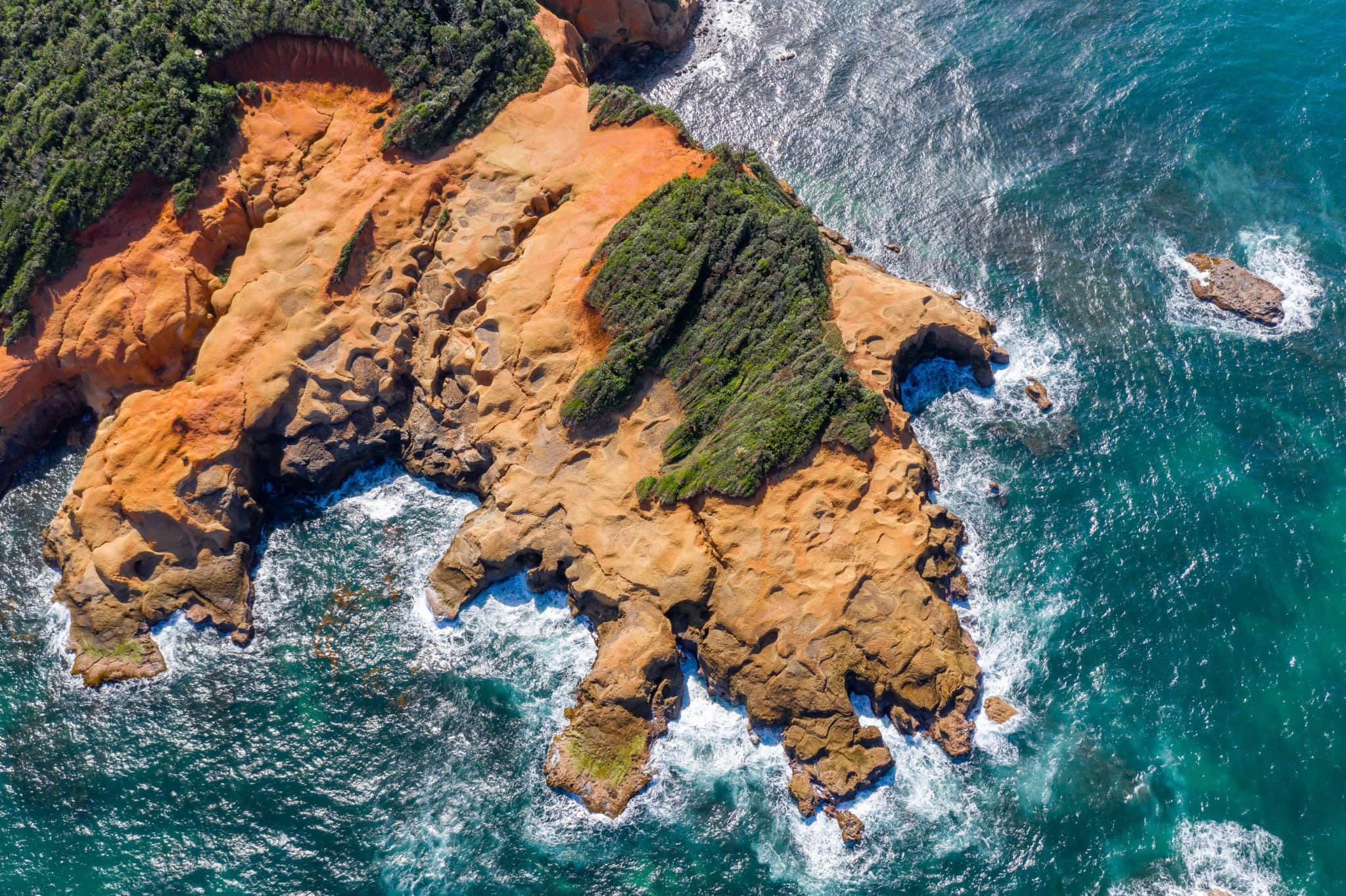 Red Rocks Dominica now
Today, going off the beaten path and walking onto Red Rocks feels like you've stepped onto another planet. Polished by the persistent trade winds and seawater, the gold and ochre rocks have become smooth. Clinging to their bluffs are short evergreen scrub bushes. These bushes, too, have been gnarled by the elements, adding to the otherworldly landscape. It all just looks so out of place.
Standing on this unique landscape, the ocean spreads out before you. Deep blues go on forever. Whether it's rough or calm, the view is truly awe-inspiring.
Picking through the landscape, you can discover tight crevices. Once you're down in one of these crevices, you really feel like you're on another planet. With the red rock towering around you the entire world becomes obscured. The rest of Dominica, the Caribbean, and really the Earth—all gone. It's just you immersed in an alien landscape. It's truly surreal.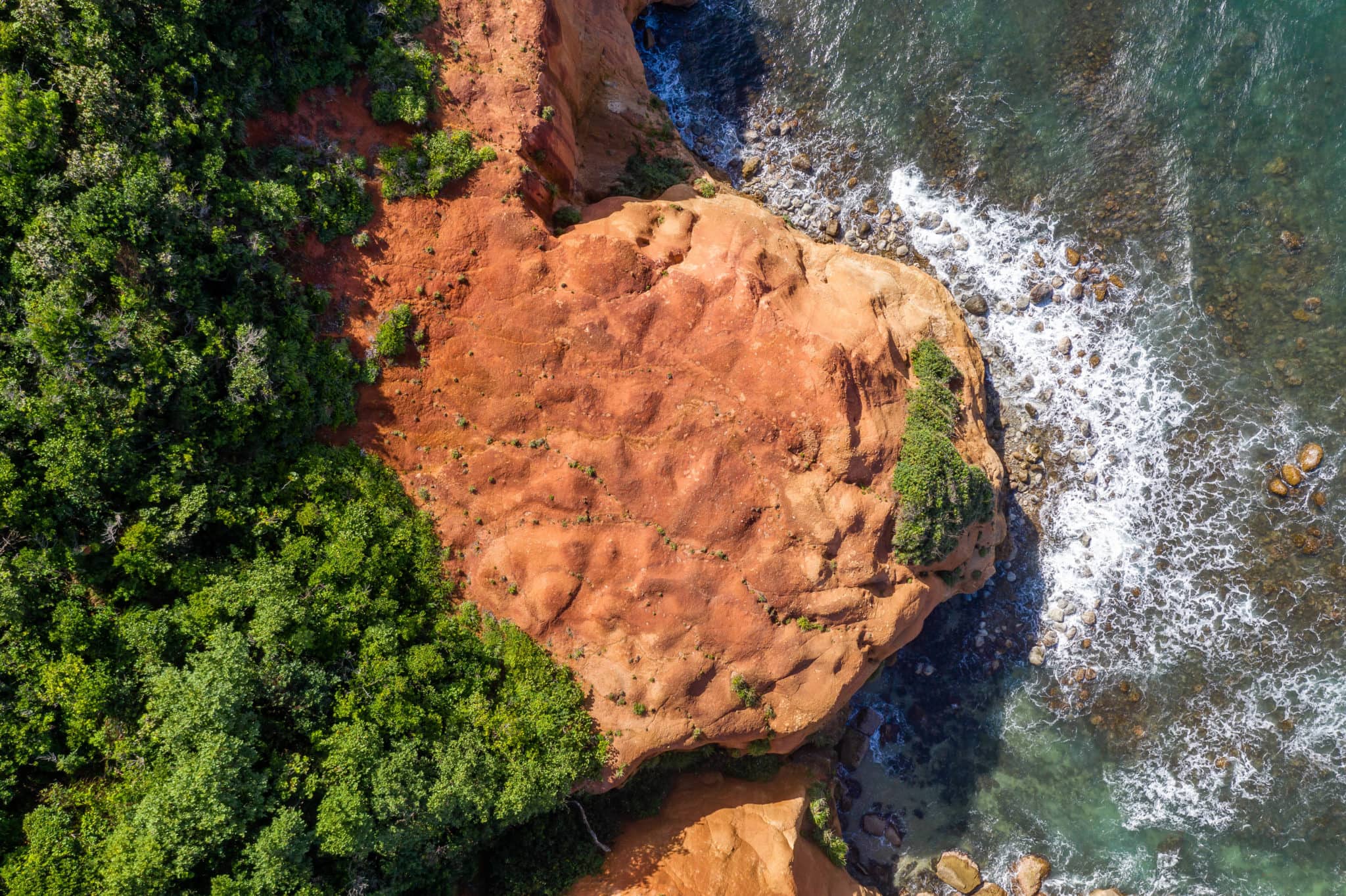 Visiting Red Rocks Dominica
Red Rocks Dominica is an uncommonly good stop any time of day. Explore, have a picnic, or use it as a home base for sampling the nearby white and black sand beaches. (Or for eating your Point Baptiste Estate Chocolate.) But it's at sunset that the peculiar peninsula really shines. Literally, the rock seems to glow in the fading light. It almost ignites to become part of the brilliant orange sunset as it plays out across the sky and reflects over the sea.
To visit Red Rocks, drive up to Calibishie and head east of the center of town. Soon, you'll start to rise a hill out of town. Turn when you see signs for Red Rock Cuisine and the Pointe Baptiste Chocolate Factory will be on your left. Follow the signs. Go past the Chocolate Factory and park near the Red Rock Cuisine sign. From there, follow the trail to the water, and you've made it to this hidden gem.
Sure, Red Rocks is a pretty mundane name. But the geological feature itself is a natural beauty and otherworldly wonder of Dominica worthy of the trip.
Related Posts