Best Lolo St. Martin? Sky's the Limit Lolo Bar and Restaurant
We know, we know: St. Martin has some of the best French cuisine and fine dining in the West Indies, but we love to go lo-fi and local when we travel. So naturally, we never miss a chance to visit what we think is the best lolo in Saint Martin: Sky's the Limit Lolo Bar and Restaurant!
What is a "lolo" in St. Martin?
"Lolo" is the St. Martin name for an open-air food stand like you might find along roadsides throughout the Caribbean. Some are more established than others, but in general, you can expect to sit on picnic tables amidst the smell of grilling meats and seafood produced by freestanding barbecues.
There's also a major perk for those on a budget: most honor a $1 to 1 euro exchange rate! When you factor in that many sell beer for 1 euro, the lolos' prices are hard to beat. Conveniently, most of the lolos are huddled at the edge of Restaurant Row in Grand Case.
Our first visit to Sky's the Limit Lolo
My wife Kathleen and I stopped at a few lolos on our first trip, but our favorite was the one we hit first: Sky's the Limit.
On our first day on-island, right around 5 pm, we sauntered across the bridge on the north end of Restaurant Row heading south. Just a few paces further is a blue awning and sign for Sky's the Limit. The smell of the grill enveloped us as we strolled by, compelling us under the awning to find seats at one of their blue and white picnic tables.
A moment later, we were handed two plastic-covered menus by a waitress with a huge smile. I noticed her name tag. It read: Sweetness.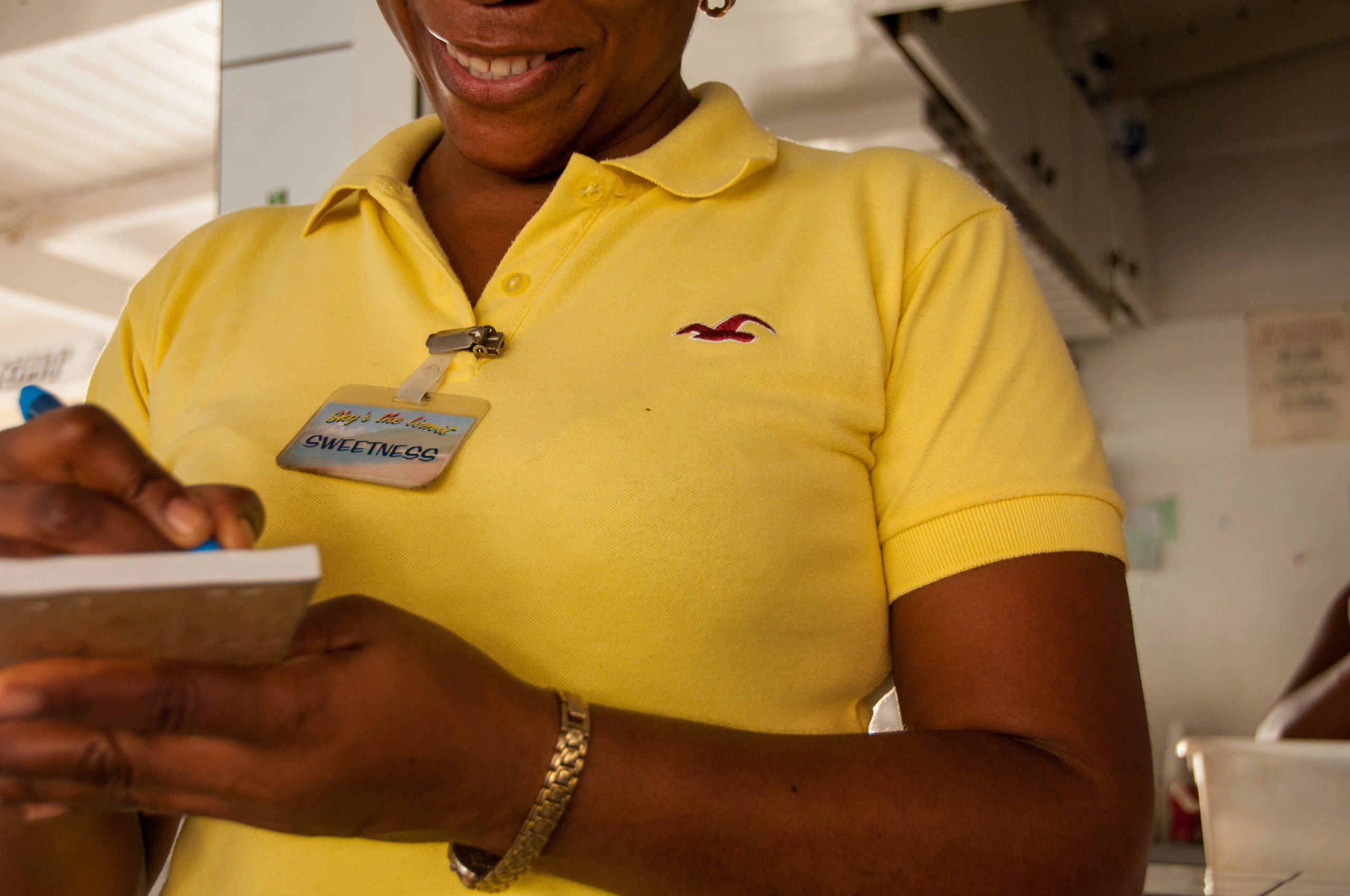 "I'll have the shrimp plate and a Presidente, please!" I quickly volunteered having barely gotten past the first page of the menu.
"Hmm, I was going to get that… Guess I'll get the marlin." Kathleen added. "Well, which one is better?"
"The Shrimp," Sweetness announced with finality before thinking it over. "Well, you see… I don't like marlin a'tall. Too dry for me, you know?"
"Ok, then shrimp for me too, then!"
Smiles all around.
With my Presidente in hand, we sat waiting on our late lunches. Out of the corner of my eye, I noticed one of the ladies behind the counter rolling dough into balls and dropping them into a big Tupperware container.
"Mmmm… Johnny cakes!"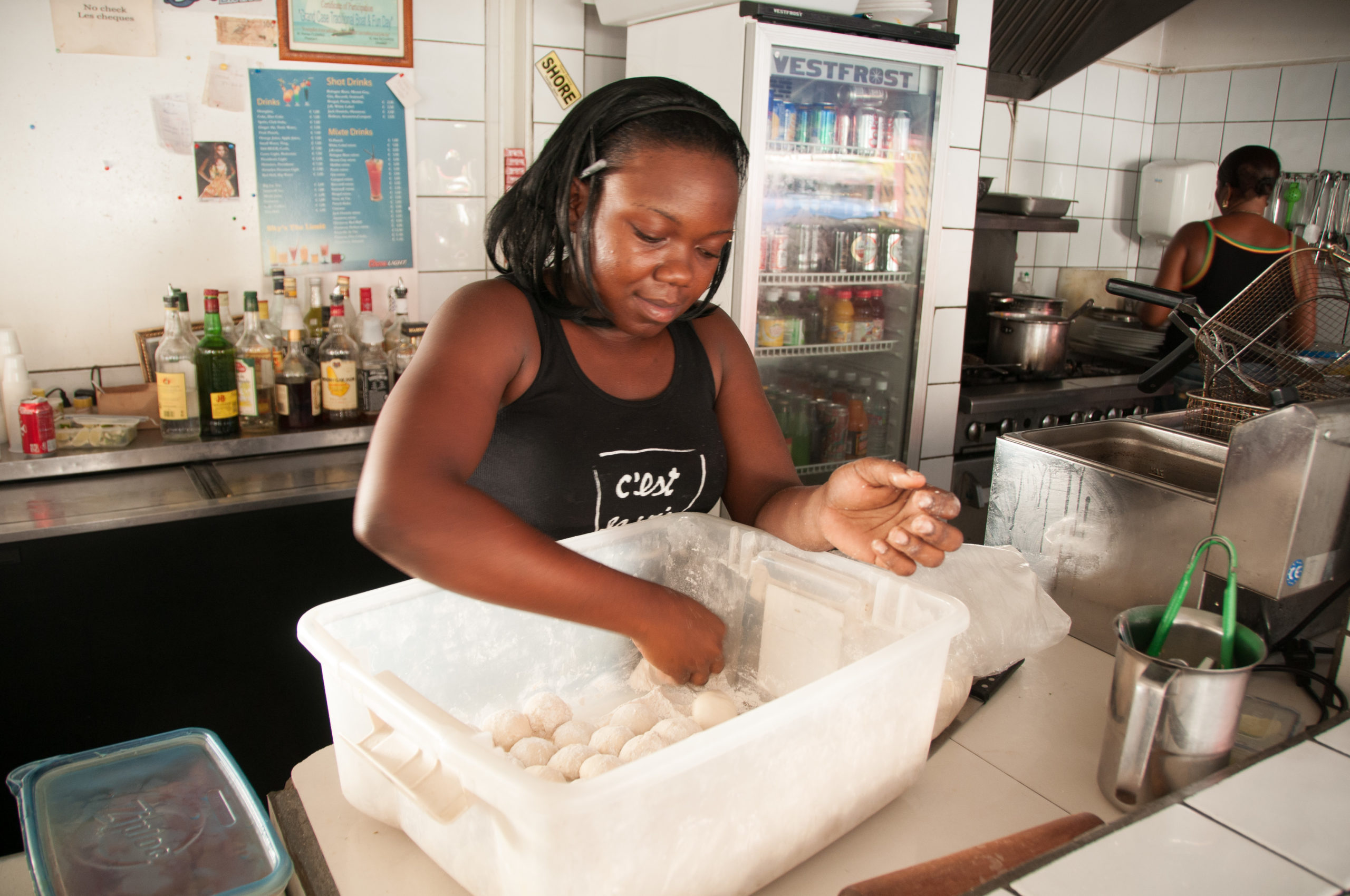 Kathleen glanced over to the woman. "Mmmm, are you making johnny cakes right now?"
"No honey, but I can fry up a couple special for you if you like."
Another big smile. How could we say no?
With just Kathleen and myself in the lolo, we passed time shooting the breeze with Sweetness and the other ladies. Chatting about johnny cakes, and bake, and tourists, and fish, and so on.
Before I knew it, Sweetness was plunking a fresh ice-cold Presidente in front of me. I'd idly polished off my previous one without even noticing. More smiles. It was infectious!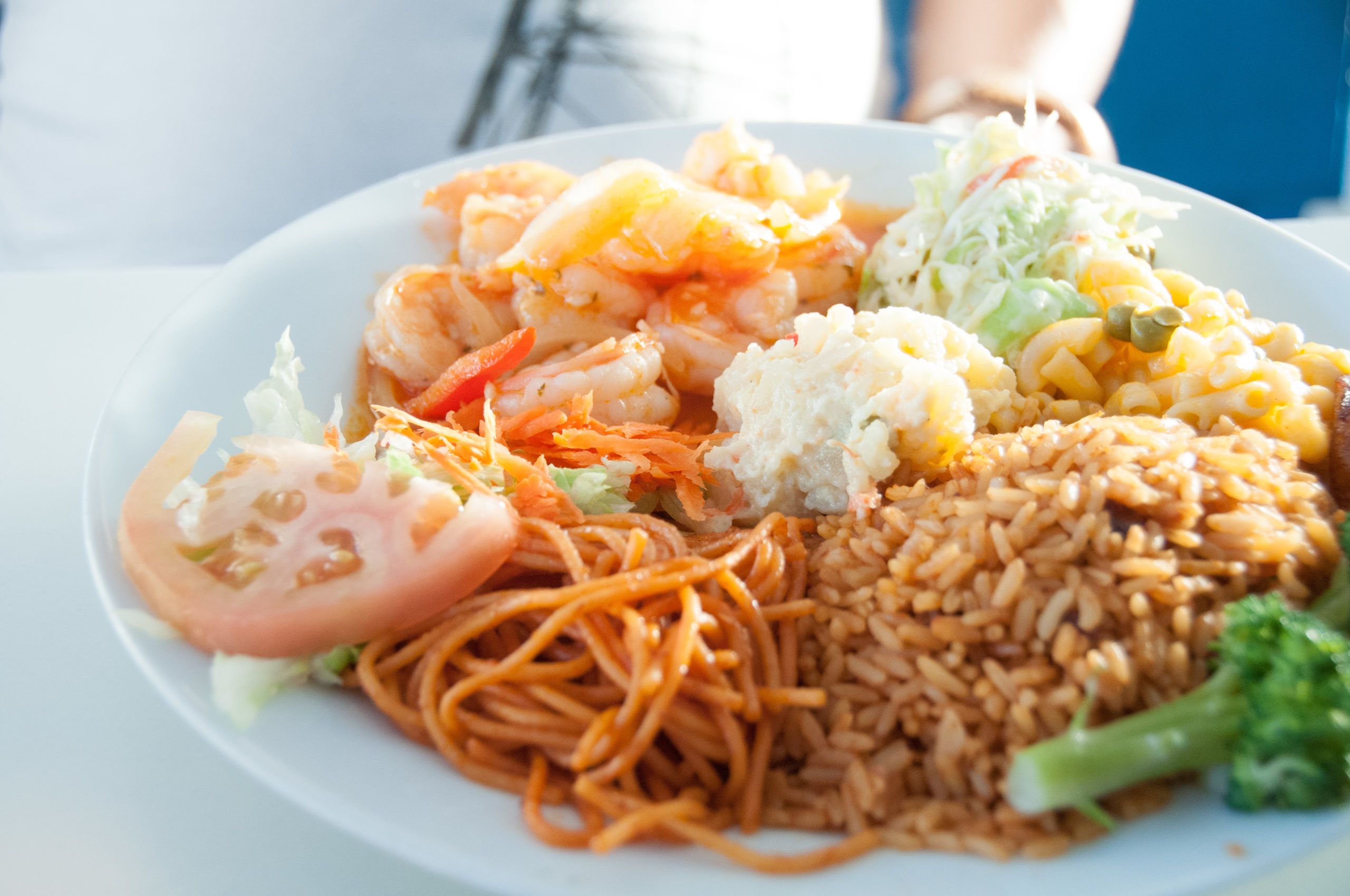 It was just a few moments before we got our meals… And these were really meals.
On our plate were nearly a dozen shrimp covered in sauce, mac and cheese, rice and peas, a little salad, broccoli, spaghetti, potato salad, and coleslaw! Then the johnny cakes arrived. A little Matouk's West Indian Flambeau Hot Sauce on the side and we were in business. And business was good!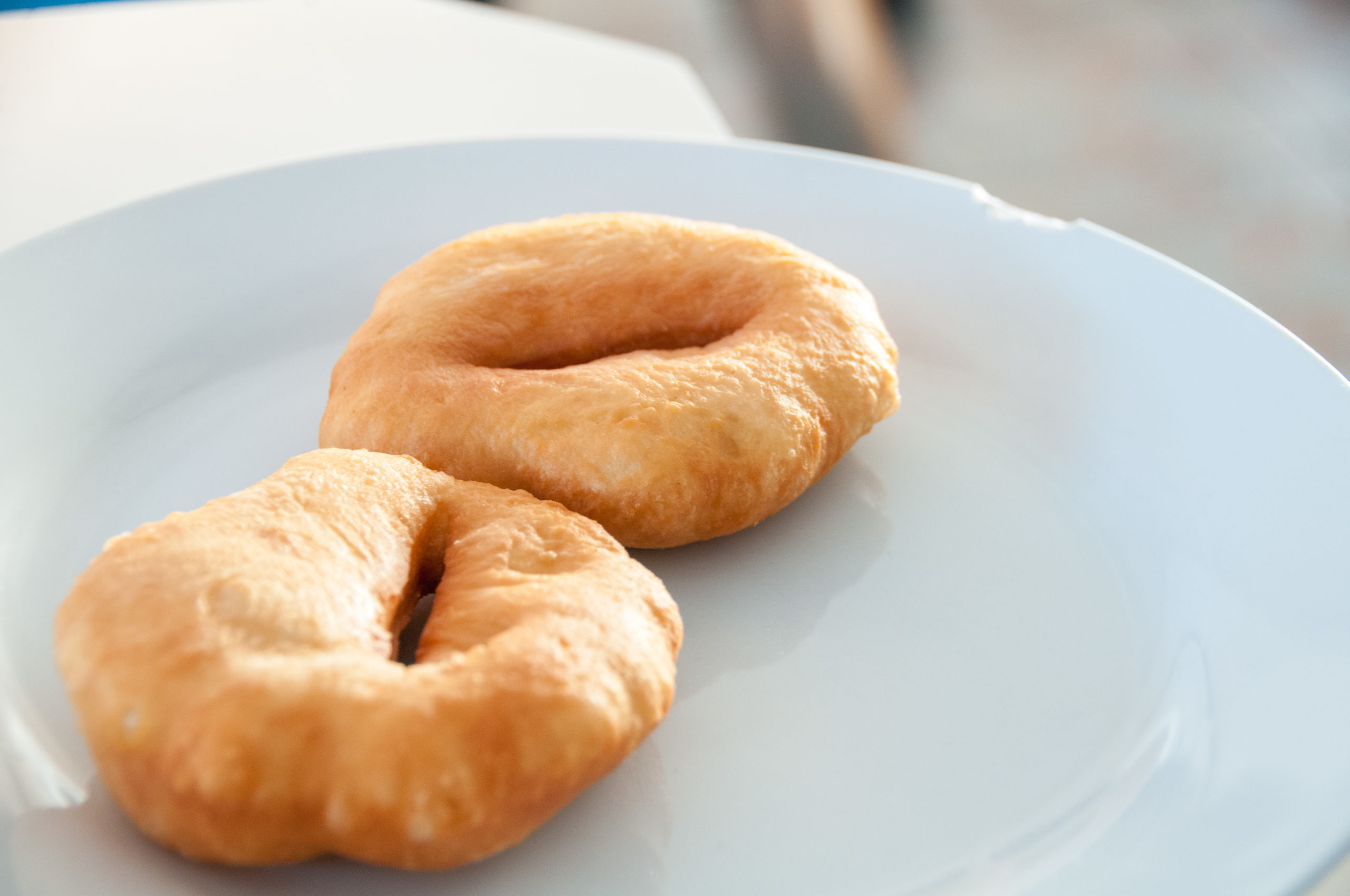 Experience Grand Case, St. Martin Les Lolos for yourself!
Without question, when you're in St. Martin, you need to hit as many of the world-renowned restaurants on Grand Case's Restaurant Row as you can. But whatever you do, don't miss out on the lolos. Their quality can be hit or miss, but I can pretty much guarantee a hit with Sky's the Limit. (Or if you want to try other lolos Grand Case, St. Martin, hit Le Cottage or Talk of the Town!)
On the menu, expect grilled favorites like ribs and pork, plus red snapper, and more. Also, don't sleep on unexpected items like stuffed crab. Finish off your plates with rice and beans, salad, spaghetti, and other sides. And cap it all off with a rum punch, or two, or three!
One thing to note is that if you're staying on the Sint Maarten side of the island, you may want to make a day of it since Grand Case is about as far away from Philipsburg as you can get! So, spend the day on the sands of Grand Case enjoying all it has to offer (including, of course, the lolos) before making your way back to the St. Maarten side.
Bon appétit!
Related Posts