Keeping it Yachty with Helly Hansen in the BVI's
"Keeping it yachty" may sound a little like a pseudo-pretentious mantra, but actually it's a mandate to complete every task on a boat in the most efficient, proper, and stylish way possible. On a recent trip to the British Virgin Islands, I got a little help on applying that mandate to myself… thanks to some gear from Helly Hansen.
Keeping it yachty?
"Keep it yachty" is a term I picked up from my sailing instructor Chris Rundlett of LTD Sailing out of Grenada. During my first foray into learning the ropes, he continually impressed upon me that it wasn't enough to ensure that moorings lines were tied off, or know whether port or starboard was the right-of-way when passing another boat, or safely pull the dinghy up to the transom. No. "Keeping it yachty" meant you needed to "cheese down" the short end of mooring lines into tight coils, it meant you needed to perform a jaunty wave as you passed another boat, it meant you needed to perfect a sharp "hockey stick" maneuver when returning with the dinghy that perfectly delivered passengers onto the transom.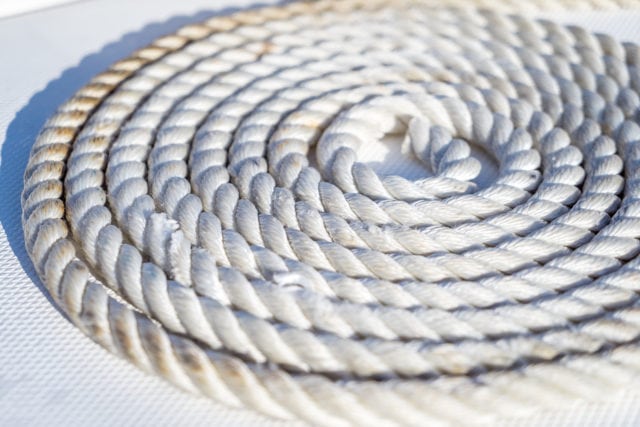 Inspired, I applied this idea of "keeping it yachty" to all aspects of my sailing. Everything had to be just so. Lines had to be faked down properly, decks needed to be clean, items needed to be stowed in specific locations.
Well, I applied it to all aspects of my sailing except one: me.
To put it bluntly, I usually dressed like a bum on boats. Torn shorts, sun faded ratty old t-shirts, you get the idea. Luckily, just before heading down to the British Virgin Islands for a week of sailing, we received a care package from Helly Hansen!
Helly Hansen
If you're not a sailor (or skier, for that matter), you may not have heard of them, but they've been making professional grade sailing gear for almost 140 years! I love their mission:
Help people stay and feel alive.
Hey, when I'm sailing I want to do both of those things!
But seriously, Norwegian captain Helly Juell Hansen pioneered waterproof apparel when he had the brilliant idea to apply linseed oil to cotton canvas back in 1877. Norway shares the same latitude with Alaska, Greenland, and Siberia, so I can only imagine how unrelentingly miserable it must have been to be sailing those old ships back then. Anyway, it turns out that the gear was so good, it won the first product award at the World Expo in Paris 1878. And since getting started, they've never stopped innovating.
I mean, if Helly Hansen gear is good enough to outfit America's Cup teams, I figured it'd be more than enough for a leisurely cruise through the British Virgin Islands, right?
So, what'd we get? It was a selection of his and hers shirts, shorts, and jackets, plus a couple bags and rashguards for the kids, but what really matters is that we got to "keep it yachty."
We were able to enjoy sailing with quick-drying clothes that stretched when needed and stayed put when needed — clothes that breathed when we were hiking beneath the hot British Virgin Islands sun and kept us cozy after dark. And perhaps most importantly, in my opinion, the clothes didn't just perform, they looked pretty stylish, too.
But don't just take my word for it, instead take a look at these shots of us rocking our new gear and judge for yourself.
These will definitely become standard issue on any upcoming sailing trips we may have on the horizon.
Check out Helly Hansen's Facebook page and Instagram for more looks or visit their online shop to get yachty yourself!
Save
Related Posts