The Yeti Panga Backpack – This Bag May Just Save Your Life
Anyone who knows me knows I get excited about gear. They also know that once I find a piece of equipment that exceeds my sometimes brutal expectations, I'm in love. And that it doesn't happen often. But that's precisely what happened with the Yeti Panga Backpack. This is the designer, sailor, and devil-may-care traveler in me's dream.
Designer's backpack
I've been a designer basically my whole life. Always sketching, imagining, and later finding a career creating things and experiences that I hoped people would love — not just because they looked great, but also because they felt and functioned great. Yeti's Panga Backpack checks all those boxes for me.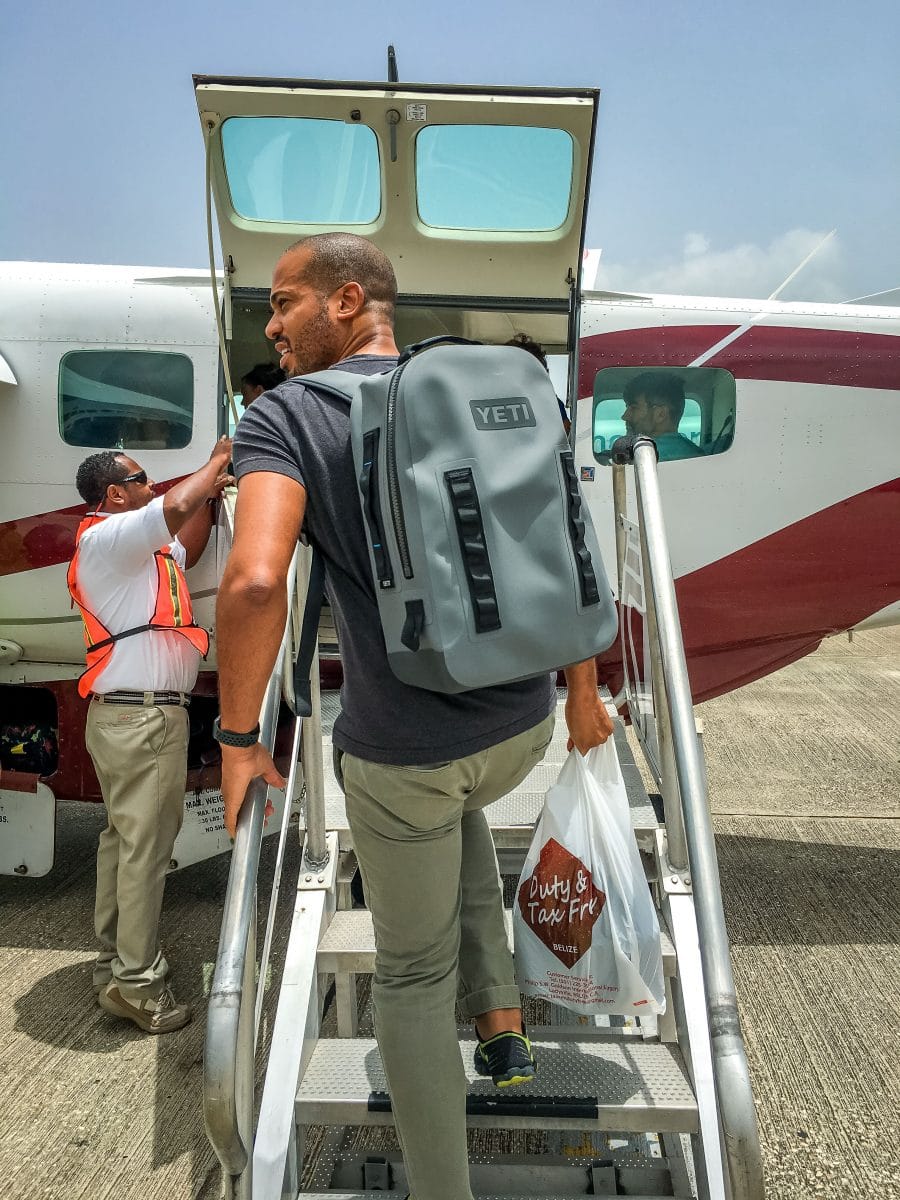 The pack's exterior is this somewhat hard to pin down "storm gray" color. Not too dark, not too light. In some photos, it looks a little blueish, while in others, it comes off as a warmer color.
Meanwhile, the interior and accent stitching is Uncommon Caribbean blue! Bright, beautiful, and perfect for me.
While we're taking about the design of the interior, I should point out there are only two pockets in there. One small mesh pocket for wallet, keys, and the like. The other is an unpadded laptop pocket. So, the interior does leave a little to be desired.
But, the bottom line on backpack design is the thing's a winner.
And once you've slung the pack on, the backpack straps and padding on the back just feel right. Solid. Highly engineered.
Sailor's backpack
While there may be plenty of waterproof bags designed solely for sailing, I don't want a bag just for sailing and nothing else. I want a bag that can go from land to water to land to water again without slowing me down because that's how I really live my life. It's in this area, fitting into my real life, not being designed for a single activity, that Yeti's Panga Backpack really shined for me.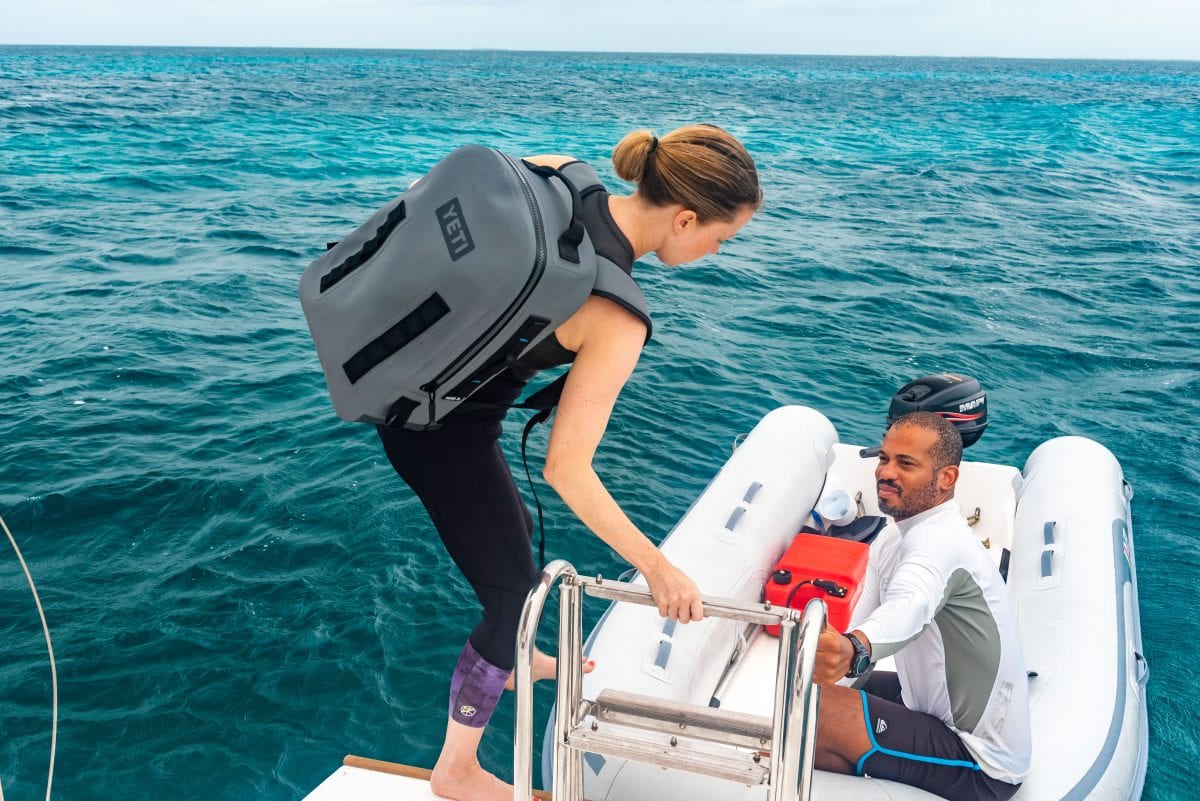 Completely airtight thanks to a high-density shell and "HydroLok" zipper, this pack is as at home on the beach keeping sand away from your belongings as it is splashing along in a dinghy towards some new adventure while keeping your belongings dry. Just grab it by either of the carry handles on the top or side (like a duffel bag's) and throw it where you need it.
There's even an additional removable chest strap and waist belt for added stability, but those just add to the complexity for me, so I didn't bother with them.
Another huge benefit of the thickskin shell that I don't see mentioned anywhere on their site is that it dries very quickly. It'd be nothing for me to place the bag in the bottom of the dinghy, motor through splashing waves, pull the bag out of the dinghy all wet and have it be practically dry moments later — sometimes even before I walked to the end of a pier. Great for sailors, but also for fly fishing, hiking, canyoning and the like.
Devil-may-care traveler's backpack
OK, it looks and feels incredibly well designed plus it's waterproof, but seriously… How tough is it? And how waterproof?
Listen, I do not take care of my things. I don't buy things to take care of them. I buy things to take care of me! (And in the case of a bag, my other things.) It's not enough to me for this bag to look and feel good, if it's going to break or get my stuff soaked.
So, I performed my own tests…
For durability, I dragged it through the mud. I kicked it around in the dirt. I threw it high into trees. I even kicked it over a waterfall.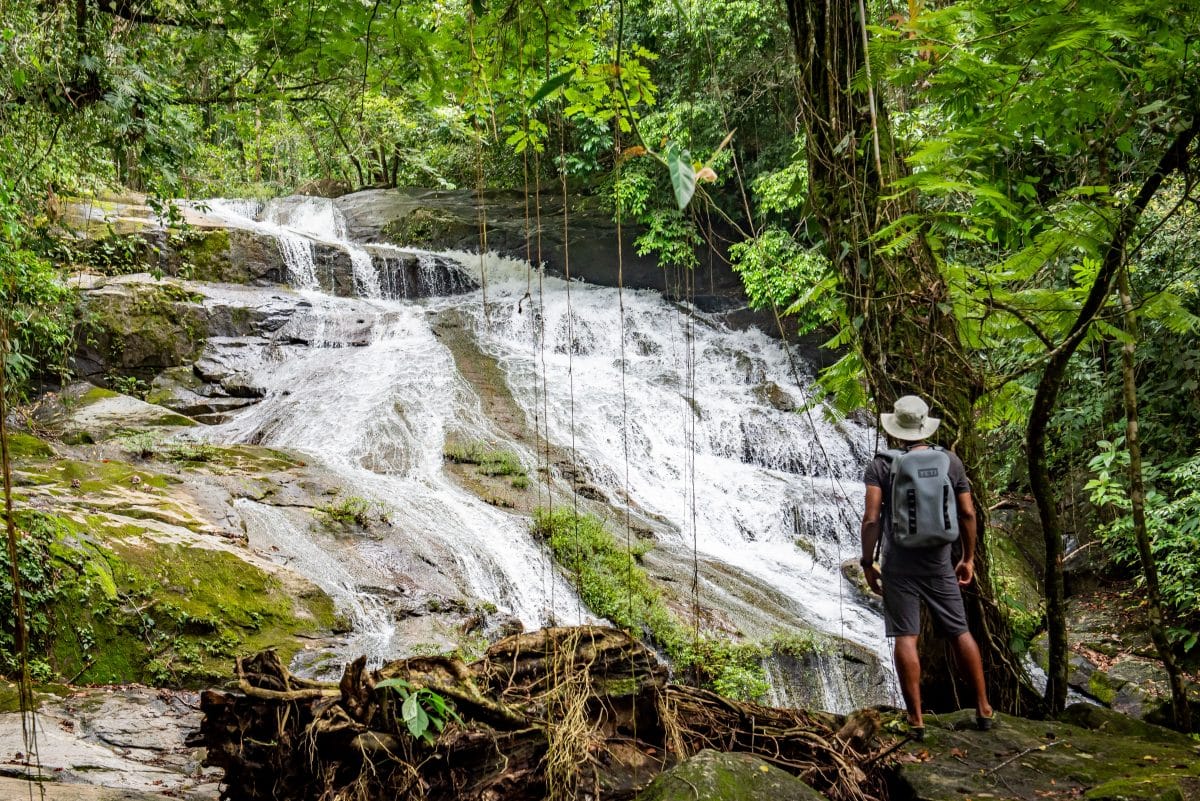 Seriously, I tortured this beautiful bag. And when I think of what I put the Panga through in the wilds of Belize, I guarantee you, my previous bags would have given up the ghost. The Yeti Panga Backpack just takes its beatings in stride shrugging off punctures and abrasions. In fact, after the waterfall, it came out looking like new as if to say "thanks for the wash."
They call the seriously tough shell "ThickSkin" and I can assure you, it's bound to take practically anything you're likely to throw at it during your outdoor adventures.
To test the waterproof claims, I was a little more radical.
It was while I was out on a snorkeling trip with Splash Dive Center out of Placencia, Belize that I had the idea. We were anchored in a shallow sandy area for lunch. Turtles, rays, and fish swam here and there.
"I'm going to test the bag!" I declared!
I promptly shouldered the pack, ran to the end of the dive boat and leaped off. Then I did it again. And Again. And again.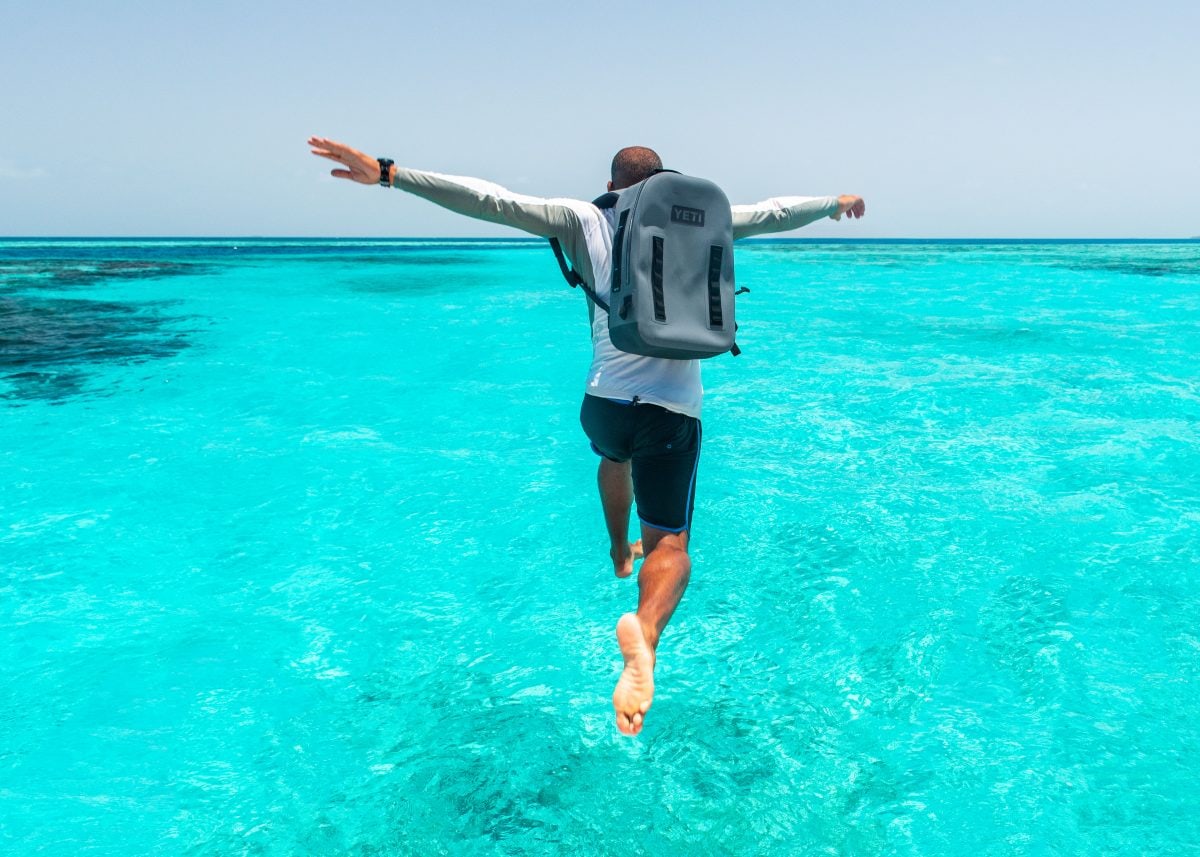 Something that happens again and again when traveling for this site is I find myself on a boat unable to get into shallow water or close to some rocks forcing a swim from the boat to the shore. This always turns into me carrying a GoPro ashore to capture photos to share with you all and those photos never look as good as if I could bring my bulky DSLR. So, my test was simulating this real world eventuality.
Well, how'd it perform? Almost too good!
Every time I jumped in, the bag, being completely airtight and strapped to my back, jarringly stopped me from entering into the water. So, I unslung it and climbed on top.
I used it as a flotation device. I sat on it. I shook it. All things I really might do when cliff jumping or doing some of the other crazy stuff we get into.
Nothing. Not a teeny tiny bubble. Nothing. It was 100% waterproof.
Back on the boat, I opened it up, and it was bone dry inside. Talk about peace of mind. This bag is good. I mean really, really good.
I've had roll top dry bags perform similarly, but never one with such a big waterproof zipper. In theory, it would not only be granting access to me, but also potentially to water. That turned out not to be the case.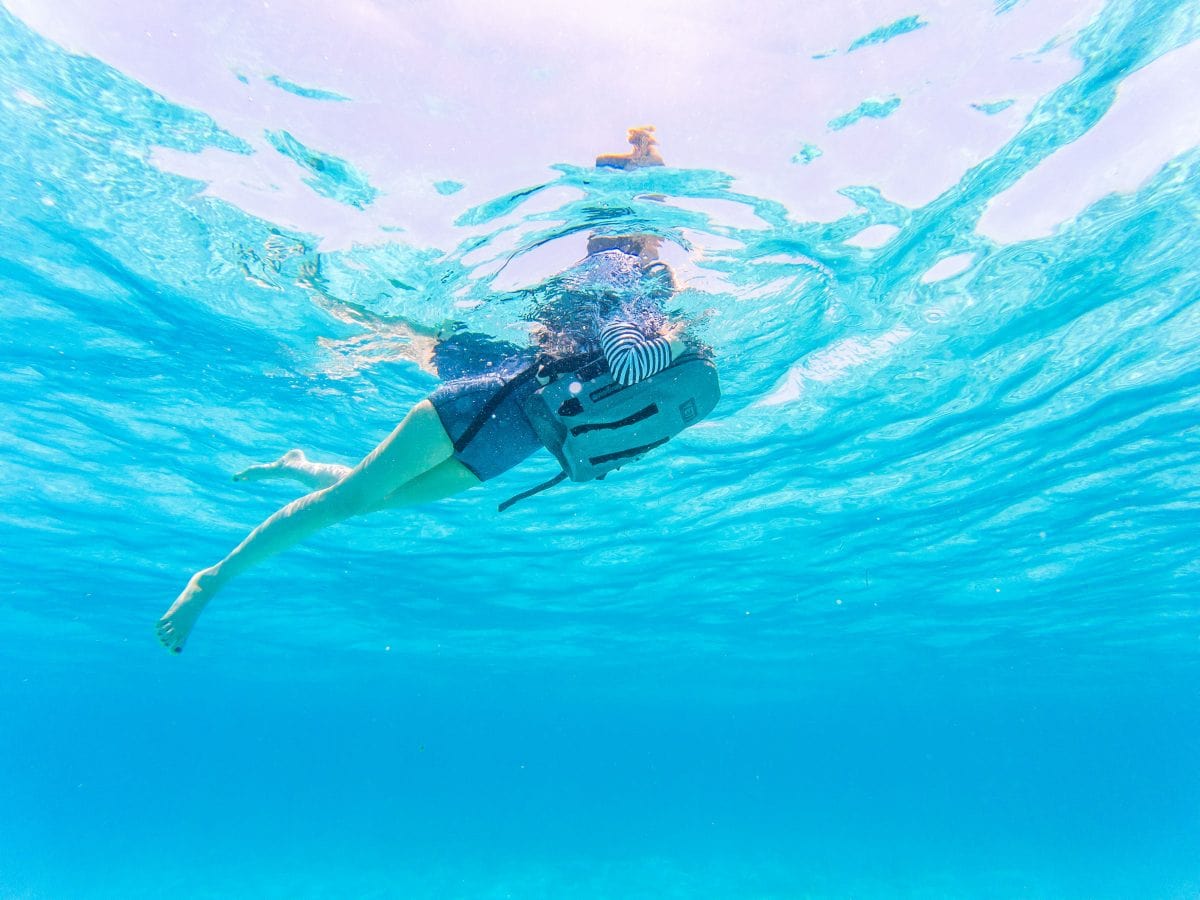 Seriously, this bag could probably save your life if you were ever desperate for a flotation device, it's that good.
The Yeti Panga Backpack is my backpack
Sailing often feels like it's all about coming to a mutually beneficial relationship with wind and water. Those two forces drive everything, so a sailor's backpack needs to fit seamlessly into this balancing act without causing any friction. And to fit into my life, it has to look great and function like a champ without me spending a second worrying about it.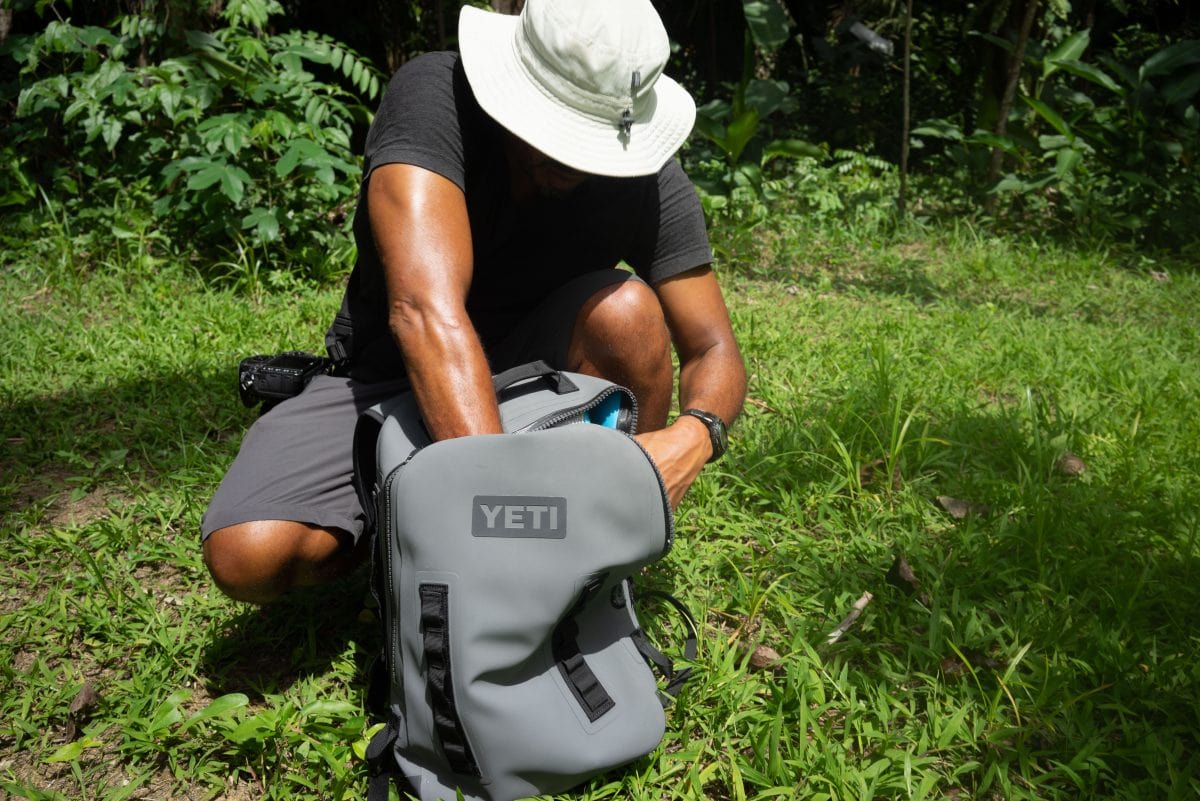 The Yeti Panga Backpack 28 fits the bill. Expect to see it again and again on our site because I may never travel the Caribbean without it again.
Related Posts