Clandestina in Old Havana for Cuban-made Caribbean Happiness
I'm not a big shopper when I travel, so for me to return with a prized new possession from Cuba, it had to be special. And that's just what I found in a unique shop in Old Havana named Clandestina.
Actually, I'm in Havana
While staying at the Saratoga Hotel in Havana, one of my favorite things to do was just walk the neighborhood. West would take me to the Entrada del Barrio Chino (the entrance to China town).
North would skirt El Capitolio and the ornate Gran Teatro de La Habana. South was a residential area that eventually gave way to a train station. East was my favorite.
The road would shrink. Buildings would crowd in closer. Day and night, foot traffic came and went through Havana Viejo.
Teniente Rey, I must have walked this street more than any other in Havana because every block brought another incredibly enticing spot worth exploring. Somehow, this small nine-block-long street demanded to be the piece of Havana that received my full attention.
Toward the start is El Chanchullero, a tiny two-story eatery that was forever so packed I never got to try it. Europeans and the odd Cubano spilled out of d' silly named D'Next Bar — especially in the early mornings after breakfast.
Restaurante Hanoi, the Museo de la Farmicia Habanero, tiny grocery stores, my favorite breakfast place, El Dandy Bar y Galeria, and the spot where I would eventually spend New Year's Eve, La Terraza de Compostela. Each one of these locations was magic. (And each one I'll tell you about in more detail another time.)
Every time I walked down Teniente Rey, I would notice a very cool, but also very closed storefront graced with a pair of cartoon sunglasses just off to the side on Calle Villegas.
La tienda diseño
Since the sign with the name Clandestina was in the shape of a t-shirt, I assumed it was a hip clothing store and made a mental note to return and check it out. But every day I made my pilgrimage down Teniente Rey, I was too early or too late or on a wrong day or just plain unlucky because I never saw it open. Perhaps appropriate considering the name…
On my last morning in the city, I rushed down to try one last time.
This time, Clandestina was decidedly less clandestine.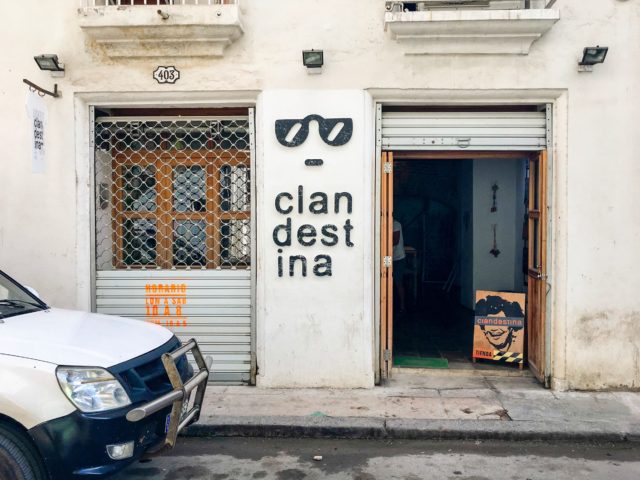 The shutters were up, and a goofy print of a young David Letterman with his eyes blacked out like a censored sign greeted me — complete with his signature gap-toothed smile.
Clandestina, the brainchild of Idania del Río and Leire Fernández, is more than just t-shirts. In their words:
Founded by young Cuban artists and entrepreneurs, Clandestina is Cuba's first design store—providing both tourists and residents with contemporary products that are uniquely designed and manufactured in Cuba. The Clandestina name is inspired by the Cuban film Clandestinos. A masterpiece about young and subversive revolutionaries. Clandestina means Cuban-made, progressive, contemporary, youthful, resourcefulness, playful humor and Caribbean Happiness.
Yes, everything in the shop is uniquely Cuban. In the same way that the classic American cars that ply the streets of the country are patchwork masterpieces of reclamation and ingenuity, so too are much of the items inside Clandestina. (Just as it's nearly impossible to import new cars, it's also a challenge to import cotton.)
Many of the t-shirts are more like remixes with screen-printed designs overlaying past slogans. Hats, stools, bags, and self-referential pop-culture necklaces all have this one-of-a-kind crafted feel.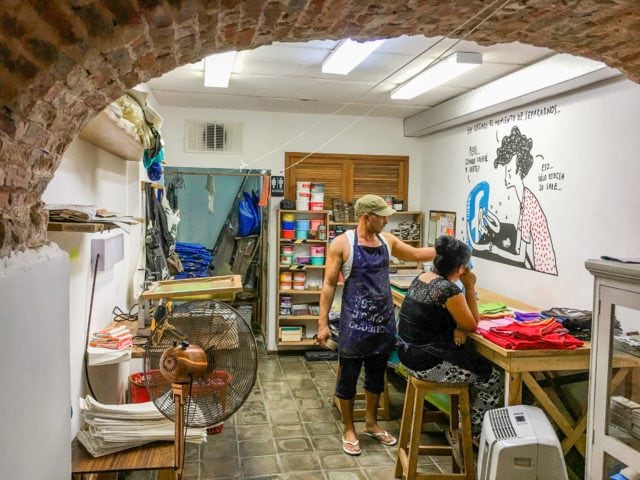 Exploring Clandestina
In the back of the store, a floor-standing fan whirs pushing hot Havana air into a screen printing studio. Paints are neatly stacked on shelves. Reclaimed items line the walls. Stacks of tank tops and hats await transformation into art.
The place is decidedly contemporary and playful with slogans like "EL VERANO IS COMING" (Summer is coming) plastered all over the walls. If this shop were sitting in Brooklyn's Williamsburg, it wouldn't be able to keep up with the demand!
But besides the clothing, the real standout for me was the art prints.
The first posters Clandestina ever sold were done by Del Río herself, but since launching in 2015, they've begun collaborating with other Cuban artists like Zardoyas, Giselle Monzon, and Gabriel Lara to name a few.
They've also worked with Aristides Esteban Hernandez Guerrero, better known under his artistic name "Ares." A prolific artist, he's been wrapping social commentary into cartoons, oil paintings, and animated films since 1984. (In 2002, Ares even received the National Culture Medal from the Cuban Cultural Minister.)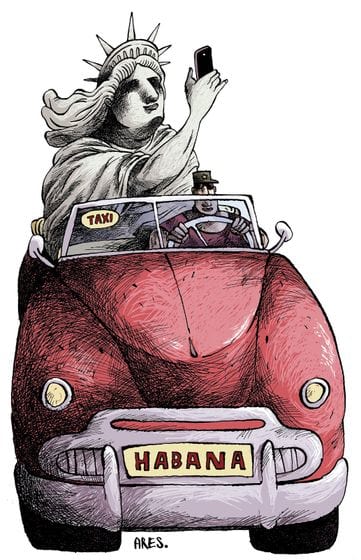 The print that caught my eye was a screen-printed version of his 2015 piece Havana Tour. Depicting the Statue of Liberty going for a tour in a classic American car, it was the artist's answer to the (at the time) 40% rise in tourists from the USA. (Of course, that number is much higher now.)
The revolutionary cap, the thumb poised to snap another Facebook or Instagram photo, the squashed perspective — I loved it all.
It spoke to me about the dangers of "tourism" (gawking, snapping photos, and leaving) versus "traveling" (immersing yourself in another culture, appreciating the differences and similarities, then coming away from the experience a more empathetic human being).
Cuba at large and Havana, in particular, is teetering on the edge of change. This piece helps remind me that we all play a part in shaping what that change will be.
Until you can actually say "actually, I'm in Havana," they've actually managed to get some of their products up on Amazon! So, fire up your Prime membership and get shopping.
Save
Save
Related Posts