Langosta Roja in the Dominican Republic, Not Your Ordinary Red Lobster
Editor's note: When you run across familiar American brand names in the Caribbean you should often expect the unexpected. Case in point, our friend Laura Albritton's recent dining adventure in the Dominican Republic at a restaurant tailor-made for the uncommon seafood lover in you…
Normally, when I travel to the Caribbean, you'll find me happily installed in a boutique hotel or small-ish property run by "in-the-know" locals always glad to share their inside scoops about where to eat, where to drink, and where to find unspoiled, natural attractions.
A couple of weeks ago, though, in the Dominican Republic, a business conference necessitated that my husband Zickie and I stay at a huge all-inclusive resort in the Bávaro area, just north of Punta Cana. In other words, right smack in the middle of tourist central. Could our continued quest for the uncommon possibly succeed? I had my doubts.
After a day or two of resort-style French and Japanese food, we were longing for some home-cooked, no-holds-barred Dominican eats. So, we left the sprawling compound and found ourselves bumping down a semi-paved road to a beach-chic spot we'd read about online.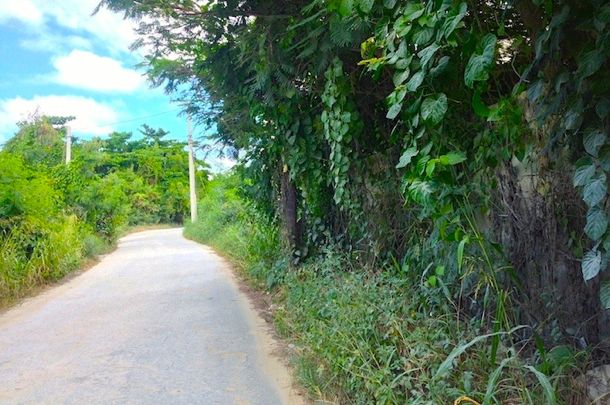 The sophisticated Dominican-international fusion meal here was certainly enjoyable, if not quite what we'd had in mind.
Just next door, however, locals and foreigners were lounging at a simple open-air joint where both rum and merengue seemed to be flowing freely.
"What's it called?" I wondered aloud, squinting at the Spanish sign. We edged a little closer to get a good look. "Lan-gos-ta ro-ja," I sounded out slowly. "What's that mean?"
We both thought a second, then shouted together – "Red Lobster!"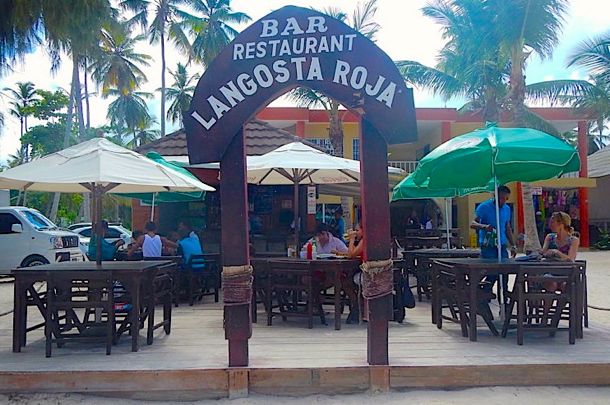 The improbable moniker made me crack up with laughter, because this beach-side restaurant and bar bore no resemblance whatsoever to the famous American chain. It did, however, look exactly like my kind of place – the off-the-beaten track dining destination that I'd been craving since our plane set down on Dominican soil. I vowed to return as soon as possible.
The next day, not a minute past noon, we arrived at Langosta Roja hungry and curious. The view looked spectacular, and the sight of fishermen weighing their catch directly on the sand gave us some indication that the ingredients would be fresh. A young Dominican woman took our drinks order, a Presidente beer (una frìa, a cold one) for Zickie and a Presidente Light for me.
The menu's choices were a bit overwhelming. Should I go for the lobster, in honor of the amusingly-named restaurant? Maybe pulpo (octopus)? Or shrimp?
In the end, we both decided to follow our hearts and order one of our very favorite Caribbean dishes, whole fried snapper. Chillo was what they called the fish, and I ordered it with a side of vegetables, while Zickie asked for tostones (smashed, fried unripe plantains).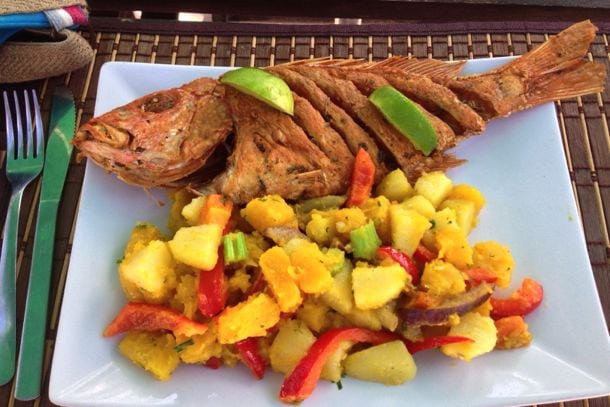 Langosta Roja is a tiny establishment, basically a bar with a deck. One thing that I've learned, sometimes the hard way: don't choose a restaurant based on its décor. Some of the best Caribbean meals I've ever enjoyed have been in little waterfront spots with plastic chairs and tables and sand on the floor.
I was quite content to kick back, sip on my brew, and watch the sunlight sparkle over the water. After a decent, but pleasant wait, our waitress brought two exquisite-looking fish to our table. It was the kind of thing you have to photograph. But let me confess something before going any further: sometimes I find that certain fried snappers can be a bit bland. Zickie likes it that way, with not a whole lot of flavor other than the one you supply with hot sauces or various condiments. I, on the other hand, prefer spices and some complexity, so I was absolutely thrilled when I chewed that first morsel.
It was, in a word, perfect. The skin, crispy and delicate. The fish, moist but well-cooked. And the flavors – definitely not just a one-note thing! Thyme, we decided. Scallion. Perhaps a bit of garlic, but not much. Merely a hint. Salt, yes, but the fish wasn't salty. And finally, black pepper. Maybe there were other mysteries, but alas, our Spanish was too rudimentary to learn the real culinary secrets of Langosta Roja's scrumptious snapper.
And the sides? Let me put it this way, I've had many tostones over the years, and these were genuinely some of the best I've ever eaten. (Ok, they belonged to my husband, but I managed to steal more than my fair share.) My vegetables tasted shockingly good. There was potato, carrot, and some kind of squash with spices that owed a little to curry, but remained lighter and less intense. For once, Zickie stole some veggies!
How could you possibly beat this meal? It was so lovely, with Dominican music playing in the background, the friendly waitress and bartender who made sure we were all right, cold beers, and an amazing view of turquoise sea.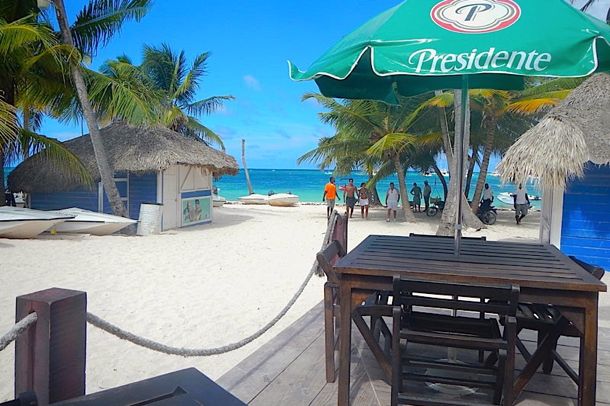 You'd expect this kind of place to have dozens of rave reviews online, but the fact is, if we hadn't spotted it next door, we might have missed what was hand's down an absolute highlight of our time in Bávaro.
Before our trip, if you claimed that the most authentically Dominican meal I would savor would be at "Red Lobster" I'd have called you crazy. Now, I can't recommend Langosta Roja highly enough. Once again, I'm convinced that no matter where you venture, you truly can find the uncommon in practically any corner of the beautiful Caribbean.
(To reach Langosta Roja, follow the signs to the well-known Bávaro restaurant Jellyfish. Then, while facing the beach, look for "Red Lobster" on your left.)
Guidebook author Laura Albritton runs the travel blog Island Runaways with her husband Zickie.
Related Posts