Learn Kiteboarding in the "Action Sports Capital of the Caribbean"
12:45 pm: A bacon-cheeseburger and side of fries sloshed around uncomfortably in my stomach as I ran up Cabarete beach from the Velero Beach Resort. Halfway up the bend, a clutch of fluttering pink flags marked my destination: learning kiteboarding with Laurel Eastman Kiteboarding.
Before opening the best kiteboarding school in the Dominican Republic, Laurel was a rider on the pro-kiteboarding circuit, even being named 2002 Woman of the Year by the Kiteriders Professional World Tour and winning the 2003 North Sea Championship! And on top of being so accomplished, she's probably the nicest person you're ever likely to meet. If any school could turn me into a real kiteboarder, it had to be Laurel's! So, with that in mind, I'd declared my intention to learn kiteboarding or die get very tired trying. Now, here I was…late for my chance to learn kiteboarding!
When I burst through the door, apologizing and panting and sweating all over the place, Meghan Maguire (general manager at LEK) flashed what can only be described as the ultimate anxiety melting smile, stopping me and my apologies dead in our tracks.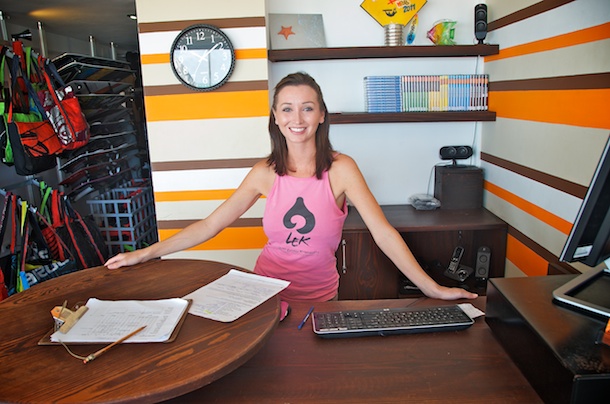 "Aww Patrick, did you run all the way over here?"
"Uhm…"
"That really wasn't necessary… Anyway, let me introduce you to your instructor for the day. Follow me…"
"Yeah… OK… Uhm… I didn't really run all the way, you know…" I strutted out behind her into the bright Cabarete afternoon.
1:00 pm
Before long, I was sauntering up the beach following my Dominicano instructor, Miguel Espinal. I'd been supplied with a very official-looking kiteboarding harness that I wore over a rash guard I'd picked up on a recent surfing trip to Barbados. Rounding out my school uniform was some new sunglasses I picked up at LEK (they have a whole selection of everything from sunglasses to pro-quality kiteboards and other kitesurfing gear available for purchase at the shop), plus a "rad" black helmet… you know, in case of a kitemare.
I have to admit, I was a little worried. Everyone has heard those tall tales of kiteboarders being lofted into shoreline restaurants and power lines, so I had to ask Miguel what could really happen to me—why specifically was I wearing the helmet to learn kiteboarding?
"In case you hit your head" he answered.
"OK…"
Miguel had a lyrical Dominican accent I absolutely loved listening to while he took me through the steps of kite mastery on dry land. In my case, I'd flown a practice kite on a trip to Tulum, Mexico several years ago, so none of the basics were new to me… Add in Miguel's expert tutelage and I was holding my kite at 11 o'clock, 12, and 2:30 like a pro in no time. From there, it was barely a moment before I was demonstrating figure-eight movements through the "power zone" that nearly yanked me down the beach.
All the while I stole furtive glances at the kiteboarding action happening all around me. Practically any direction you looked, kiters were manipulating the slight side on winds to impressive results. They zoomed, turned, spun, looped, boosted, and stomped tricks left and right. I desperately wanted to join their ranks. Sure, I'd seen kiteboarders before on my many travels throughout the Caribbean, but never so many in one place. The sky was literally alive with colorful, little arcs while the sea became a crosshatch of their many paths. Cabarete is the place for kiteboarding in the Caribbean and it shows by the talent it attracts.
It was a thrilling time getting reacquainted with kite control, but Miguel could tell I was chomping at the bit for something more… He could follow my eyes as they kept wandering to the water. Being the excellent instructor he is, Miguel promised I'd get my chance to learn kiteboarding in the waves… after a break.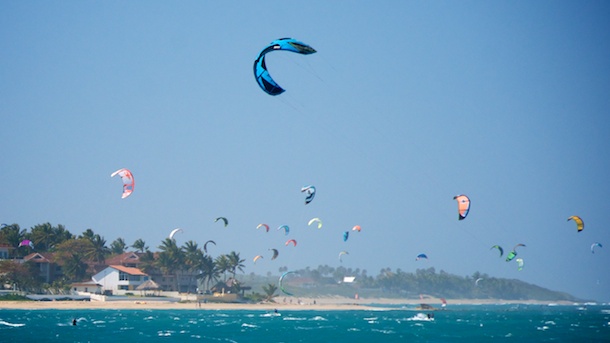 4:00 pm
After two-and-a-half hours of beach work and a 30-minute break, I was ready for my big kiteboarding in the water debut… Well, minus the board part. You see, the next step in kiteboarding mastery is the delightfully named task of "body dragging." Basically, you go into the water with the kite and use it to drag yourself ("like Superman," according to Miguel) all through the waves. Left, right, upwind, and down—you need to understand the concept of using the kite to actually move through the water, and this is the simplest way to start.
Miguel stayed on the shore after teaching me a few hand signals for things like putting the kite at 11 o'clock, 12 o'clock, 2 o'clock, and the all-important: "keep going!" I'd finally be leaving the master behind as I ventured into the sea… It'd be up to me alone to drag my body with some skill.
Cabarete Bay was a bit choppy that afternoon, but, as I mentioned before, I was determined! So off I went, body dragging with the best of 'em! I dragged myself 50 meters out, dragged myself up the bay, dragged myself down the bay, repeated and repeated, then finally dragged my sorry body back to shore—all with the kite control bar held in just one hand at a time!
It sounds miserable, but once you get the hang of it… It's pretty damn fun! You're literally one step away from actual kiteboarding and it's about this time that you actually start to feel it.
4:45 pm
With only 15 minutes left in Miguel's care, I was beginning to think I wouldn't actually get up on a board that day—my determination slowly beginning to evaporate. Miguel had other plans for me, though, and he wasn't about to let me call it a day without giving the board a try.
So with the board in one hand and the kite bar in the other, I navigated myself and my big, blue kite out into the bay. The kite had it easy, it floated above the waves… I, on the other hand, struggled. The idea is to hold the kite at 12 o'clock high with one hand while laying on your back and slipping the board onto your feet with the other hand. If it sounds like a contortion further complicated by the shifting swells, that's because it is!
If I focused on the kite, I never found my feet with the foot straps and invariably, went under. If I focused on the board, my kite would dip down into the power zone yanking me this way or that. Sometimes, the kite would drift toward 11 o'clock making it impossible to control with my left hand without jumping it over to the other side of the bar. I have to admit, I thrashed around—piling all my new knowledge into a frantic attempt to, as I wrote on the goals line of my sign-up sheet back at the LEK offices, "kick-ass."
Yet, the only ass getting kicked was my own! The sea and winds had me at their mercy until something happened…
Too tired to be a frantic mess, I eased onto my back in the water with the kite at high noon keeping me afloat with its pull. Then, it was a half-assed attempt at getting my feet somewhat into the straps that finally proved successful… All I had to do next was whip the kite through the power zone from 1 o'clock to 2:30…
And…
And…
5:00 pm
I WAS UP!!!
"WHOOOOOO!!"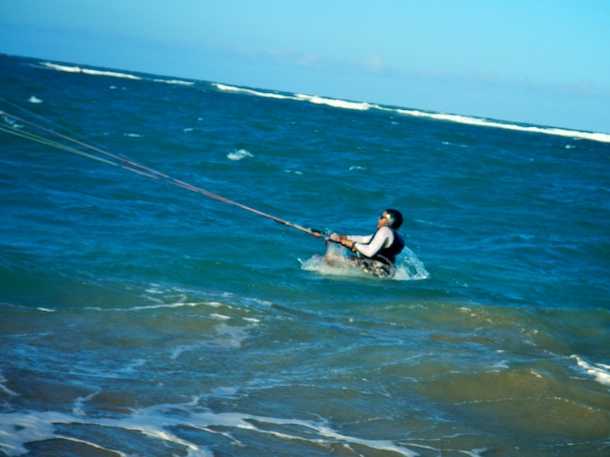 Then, just as abruptly, I was wrenched into the waves as my kite crashed violently into the water… but I'd been up! For a fleeting moment! I. Had. Been. Up!
It was probably the single most awesome sporting experience I've ever had. It may have only lasted a second, but it did the trick. I was hooked. I've already begun planning my next kiteboarding experience!
Believe me, kiteboarding is as awesome as it looks, and there's no place better to catch the fever than in Cabarete, Dominican Republic, and no better school than Laurel Eastman Kiteboarding. Courses will run you around $66 per hour, but the feeling of freedom and speed as you skim across the waves under kite power is priceless.
Book online or contact the pros for a chance to learn kiteboarding at Laurel Eastman Kiteboarding for more info. My only advice to you: don't eat a bacon cheeseburger and a side of fries just before your lesson!
Related Posts