Owl's Hole, Grand Bahama Island: Leap Into Its Refreshing Depths
I've said it before and I'm likely to say it again: I much prefer beaches to pools… assuming, of course, that the pool in question isn't located at the bottom of a naturally formed, open-air cave like the one UC friend Bob Davies promised to show me at Owl's Hole on a recent trip to Grand Bahama Island.
The promise of a perfect pool.
Bob picked me up bright and early. The trek to Owl's Hole began with a drive out of Freeport and along Grand Bahama Highway through the beautiful Caribbean pine expanse of the island's interior.
The perfect Bahamas sun was pouring down warmth, riddims danced out of the radio, and just the right amount of breeze filled the cab with the natural perfume of the pines.
Soon, we spotted a tiny sign near a dirt road artery to the highway. I say we, but had Bob not been behind the wheel, I likely would have missed it.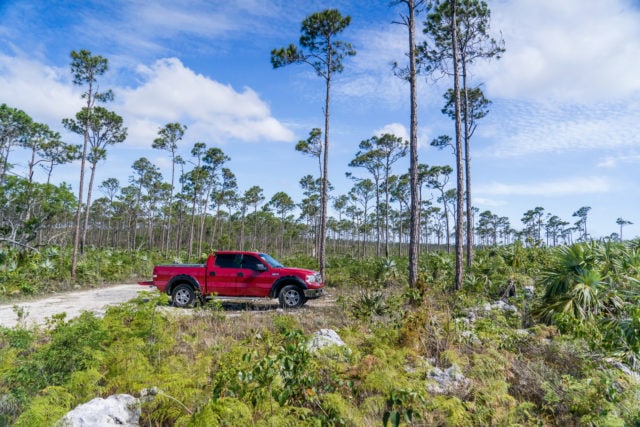 From there, it was a bumpy ride down a rugged road to what passed for a parking area. Really, it was barely a clearing. Here, Bob hopped out of the truck, popped open a couple Bahamian Brewery Sands Pink Radlers (a truly manly beverage if I've ever seen one) and we sauntered off into the brush. Nowhere did I see any sign of the treat that was in store for me.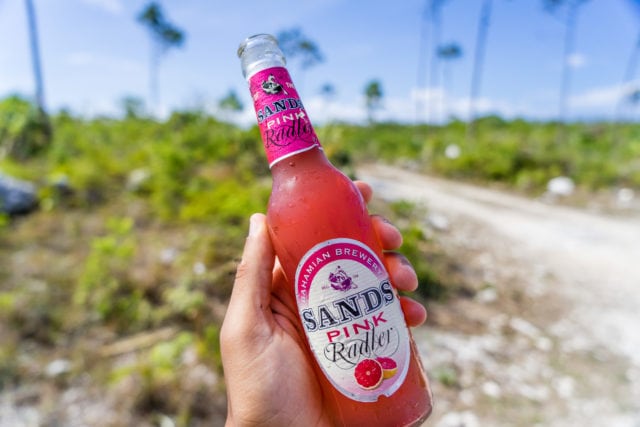 A short walk over a small ridge later, though, and there it was: A metal ladder poking out of the ground.
A little closer and the awe sets in…
Owl's hole is a sparkling sinkhole in the Bahamian limestone measuring around 30 feet in diameter. Expect to find the surface of the water at about 25 feet down in the hole, give or take a few feet based on prevailing rainfall levels around the time of your visit. During certain months of the year (April, May) you may even catch a glimpse of the cave's namesake fuzzy owlets tucked under the lip of the ceiling.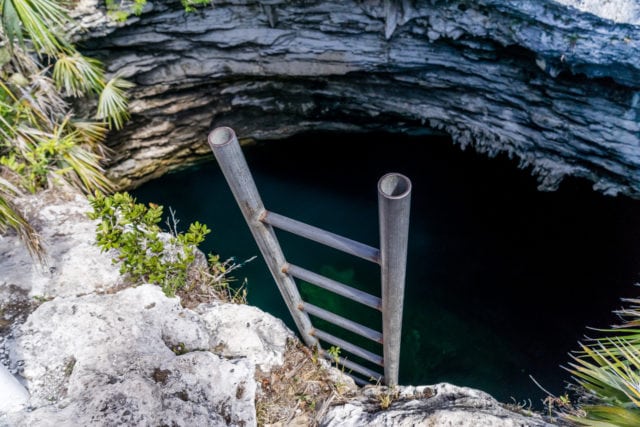 Now, I know what you're thinking… That water's got to be deep enough to jump all the way down… right?!
Answer…
Exploring Owl's Hole, Grand Bahama Island
On my last visit to Grand Bahama Island, I only managed to stay a couple days, but Bob granted me, by far, my most memorable experience.
Leaping into the refreshingly frigid waters. Floating around. Staring up at the brilliant blue sky framed by the limestone walls. Diving down in search of the cavern's resident shrimp population…
Owl's Hole is hands down the coolest pool I've ever experienced.
Local tour operators offer group excursions to Owl's Hole, though they can be a bit pricey. Plus, you won't have the pool all to yourself. Your best bet is really to rent a 4-wheel drive (or if you're really adventurous, a scooter) and search out this perfect pool on your own.
Related Posts