On-Site Guadeloupe: Secret and Sublime Snorkeling at Plage Leroux, Basse-Terre
 Editor's note: Can you keep a secret? UC contributor Laura Albritton is asking as she recently came across a very special little beach in Guadeloupe that she'd like to see stay that way…
Steve and Patrick have thought it before. I'm sure you probably have too. You know that feeling you get when stumbling upon someplace truly uncommon on your travels? The kind of place that makes you ask, "Should I reveal this secret treasure, or keep it all to myself?"
On one hand, you want others to enjoy your special find too. On the other, well, once something unknown becomes known, doesn't it lose its cachet?
I found myself mired in just such a Catch-22 after a recent visit to Basse-Terre island in the gorgeous Guadeloupean archipelago. Our helpful landlord Didier Rault, who has hosted scores of visitors during his many years running Gîtes Piment Café rentals on the north coast of Basse-Terre, suggested a few select beaches. His top recommendation:
Go to Plage Leroux. You can snorkel, and sometimes see sea turtles.
Unfortunately, though, this particular beach proved extremely difficult to find.
My husband Zickie and I possessed five different tourist maps between us, none of which showed Plage Leroux (or Leroux Beach). Our GPS was of absolutely no help, either. Yes, we identified the teeny, tiny waterfront village of Leroux, but a sandy beachfront on the Caribbean sea? Nowhere to be found.
As we studied the shoreline during one of our many Plage Leroux expeditions, our eyes straining for any sign of sandy shore and cerulean blue water, we came across an unusually large collection of cars in front of Au Bon Accueil (Good Welcome), a Creole restaurant on a bluff overlooking the ocean. Down a steep one-lane road, cars were jammed willy nilly in extremely close quarters.
A big crowd for lunch, we guessed…
Wrong! The restaurant was actually closed that day. The parking situation was crammed due to a stretch of sand we came very close to missing – the elusive Plage Leroux!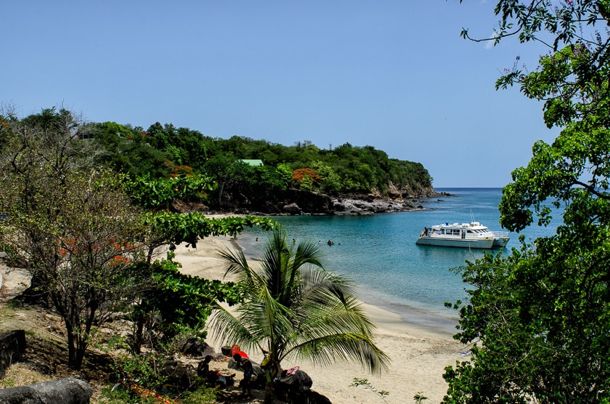 Somehow Zickie managed to wedge our car into a miniscule space. We quickly unloaded towels and gear, and hurried out to the water.
It turns out that Plage Leroux is situated in a lovely cove, its crescent of sand backed by lush Poinciana trees with scarlet blossoms. The placid ocean tinted an alluring blue was too tempting to ignore. Mere minutes after setting their stuff down in the sand, Zickie and our daughter slapped on masks and dived right in.
"You've got to come look," my husband told me later, when they finally emerged from the crystalline sea. "Didn't spot any sea turtles, but it's pretty."
Have I mentioned that my better half can be a master of understatement? As I donned a mask and snorkel and swam out past huge orange starfish lying on the rippled-sand ocean floor, I came across a micro-reef. Brain coral! Near our home base in the Florida Keys, brain coral is in serious decline, but here, just steps from the shore, it was thriving.
Bluehead wrasses, with their sapphire-colored heads and emerald-green bodies, darted up a rocky wall. Parrotfish, bright tangs, angelfish, octopi, and eels, all were right there, literally a 45-second swim from the sand.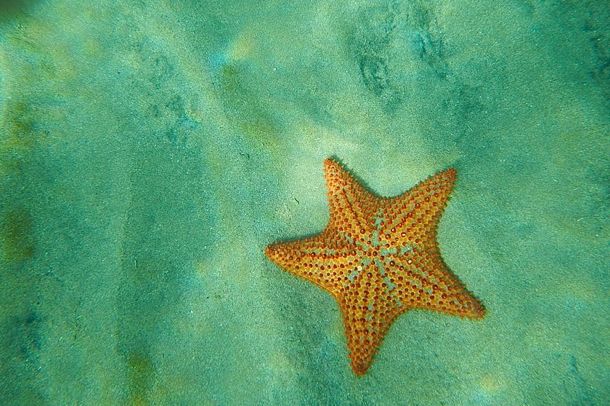 As you paddle along the reef further out, the fish grow larger, while the vivid, startling colors remain absolutely breathtaking. This enchanting, small reef wasn't mentioned in any guidebook or blog that I'd read, but the unexpected beauty of it blew us away. Thank goodness we followed Didier's advice (and persisted in our quest!).
While I'm a big fan of escorted snorkeling tours, there's nothing like stumbling out from shore and finding your own little microcosm of aquatic wonder.
Now that I've divulged my secret, promise me that we'll keep this pristine Guadeloupean treasure between us, sharing it only with good friends and those special fellow travelers who will cherish it. Deal…?
Indeed, that's a deal Laura! Thanks again for sharing another great find in Guadeloupe. For more of Laura's uncommon island adventures, be sure to check out her brand new blog, Island Runaways, today.
Related Posts