Alpha Boys' School, Nurturing Jamaican Music for More Than 100 Years
It's not the biggest school in the Caribbean. It's not the richest or most prestigious either. In terms of global impact, though, Jamaica's Alpha Boys' School outshines them all.
Originally founded way back in 1880 by a small group of Catholic nuns, Alpha has long-served as a life-saving "school for wayward boys" in the heart of Kingston. Somewhat miraculously, it's also served as one of the world's greatest music factories.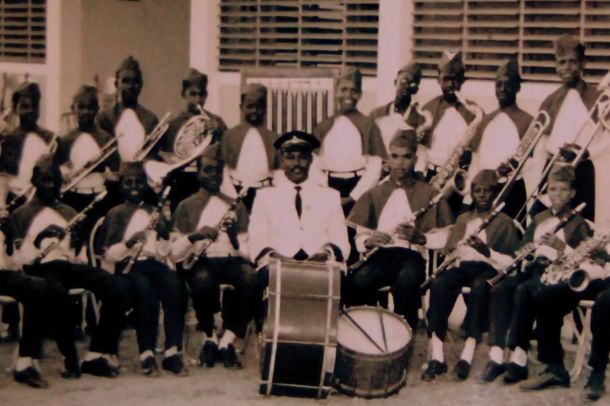 The Alpha Boys' School Band struck its initial chords in 1892 as a traditional fife and drum outfit. A few years later, brass instruments were added. A generation or so after that and ska was born.
It was here at The Alpha Boys' School where ska, the infectious musical form that would later give rise to reggae, was born. The four original members of The Skatalites, the band generally credited with inventing ska, all attended Alpha. Don Drummond, Tommy McCook, Lester Sterling, and Johnny Moore – the names remain legendary everywhere ska is known and enjoyed, but they're not the only big names to graduate from this humble school.
Leroy "Horsemouth" Wallace, widely recognized as the greatest session drummer in the history of reggae music, honed his skills at Alpha, eventually contributing to hit recordings by Gregory Isaacs, Inner Circle, Burning Spear and others. Horsemouth is also the man credited with inventing the "Rockers" rhythm, which fits since he also stars in the classic Jamaican film by the same name.
Israel Vibration, David Madden, and Leroy Smart are other big names in reggae circles that you might know. If you like reggae music at all, though, you no doubt know Alpha's most famous alumnus – Yellowman.
You can get a sense for just how important the years at Alpha were for a few of these superstar musicians, as well as the young talent following in their footsteps, in this quick video made to commemorate the school's great history of musical achievement and raise funds to keep the Alpha tradition going…
So, how can you live more of the Alpha Boys' School experience? Well, next time you're in Kingston, stop by.
"Alpha Live!" tours are held on Fridays between 3:30 and 4:30pm. Reservations are required, so call Tel: 876-440-5560 to make arrangements.
At home, or anywhere you can get an Internet signal, you can also tune in to Alpha Boys School Radio, where you can listen and jam to an endless playlist of great ska, reggae, and dancehall hits inspired by the school.
Times are changing at Alpha. Just a few months ago it was announced that the school would be transitioning away from serving as an orphanage, and instead offer a day school program. A lack of funding is driving some of the changes, but we can help by purchasing these cool Alpha Boys' School t-shirt.
It may seem like a little thing, but who knows: perhaps your t-shirt buy will help launch the next great Jamaican reggae artist.
Pictured above is noted jazz trombonist Andrae Murchison performing with the modern day incarnation of The Skatalites. Photo Credit: Flickr user Montecruz Foto (Libertinus).
Related Posts