Tuesday 2 Cents: BahamasDread's Guide to Nightlife in Nassau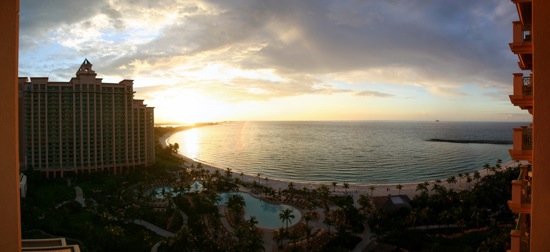 Nassau's hard-earned reputation as a party capital of the Caribbean has only been heightened in recent years by a combo of hot new clubs and salacious New York City tabloid photos. We recently caught up with our Bahamian friend, Fabian Christopher (aka: BahamasDread) to get the lo-down on the nightlife scene in his home island.
What are the hottest clubs in Nassau these days?
Bahama Joe's, Bambu, Club Aura and Fluid. At Bahama Joe's, the vibe is cool and relaxed with an easy flowing atmosphere. There's no cover charge and the music is cool, ranging from top 40, reggae, hip hop, and calypso. They also have an outside patio where you can sit and chill if inside gets too crowded. This is the best stop for early partying.
Bambu, is a supercharged club set on the harbor downtown. The vibe here is upbeat and energetic. The music ranges from salsa, soca, calypso, reggae, reggaeton – mostly anything that gets your heart racing and blood flowing. The dance floor is always packed. This club is known to be the late night party spot.
Aura is an upscale nightclub located in the heart of Atlantis. It's known for famous guest DJ's, wild VIP-booth parties and an intense dance scene. The music ranges from top 40, reggaeton, hip hop, and reggae.
Fluid is a jamming reggae spot that is focused on the Hipsters. DJ's spin the latest reggae beats, mixed with hip hop. Expect some crazy dance moves to be debuted here.
What are the best nights and times to go out?
The best nights to go out are usually Thursday to Sunday. Bahama Joe's is usually bumping between 7:30 and 10:00pm. Fluid and Aura begin to really heat up at midnight. Bambu is jumping from 1am to 4am.
Where do party-goers go the next day to chill? Any special beaches or beach bars?
Most notable chill spots during the day are Arawak Cay, also known as Fish Fry. The beaches over at Paradise Island are always the buzz during the day. Personally, I like the Beach Hut Restaurant – not that many people, nice mojitos and nice pizza. Best beach pool, RIU Paradise Island. The pool and the beach are on-point!
What's the dress code like at the Nassau clubs?
Most clubs require at least a button down shirt and no sneakers. Jeans are cool. Bahama Joe's has no dress code. For Fluid or Bambu, a button down shirt and jeans are fine. No sneakers, though, unless they're like Pumas. At Aura, dress to impress. It's tres-chic all the way.
Hmmm, sounds like we may have to schedule a little visit to Nassau for some clubbing with BahamasDread in the near future…
To check out more of Fabian's insights into life in The Bahamas, click here to access his blog, The Sandy Slipper. You can also follow him on twitter by clicking here.
Related Posts